Guest post by Amazon FBA seller, Devan Jordan
A question I often get asked is "do I need an Amazon repricing tool?". In today's post, I will give my honest opinion on having a repricing software vs not.
When I teach my students to start selling on Amazon and when I promise to take them from a position of only hearing of 'that Amazon thing', I ensure that I drill into them the steps to take after our mentorship is done. Getting a repricer is one of the first things that I tell them.

When I first started Amazon I started with £3,000 which is a good amount of money compared to a lot of people (I was lucky to have the investment of a grandparent).
This meant that we were able to buy quite a few different product lines on our first lot of purchases, the key to online arbitrage — diversity within your product lines to see which ones sell well. This also meant however that it was hard from the off to keep on top of all these product lines.
Starting with Manual Repricing
Manual pricing is what I started with however and I didn't just jump to an Amazon repricer straight away. I wanted to learn every single piece of the business myself before I started outsourcing to other members or software such as RepricerExpress.
Another reason I wanted to do it all myself, in the beginning, was so that I could appreciate the outsourcing of it when it came to it.
It took some time for me to realise that going to university and spending the whole lecture on my phone repricing my items and then coming home, having to source, go purchase and box up items wasn't going to work forever.
There just wasn't enough time in the day to keep up with the pricing management of it and so I had heard on Instagram about people using repricers and I thought what a great idea although I didn't know the potential.
I don't want the people who I teach, the people who follow me on Instagram those of you reading now to think I'm saying this because I use FeedbackExpress for my Amazon feedback (RepricerExpress' sister company) because it's not that, when I say having a repricing software is undeniably game-changing I mean it.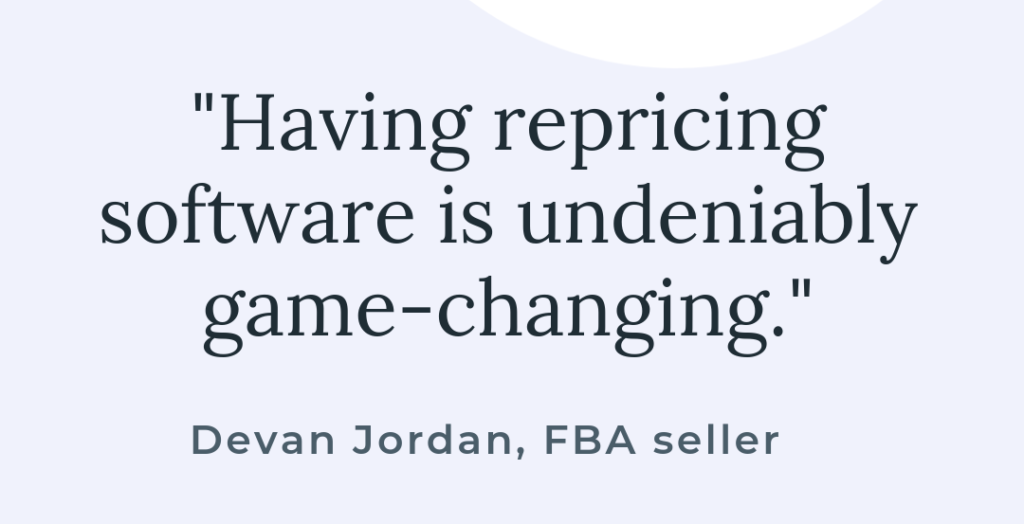 Final Thoughts
Now having a repricer is game-changing but having a repricer that has the customer service and usability experience of RepricerExpress is something else. That is the sole reason why I am very happy to work with them. As a customer, they are faultless.
They communicate well, sort any problem you have and the website is useable for even the most beginners of sellers just like I was and they also bring in updates to make it better and better.
If you have just started I urge you to learn the basics of pricing management as well as managing feedback and then see for yourself when you integrate these two game-changing software solutions the difference in your Buy Box winner percentage and the amount of time you free up.
About the author:
My name is Devan and I run a six-figure Amazon FBA business. I dropped out of university and the normal route of society to follow my dream of being my own boss and now at the age of 21, within less than a year of selling on Amazon, I have achieved that. I now not only decide what I do but I run a team which helps keep my Amazon business running from day to day. For behind the scenes footage and other Amazon help, check out my YouTube and Instagram channels.
Read more from this author: