Running out of stock of Amazon sucks for both buyers and sellers. Consumers don't get what they're looking for and have to make alternate plans, while merchants lose a sale and risk their visibility decreasing. To prevent this from happening to you, check out our top eight top strategies for when you're almost out of stock on Amazon.
1. Order More Stock
This should be your go-to option if you're nearing stockout. Replenishing your inventory will save you from losing sales, missing out on winning a Buy Box, having to take more drastic measures, or even getting suspended.
Sometimes you might have to pay a rush fee to get more inventory from your supplier if you deviate from your normal schedule. But sometimes your supplier won't be able to get you stock before your anticipated stockout date, in which case you'll have to try something else.
2. Have Emergency Stock
If you've just about run out once, you might almost run out again. Protect yourself from rush fees by having some buffer inventory on hand to prevent this. There are a couple of ways to calculate how much extra you should have on hand.
1. 10% of your typical order in the time period between when you place your order with your supplier.
2. The number of products you typically sell between supplier ordering periods.
3. A flat 500 to 1,000 extra units.
3. Temporarily Increase the Price
If you've got competitors, then temporarily raising your prices could be a way to divert attention off yourself until you can get more product in. If buyers are faced with two identical choices of the same product, they'll default to the one with the lower price. Slowing your sales this way buys you a bit of time.
Related: How to Reprice Upwards on Amazon FBA
4. Put a Pause on Promotions
Whatever marketing or advertising campaign you've got going on while you're nearing running out of stock, pause it until you've replenished your inventory. Once you've got your stock back in order, you can press the play button again and resume your campaigns.
5. Turn on Holiday Settings
If you go to your seller account, navigate to the 'Settings' heading and select 'Store Settings'. There, you'll find an option to edit your status to 'Start Your Holiday', which will hide your listings for 36 hours. When you're ready to sell again, all you have to do is click on 'End Your Holiday'.
6. Set it to Zero
Make a list of all the SKUs you have that are about to run out, then enter them into the SKU column in the Price & Quantity template. Put 0 as the quantity, save and upload, then add the products in your upload. This will show buyers a certain product shows as having 0 quantities of it in stock, giving you a chance to fulfill existing orders while you get more products in.
7. Change the Production Time
On the product listing, you can change the production time to reflect a more realistic timeframe of when the buyer can expect the product. You might even want to work in a buffer of 1 or 2 days, just in case your supplier doesn't get it to you right on the exact date. However, this strategy is a little iffy because buyers don't always read the fine print of when a product will arrive and risk disappointment.
8. Look for a Better Inventory Management System
A good inventory management system will notify you when you should be ordering more stock so you can avoid getting perilously close to running out. And if you don't have one, then you really need to get one in place.
Final Thoughts
Know why pricing your products higher to avoid getting sold out is one of the easiest, soundest strategies? Because you don't have to resort to other, more complicated plans.
Plus, having a repricer by your side means you never have to worry about a competitor 'accidentally' raising their price above yours while you're low on stock, avoiding the risk of making your (once higher, now lower) price the more attractive one. But it only works if you get RepricerExpress. And when you sign up right now, you enjoy a free 15-day trial.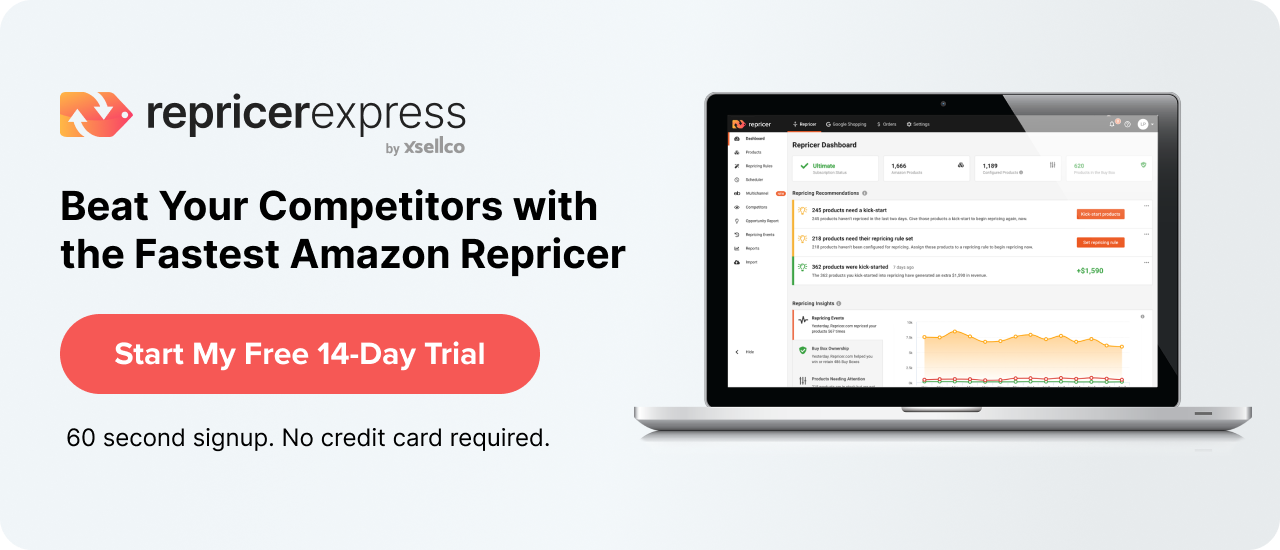 Related: