Choosing the right Amazon business model is an important decision and something I want to help you with. It's a question I've been asked multiple times since I started selling on Amazon in June 2015.
Starting a business online, living the "laptop lifestyle" is very attractive and there has never been a better time to start. It's just a case of knowing what Amazon business models are available and which suits your interests and current situation.
In the first episode of my Success in Business series for my YouTube channel, I begin to explain the process of not just starting a business but becoming a successful business owner. By going through the action steps I detail in this post, you should have a better idea of what model you want to start with and have a clearer vision for the future.
Amazon Business Model Advice
Amazon offers so many options for entrepreneurs to begin businesses because they want us to succeed.  The more we succeed, the more Amazon will succeed in the long run. If you scroll to the bottom of Amazon's homepage, they list just some of the ways you can begin to make money with them from physical products to publishing Kindle eBooks. Each business model has its own processes. I want to go through the thought process of deciding which Amazon business model is right for you.
Action 1: Write down all the business models that interest you
To help you, I have listed just some of the business models that are available today with Amazon or online in general.
Retail/Online Arbitrage
Private Label
Kindle Publishing
Amazon Associates
Information Products
Blogging
eBay
Action 2: Write down what resources you have to your advantage
Each of these business models has different approaches and requires different resources but to begin with, you should ask yourself what resources do you have to your advantage. We're all in different situations of life and it's beneficial to identify your strengths because in business, you're going to need them.
Ask yourself some questions and answer honestly:
How much money do I have available to start?
How much time do I have spare every day?
What help do I have available to support me?
What space do I have available to work?
Action 3: What are the pros and cons of each business model with your resources?
You want to begin matching the resources you have to the business model. What personally suits you? For example, if you have a lot of time and a lot of capital, you could start your own Private Label business. Alternatively, if you don't have a lot of capital, you may want to begin Online Arbitrage.
This is the thought process you should go through. There is no right or wrong answer. I decided to go with Online Arbitrage as I knew this was a good way for me to get started with Amazon with very little capital.
I also knew the automation capability with FBA and Amazon seller tools such as RepricerExpress would free up my time so I could focus on growth.
Action 4: Model success, seek mentors and purchase proven services/programs
If you want success in anything in life, you can replicate the success of other people by modelling them.
If you use the strategy they have used and if you use the services they have had success with it, you are likely to be successful too. In my life, I have purchased many training programs and personally invested in mentorship and coaching.
"I recommend services such as Tactical Arbitrage and RepricerExpress because I have had the success with them.

They were recommended to me as well."
Action 5: Take massive action and make progress
Finally, once you have gone through the process and made a decision, it's time to take massive action.
You should take action on the business model you want to start with. To be successful, you have to be committed. There will be challenges, however, with persistence and consistency, you will be successful in your chosen business model.
To learn more about getting started with Amazon, check out The Ultimate Step By Step Online Arbitrage Guide To Making Money With Amazon.
Final Thoughts
And, to get started with RepricerExpress' Amazon repricer today, sign-up for your FREE 14-day trial (no credit card required).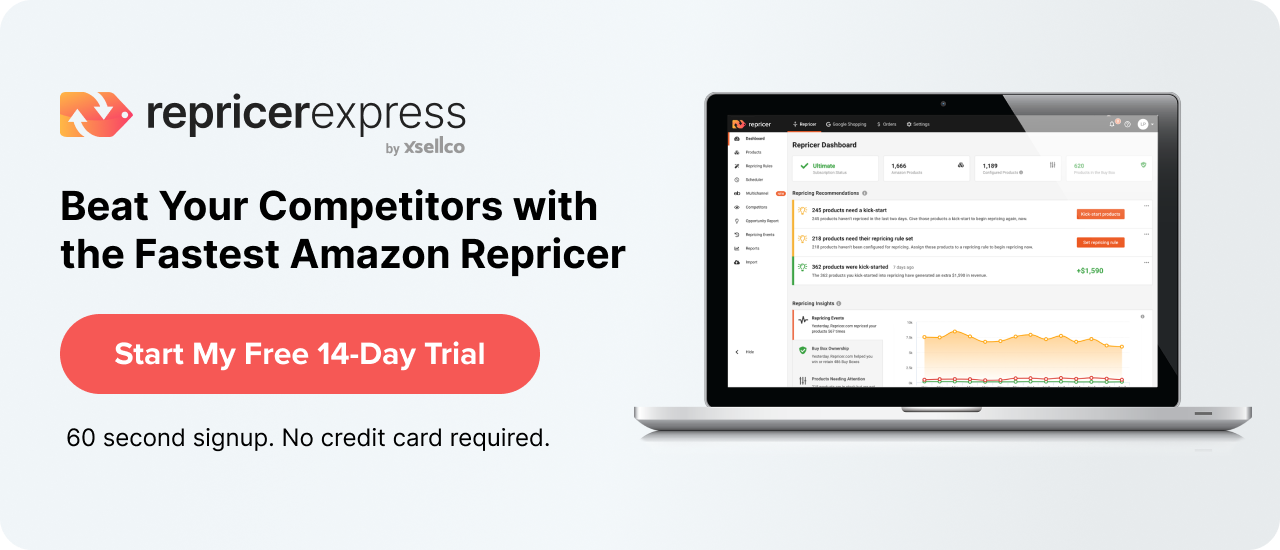 Read more from this author:

About the author:
My name is Kev. In 2015, I took massive action and started a business on Amazon. Within 6 months, I quit my job and we finished our first year at over £400,000 in sales. We created a team of 11 virtual assistants and 3 physical employees which gave my family the freedom to build the lives we wanted. On my Life Success Engineer blog, I share my journey and everything I have learned along the way. Read my story or check out my YouTube channel.