According to Statista, half of Amazon's sales were from third-party sellers. Selling on Amazon can be very rewarding, but it is not an easy task, especially once you start selling in volume. As your orders increase, so will your inventory needs. To be successful, you must have a solid inventory management strategy.
In this article, we cover seven tips to improve your Amazon inventory management. But first, we're going to explain why good inventory management is so important for Amazon sellers.
Why Inventory Management is Important for Amazon Sellers
Here are the main reasons why it's critical to take control of  your Amazon inventory:
Attract shoppers and make sales – If you constantly run out of stock, your customers will shop your competitors.
Reduce inventory costs – Having too much inventory ties up your money in unsold goods and added storage costs.
Reduce inventory losses – If you constantly monitor your inventory levels, you can reduce losses from mismanaged storage, receiving errors, and employee theft.
Reduce spoilage – If you sell perishable items, inventory management helps you track sell-by dates and avoid losses due to spoiled or unsellable goods.
Nearly half of small businesses don't have a good inventory management system in place, but it's easy to get tighter control over your Amazon inventory. Here's how.
7 Tips to Improve Amazon Inventory Management
1. Use Amazon inventory management software
Manually tracking your inventory on documents or spreadsheets is time-consuming and prone to error. Inventory management software is the best way to automate your inventory management tasks and make sure that you carry enough, but not too much,  inventory throughout the year. Retailers often see a nearly 40 per cent increase in their inventory efficiency with the use of inventory management software.
Amazon's Seller Central dashboard, shown below, has a suite of built-in tools that you can access for free.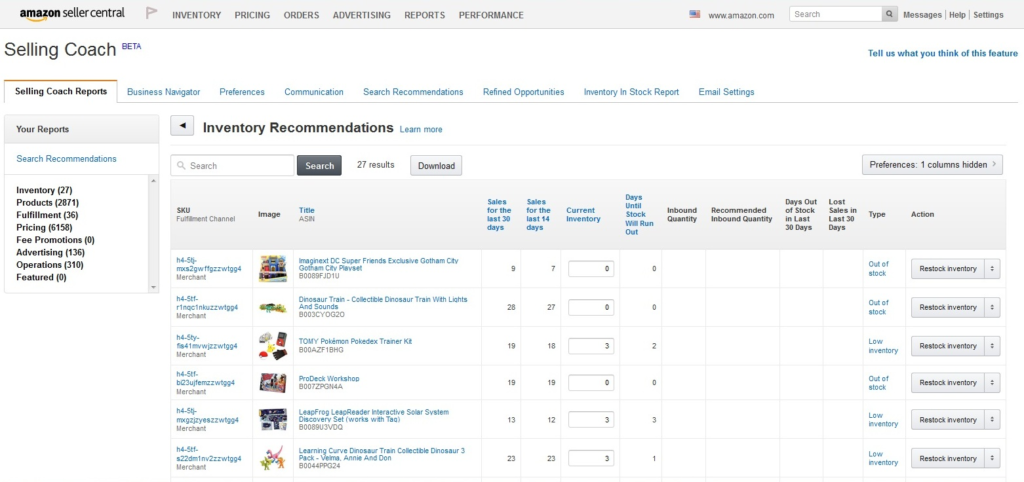 Within the dashboard, the Amazon Selling Coach reports key inventory data to help sellers track inventory levels and purchasing needs. By tracking your sales and inventory trends, Amazon inventory management tools show you how much of each item you sell on Amazon on a daily, weekly, and monthly basis. You can then plot out trends to determine required inventory levels for products over different periods of time. This comprehensive look at your sales and inventory trends is key to making sound purchasing decisions.
2. Understand your inventory turnover rate
How fast you sell through your Amazon inventory is commonly called your inventory turnover rate. To figure out your inventory turnover rate, you need to know, on average, how fast your products sell on Amazon. With this information, you can estimate how much stock you need to order to maintain stock levels between inventory shipments. It also helps you avoid over-buying or under-buying when you reorder stock.
As a general rule, Amazon sellers who import goods target a 3-month inventory turnover rate, meaning you expect to sell through an order of stock in 3 months. A better way to predict your inventory turnover rate and reorder needs is to use a forecasting tool that tracks your products daily sales trends. Amazon's built-in inventory forecasting tool, the Amazon Selling Coach, tracks sales against your available stock and recommends quantities needed to fill orders over a specified timeframe, all from your Seller Central dashboard.
3. Understand your supply chain lead times
Your supply chain refers to inventory movement from initial sourcing to arrival in your warehouse. Lead time is the time it takes for stock to arrive once ordered. By understanding your supply chain and lead times, you can identify the who, what, where, and when involved in sourcing, receiving and storing your Amazon inventory.
To keep your supply chain running smoothly, stay on top of your suppliers' manufacturing and delivery schedules and have contingencies in place for worst-case scenarios. This is particularly important if you use overseas suppliers since shipping delays can take weeks to resolve. Make sure you hold some inventory in reserve to cover unexpected delays along your supply chain if sourcing goods overseas.
4. Plan for seasonal sales fluctuations
Seasonal demand and holiday shopping affect inventory because of peaks in customer demand and extended supplier turn-times. It's crucial to know which items will be fast-moving when, and which products are slow movers during certain times of the year.
It's important to forecast your inventory levels at least a couple of months in advance. You'll want to increase ordered quantities of goods in high demand during peak sales cycles and decrease your orders on products that are out of season.
It's also important to consider suppliers' extended turnaround times for stock ordered during peak season. This helps you place orders with time allowed for delays due to seasonal demand and other factors such as weather. Maintaining open communication with your suppliers also helps you avoid unexpected delays and others late shipment issues.
5. Consider dropshipping as an alternative to stocking inventory
With dropshipping, your product manufacturer maintains the inventory and ships merchandise directly to customers on your behalf when you make a sale. Dropshipping is less risky since you don't have to purchase stock up-front that may or may not sell. Plus with drop shipping, you don't need to pay for storage space.
It's critical that you choose your dropshipping suppliers wisely so you can be profitable in the end. Many charge added fees which makes your cost of goods higher than a typical retail markup. Also, be sure your dropshipping supplier is Amazon-compliant. They must ship as promised and report inventory levels, so you don't sell items when they're out of stock.
Since drop ship orders are out of sellers' direct control, Amazon maintains a strict dropshipping policy. If it's not closely followed, you risk having your seller account suspended.
6. Be strategic with promotions and sales
Promotions like sale prices or free shipping offers are effective was to grow your Amazon business. But a sales spike due to a hot promotion can drain your stock before your next delivery and leave you with backorders, angry customers, and a lower Amazon ranking.
One way to prevent this is to set a threshold for a set number of promoted items in your inventory. Once that number is hit, you can remove the promotion and sell remaining stock at a higher price to avoid running out completely.
Or, if you plan to sell out completely, be sure to set a threshold amount that covers four hours of promotional sales. You can figure that number in Seller Central. Four hours is the key here because Amazon takes up to four hours to remove a promotion once you stop it. This gives you enough stock to cover sales that come in once you stop the promotion.
Another way to hold a successful promotion is to order a reserve of the promoted products from your supplier with a future ship date. If your promotion is successful and you need the stock shipment fast, you can contact the supplier to move up the ship date. But if the promotion lags, you can cancel or extend the ship date of the restock order to avoid being overstocked.
7. Slow down demand for your inventory when needed
A good Amazon promotion can get your products flying out of the warehouse which is a great thing. But if you're unable to meet buyer demands with adequate supply, you risk losing customers to competitors, plus face lower rankings on Amazon.
If you notice that you're running low on stock during a promotion or anytime, consider increasing your prices and stopping any advertising campaigns to slow down demand. These measures may slow your sales in the short term, but that's better than hitting 0-stock levels for an extended period of time.
Conclusion
It takes time to earn a good reputation as an Amazon seller, and you can't afford to lose your reputation or hard-earned rankings because of poor inventory management. Use the above tips as a guideline to keep your stock at manageable levels and stay competitive on Amazon.