Welcome to our weekly roundup of the top five Amazon news stories of the week.
Amazon heads off facial recognition rebellion: Leo Kelion at BBC News reports that shareholders seeking to halt Amazon's sale of its facial recognition technology to US police forces have been defeated in two votes that sought to pressure the company into a rethink. Civil rights campaigners had said it was "perhaps the most dangerous surveillance technology ever developed". Continue reading…
Amazon is working on a device that can read human emotions: Matt Day at Bloomberg reports that Amazon is developing a voice-activated wearable device that can recognize human emotions. The wrist-worn gadget is described as a health and wellness product in internal documents reviewed by Bloomberg. It's a collaboration between Lab126, the hardware development group behind Amazon's Fire phone and Echo smart speaker, and the Alexa voice software team. Continue reading…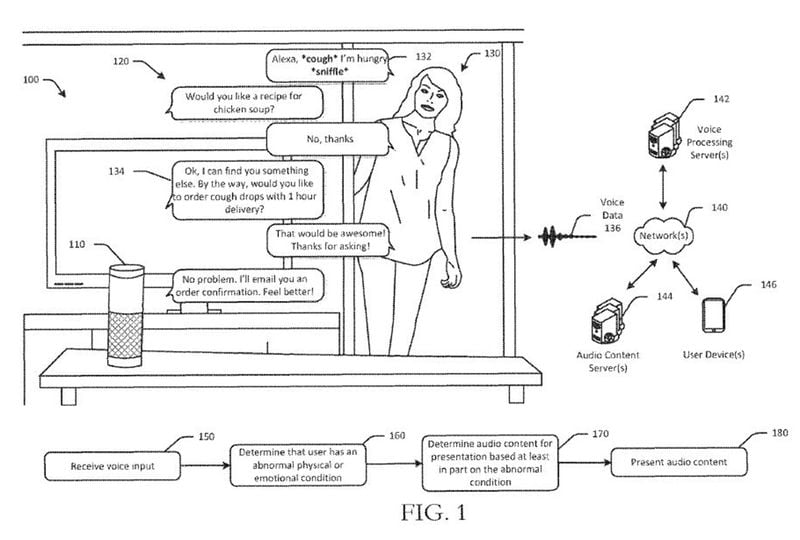 Image credit: US Patent Office
Unions lobby investors to press Amazon over UK working conditions: Sean Farrell at The Guardian reports that trade unions are lobbying City investors to put pressure on Amazon to improve conditions for its workers in the UK. At a meeting at the TUC's head office this month the GMB union made presentations, including one from an Amazon employee, to a dozen leading fund managers and pension funds that own stakes in Amazon including Legal & General, Baillie Gifford and Aberdeen Standard. Continue reading…
Amazon invests in Deliveroo food courier: BBC News reports that Amazon has announced a big investment in food courier Deliveroo. The exact figure was not given, but Amazon is the biggest investor in Deliveroo's latest round of fundraising, which in total raised $575m (£450m). Deliveroo said it would use the money for international expansion, improving its service and to grow its delivery-only kitchens business. Continue reading…
Amazon gets a bit Black Mirror with warehouse 'gamification' for staff: Jeff Parsons at The Metro reports that Amazon has added work-related challenges around its warehouse in the form of games for employees. The gamification of tasks like stacking boxes and filling orders is designed to speed up workers and, we imagine, make the process a bit more enjoyable. According to a report in the Washington Post (owned by Amazon boss Jeff Bezos) the games 'are displayed on small screens at employees' workstations.' Continue reading…
Quote of the week:
"The only thing to do with good advice is to pass it on. It is never of any use to oneself."
Oscar Wilde, Irish writer
Bonus: 11 Ways to Reduce Your Amazon ACoS
Have a great weekend!