Check out the links below to discover the top Amazon news stories in July 2020.
July 22-31
Jeff Bezos becomes £10bn richer in just one day as Amazon shares surge: Sky News reports that Amazon founder Jeff Bezos became $13bn (£10bn) richer in a single day on Monday after shares in his company surged nearly 8%. Already the world's richest man by a huge margin, Bezos is now estimated to be worth $189.3bn (£148bn). His fortune has ballooned $74bn (£58bn) this year alone, according to Bloomberg, with Amazon shares up more than 70% in 2020. The daily jump in the 56-year-old's wealth is the biggest ever recorded by Bloomberg's billionaire tracker. Continue reading…
Google has a plan to lure shoppers away from Amazon: Richard Nieva at CNET reports that Google on Thursday said it's nixing commission fees for retailers selling products on the company's shopping platform, as the search giant tries to catch up to Amazon and its dominant ecommerce operation. Previously, Google charged merchants to list items with the company's Buy with Google program, which lets people buy items directly through Google's website instead of being sent to an outside digital store. The fee was about 10 to 15% of the sale, comparable to Amazon's rates. The pilot is starting in the US before expanding internationally. Continue reading…
Amazon in talks to buy 9.9% stake in Reliance retail arm: Reuters reports that Amazon is in talks to buy a 9.9% stake in the retail arm of Indian conglomerate Reliance Industries Ltd, ET Now reported on Thursday, citing sources. Amazon wants a preferred, strategic stake in Reliance Retail for JioMart, according to tweets by the television channel.JioMart, the ecommerce venture of Reliance's retail arm, was launched in May and poses a formidable challenge to Amazon.com's local unit and Walmart Inc's Flipkart. Continue reading…
Amazon Scout operating in two new US locations: Brian Heater at Tech Crunch reports that when it debuting early last year, Amazon choose to limit its Amazon Scout robot to selected markets — namely Irvine, California and Snohomish County, which neighbors King County, home of Amazon's corporate HQ. Among other things, the robot is a kind of six-wheeled rolling billboard for Amazon's services and has been a useful tool as the company's essential worker status has allowed it to maintain operations during the COVID-19 shutdown. Starting this week, Scout will expand operations to two cities in the American Southeast: Atlanta, Georgia and Franklin, Tennessee. Continue reading…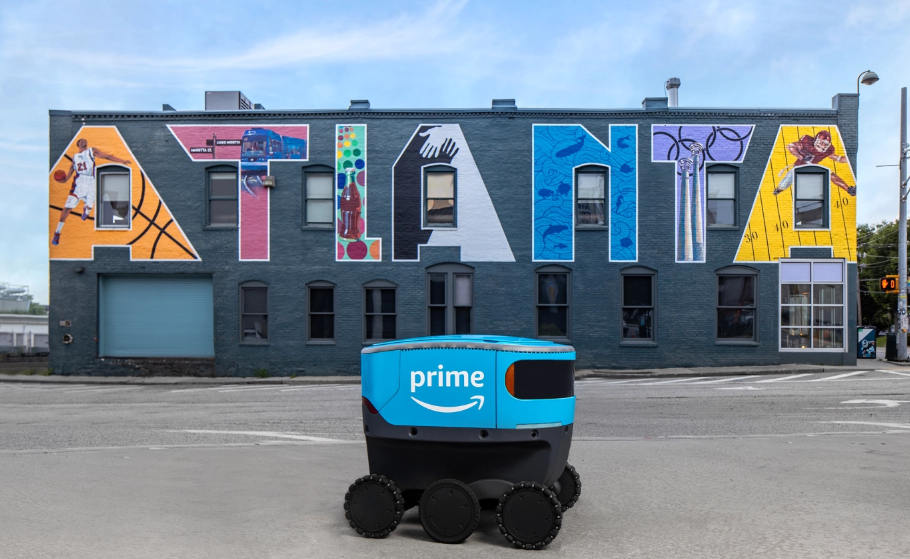 Image credit: Amazon
Amazon announces first fulfillment center in El Paso: Ina Steiner at Ecommerce Bytes reports that Amazon will open a new fulfillment center in El Paso, Texas. The first in the city, it is expected to open next year. "We're excited to be growing our operations in West Texas and look forward to building out our network in El Paso," said Alicia Boler Davis, Amazon's vice president of global customer fulfillment. The 625,000 square-foot fulfillment center will feature Amazon robotics and will be used to fulfill small items such as books, electronics and toys. Continue reading…
July 15-21
Amazon Prime Day 2020 officially confirmed by Amazon: Shabana Arif at T3 reports that Amazon has confirmed that Prime Day 2020 will be going ahead in a number of regions. "Over the last five years, Prime Day has become a special celebration and time for Prime members to shop incredible deals for themselves and for friends and family – and it's something we look forward to every year. This year we'll be holding Prime Day later than usual while ensuring the safety of our employees and supporting our customers and selling partners. We are excited Prime members in India will see savings on August 6-7 and that members all around the world will experience Prime Day later this year". Continue reading…
Amazon warns Alexa Echo Buds earphones pose overheating safety risk: BBC News reports that Amazon has warned its wireless earphones may be at risk of overheating and is urging customers to update their software, to make them safe. Customers were sent an email on Wednesday, saying in "very rare cases" Echo Buds could overheat in their charging case. Amazon said it had released a software update to fix the issue "out of an abundance of caution". "The safety of our customers is our top priority," it said. Continue reading…
Amazon FBA Brexit Bombshell – EFN and Pan-European FBA ends for UK: Chris Dawson at Tamebay reports that Amazon's UK FBA operations will be split from the EU with no more EFN (European Fulfilment Network) and an end to Pan-European FBA inventory transfers between the UK and EU. EFN allows you to fulfil orders from any Amazon European marketplace, while you ship your goods to Amazon's fulfilment centres in just one country such as the UK. From the 1 January, 2020 goods in Amazon's UK fulfilment centres will no longer be used to fulfil orders in Europe. Effectively your sales opportunity from selling on Amazon UK dropped from 446 million EU consumers to 66 million British consumers. Continue reading…
Amazon's new smart shopping cart is pushing cashierless checkout in physical stores: Laura Bandolm at Forbes reports that Amazon's new smart shopping cart, called Amazon Dash Cart, automatically detects items with sensors, cameras and computer vision algorithms. It allows customers to skip the checkout line in a physical store by charging the credit cards attached to their Amazon accounts. The Amazon Dash Cart is designed for small shopping trips with room for two bags. The cart has a touchscreen that allows customers to access Alexa shopping lists and a scanner for coupons. Continue reading…
A+ Content enables copying drafts to other countries: A+ Content has launched a new feature for eligible Professional sellers that automatically copies drafts of newly approved content to your accounts in many of the other countries where you do business. Previously, A+ templates needed to be created in each country individually. Check if you're eligible and learn more about creating A+ Content
Amazon has announced a new performance metric for sellers. Learn more about the Amazon Invoice Defect Rate.
July 8-14
Amazon marketplace is no longer anonymous: Marketplace Pulse reports that Amazon will begin displaying the business name and address of sellers in the US marketplace starting September 1, putting the US marketplace in line with the European, Japan, and Mexico marketplaces, where this information was always available because of local laws. The announcement said, "Beginning on September 1st, 2020, we will display a seller's business name and address on their Amazon.com Seller Profile page. For individuals, we will display the individual name and address."Continue reading…
Walmart's Amazon Prime competitor will launch in July: Jason Del Rey at Recode reports that Walmart is close to finally unveiling its own membership program that it hopes will eventually become an alternative to Amazon Prime. Walmart plans to launch a new subscription service later this month called Walmart+ that will cost $98 a year. It will include perks like same-day delivery of groceries and general merchandise, discounts on fuel at Walmart gas stations, and early access to product deals. Continue reading…
Amazon drops Boohoo over worker exploitation claims: CNN reports that online fashion retailer Boohoo is launching an independent review of its UK supply chain after a media report revealing dire working conditions at a factory caused sellers including Amazon to drop its products. Boohoo said in a statement on Wednesday that it takes "extremely seriously all allegations of malpractice, poor working conditions, and underpayment of workers." The Sunday Times reported over the weekend that workers at one factory in the English city of Leicester were being paid as little as £3.50 ($4.39) an hour to make clothes destined for Boohoo. The UK minimum hourly wage is £8.72 ($10.94). Continue reading…
Amazon drop first trailer for All Or Nothing: Tottenham Hotspur: Sport Bible reports Amazon Prime Video has dropped a trailer for the upcoming original series, All or Nothing: Tottenham Hotspur. After the success of the documentary chronicling Manchester City's 'Centurions' campaign in 2017/18, the video streaming giant will give viewers unprecedented behind-the-scenes access in what has been a topsy-turvy 2019/20 season for Spurs. The 41-second sneak-peak trailer gives a glimpse of what we can expect in the multi-part series, starting with the sacking of Mauricio Pochettino and the moment Jose Mourinho walked into the managerial hot-seat as his replacement at the Tottenham Hotspur Stadium. Continue reading…
Amazon will pay $135,000 to settle alleged US sanction violations: Brian Heater at Tech Crunch reports that in a statement issued this week, the US Treasury Department notes that Amazon has agreed to pay $134,523 to settle potential liability over alleged sanctions violations. The charges specifically pertain to goods and services sent to people located in Crimea, Iran and Syria, which are covered by Office of Foreign Assets Control (OFAC) sanctions, between November 2011 and October 2018. Continue reading…
July 1-7
Amazon establishes new Counterfeit Crimes Unit: The Amazon Blog reports that Amazon is launching a new Counterfeit Crimes Unit, dedicated to bringing counterfeiters attempting to list counterfeit products in its store to justice. The global team made up of former federal prosecutors, experienced investigators and data analysts will support the company's substantial efforts already underway to protect its store from counterfeits. Continue reading…
Jeff Bezos' billion-dollar fortune hits all-time high as Amazon stock surges 4.4%: Megan Hills at The Evening Standard reports that Amazon CEO Jeff Bezos has continued to cement his position as the richest man in the world, after his stock surged 4.4 per cent on Wednesday. Breaking his previous record, Bezos now has an estimated net worth of $172 billion – this despite of his divorce from his former wife Mackenzie Bezos, which saw her win a quarter of their joint Amazon stock in the settlement. According to the Sydney Morning Herald, as of yesterday, Bezos added an impressive amount to his bottom line as Amazon shares closed at $2,878.7 on Wednesday evening. Continue reading…
Amazon Outlet Deals reopening registration: Chris Dawson at Tamebay reports that to help increase sales of overstock inventory and optimise inventory levels for products Amazon is reopening registration for Outlet deals in all marketplaces where they are available: US, Japan, UK, Germany, France, Spain, and Italy. Amazon Outlet Deals are a way of disposing of excess stock in Amazon FBA. Either you can submit a withdrawal order, pay long term storage fees, or sell your stock off at deep discounts to free up some cash and that's where Amazon Outlet comes in. Continue reading…
Nike reports unexpected loss as sales tumble 38%, shares fall: Lauren Thomas at CNBC reports that Nike, often lauded as one of the strongest global brands in the retail industry, is taking a hit from the coronavirus pandemic. The Portland-based sneaker maker reported an unexpected quarterly net loss and a sales decline of 38% year-over-year, as its business was hurt from its stores being shut temporarily, and online revenue was not enough to make up for that. Its inventories also piled up, weighing on profits, as its wholesale partners such as department stores also had their shops shut and took in fewer orders for shoes and clothes. Continue reading…
Crucible: Amazon pulls 'boring' big-budget video game: BBC News reports that Amazon has pulled its first major game release, putting it back into a testing phase after poor feedback from players. Free-to-play shooter Crucible is now being put back into "closed beta" – a pre-release stage with a limited number of players. Current players will be part of the beta, but new players will be unable to download the game without an invite. Amazon said it had listened to player feedback and would "continue to make the game better". Continue reading…
As part of the Amazon Small Business Academy, Amazon continues to host a series of webinars for sellers covering a wide range of topics. Learn more…
Quote of the month:
"Don't let the fear of what could happen make nothing happen."
Louise Armstrong
Related: