Guest post by Connor from Freeeup.com
Many Amazon sellers like you want to start outsourcing to free up their time. It's one of the best decisions you can make as you begin to scale your business and find yourself with too many tasks on your plate. But it isn't just a matter of posting a task description and hiring the first applicant that shows interest.
When you start outsourcing, you have to be very careful about what you outsource, where you source talent, spotting the right fit, and making sure to communicate effectively after you hire.
Follow this simple yet proven FreeeUp process of outsourcing Amazon tasks.
1. Why Outsource Amazon Tasks?
The first step is knowing why you want to consider outsourcing in the first place. Don't just do it because we tell you it's a great move, or because people around you are doing it. You should make your decision based on solid facts. Take the following for instance:
Outsourcing is a more affordable option.
You can source talent from anywhere in the world, giving you options with lower rates than you might find in your local area. They are just as experienced but accept lower rates because their cost of living is lower.
If you hire freelancers, you can save even more because they usually work on an hourly or per project basis, so you only pay for the actual work done. No more hiring full-time salaried workers and worrying that they won't have anything to do half the time.
Outsourcing opens up a world of talent.
Literally. Because you can outsource to anyone in the world with an internet connection, you can access a global pool of talent. You aren't limited to what's available near you, so you get to choose from a far greater number of freelancers. This makes it more likely that you will find the perfect fit for your needs.
Because they work online, this also means that you don't have to pay to bring people over to your company.
2. What Amazon Tasks Can You Outsource?
You can start outsourcing practically any Amazon task that you can think of. Here are 39 of them for inspiration.
But don't get carried away! You should start outsourcing one task at a time. To try to get everything off your plate at once will only create more work for you.
Which tasks should you start with?
The best task to start outsourcing depends entirely on you.
Think about the tasks that take up a lot of your time and list them out. Then think about the ones that you aren't really suited for – either you don't have the expertise, or you just really dread doing them. List those out, too. Then, while thinking about what brings the most value to your business, rank the tasks in order of priority.
With a bit of shuffling around, you should have a nicely ordered list of tasks in your hand. The next step is to pick a top one and write out what that task is all about. Then you will have the information you need to find the right person to take it over.
3. Where Do you Find Good Amazon Freelance Talent?
The best collection of Amazon freelance talent is found on sites that specialize in eCommerce and offer a great freelancer experience. There are a lot of freelance marketplaces, but not that many like this.
FreeeUp is one such marketplace.
They pre-vet all applicants before allowing them in, so only the top 1% have access to projects. Top Amazon talent is furthermore attracted to this marketplace because unlike other freelancer sites, FreeeUp recognizes that freelancers are also business owners and takes good care of them.
Upwork is another place where you can find freelancers experienced with Amazon tasks.
They are not particularly focused on providing the best freelancer experience and they don't do screening; however, they are one of the oldest and largest freelancer sites. By virtue of the sheer number of freelancers who find work there, you are apt to find a good person to work with. Note that you'll have to sort through all the applicants to find the one for you.
4. How do you Hire the Right Person?
The key to finding the right fit lies in your preparation.
Create a task description.
The first step is detailing the task and your expectations for how you want it done. Add in any other personal preferences you may have as well as business particulars that will affect how the task is handled.
The more detail you can put in, the better your chances of finding someone who fits the bill to a T. If you don't invest much time into this, you'll end up with a general task description that's so broad you'll attract people who are actually not qualified or very interested in the task, and you'll spend more time trying to weed them out.
Find and confirm the best match.
With the perfect description, you can easily find the perfect match. All you need to do is check off items against a resume and confirm the skillset and level of experience during an interview. The interview doesn't even have to take that long if you've already found a good match on paper.
All that's left to do after this is to make the hire official. Just follow the steps provided by the marketplace you chose. Generally, you should be good to go within a few days. Some marketplaces, however, can have you set up to start working immediately.
5. How do you Communicate with Them?
To make your outsourcing experience go smoothly, proper communication is a must. You can't just hire someone and tell them to start working. There are several things that you need to communicate to any new hire, beginning with how you want them to communicate with you.
Get on the same page.
Before you even make the hire, you need to tell a freelancer what channels you prefer to use and make sure that they are set up to use them efficiently. Consider as well what times they are available to work, so you know when you can actually talk or chat with them in real time.
Stay on the same page.
The next step is to set up times to meet to get up to speed on task progress and discuss any challenges. This should happen at least once a week for the first few weeks or months, depending on the complexity of the task you've decided to start outsourcing. After the initial adjustment period, you can dial it down as you see fit.
During the first few weeks, it's also important to make sure that any hire checks in daily to leave a summary of what they've worked on. This helps you to keep track of the hours worked and what was accomplished during that time
Final Thoughts
It's easy and painless to start outsourcing Amazon tasks if you follow a standard process like this one. It's designed to eliminate risks and put you on the path to success.
You begin with tasks that are a great burden to you and your business, which frees up your time and ensures that tasks are expertly done. You proceed to search for talent on the best online hiring marketplaces available, armed with the tools you need to find the best freelancer quickly. Finally, you set yourself up for success by ensuring seamless communication throughout the duration of your project.
As you pass of one task and establish a routine, you can begin the process again for the next task, and so on. Before you know it, you'll have outsourced everything that you don't need to be doing yourself, and everything will be running like clockwork.
Outsource your Amazon pricing to the experts today. Save time, increase profits and win more Buy Box. Get started today…free for 15 days, no credit card needed.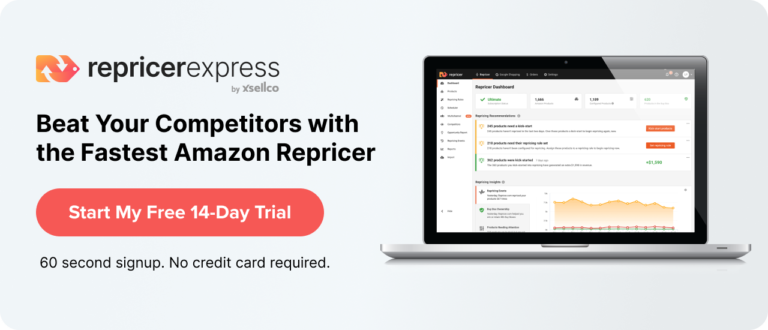 Related