Getting started with Repricer is simple. Here's a free ebook which explains it in three easy steps. Once you're up and running, if you want to be a top Amazon seller, you shouldn't settle for a set it and forget it approach. Instead, you should be looking for ways to continuously improve. With that in mind, here are ten great tips to help you get the most out of your automated repricer.
1. Learn how Amazon repricing works
Knowledge is power, so we advise all sellers to gain an understanding of how Amazon repricing works and how long it takes. Luckily, we've put together a free ebook which explains it all.
2. Set your Min and Max prices
Sellers need to set a Min and Max price for all SKUs they wish to reprice. Without a Min and Max price, these items won't reprice. These are floor and ceiling prices that you'll never sell below or above. Using Repricer' Safe Mode allows you to reprice without it affecting your live listings and prices.
3. Is repricing turned on?
Ensure repricing is turned on for all items you want to reprice. If it's turned off, then these items won't be repriced and you could be missing out on sales.

4. Check the Repricing tab regularly
The Repricing tab shows you the number of products priced at Lowest Price, at Min and at Max for the past seven days.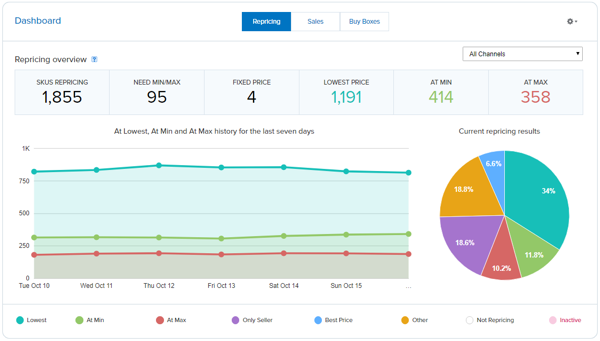 If you click on any of the numbers above the graph (or on the key below), you'll see a list of your products with that pricing status on the My Inventory Screen.
If you have a large percentage of products at Lowest Price and you have the Buy Box, you may be able to increase the price of these products (increasing profits) whilst still maintaining the Buy Box.
If you spot any dramatic changes on the Repricing tab then it's worth looking into. If you need some help, get in touch with customer support on live chat or email.
5. Check your Buy Boxes tab regularly
The Buy Boxes tab gives you a great overview of how many of your products have won the Buy Box over the last 30 days. You'll also see which Buy Box winning products are low in stock, which are eligible but not currently winning the Buy Box and which products are not currently eligible for the Buy Box.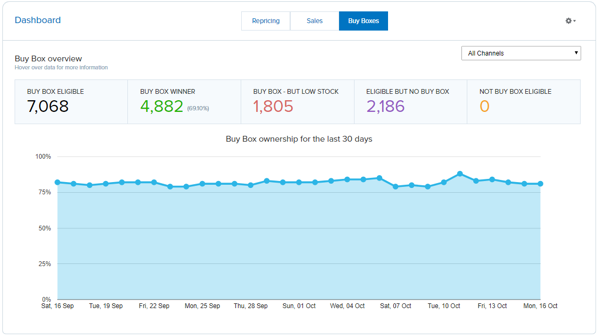 The best way to discover your Buy Box sweet spot is by tweaking your pricing rule "Beat By" settings and seeing how your Buy Box percentage is affected. Again, if you need some help with this, then get in touch with customer support on live chat or email.
6. Create different strategies depending on the products you sell
RepricerExpress offers a wide range of options for competing with other sellers.  You can decide who you want to compete with and how—across many different situations. For example, if you're selling via FBA then you might want to only compete against other FBA sellers or prioritise FBA sellers over MFN sellers.

Related: Amazon Repricing Strategies Every Seller Needs to Know
7. Protect your profits with Sleep Mode
Consider using Sleep Mode to halt your repricing for a set period of time each day (usually overnight).

You can choose to leave your products at the same price or reset them to Max. It's a useful strategy if you have only a few competitors on your listings and want to bring their prices up. When you reset to Max, your competitors' prices should follow yours and when you should start repricing again it will be at a higher price. It is also useful for avoiding a price war.
8. Ignore low-quality or new sellers
Any pricing rule can be set to "Only compete with Buy Box sellers" thus ignoring sellers with poor metrics and new sellers.
To set this up, open your pricing rule and click on the rule you wish to add this to. Then tick the "Only compete with Buy Box Sellers" box as shown below.

If we're looking to compete directly with the seller who holds the Buy Box, you can also do this by choosing "Price only against the seller who holds the Buy Box Spot". Please note, this is a very aggressive pricing strategy for securing the Buy Box and isn't recommended unless you have very strong seller metrics.
9. Create Automations
You might want to consider using Automations to sell off old stock, avoid FBA storage fees or to price more aggressively if you haven't won the Buy Box in X days. Automations can help you save time by helping you avoid a lot of manual work.
Here are some example templates which you can use in RepricerExpress.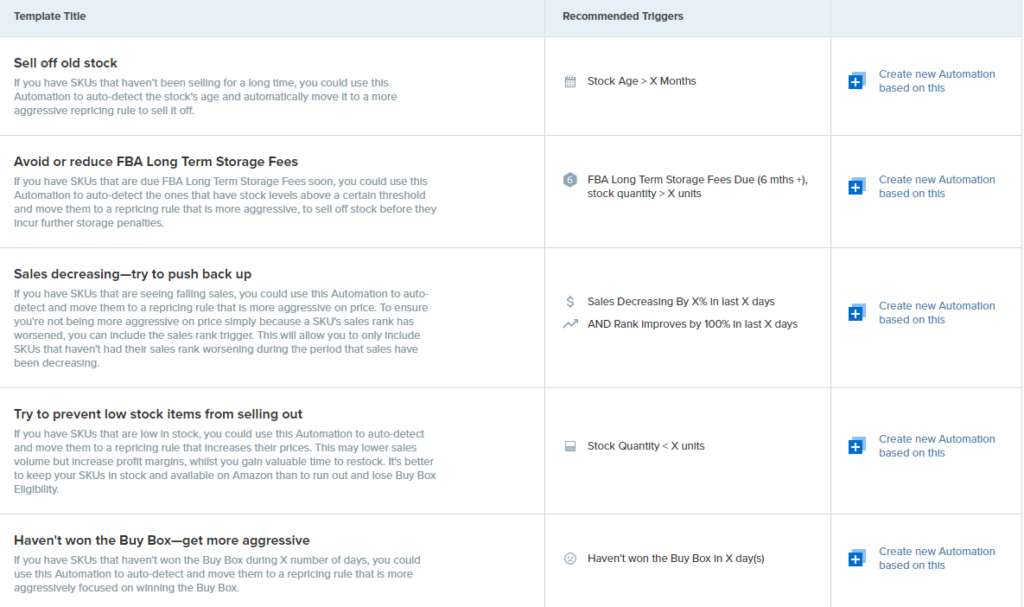 Related: How to create an Automation
10. Save time with custom reports
RepricerExpress can supply custom reports via Dropbox, FTP or email on a schedule of your choosing.
Here are some examples of custom reports available with RepricerExpress:
A report each morning with new products which need Min Max set.
A report highlighting products that have lost the Buy Box since yesterday.
A report with a competitor's prices vs your own.
Setup of custom reports is charged as a one-off fee. However, there is an ongoing monthly charge of £10/$15/€15 per month for this service. This charge is waived on plans of 50,000 SKUs and higher.
Bonus: Check your feedback rating
If you have a low feedback rating on Amazon then you might want to consider using our sister company, FeedbackExpress, to automate your Amazon feedback—improving your seller rating is key to winning the Buy Box at higher prices, locking in more profits for you. You'll increase your seller feedback and product reviews through perfectly timed emails. Plus, Repricer customers get an automatic 10% discount on all FeedbackExpress plans.