When you first start selling on Amazon, it takes a while to figure out Amazon Sales Rank (also known as Amazon Best Sellers Rank). There's no shame in this — it's one of the most confusing aspects of selling on Amazon and one which is constantly changing and rarely explained in detail.
But if you want to build a successful Amazon business it is vital that you understand it. Hopefully (fingers crossed), this post and the resources within it will help you gain a better understanding of the Amazon sales rank.
Here's what we'll cover:
What is Amazon Sales Rank?
How is Amazon Sales Rank Calculated?
Does Amazon Sales Rank Influence Future Sales?
Why Does Amazon Sales Rank Fluctuate?
What Influences Amazon Sales Rank?
How Can Amazon Sales Rank Be Improved?
What Happens to Amazon Sales Rankings if Product Sales Suddenly Decrease?
Sourcing and Return on Investment
Free Sales Rank Chart
Keeping Track of Sales Rank
What is Amazon Sales Rank?
Amazon sales rank is the ever-changing number Amazon assigns to products to signify how well a product is selling compared to other products in the same category or sub-category.
The product with the sales rank #1 is the best selling product in that category, sales rank #2, the second best selling product and so on. Every manufacturer wants its products to be ranked number one in a category or sub-category.
Sellers use sales rank differently to how buyers use it. Sellers look at it to see how quickly an item will sell on Amazon—the lower the number, the quicker it will sell.
Sales rank can be found within the product details section of most (but not all) Amazon product pages.
Here's an example for Tim Ferriss' book, The 4-Hour Work Week which has a sales rank of #130 in the Books category and #1 in various sub-categories.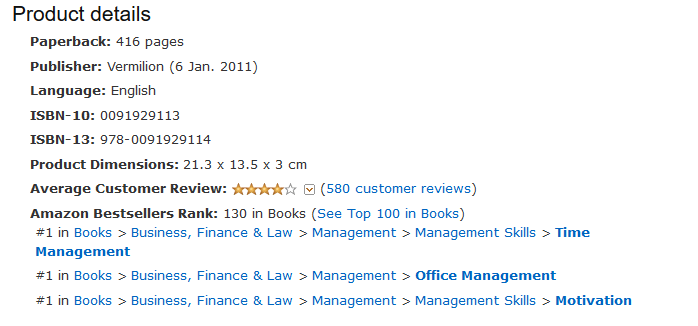 If there's no line that states the sales rank, then it's likely the product doesn't have a sales rank. It could be that category doesn't have a sales rank, it's a new product or it's a product that hasn't sold in the last two years.
How is Amazon Sales Rank Calculated?
Much like its Buy Box algorithm, Amazon doesn't make its sales rank algorithm publically available but it's pretty clear that it only considers sales and no other metrics. The period of time sales are considered and the weighting given to specific time periods is unclear.
In other words, your reviews, your product price and your keywords do not have a direct bearing or influence on the position in which your product ranks.
Amazon Sales Rank is simply based on 'past sales' which is why it can fluctuate so wildly. So, one simple, indisputable fact is that if your product sells more than your competitor, then your product will have a better sales rank.
Stephen Smotherman from Full-Time FBA breaks sales rank down into nine easy to understand parts.
Sales rank reveals how well an item has sold recently.
Amazon updates sales rank every hour for most items.
One sale can have a dramatic effect on sales rank.
Sales rank is not affected by the type of seller or product condition.
If a product doesn't have a sale rank then it's either a new product or hasn't sold for a long time (two years+).
Electronic items don't have a sales rank. However, Amazon does allocate a sub-category sales rank for the Electronic category.
A good sales rank doesn't guarantee the product will sell in the future.
Conversely, a bad sales rank doesn't mean the product will never sell again.
The Clothing Shoes & Jewellery category is structured differently to other product categories.
Does Amazon Sales Rank Influence Future Sales?
The jury is actually out on this one but just think about it for a moment. If your Amazon Sales Rank is between one and 10, then anyone looking at your product will see how popular it is. Popularity is a form of social proofing. If a product is deemed popular, it can positively influence the buying habits of others. So, anyone viewing your product is more likely to purchase based on its excellent sales ranking.
A good Amazon Sales Rank will also see your product appear in the Amazon Bestseller Lists, ensuring further excellent visibility to potential customers.
So, while your Amazon Sales Rank doesn't directly drive organic leads or have any impact on your future rank – because, remember, it's all about past sales, it can certainly improve your visibility within a specific category at any given time.
Why Does Amazon Sales Rank Fluctuate?
It's not uncommon to see your Amazon Sales Rank slide up and down several times within a short period, be that 24 hours or more. This is because Amazon updates sales rankings on an hourly basis (although in practice changes are most often seen every two to three hours). This may seem over the top, but Amazon likes to be diligent and always provides the latest data.
What Influences Amazon Sales Rank?
Seasonality is a massive influencer when it comes to your sales rank. For example, in October your Amazon product research may uncover a fleecy bedding product as being hugely popular with a fantastic sales rank and loads of sales behind it over the past few weeks.
This information could lead you to make the decision to source some fleecy bedding sets or even develop your own fleecy product.
But wait. It's October. The Amazon Sales Rank you see is simply down to a seasonal spike in sales because people are preparing for colder nights. Come March, those sales are likely to decline dramatically because fleecy bedding is a seasonal product and Amazon Sales Rank only indicates how well a product has sold in the recent past.
How Can Amazon Sales Rank Be Improved?
The bottom line is that you will need to generate more sales to improve your Amazon Sales Rank. The theory is really that straight-forward. But how can you increase sales?
Keywords are the foundation of ranking in the Amazon search results, and so one of the secrets to increasing sales lies with having a top-notch product title and description. Get that spot on, and conversions will increase. Here's how.
Research the Best Products to Sell
When it comes to product research, doing this well is always going to be one of the most significant factors in your success. It's worth spending time initially to do your due diligence and research.
The amount of effort you invest in finding the right product to sell on Amazon is a good indicator of the Amazon Sales Rank that you could eventually achieve assuming you create a decent product listing.
It may seem frustrating to spend weeks researching products, but it's worth it long-term. If you're unsure which category or what type of product you should be looking at here are some pointers:
Choose a category where demand is strong (a minimum of 1000 sales per month) and don't be afraid of significant competition.
Alternatively, dig even deeper and choose a sub-category where demand is still strong (around 500 sales per month), but fewer sellers are sharing those sales, or the sellers who are listing are listing poorly. You can then jump in with an optimised and stellar listing and dominate the niche immediately by doing similar, but better!
Choose a product with a high price point (£50+) within a category where there is low competition and position your product as a luxury or premium item. You will immediately differentiate which will lead to sales and the start of consistency and a steady improvement in your Amazon Sales Rank.
Related: What to Sell on Amazon FBA: The Definitive Guide (2023)
Optimise Your Product Listing
An optimised product listing is crucial if you want your goods to be shown to people in the search results. Take care over every single listing you create, no shortcuts.
The simple fact is that if you don't have an optimised listing, your products won't appear. And if they don't appear, you won't make any sales.
Research and add relevant keywords to your product title.
Add keywords, features and benefits to your bullet points.
Include keywords within your main description.
Take professional product images to showcase your product visually.
Related: Amazon Listing Optimization: Sellers Guide for 2023
Choose the Best Category for Your Product
Spend time researching the most accurate category in which to list your product as this may influence your Amazon Sales Rank in specific sub-categories.
For example, if you sell dog beds and you list in Pet Supplies, you have the choice of several sub-categories:
Dog Beds
Bed Pillows for Dogs
Sofas and Chairs for Dogs
Depending on the style of your dog bed, one of these categories will probably work better than another. Ultimately, experimenting with categories is the best way to determine the right position for your product.
Offer a Limited Time Promotion
To quickly increase your sales, consider running a limited time offer or promotion. For example, free postage, a product discount, buy one get one free or a bundle offer. By introducing scarcity and the fear of missing out, you are likely to make more sales short-term. Yes, you may have to sustain a small initial loss, but it's worth it long-term to help you improve the organic ranking of your product which in turn will help you make immediate sales.
Study Your Competitors Listings
You mustn't just list your product and then ignore it. By analysing and tweaking you can continuously improve it. Study your competitors' listings to see what keywords they are using, how they create their bullet points and what information they add to their main descriptions and then use this information to improve your own listings.
Build Your Sales History Consistently
This might seem to be a little 'chicken and egg' because of course you need to make sales to get the history in the first place, and history is what will boost your Amazon Sales Rank!
After an initial promotion or limited time offer, the best way to improve your Amazon Sales Rank is to start focusing on building your sales day by day. Consistency will have a higher impact on your Amazon Sales Rank.
Even though lots of sales in a short space of time will initially increase your rank, you may find you can't keep that momentum up and you will see your status drop dramatically. With this in mind, it's sensible to work on consistency after your initial launch.
Video: Amazon Sales Rank 101
What Happens to Amazon Sales Rankings if Product Sales Suddenly Decrease?
You mustn't get too hung up on fluctuations in your Amazon Sales Rank. In most cases, it would be highly unusual to see a massive drop in your sales ranking happen overnight unless your sales had decreased dramatically or stopped altogether.
Amazon takes lapses in performance into account when calculating your product sales rank. So, if for some reason you ran out of stock for a single day, and your sales dropped off a cliff, Amazon wouldn't dramatically decrease your sales rank. If you were out of stock for more than a few days, then it's likely you would see a small drop in your sales rank, and this would increasingly become more significant the longer you were without stock or sales.
Sourcing and Return on Investment
Finding and buying inventory is called sourcing. When it comes to making smart sourcing decisions, sales rank is one of the most important numbers to understand.
The closer the sales rank number is to number one, generally speaking, the faster the item sells.
If you've been selling on Amazon for any length of time then you'll know that each of the main product categories on Amazon has their own personality. Each category reacts differently when it comes to sales and sales rank.
For example, a book with a sales rank of 500,000 might sell a few times a week but a toy with the exact same sales rank probably sells about four times a year.
New sellers on Amazon will usually have one common goal, find lots of inventory that will sell for a nice profit and sell quickly.
Every item you source needs to have two things: a good return on investment (ROI) and a good sales rank.
Calculating ROI is a simple calculation that can be done using an online program or a calculator.
Here's the formula for working out ROI. It's typically expressed as a percentage, so multiply your result by 100.

Here's an example calculation for a vinyl record which l purchased for £10 and sold for £30.
Net Profit/Cost = ROI x 100
£20/£10 = 2 x 100, ROI of 200%
Related: Four Ways to Find Hot Products to Sell on Amazon
Free Sales Rank Chart
Defining a sales rank as good or bad can be very different depending on the product category.
To help you, our friend Stephen Smotherman has created this great Amazon sales rank chart and made it available to everyone for free (thanks, Stephen!).
The sales rank chart covers Amazon.com, Amazon.ca and Amazon.co.uk and is updated on a regular basis. The chart is divided into all of the main product categories on Amazon and each category is calculated into columns that show the top 1%, top 3%, top 5% and the top 10%.
With sales rank, each seller will have their own comfort zones that they're happy to source from depending on their business model. Some sellers will only source items in the top 5%, while others will focus on the top 3% and others will broaden their sourcing parameters to the top 10% if the ROI is high enough.
Keeping Track of Sales Rank
Sales rank can change every hour so can fluctuate a lot over a month. For this reason, when you're making a sourcing decision, you shouldn't just consider current sales rank. Smart sellers will track its ranking over a period of time—daily, weekly, monthly and even yearly in some cases.
Keepa and CamelCamelCamel are two free tools that allow sellers to track sales rank and pricing history of almost every item on Amazon. You can see the average sales rank for a product and it won't cost you a penny. These tools can help give you a competitive advantage if used effectively.
If you want to learn more about using Keepa and CamelCamelCamel, check out Stephen's ebook (130+ pages) and video course (4.5 hours) titled The Reseller's Guide to How to Keepa Camel. The first two videos are currently free and there's even a 100% money-back guarantee.
If you're familiar with Stephen's work, you'll know his writing is very easy to read and full of amazing knowledge based on his extensive selling experience on Amazon.
Final Thoughts
Both sales rank and product price are constantly changing on Amazon so it's important you can monitor these and adjust your pricing for more Buy Box.
It's worth investing in a solid Amazon repricing solution such as RepricerExpress that will allow you to automatically adjust your prices according to sales rank fluctuations, as well as sales history, stock levels and other important criteria. Sign up for a free 14-day trial today or get in touch via live chat if you have any questions.
Thanks for reading.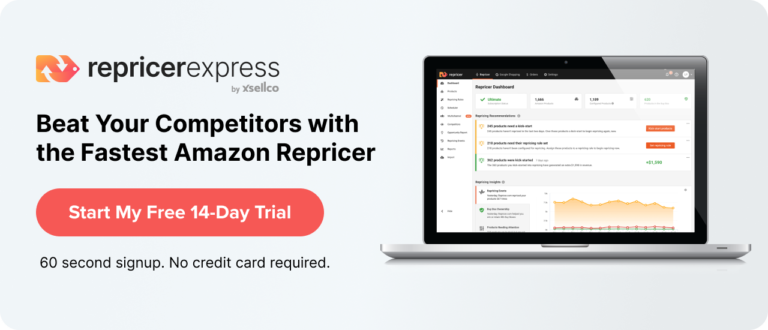 Related reading: