One of the things that will get you noticed most on Amazon is your prices, as Amazon includes that within its ranking algorithm very highly. And the whole goal of being on Amazon is to put yourself as close to the top as possible so you can establish a reputation as a solid seller, become more visible to potential customers — and keep unlocking Buy Boxes.
But is engaging in a price war the way to go about this? Or are you fighting a losing battle? RepricerExpress sheds some light on why you don't need to engage in a price war on Amazon.
Winning is the Only Thing that Matters
Many sellers will tell you that they live, breathe and die by the mantra of winning at all costs on price—placing winning the price war above all else. And that may be a viable approach to take if you can maximise volume to offset lower margins. They're setting a goal for themselves and doing everything in their power to achieve that.
But how realistic is it, and is it necessary?
If it's what you put your body, mind and soul into then you can win a price war by being the cheapest but that won't offer much room for profit margin and it will take more work than you ever imagined, as Amazon is a huge marketplace with thousands of other sells clamouring for exactly the goal you're working toward.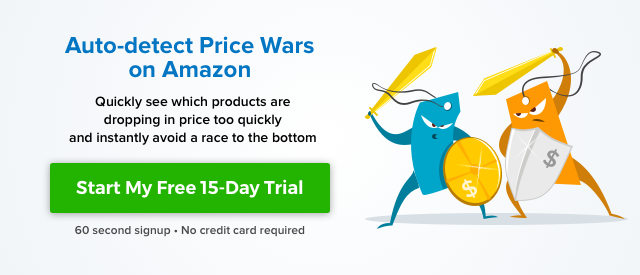 Price isn't the only factor for rising to the top, but it does play a huge role, and the Buy Box isn't always won by the lowest price—Amazon favours a combination of competitive price, high feedback ratings and a high volume of feedbacks—why? Because those sellers who consistently deliver excellent customer service will continue to do so for 'Amazon's customers'. Put yourself in Amazon's shoes for a second, and imagine there are two sellers competing to sell a television set.
Seller A has the television priced at £499 with 1,000 positive feedbacks and feedback rating of 4.9 stars over the last 12 months.
Seller B's television is priced at £489 with 50 positive feedbacks (and 10 negative feedbacks) and a feedback rating of only 3.5 starts over the last 3 months.
Amazon will likely determine that Seller A will offer their customer the better service overall and they'll be placed in the Buy Box despite being more expensive. Of course we have simplified this scenario for the purposes of clarity but it's true that a combination of competitive pricing and positive seller history are crucial to reaching potential customers. In fact, there are a host of factors that affect your ability to win the Buy Box and as a third party seller, you should seek to excel in all areas.
If You're Not in, You Can't Win!
Amazon is all about providing competitve prices with quality service and if you can deliver on those fronts, you should step into the game. With over 180 million customers ready to purchase in one click, more and more businesses and individuals are becoming third party sellers on Amazon. Those that can sell stock quickly will likely join the FBA program and allow Amazon to handle delivery, returns and customer service associated with fulfilling orders, easily doing so in international markets if they wish.
Try for Free
And low prices and quality aren't the sole preserve of Amazon—at RepricerExpress we offer a quality repricing solution at a competitive price, for those Amazon sellers that are ready to implement a pricing strategy that will deliver more sales and allow for higher profits—24/7. Why not give our 15-day free trial a go today! We tick all the boxes.
Want Pro Tips for Selling on Amazon?