As awesome as it is to see all those sales rolling in, there inevitably comes a time each year when you have to report your revenue. But instead of hiring some overpriced accountant to file those papers, check out the best tax software for Amazon sellers so you can do it yourself. You'll also be able to save money on the process, which you can put towards investing in other Amazon seller tools.
1. Avalara

If you want a super quick solution, Avalara is a tax compliance software that allows you to enter in numbers and figures and file your taxes right away. But if you want to make sure you've got everything correct, they have a manual option, too. You'd fill in the relevant fields, then hand off your form to their experts to have a final check before sending it off. This is a good option if you're at all unsure of tax laws and regulations in various countries.
As a brief overview, Avalara lets you file taxes for Goods and Services Tax, Communications Tax, Value Added Tax (VAT), Excise tax, and more. And not only is it compatible with any Amazon marketplace, but you can also use it for other platforms, like Walmart, eBay and Etsy.
Pricing is reasonable, too. Plans start at $50/year for small businesses, but there are big discounts everywhere. When you sign up for Avalara AvaTax, AvaTax and Returns, or Avalara CertCapture, you get 15 months' of service for the cost of 12 months. And if you need to use AvaTax Cross-Border or Avalara Consumer Use, they'll knock off 15% on your annual fees for the first subscription term.
2. TaxJar

If you've researched tax software for Amazon sellers for even five minutes, you'll notice that TaxJar pops up quite frequently. And for good reason, too. It makes filing your Amazon taxes about as easy as it gets. Just sync your Amazon account with the software and you're halfway home.
When you input all the relevant information, TaxJar essentially takes the reins and does the rest. Need to file taxes in different states? They'll do that for you on the states' deadlines so you're on time. Not sure which product tax code is the right one? They have a smart product classification feature that suggests codes so you don't have to dig around. And if you're not selling on Amazon, eBay, Shopify, Stripe, PayPal and find your platform isn't available, TaxJar lets you export sales data in a CSV file so you can still get your taxes done.
It should give you a great deal of reassurance that big companies like Coca-Cola, CBS, Microsoft, Eventbrite and others use TaxJar. But just because heavy hitters are associated with it doesn't mean you'll be paying through the nose. Their Starter plan is just $19/month (based on monthly orders), while the Professional plan is $99/month (based on monthly orders) for a ton more features — and both offer a 30-day free trial and setup period.
3. SimplyVAT

For Europe-based sellers (those in all 27 EU member states), figuring out VAT based on specific products and countries can be a hassle. That's where SimplyVAT comes in handy, calculating how much VAT you owe both on individual invoices and overall. But what's even neater is they start you off with a complimentary VAT compliance check (cross-referencing your products to countries where VAT is collected) to see if you even have to pay VAT.
If you're based in Canada, New Zealand, Australia or South Africa, SimplyVAT also has something for you, as you may be selling in countries where there's VAT. Regardless of where you live, they'll file monthly, quarterly or annually (depending on what's required) so you don't have to worry about the details.
Plan prices vary based on your business size, product inventory and other factors, so email or call them for an accurate quote. But if you want them to take care of your VAT registration as a one-off, it's only $470.
4. Taxify by Sovos
One of the biggest reasons why we love Taxify by Sovos is its wide-ranging flexibility. If you're an Amazon seller, they can integrate with your needs, but they also offer more general-use options to automate and file pretty much any kind of taxes. And if your company has been affected by Covid-19, you may be eligible for free filing support.
Some of their top features include sales and use tax software for any filing method in any jurisdiction; e-invoicing compliance software with compliance in more than 60 countries; VAT and fiscal reporting software so you're always on top of regulations; and tax information reporting software that just plain makes your life easier and cheaper.
If you end up going with Taxify by Sovos, you can count The Home Depot, Groupon, CVS Health, Philips and other top names among your fellow users. Prices are $47/month for the Starter plan, $97/month for the Standard plan or $247/month for the Premium plan, and you start off with a 30-day free trial.
5. A2X Accounting
Last, but certainly not least, is A2X Accounting as one of the top tax software choices for Amazon sellers. While we're not crazy about the fact that you'll have to manually file your taxes, the plethora of offered features more than makes up for that.
Let's start with their ecommerce-specific tax options. If you sell on Amazon or Shopify, there are tax solutions custom to each platform to ensure you're logging everything correctly. For those with more know-how who are used to the nuances of taxes, there's A2X Expert to handle your wider needs. And when it comes time to actually file your taxes, you can combine A2X with another tax-filing tool (like Xero or Quickbooks) to automate everything.
Prices are quite reasonable with plenty of ongoing deals. For a limited time, you can save 50% off Xero and A2X for Shopify. Otherwise, plans are $19/month for the Mini, $39/month for Basic, $69/month for Professional or $99/month for Advanced. And, of course, you can test out whichever plan/option fits you for a free trial.
Final Thoughts
With all the money you'll be saving from doing and filing taxes yourself, invest it in RepricerExpress. By doing so, you'll be able to create the kind of pricing rules that can net you higher sales and more revenue, as well as increasing your chances of winning the Buy Box (which means potentially even more sales). To see the kind of dollar signs you deserve, sign up right now and we'll start you off with a free 14-day trial.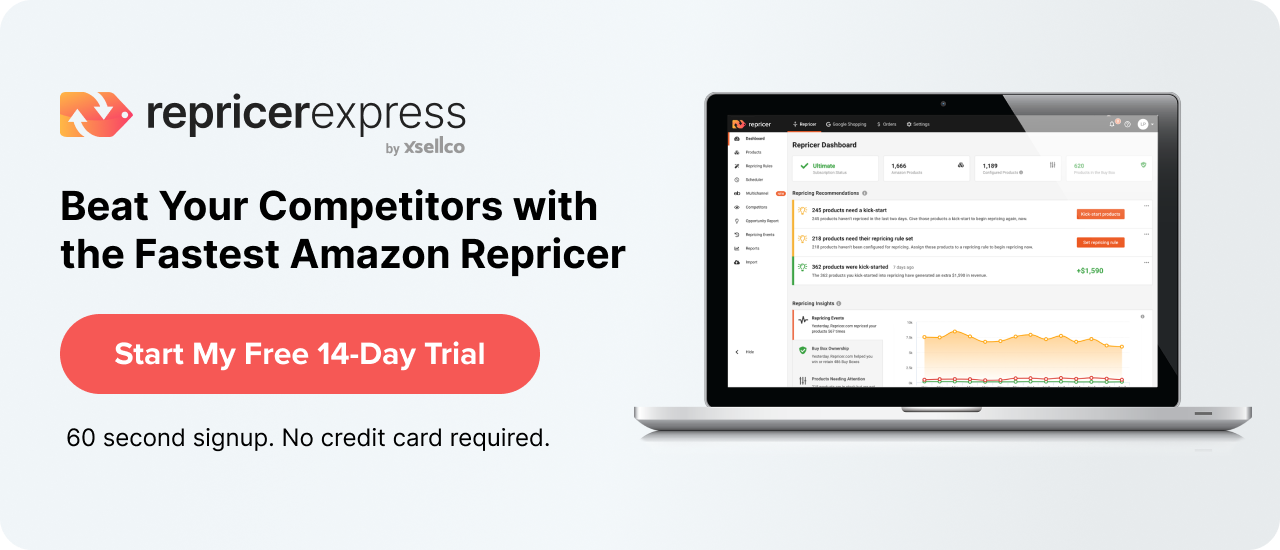 Related: Best Amazon Repricers: The Complete List (Updated for 2023)