Guest post by Andrew from LandingCube
If you haven't heard, Amazon is taking over the world. They already account for around half of all product searches online. Making it the number one platform for individual ecommerce sellers starting out. And Amazon's only getting bigger, expanding their operations within in the US, and abroad.
Taking that into account, it might surprise you to hear that top Amazon sellers are all driving traffic to Amazon. Capturing and driving external traffic to your Amazon listing is a great way to get a leg up over your competition while building your business into more than just another Amazon store.
Why Drive External Traffic?
Amazon is the first point of call for millions of shoppers, worldwide. So why rely on organic Amazon traffic?
There are several reasons why driving external traffic is a must for Amazon stores:
Get Seen Ahead of Your Competition
Optimising your Amazon listing for organic sales should always be your first point of call. But the problem is, all your competitors are doing this too. With more and more jumping on the FBA bandwagon, separating yourself from the next man has become difficult.
Not only are you in a constant battle for Amazon search rankings, but your competitors can also pay for sponsored ads to jump your listing on the search engine results page. They can even buy Amazon sponsored product ads on your listing!

For your product to stick out in the mind of your consumer, you need it seen first, on its own. A great way to do this is by getting in front of potential customers on other mediums (social media, blogs, etc). Thus bypassing all the Amazon sponsored products trying to steal your thunder.
It's A Chance to Showcase Your Brand
Another way sellers are surviving and thriving on Amazon these days is with a strong, recognizable brand. Something that differentiates them from all the cheap resellers. The problem is, Amazon presents limited opportunities to do this. After all, they want to push their brand to their customers.
Your Amazon listing has pretty strict limitations, and pushing those limitations is dangerous. When you advertise outside of Amazon, you can be as creative as you like. Create a unique voice for your brand, and make it something people remember.
By building a brand, you not only differentiate your products from others on Amazon. You're also protecting yourself against Amazon themselves. The platform is getting tougher and tougher on shady grey-hat sellers, beginning with their review policy change in 2016. Continuing today, many sellers are finding their reviews disappearing overnight. More have tight controls on their account. Yet well-known brands – Onnit, The Honest Company for example – are not only surviving. They're thriving.
Build An Email List
Email marketing is super important in any business, especially e-commerce. It's proven to be the most profitable medium in digital marketing, with an average return of $44 for every $1 spent. If you compare that to the cost of Facebook Ads or Amazon PPC, it's a no-brainer to use email marketing in your business.
The problem is, Amazon doesn't let you collect your customers' email addresses. In recent years, they took away the ability for you to see Amazon customer emails, out of fear that sellers will try to direct them away from Amazon. And if we look at a section from Amazon's terms, they strictly forbid sellers from sending emails to Amazon customers:
"Unsolicited emails to Amazon customers (other than as necessary for order fulfillment and related customer service) and emails related to marketing communications of any kind are prohibited."
There is a way to get around this, and it's 100% white-hat. If you capture a shopper's email address before they get to Amazon, they're fair game. So by capturing external traffic and setting up the right sales funnel, you'll have the ability to build an email list and market to that list. Most of your competitors will not.
Insurance For Your Business
Amazon is a great platform to sell on. They have a wide base of shoppers who are primed to buy, for one thing. And their storage and fulfilment network helps you manage a large part of your physical product business. But it's never a good idea to keep all your eggs in one basket.
Amazon keeps cracking down on policy infringements, no matter the size. It's leading to many sellers being suspended or removed from the platform. They're also launching more and more private label brands, which are tough for third-party sellers to compete against. Things might be great right now, but you should always be aware of the possibility that you might not be able to rely on Amazon in the future.
If your Amazon sales disappear today, you're out in the cold. Without Amazon's customer base, you need to learn how to drive your own traffic and fast. If you're already driving traffic, it's going to be a lot easier to set up a Shopify store or a WordPress site and send traffic that way. It will hurt, but not as much as if you rely on Amazon alone.
How Can You Drive Traffic Effectively?
Driving traffic is easier said than done. But once you have the formula down, specifically what works for your business, it's a valuable skill to have.
There's no scientific method to it, but there are a few tips you can use to cut down the "error" in your trial-and-error.
Choose the Right Traffic Source
You can find potential customers from many different areas of the web. The trick is to not spread yourself too thin and choose one or two that work for you.
Facebook ads are one of the most popular traffic sources, due to Facebook's massive user base and the sophisticated tools available for advertisers. But it can be expensive, with everyone and their mother advertising on Facebook these days.
An email list, as mentioned earlier, is a great low-cost marketing channel. Getting subscribers can be tough, but once you do the work, an email list is incredibly valuable. Google AdWords, Pinterest, Blogs, and Influencers are other options that can help grow your Amazon store's reach.
It takes a bit of experimentation to nail down the best traffic source. It's also important to narrow down your target audience, so you're marketing to people who are likely to buy your product. Once you find something you have success with, stick with that source for a little while before expanding into others.
The #1 Mistake
Whether it's Facebook ads, Google ads or Influencer marketing, most people make a big mistake when driving external traffic. They send the traffic straight to Amazon.
Why is this bad?
Shoppers on Amazon are there for one reason: they want to buy something. Because of this, traffic on Amazon converts a lot higher than the rest of the internet. Non-prime Amazon shoppers have an average conversion rate of 13%. That rises to 74% for Amazon Prime members! In comparison, the same study found the average conversion rate across all internet retailers was just 3.32%.
This means, most likely, any traffic you are sending to Amazon is going to bring down your conversion rate. Conversion rate, along with sales velocity and number of reviews, makes up a huge part of Amazon's ranking algorithm. So if this tanks, it's quite possible your rankings will too.
The best practice? Send external traffic to a landing page first. A few software tools can help you set up a landing page for your Amazon store. LeadPages is a popular general-purpose landing page builder. Alternatively, LandingCube is a tool made for Amazon sellers, which makes setting up an Amazon landing page quick and easy.
By using a landing page, you can collect email addresses, Facebook Pixel data, and market to your customer before they reach Amazon, and become off-limits.
Set up a Sales Funnel For Success
The quality of your sales funnel goes a long way to deciding the success of your external marketing. For Amazon stores, this doesn't have to be too complicated. It should look like this:

First, you get in front of your potential customers on external traffic channels. Then you send them to your landing page. You want to use this step as an opportunity to capture your customer's email address (before they get to Amazon). A great way to do this is by offering single-use promo codes on your landing page (which LandingCube automates for you). A discount provides an incentive for your customer to part with their email, while encouraging an uptick in sales on Amazon.
Install this funnel for your external marketing and you've got a great chance to boost your Amazon rankings while setting the foundation for a fruitful relationship with your customer down the road. It may seem counterintuitive to add extra steps for your lead to go through. But the value of an engaged, repeat customer is much more than the short-term value of a single sale.
Driving External Traffic: In Summary
Off-Amazon traffic – as a complement to organic Amazon traffic – is vital for sellers who are looking to grow. It provides a way to get a leg up over your competitors, a way to build a valuable email list and a plan B for your business should the worst happen.
When you're ready to take the step and start driving external traffic, do it the right way, to minimize the cost of experimentation. Driving your traffic to a landing page, offering promo codes and capturing emails sets your business up to thrive well into the future.
To learn more about driving traffic to Amazon, check out this free guide.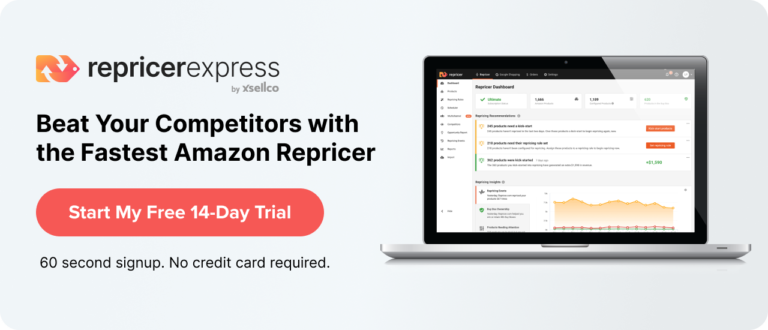 Related: Improve Your Amazon Traffic and Conversions (Tips From an Ex-Amazon Employee)