"A satisfied customer is the best business strategy of all."

Michael LeBoeuf
Why Customer Service Matters
According to the Microsoft State of Global Service Report, 61% of consumers now view customer service as "very important". And in 2021, customer service is predicted to take over price and product as the main brand differentiator.
An excellent customer experience will help build trust and encourage repeat purchases. However, a negative customer experience can result in a loss of sales, damaged reputation and negative online reviews.
Globally, 60% of consumers said they stopped doing business with a brand due to a poor customer experience. This figure increases to 68% for those aged 18-34.
It's estimated that it costs five times more to attract new customers than retain them so keeping existing customers happy is crucial if you want to be successful long-term.
Ecommerce Customer Service
Ecommerce is one of the most challenging sectors to operate in but one company which consistently delivers ecommerce customer service well is Amazon.
Amazon is the world's most customer-centric organisation and has had a strong focus on customer satisfaction from day one. In 2019, Amazon won a hat-trick of customer satisfaction awards including the GlobalData Best Retailer award.
Following Amazon's lead, customer service should be at the heart of your ecommerce business strategy.
Key Elements of a Great Customer Experience in 2023
What does excellent customer service mean in 2023? It means being able to respond to customer queries efficiently and effectively using email, Live Chat and social media.
According to eConsultancy, these are the top six things that make up a great online customer experience.
Getting the issue resolved quickly.
Getting the issue resolved in one interaction.
Dealing with a friendly customer service representative.
Being able to follow-up with the same person if necessary.
Being able to record, print, save a copy of the interaction.
Having some sort of follow up afterwards to ensure you're satisfied.
Rising Customer Expectations
Customer expectations for customer service continue to grow. We live in an age of convenience where we want it all and we want it instantly!
According to a recent survey by HubSpot, 90% of customers rate an immediate response as "important" or "very important".
Customer service and the customer experience have become key differentiators for brands and ecommerce businesses.
With that in mind, let's take a look at some strategies to boost your ecommerce customer service for new and existing businesses.
1. Develop a Multichannel Strategy
A study by the Aberdeen Group found that companies with a well-defined omnichannel customer experience have a customer retention rate of 91%.
Developing a multichannel strategy means you need to know where your customers are, whether that's Facebook, Instagram, WhatsApp or Live Chat, and be there.
When you establish your channels for contact, let your customers know that you can help them through these channels. You should aim to provide a consistently high level of customer service across all your channel channels.
Your goal as an ecommerce business is to take customer service to your customers and make them happy.
2. Ensure Customers Don't Have to Repeat Themselves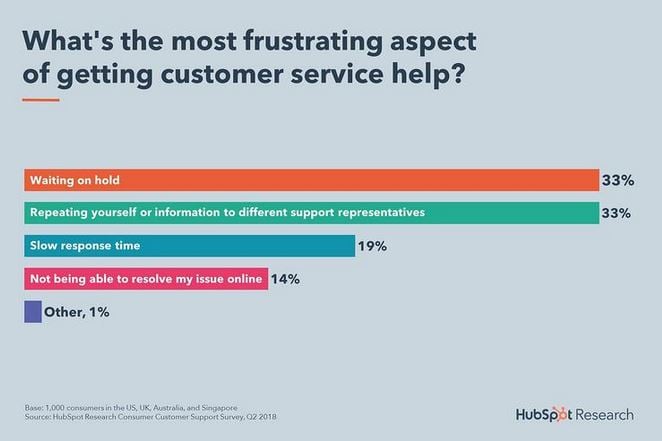 According to HubSpot Research, 66% of us rate the most frustrating aspect of getting customer service help as waiting on hold or repeating information to different representatives.
It's probably happened to us all at one time or another and it can be very frustrating and a waste of time for both parties.
Making sure customers don't have to repeat themselves or wait days for a response is an important aspect of a good customer service experience.
3. Track Your Customer Satisfaction Score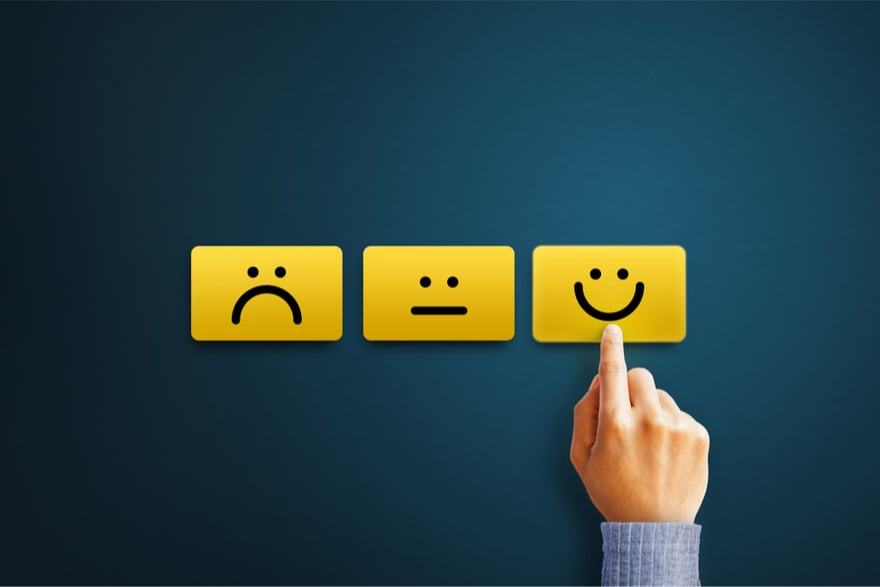 If you want to improve something, you need to measure it.
Measuring customer satisfaction will help you see if the interaction with the customer was a successful one or not.
There are many different methods, each with pros and cons, but the most popular due to its simplicity is the Customer Satisfaction Score or CSAT for short.
Customer satisfaction surveys commonly use the CSAT to measure the consumers' satisfaction with the product or service. They often include the question "How satisfied were you with your experience today?" and offer a scale of 1-10 or 1-5.
Getting customer feedback can give you invaluable insight into what is working or not.
4. Implement Live Chat
Live Chat helps to increase sales with studies suggesting that having Live Chat on your site can drive 3-5 times more conversions.
The instant messaging software allows customers (in most cases) to get an answer right away rather than wait for 24 hours or more for someone to respond to an email. Quicker response times help to improve customer satisfaction and loyalty.
It's very convenient and less costly than phone support as customer service representatives can have multiple chats going simultaneously.
5. Use Help Desk Software
Having the right software can be just as or more important than having the right team or processes.
Customer service tools like eDesk when used correctly can be crucial in terms of retaining customers and keeping them satisfied.
Help desk software helps customer service representatives manage customer enquiries better and respond to them faster.
It can integrate with social media platforms and contact forms on your website, so everything is stored in one central location.
6. Leverage Social Media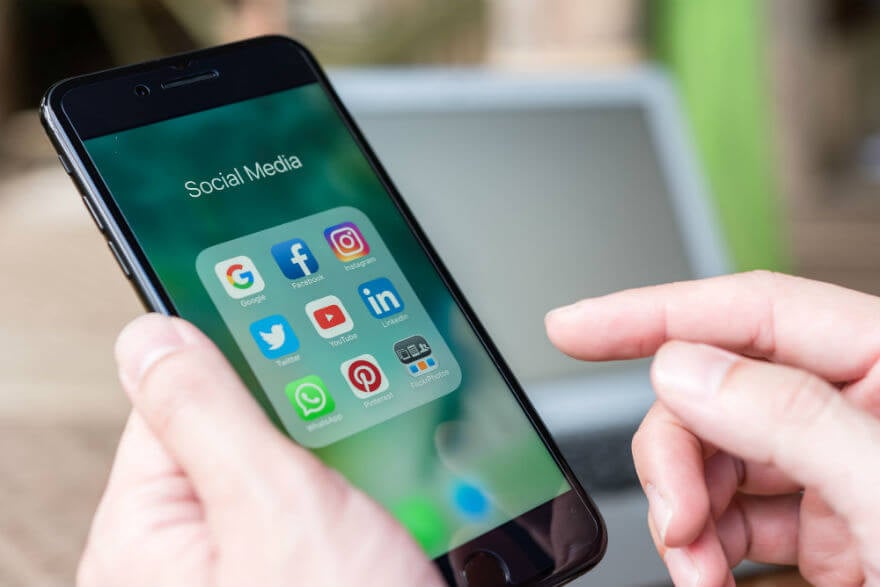 Customer service through social media is growing in popularity. When customers can't connect to you via phone or Live Chat, they will often turn to social media.
And you need to be responsive… 42% of people who get in touch with companies through social media expect a response within 60 minutes!
Social media can be a place for customers to vent their anger and have a moan. However, it can also be a positive medium where brand advocates can sing your praises when you do something well or go above and beyond.
Engaging with customers through social media allows you to communicate directly, build relationships and brand loyalty.
7. Make Key Information Available Online
If you're thinking of making a purchase online, one of the most frustrating things is being unable to find the information you want online.
To avoid this scenario, ensure your ecommerce website has an FAQ section and a knowledge base containing all the relevant information that the consumer requires. For example, information on exchange and returns should be easy to find.
Having a knowledge base will not only help to cut down on customer support requests but they are also good for SEO so win-win.
8. Employ Seasonal Staff
Q4 is the busiest time of the year for the majority of ecommerce sellers.
More sales equals more returns and more customer support. We've already stressed the importance of taking proactive measures to reduce customer support such as an online knowledge base and FAQ section.
Longer response times can equate to lost sales and potentially lost customers so consider employing extra staff to cope with the increased workload and maintain your high levels of customer satisfaction.
You can find reliable, pre-vetted eCommerce customer service support staff among other ecommerce specific talent at FreeeUp.
Final Thoughts
To grow your ecommerce business, you need to retain current customers and attract new ones by consistently delivering an excellent customer experience. Sam Walton once said, "The goal as a company is to have customer service that is not just the best, but legendary".
We hope that this post has given you some ideas that you can implement in your business to improve your ecommerce customer service.
Special Offer from eDesk!
eDesk is the only connected AI-powered help desk made for ecommerce sellers. It integrates with all the major marketplaces and channels, saving you time, money and headaches. Try it FREE for 14 days.