Yesterday (19 May 2020), Facebook CEO, Mark Zuckerberg announced that the company is moving into the ecommerce world with the introduction of Facebook Shops, an online store that will work across Facebook, Messenger, WhatsApp and Instagram.
He described the introduction of Facebook Shops as a way to help businesses affected by coronavirus but accepted it will not "undo all the economic damage."
Here's the announcement Zuckerberg made on Facebook last night:
"I just announced that we're launching Facebook Shops today – the basic idea is that any small business can easily start a shop to sell things directly across our apps.
If you visit someone's shop, you'll be able to see that small business's story, see their featured products, and buy them in our apps. I think this particularly important right now because so many small businesses are moving online to deal with the economic fallout from Covid-19.
As people are being told to stay home, physical storefronts are having a hard time staying open and millions of people are losing their jobs. I've been personally working with our teams on Facebook Shops every day for the last couple of months so we could accelerate launching it to small businesses who could use tools like this now.
Facebook Shops are free and easy to create. When you set up your shop, it will appear on your Facebook and Instagram accounts to start and soon on Messenger and WhatsApp too. Shops are native and fast, which means no more app-switching to a slow mobile web browser where you have to reenter your credit card when you tap on an interesting product you see in feeds.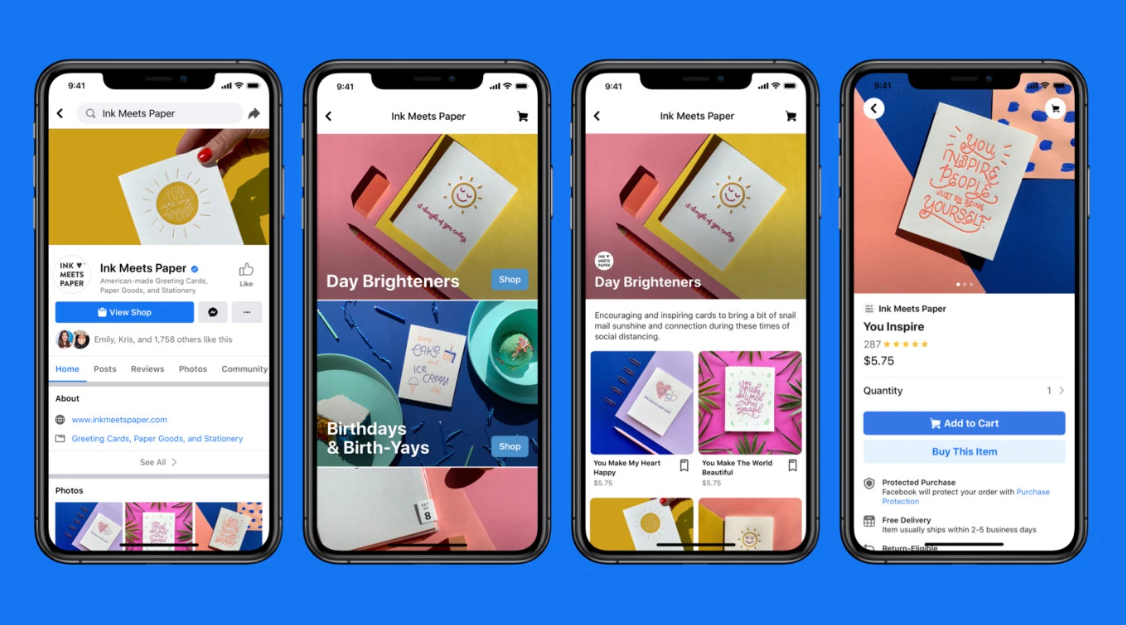 Image credit: Facebook
We're also working with partners like Shopify, BigCommerce, WooCommerce, Channel Advisor, CedCommerce, Cafe24, Tienda Nube and Feedonomics so that small businesses can easily integrate into a strong, open ecosystem of tools to help them manage their customer journey end-to-end, and it's up to the business to decide what level of integration they want.
On top of that, we're building a bunch of features across our apps to help people discover things from small businesses that they might want to buy. We're building a dedicated shopping tab on Instagram and a destination inside Explore where you can find and buy products you might be interested in.
Soon, we'll also be launching new Live shopping features across Facebook and Instagram, which will allow you to shop on Live in real-time. Lastly, in the near future Shops will use our AI and augmented reality tech to create better shopping experiences.
We'll automatically identify and tag products in feeds so people can easily click-through to purchase when they find things they like. Small businesses will also be able to personalize their storefronts to first show products that are most relevant to you and use augmented reality to let you virtually try on things like sunglasses, lipstick or makeup to see how they might look on you before buying, or what furniture might look like in your room.
This all adds up to something quite powerful. If you're running a small business or you're thinking of starting one – even from your living room – you now have a whole suite of tools available that can help you serve people. You can build out your online presence across Facebook and Instagram. You can use Messenger and WhatsApp to communicate with your customers. You can reach new customers through our ads.
And now, you can also set up a full online store experience with Facebook Shops. All of these tools are open for business, even when your physical storefront can't be. Hopefully, this helps relieve some of the pressure that small businesses are facing right now and helps them prepare for a more online future. I look forward to getting Shops into the world more widely — let us know what you think!"
Check out the video in the tweet below for more details.
Today we're introducing Facebook Shops, which will make it easy for businesses to set up a single online store on both @facebookapp and @instagram, and soon @messenger and @WhatsApp too pic.twitter.com/bBloRGBFzP

— Facebook (@Facebook) May 19, 2020
How to Step Up a Facebook Shop
Go to your Facebook Page and configure the Shop page.
Set up your shop details.
Configure your payments.
Add a product to your Facebook shop.
Manage your orders.
Happy Selling
Facebook Shops FAQ
Who can add a shop?
If you have a Facebook business Page, you can add a shop. You can use this section to list products you're selling and connect with more customers on Facebook.
Requirements to have a shop
Your Facebook shop must:
Sell physical items
Agree with Facebook's Merchant Terms
Benefits of a Facebook Shop
Shops will have different features depending on your location. You can:
Add as many products as you want: You don't need to upload a product catalogue anywhere else first, and there's no limit on how many products you can add.
Customize your product inventory: You can organize your products into different collections so your customers can browse your shop by category.
Communicate with customers: Your customers can message the shop on your Page with questions.
Get insights: You can see views, clicks and purchases for each of your products.
Final Thoughts
So starting today, you'll be able to buy products directly from a business' Facebook page or Instagram profile.
According to Instagram's VP of product, Vishal Shal, nearly one million business have signed up and will be able to create a Facebook Shop for free.
Will you be joining them and selling on Facebook Shops? We will update this blog when more details are released over time.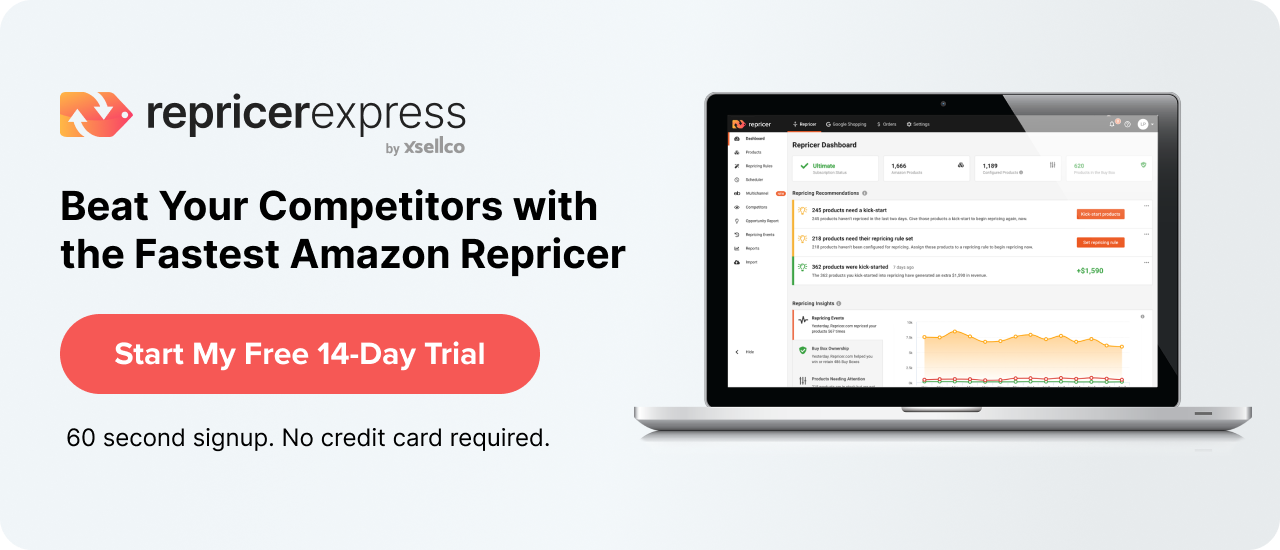 Related: The Best Amazon Facebook Groups for Sellers (in 2020)