Ecommerce has grown by massive amounts over the past few years and is expected to touch the $7.4 trillion mark by 2025. Online shopping ads are properly set up for shoppers to know more about a product. It's an easier way to shop and gives the shopper all-important details they need to know.
What are Google Shopping Campaigns?
Google Shopping ads are one of the most popular formats online. These shopping ads include a lot of rich product information, including product image, merchant names, prices, etc. Depending on the information you as a merchant submit on the data feed, it's shown to the people searching for the types of products being advertised.
This information is taken from data attributes from the product information and showcased. Google Shopping campaigns help promote products by giving users detailed information on what you're selling before they click on the ad. With retail-centric reporting tools, you can track the product performance that makes it easier to put your campaigns and spends in perspective.
5 Benefits of Google Shopping Ads
Can get highly targeted traffic – Google Shopping was created to target people who are generally searching for products you sell. Potential shoppers will reach you only if they have a higher intention to purchase. You can pair this intention with visual product images and information-rich ads and help the customer make a more informed purchasing decision.
High potential customer reach – Google will show more than one of your ads to potential customers, within a single search and this automatically translates to a broader presence.
High ROAS – When it comes to Google Marketing, Shopping ads perform better than plain search ads. Optimizing these campaigns can also translate to lower CPCs and this coupled with broader reach and conversion results in optimal ROAS.
Can manage and optimize early – Finding the right keywords for Google campaigns can be hard but Shopping ads use product data feed to decide which products to show, instead of just keywords. They use product attributes to match ads to searching shoppers, so managing and optimizing these ads become all the easier.
Better data and reporting –  The competitive data and reporting tools offer some great insights into how the product is performing. You can see the number of clicks on a brand product and filter product views, bid simulator tools, and also share data to spot many growth opportunities. You can then benchmark data to assess the competitive landscape.
Google Shopping Ad Types
1. Product Shopping Ads
These are ads that are created in Google Ads but are populated with product data uploaded in the Merchant Center Account.
You can also enhance the Google Shopping product ads by
Adding more product trust with product ratings. These shopping product reviews work with a 5-star rating system.
You can use the Customer Reviews service and also collect feedback in the form of post-checkout page surveys, from the converted shoppers.
Product Shopping ads are charged using the CPC model and you'll have to set up the Google Ads and Google Merchant Center accounts and link.
 2. Showcase Shopping Ads
Showcase Shopping ads display related products for customers to choose before they click the one they want. If a user searches for "swim shorts," the ads will show relevant products together.
These are ads that are generally charged on a CPE basis. An engagement is recorded if a user expands a collapsed ad for more than 10 seconds. These are available in select countries and you can check out the list online.
3. Local Catalog Ads (LCAs)
These are the types of ads that are suited for selling online and offline and they use product feed data to highlight specific products in stores. This can then help drive foot traffic to the brick-and-mortar store.
4. TrueView for Shopping
These make video ads more interactive and use product data to generate Shopping cards that can appear in video ads. They are created by selecting "Product and brand consideration" followed by the "video" campaign type and you can select the "Shopping" campaign as the subtype.
5. Smart Shopping campaigns
The Smart Shopping campaign subtype combines the display remarketing campaigns with product shopping and uses automated bidding and placement and simplified campaign management as well. This helps in maximizing conversions and expanding the reach too.
Smart Shopping ads can be used to show a wide variety of ads on the Google network – from Search, Display, YouTube, and Gmail. After testing text and image variations to find the best-performing ad,  Google will display the best one. These ad types include Product Shopping, Display ads, dynamic remarketing, LCAs, etc.
To use these Smart Shopping campaigns, you'll need to set up a global site tag on the website, a conversion tracking with specific values for the transaction, remarketing lists with 100 users at least, and link the Google Analytics account.
How to Create a Profitable Google Shopping Campaign?
1.  High-Quality Product Photos and Listings
You must upload the product feeds and build strong Shopping campaigns as you'll need to review the product photos and information. Google draws product feed data from here and they have clear guidelines which the main product photo must follow.
Avoid borders, watermarks, logos, and don't feature more than one product type. There mustn't be any dark, multicoloured, or patterned backgrounds as well.
Try to include a clear photo of the product being sold and it should take up only 75-90% of the space. Make sure it's well-lit and has a solid grey, white, or light background.
2. Comply With Google Shopping Ads Requirements
The store needs to comply according to the requirements as well as policies that are within the Google Shopping Ads. These rules and regulations are placed within the Google Policies and you can run through them before you take your campaigns live.
3. Create and Setup Your Google Merchant Center Account
The next thing that needs to be done is setting up the Google Merchant Center account. This aids in creating well-optimized feeds. These are vital for the success of the campaigns and will help you manage all of the ad campaigns online.
 4. Create Your Product Feeds
The Product Feeds need to be optimized because they will be rejected by Google and cost the target-driven clicks. The Google Shopping Feed requires different parameters that you're probably not using. With the help of the ecommerce platform and its feed, you can skip products that lack most of those parameters. YOu can optimize the feed and get the exact results you seek.
If you're optimizing the product feed on your own, there is a section on the Google Shopping guide that aids the same.
5. Link Your Google Merchant Center Account to Google Ads
To access product feeds for Google Shopping campaigns, you'll have to link the Google Ads account to the Merchant Center account. You can do this by clicking on Merchant Toolbox and scrolling to "Linked Accounts".
You can go to the "Google Ads" tab and link the Google ads account then.
6. Google Shopping Campaign Settings  
Country of Sale – You'll first need to select the countries for the products to be included in the campaign. They will be sold and shipped to them. It's important to note that once the Google Shopping campaign is created, you can't edit the country of sale.
Inventory Filter – Segmentation is another key element to the success of Google Ads. Creating a campaign that includes all products won't cut it if you're looking to get the most sales for the budget. Google generally matches searches to relevant products in the Google Merchant Center Feed. The inventory filter can be used to work around it. With it, you can filter and adjust the number of products being used in the Google Shopping campaigns.  Google will know which products or groups match to particular queries and you can always edit the inventory filter after creating a campaign
Bidding – You can select the bidding type you'd like to use at a campaign level. You can choose either a manual CPC bidding strategy to set your own max CPC or an automatic Smart bidding strategy that includes "maximize clicks," "target CPA," "target ROAS", and more.
Daily Budget – You can also tell Google how much you're willing to spend on a campaign per day. It won't serve the ads once the daily budget threshold is crossed. Once you start small, you can fully optimize the campaign later.
Campaign Priority – The Campaign priority is an important part of creating Google Shopping campaigns. It helps to know which campaign requires the most spending and which one, the least. It ensures there's no overlap and allows you to choose accordingly. There are three priority options including low, medium, and high.
Networks and Devices – The Google Shopping campaigns will show Google's Search partners, search network, Google Discovery, YouTube, and Google Discover on the Display network. You can limit the network placements as well, with the "any networks" box. The same can be applied for devices.
Locations and Local Inventory Ads – The final part of the Google Shopping preferences set at the campaign level includes the local inventory ads and the locations. Locations generally limit where the ads are shown and Local Inventory ads show offline ads too and allow you to decide whether you'd like the Shopping campaign to include the products being sold in local stores.
Success! your Google shopping ads are live now. You can officially start selling online.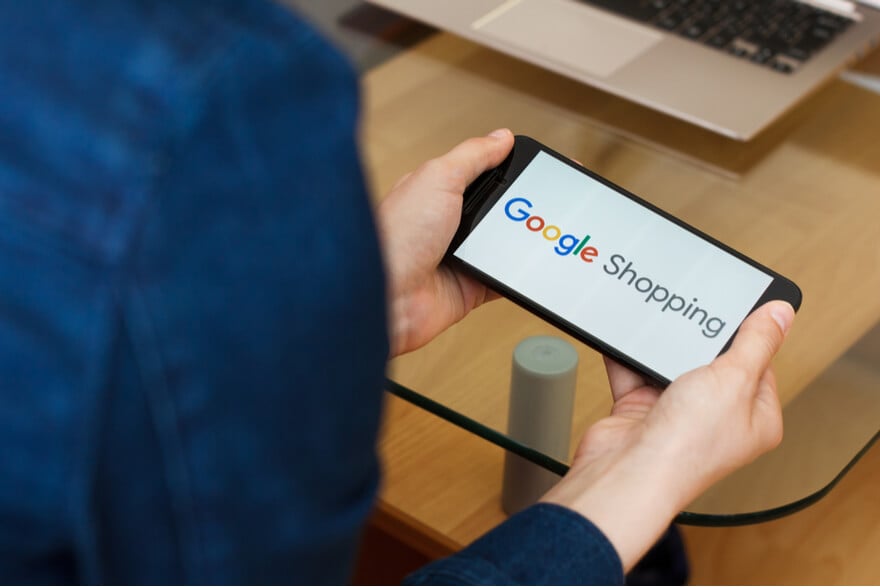 How to Optimize Google Shopping Campaigns?
1. Optimize Your Product Titles
Your product title needs to look good with minimal spam. They need to be accurate and descriptive and as close to the product page's title tag as possible. A properly optimized title gets up to ten times the CTR, so it's well worth spending some time on improving this process.
2. Optimize Your Product Feed Descriptions & Categories
Product Descriptions also make a big difference. You need to ensure they're relevant to the product you're selling. Just keep it basic, with callouts for the main features and that's good enough.
3. Optimizing Product Images
The product images play a huge role when it comes to standing out from the rest. You must create pictures that have an aspirational feature to them because they are the first thing the user notices.
Images need to look good and one of the best ways to optimize is to showcase a use-case of the product in itself. Up to 82% of shoppers answered they would most likely click on any shopping ad if the image was worn or used by someone in the image.
4. Use Google Shopping Ad Extensions
Another great tool for text ads is the Shopping Ad extensions and they can look fantastic when used on Shopify. There are two kinds of extensions.
Automated Extensions – These are used for Shipping or tax information that's displayed in a PLA
Merchant Center Programs – These include Google Customer Review, Product Ratings, and Merchant Promotions.
These extensions can drive conversion rates and CTRs and they're based on the information you provide in the Merchant Center.
5. Use Products Reviews and Ratings
Products reviews and ratings are important because shoppers need to know about the product. It's also a great way to advocate your good ratings and increase your chances of selling online.
6. Implement a Negative Keywords strategy
Sometimes, if your product ends up in searches that aren't relevant to your product, it could end up in a waste of budget. Implementing a good negative keywords strategy ensures your product isn't shown on those searches that are irrelevant.
7. Adjust bids by device performance
Depending on what device serves your product better, you can use insights to get the best results out.
8. Optimize by Geo Location
Geo-mapping your products online ensures that you don't have to sell to those people outside of your delivery area, and helps in saving crucial budget amounts.
9. Increase bids for High-performance Products
If a product is doing well, it's good to increase the bids for them because they can end up selling better and being shown to more people online.
10. Create a Remarketing Strategy
Dynamic Remarketing: With dynamic remarketing, you can target previous visitors and deliver ads to them based on the websites they surf. It uses info from the Merchant Center feed and builds customized ads.
Remarketing lists for search/Shopping Ads: RLSA is a type of Google Shopping remarketing strategy. Instead of building complete campaigns, you can attach audiences built using Google Analytics or Ads. When previous shoppers visit your store, they've displayed ads based on the products viewed back then.
Final Thoughts
Thus, these are some of the best ways to go about optimizing your Google Shopping Campaigns. Keep trying out different variations in content and images and so on, you'll find a formula that works perfectly! Good luck!