Guest post by Josh Morris
Hey there, it's Josh from Azon-University here. Chris Dunne from RepricerExpress asked me to share a few pricing strategies for this blog and I'm so excited to share. So, here are the top five strategies that we apply to increase our profits and conversions. You can do these strategies manually but they're much easier to implement with repricing software like RepricerExpress. Let's start with a basic price strategy of price ceilings and discounts.
1. Price Ceilings & Discounts
Why does $49.99 sound so much cheaper than $51.68? Even though it's only .67c more, it feels like you're spending an arm and a leg more than the lovely sounding cheaper price of $49.99.
This is because of the psychological trick of 'price ceilings'. You should always price your products at these ceilings to maximise profits while keeping your conversion rates soaring.
Examples of price ceilings: 14.99, 19.95, 24.99, 29.95 – You get the idea…
Examples of NOT price ceilings: 15.45, 22.50, 33, etc. Don't do this.. it doesn't look good, and doesn't work.
Now let's talk about discounts.
Even if your price is 19.99, you can still have a retail price of 24.99, or 29.99. This way there is always a perceived sale on your products, and the visitor thinks like they are getting a bargain.
You'll see this combination of discounts and price ceilings in every high street retailer and most internet sites because it WORKS. It's worked for hundreds of years and it's tied into human psychology.
We are always hunting for a bargain, and a product priced at 29.99 discounted from 39.99 will ALWAYS sound better than a product priced at 30 with no discount, even though there is only one cent difference in price.
Let's move on…
2. Minimum & Maximum Prices for Safety & Profit
You should set minimum prices for your products so they can't go below a fixed threshold no matter what.
To figure this out, calculate your break-even price or at the very least, minimum profit objectives.
If you've tracked what your break-even price is, then you can never go below that price or you're losing money.
You should have a minimum profit objective (i.e. minimum 20% profit margin) so you're certain you're making a profit even at this low price.
You should set maximum prices as well, which reflect how much profit you truly want to make and how much value your product and brand brings. The more value, the greater your price can be.
We like to shoot for 40-50% profit margins, with 20-30% being a minimum/break even, and 60-70% being a maximum as we increase the product value.
So how can you increase the product value and charge more? Well, that's step 3…
Related: Setting Your Min and Max Prices in RepricerExpress
3. Increase Value, Increase Price
People pay more for more value, it's as simple as that. We use money as an exchange of value. If you want to charge more, become more valuable.
Here are two ways we have become more valuable, and how you can too. I've split up value giving into two categories, Perceived Value and Actual Value.
Perceived Value
Add value to your overall brand: Having a website, video marketing, articles written about your product, showing people using your brand. All this adds value to your brand which means you can charge more being a premium brand.
Professional photos and copy: Your brand and product images need to scream high value. You'll never be able to charge premium prices if you have less than premium photos and copy.
Actual Value
Product quality and customer focus: Your product itself should be of the highest quality and contain little unexpected extras that the customer never thought of. Get inventive about what else your customer might want and include it in your product. If the customer gets more value, they will pay more
Digital bonuses to download: We offer free guides and videos to help customers. In the fitness niche, we offer training courses and exercise guides. You could add a recipe guide to a chopping board product, or a 'top ten hikes' guide to go with your camping gear items.
Think about what free information could benefit the customer, that you could add to the product to increase its overall value—and then charge more for it.
Use these strategies to create a 'premium' looking brand and offer premium prices for your product. Higher value can ask for higher prices, which means more profits for your business.
4. Dip to Win Box, Raise To Maximise Cashflow
This is an Amazon-specific strategy, and it works great to win the Amazon Buy Box in the face of competition and then increase your overall cash-flow.
First, lower your prices (using price ceiling and discounts) until you win the Buy Box and can hold on to it.
When you have the Buy Box on Amazon, start to increase your prices to maximise profits as you go.
If you lose the Buy Box, rinse and repeat this strategy.
Tools like Repricer Express make this strategy so much easier than doing it manually, and I'd be so bold as to say that if you were to do this manually, it's not worth your time. With a tool, however, it's totally worth it and a very powerful strategy to win sales and maximise profits.
One great feature RepricerExpress offers in this regard is the Sleep Mode (or Profit Protection). This option will enable you to push your prices to Max during a certain period of time each day (generally at night), to help maximise your profits (if you're stuck in a bad price war for example).
You can set up this option very easily in your account in the 'Repricing Rules' section: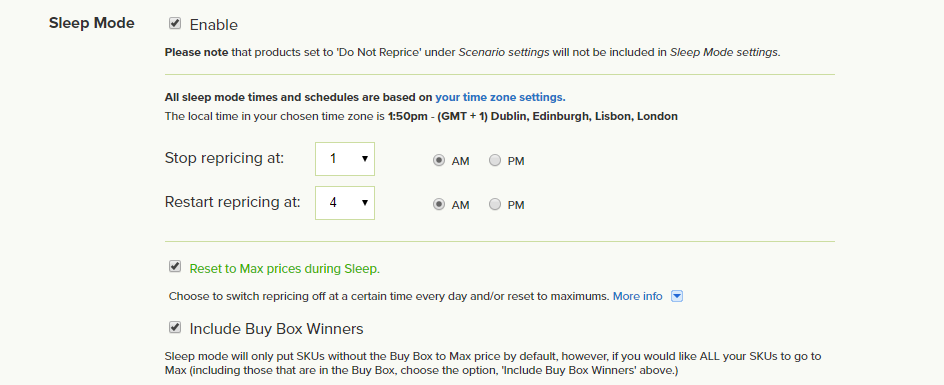 5. Split Test Pricing For Massive Profits
The only way to know the best possible pricing for your products is to split test. We use this strategy to test landing pages, headlines, images, and of course, price.
Sometimes the results shocked us. When we tested 17.95 it converted higher than the low price of 9.95. We were missing out on massive profits because we mistakenly thought that lower price meant more sales when the truth was we converted higher at a higher price.
You never know when a higher price will convert higher so it's always worth testing.
You can split-test different price windows, like 14.95 or 19.95, and break the rules a bit by seeing how 18.99 or 17.99 converts compared to 14.95. Sometimes what you find out will shock you.
Manual repricing is tiresome and difficult and split testing manually is next to impossible.
We managed to split test without any tools, but it took weeks of tracking just to figure out if a price was good. Even after weeks of testing, there was no clear data, just speculation with best guesses. A repricing tool like RepricerExpress can certainly help you.
We have also included many pricing strategies in Module-6 of the Azon University program, which takes you from product research to finding suppliers and getting products to amazon and scaling up your business to 5 figures per month and beyond.
For now, start taking advantage of different pricing models and strategies using these five different pricing strategies.
Any questions, feel free to reach out.
Speak soon,
Josh & Shimmy Morris
Azonu.net
Bonus: Use RepricerExpress, Amazon repricing software, to help you optimise your sales and profits. You'll be able to secure more Buy Box and save a load of times. Sign-up for your FREE 15-day trial today! No credit card required.