We're excited to announce that RepricerExpress, the leading Amazon and eBay repricing solution is now available in the Amazon Marketplace Appstore, directly accessible in Seller Central.
The Marketplace Appstore is a one-stop-shop where the small and medium-sized businesses that sell on Amazon can more easily discover quality applications to help them automate, manage and grow their business. Accessible from Seller Central, the Marketplace Appstore features applications created by Amazon and external developers and covers a range of functionalities across the selling lifecycle.
Brendan Doherty, CEO of RepricerExpress said,
"At RepricerExpress, we're excited to be featured in the Automated Pricing category. We hope the new platform will help sellers quickly identify the integrated tools they need to support their selling needs on Amazon."
You can now find RepricerExpress in the Automated Pricing category on the Amazon Marketplace Appstore.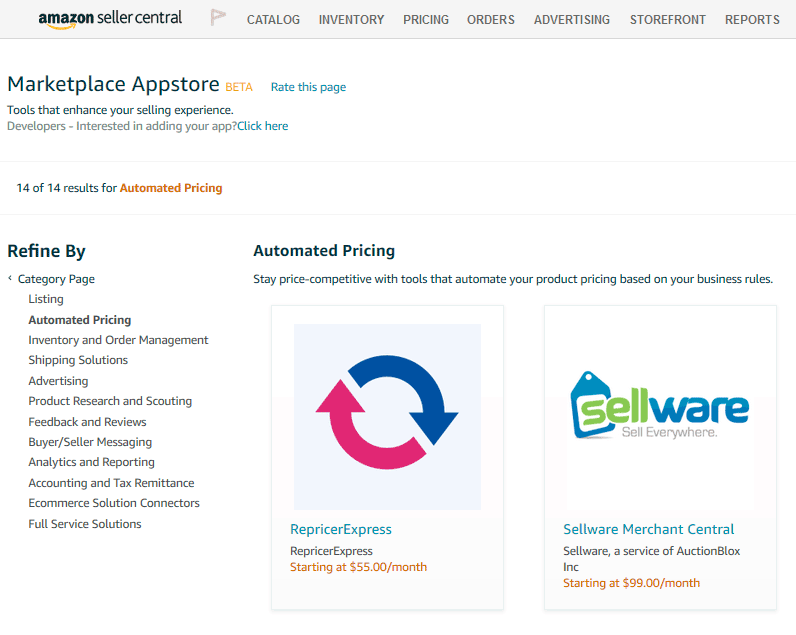 About RepricerExpress
RepricerExpress is the Amazon and eBay repricing solution that's super easy to set up and use. Sell more and keep your listings competitive 24/7 without constant attention. RepricerExpress offers Amazon FBA and Featured Sellers the flexibility to compete for spots in the Buy Box and More Buying Choices Box. Our super-fast repricing allows all sellers to aim for higher positions in the Offer Listings pages, ensuring more buyers see your products. eBay repricing can either be based on your competitors' listings (with various filtering options) or formula-based using your Amazon prices.
See what real RepricerExpress customers are saying about our software on Web Retailer.