Amazon is the most renowned international online marketplace — used by thousands of digital consumers every day. In the first quarter of 2016, Amazon had over 310 million active users from across the world, and that presents plenty of sales potential to your ecommerce business.
So, how come all ecommerce business owners aren't jumping at the chance to utilise Amazon as their main marketplace? A survey by UK ecommerce business owners showed that only 20% deemed Amazon as the key marketplace for 2019, with 46% choosing their own websites.
The figures and statistics show Amazon to be a highly successful sales channel – both locally and internationally – so what it is that's holding back ecommerce businesses from focusing more heavily on Amazon?
Here's a look at some of the pros and cons of selling on Amazon.
Selling on Amazon: Pros
Sales
If you've played by Amazon's rules and listed your products in line with Amazon's guidelines, then sales and revenue are sure to increase when using Amazon. The site's millions of monthly users constitute such a large volume of consumers that it is virtually impossible not to see the huge benefits of wide exposure.
Thanks to Amazon's product cataloguing system, it ensures that your inventory ends up being the most appropriate location for an Amazon user to find your product. Your business will also benefit from the huge investment Amazon put into paid Google search.
International Reach
Being a worldwide trusted brand, Amazon gives businesses the chance to expand their offerings into different markets. It gives your business the opportunity to go beyond your local geographical location and extend your reach to other parts of the globe where there are swathes of customers ready and eager to buy from UK-based sellers.
Customer Acquisition
The best thing about online marketplaces is that users don't use them to search for a specific brand – they use them because they're looking for a specific product. This raises your chances of attracting new and unique customers because the likelihood of them 'discovering' your business is increased.
Selling on Amazon: Cons
Competition
A no-brainer when it comes to Amazon is that the competition will be sky-high. Amazon is one of the biggest players in its field, so there may be thousands of other sellers that your business will have to compete with.
Lack of control
By signing up to a marketplace, you must abide by its rules. Amazon focuses on the products, not the sellers. This means that you have very limited means to showcase your brand presence.
Fees
Although your revenue is sure to increase by being on Amazon, it does come at a cost. Regardless of whether you have a professional account or you opt for FBA (Fulfilment by Amazon), you'll still be faced with fees. It's definitely worth doing your research on your Amazon fee plan before setting up your marketplace account.
So, there are pros and cons of using Amazon as a marketplace, but before you make your mind up, let's take a look at the pros and cons of using your own website as your go-to selling platform.
Selling on Own Site: Pros
Control
It's your website, so you control it: from content, to design, right down to where your Twitter icon sits. It's not just the display you'll have control over, either, because you'll have the say on how, when, and where you present your products.
It's all about you
Unlike Amazon, your website is all about you and your ecommerce business. Using your site as the go-to place for consumers to buy from your business will help reduce customer distraction. There aren't any 'others viewed this' or 'today's deal', because the site user will solely be exposed to only your products.
Referrals
When you buy something from a marketplace and someone asks where you got it from, what do you say? The majority of people say the name of the marketplace, not the actual seller. When consumers buy through your website, you're more likely to get more referrals as your brand presence is higher.
Selling on Own Site: Cons
Less Reach
Marketplaces help to enhance your reach and product visibility. By focusing on your website (and only your website), you are cutting out a huge market that you could be targeting – not just locally, but internationally as well. Marketplaces give you the far reach that your website can't.
Credibility
Amazon has a great reputation and is trusted by many retailers. If your ecommerce site is relatively new, niche, or not well-known, consumers may doubt your credibility and shop elsewhere, from sites they know and trust. Marketplaces are a great way to counteract this issue, as they already have trusted relationships with global audiences.
It's also worth noting that Amazon is very tough on sellers when they receive customer complaints. The consumer knows that the outcome is likely to be in their favour and not the sellers, giving them further confidence to shop with Amazon.
Related: How to Get Reviews on Amazon
Support
As you have total control over your website, it also means you have a lack of support if anything goes wrong. Depending on whether or not your website developer offers technical support, you could be stuck if a technical issue occurs.
Final Thoughts
In the survey, only 20% of respondents saw Amazon as a key marketplace, but then there were 40% who deem next-day delivery as their biggest long-term challenge – so they may change their mind about Amazon in the long run. Amazon Prime offers an excellent solution to this problem, and many ecommerce websites cannot match the delivery times that Amazon offers without having a specialist fulfilment partner.
Both avenues present pros and cons as a main ecommerce channel, but what if they were combined to complement each other? Amazon not only helps to solve the next-day delivery issue, but it also gives ecommerce businesses a huge boost when it comes to mobile.
Last year the number of purchases from mobile rose by 35.6%, and that figure is forecasted to keep rising. Amazon is already extremely mobile-efficient, with over 700 million active mobile users, and let's not forget the Amazon app.
With this in mind, you should think about using Amazon in conjunction with your own website. This will help with international reach, but will also allow you to remain in control of your own website. Amazon will give you an increase in sales without being detrimental to your customer acquisition because your website takes care of that.
Online retailers that have noticed the need for Amazon use the technique of including a flyer in their marketplace orders offering their Amazon customers 10% off if they make their next order direct from their website. This saves the seller the Amazon fee on any repeat purchases and drives traffic directly to their site.
Investing time and effort into both Amazon and your own website is sure to stand you in good stead to remain competitive in the ecommerce industry.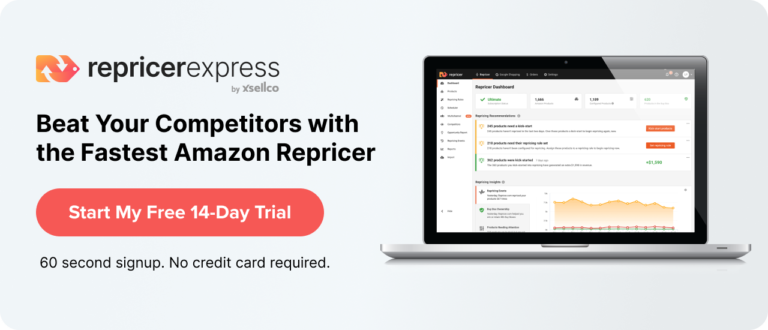 Related: How Does Amazon FBA Work?