In today's post, we take a look at a hot topic for sellers at the moment, Shopify dropshipping.
If there's one thing that most of us have lived through recently, it's the experience of working from home! For many, this has happened entirely by accident due to COVID-19 restrictions and an extended period of lockdown.
What this almost certainly has done for lots of people is given them flexibility, new time-management skills and a work-life balance that they may not have ever been able to experience before.
There is no doubt that there is likely to be much 're-thinking' going on as lockdown starts to ease and future paths are decided. The temptation to try a different route and embrace the flexibility of working from home will be strong!
With this in mind, starting an ecommerce business is likely to be an attractive proposition for some.
It's a new challenge, offers that longed for work-life balance, facilitates time with family while simultaneously putting food on the table. What's not to like? And there are options: eBay, Amazon, Etsy or Shopify.
A Shopify dropshipping business is a popular choice right now. There's no stock to store, no parcels to dispatch, allowing you to concentrate on marketing your products, making sales and focusing your valuable time and resources on growing your business. Sounds great, doesn't it? But, it's not a magic bullet, nor a get rich quick scheme.
You cannot expect a full bank account overnight, so it's an excellent option to consider as a part-time venture initially. So, if you are considering starting an ecommerce business, why should you choose the popular Shopify dropshipping model?
Related: Amazon vs Shopify
What is Shopify?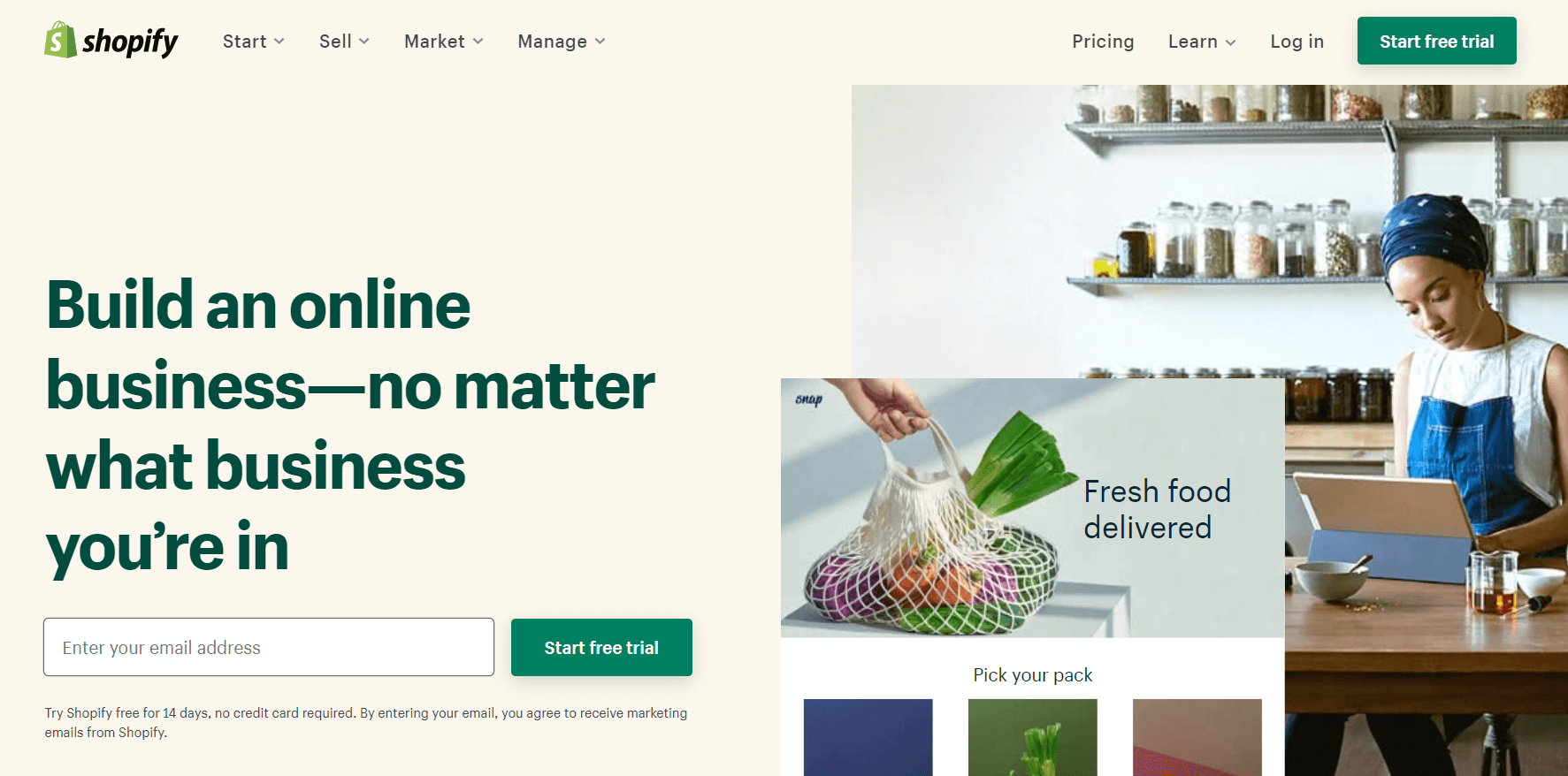 First, a little about Shopify, a leading ecommerce platform that allows budding entrepreneurs to start their own online store, sell products and take payments. It's pretty simple to use without any technical experience, and the support and tutorials provided are in-depth enough to help you should you get stuck when using any of their themes or apps – which are in abundance.
So, Shopify is a great place to start for anyone who wants to launch an online business but has very little skill.
Related: Pros and Cons of Selling on Amazon vs Your Own Site
What is Dropshipping?
Now let's look at dropshipping. A storage and fulfilment service which allows small businesses to set up and manage with very little trouble. Perhaps most importantly, you won't need to invest a large amount of capital upfront. This is because dropshipping allows you to sell products without having to stock them yourself.
Instead, products are stored by separate suppliers in several locations. It really is a simple as taking an order in your store from a customer, contacting the dropshipper you have chosen to work with and confirming that they will ship the order to your customer.
You won't need to worry about over or under-stocking, as you'll only ever order the necessary products to meet the requests from your customers. It really is that simple.
However, working with a reliable dropshipper is vital! Your reputation will depend on this as you won't ever see the product before it is shipped to your customer.
Related: eBay Dropshipping
Why Use Shopify for Dropshipping?
So, now you are au-fait with Shopify and the dropshipping idea, what's so great about the pair of them that they work so well together? Well, a Shopify store can be set up with little hassle, not least because it integrates so smoothly with the dropshipping model.
If you don't have the resources to manage manufacturing, supply and fulfilment, then dropshipping with Shopify is a great option and is one of the simplest and most popular platforms you can use to create and run your store.
1. Shopify is Dropshipper Friendly
The dropshipping model is massively supported by Shopify, and so there are numerous solutions specifically created for dropshipping that seamlessly integrate with the platform. This makes things a whole lot easier for you when starting your business.
For example, Oberlo is a dropshipping app that works exclusively with Shopify. You can read more on this and other dropshipping apps later.
2. Shopify has a Host of Design Features
Shopify offers a vast range of features that allow you to actually create an ecommerce business rather than just a website, so it's ideal for newbies! The online store builder is there for you to design your store and get all the aesthetics in place. You'll be able to choose from a selection of free and paid design templates alongside other great features which make handling your sales, marketing and payments super simple.
3. Shopify is Simple to Use
The Shopify platform is one of the most user-friendly platforms available. Even though it's features and functions are in abundance, it's intuitive and not daunting. The tutorials are easy to follow, and these do a great job of explaining how to use the software, plus you can have multiple users, so as your store grows and you need more help, you can add new team members easily.
4. Shopify Does Not Require You to Overthink!
To get started, it's as easy as having an idea of the products you would like to sell and pairing your thoughts with a dropshipping solution. Shopify provides all the tools you need to get set up and start selling.
Related: Best Shopify Pricing Strategies: Is Your Price Right?
What Products Can I Sell on Shopify?
This leads us nicely to the question of what you should sell. You must find your niche. With the dropshipping model, you will be selling physical products rather than digital products or services, so bear this in mind. Rather than having a massive range of products in different categories available, a niche store will be far easier for you to market and has the benefit of placing you as an expert in your niche.
Ultimately this increases trust, helps your reputation and drives sales. When you pick a niche, choose something that you're passionate about. Not only will your passion filter through to your customers, but it will also make your job hugely enjoyable and keep your motivation high.
You should also choose a niche in which there is demand and profit to be made, so make sure you do plenty of keyword research and look at product trends. Think about the future, whether it's a product or niche that's sustainable and something that you will ultimately remain interested in. If you don't consider this, it may be harder for you to make a success of your Shopify dropshipping store.
For example, if you're a keen gardener, you might choose to sell a selection of small gardening tools. If you love to exercise, you could select a specific fitness product range. If you're an animal lover, you may choose pet beds or dog leads.
Once you've chosen your niche, you should also remember that whichever dropshipping app you choose to develop your business, they will only deal with the storage and shipping for you. It's down to you to build your business, market it and make it successful! So, which dropshipping suppliers are you going to work with and how do you choose?
Related: Amazon FBA vs Shopify
What Dropshippers Work With Shopify?
As mentioned, there are a range of dropshippers which integrate really seamlessly with Shopify, so let's take a look at some of these to review your options. Here you'll find the main five Shopify dropshippers, all of whom have their own benefits, and all integrate with Shopify smoothly. Typically, you'll have the choice of free and paid options with each of these solutions.
The Best Shopify Dropshippers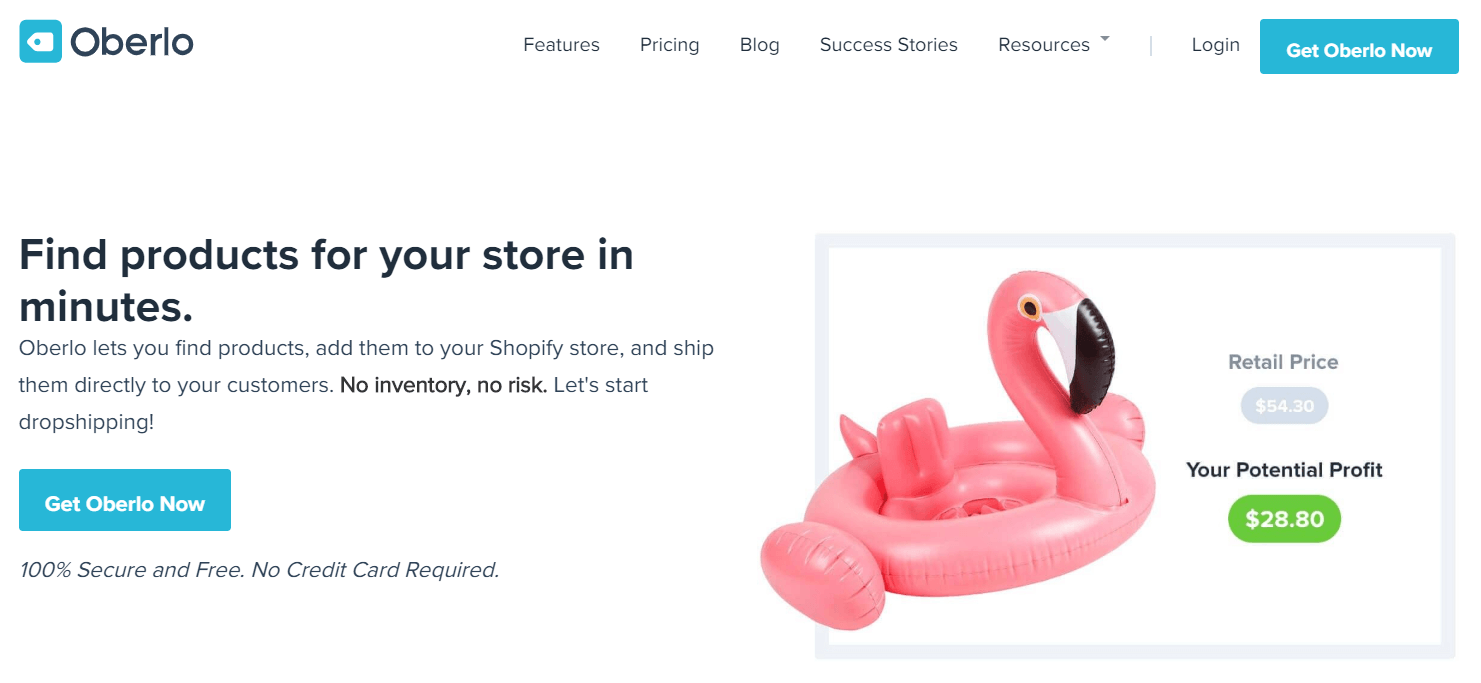 Free Starter Plan
No contract
No minimum order
Add up to 500 products to your Shopify store
Import products directly from Ali Express
Product reports
Payment gateways including PayPal and Amazon Pay
Best for first-time entrepreneurs uploading a maximum of 500 products and receiving 50 orders or less per month.
Print-on-demand service
90-day free trial then Basic Plan $29 per month
Add unlimited products
Upload your own designs and use on t-shirts, mugs, phone accessories
Shipment tracking
Best for entrepreneurs using the print-on-demand business model – for example, a third-party company printing your designs and artwork onto products such as t-shirts, mugs, posters, etc.
14-day free trial then from $19 per month
Vetted products available from US and EU suppliers
Faster shipping – maximum 7-day dispatch
Add up to 25 unique products
Best if you are not sure what to sell! They have a massive range of dropship products from around the world, including the US, Europe, Asia, and Africa.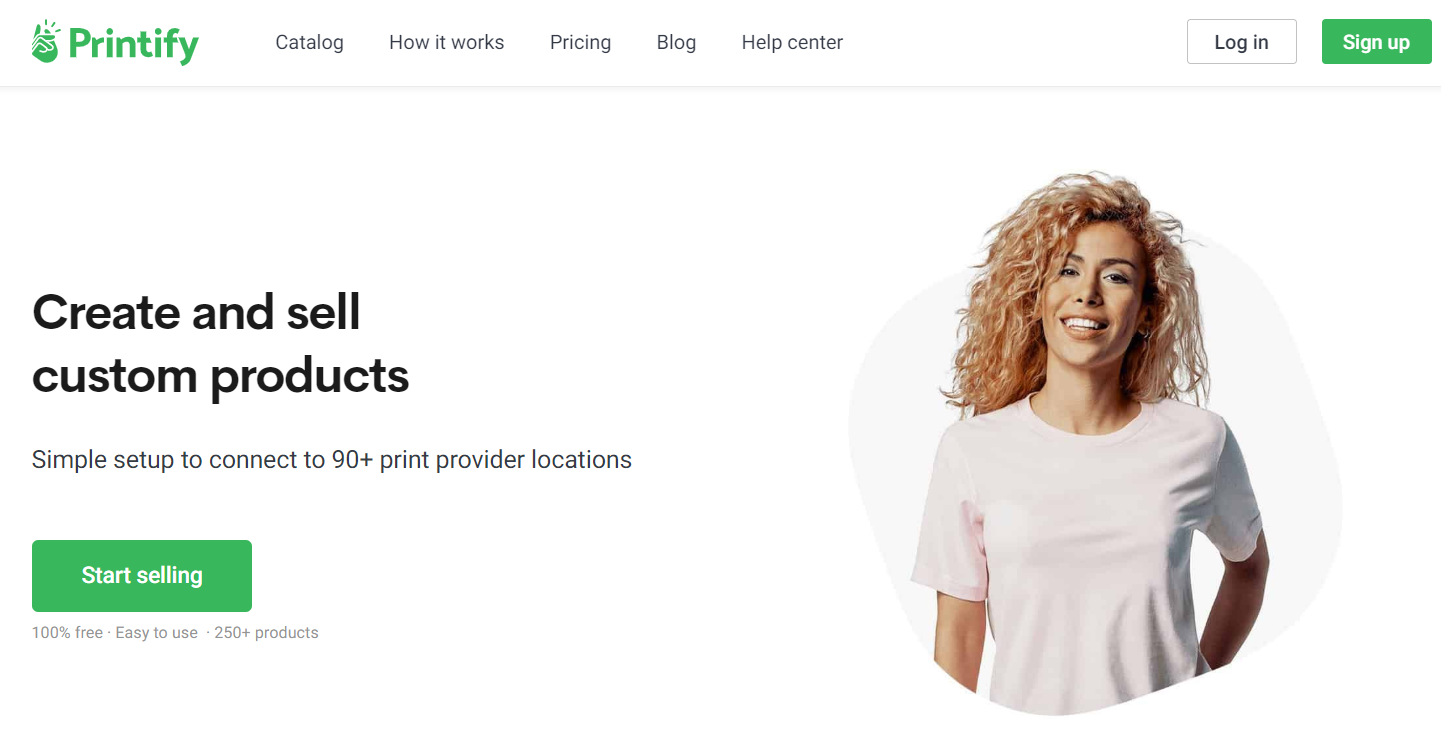 Create and sell custom products, e.g. t-shirts, home accessories, mugs
Free account
Five stores per account
Unlimited product designs
Like Printful, best for print-on-demand businesses specialising in custom clothing, accessories and homewares.
Products available from US, EU and Ali Express Suppliers
Branded and artisan products available
Free for up to 25 products
Product updates
Order Tracking
Best for those who wish to sell top brands or niche, artisan products.
Depending on your niche, you should weigh up these options carefully. Bear in mind that shipping times will be longer depending on the location of your supplier. This, for a small business, can make a big difference. We are a nation of 'want it now' types, and you will need to be able to provide a decent service to satisfy your customers.
How to Start Dropshipping With Shopify
So, let's get down to the nitty-gritty. You certainly don't need to be an eCommerce expert because dropshipping with Shopify can be a simple five-step process.
1. Create a Shopify Account
Top Tip: Have a name in mind for your store as Shopify will ask you for this when you set up your account. Keep it simple and memorable!
Once you've created an account, choose a theme for your store from the free selection. Choose an easy to navigate design – this will make things easy for your customers when you start selling.
2. Add your Products
Top Tip: By adding your products before tweaking your store, you'll get a better feel for how everything looks right from the start.
You'll add your products via whichever dropshipping app you've chosen from the options listed earlier. When you upload, edit the title, product description, and images, and then assign the item a product tag. 'Tags' are essential for helping you organise your products. Once done, you can create collections of products which will ultimately make it easier for your customers to navigate your product categories.
3. Design Your Store
Top Tip: Shopify has a free image library called Burst, which is literally 'bursting' with stock images you can use on your website.
You selected a theme earlier. Now's your chance to make it stand out. Use the 'customise' button to access Shopify's 'theme designer', and you'll be able to edit the layout and colour scheme of your store using the design options. You should also add your images now, either from your desktop or through Burst. You'll also need to add pages, but the good news is that you can easily create as many new pages as you require.
For example:
About
FAQ's
Contact
Shipping and Returns
Terms and Conditions
Top Tip: Pay close attention to the navigation on your site.  Make it super simple for your customers to find their way around and include all essential links in your 'footer'. You can set this up via your Shopify dashboard.
Don't overthink this! The best thing about Shopify is that you can keep making tweaks at all stages of the set up until you are completely happy with your store.
4. Set Up Your Domain
Although Shopify gives you a domain name, it will appear as https://your -store-name.myshopify.com/ which is not very professional.
The solution is to purchase a domain name that matches your store name and then connect it with Shopify. As this process will vary between domain suppliers, use Shopify's help page to check this process for your domain.
5. Set Up Payments
The best part! It's simple to set up payments within your Shopify dashboard under 'Payment Providers'. Shopify offers a vast range of options including PayPal, Amazon Pay and Shopify Payments. Depending on which option you choose, you'll receive instructions during set up.
And that's it. Seriously – you're good to go! There's just one more thing to remember. When you launch, make sure to remove your password from your Shopify store – it might sound obvious, but it's easily overlooked!
Final Thoughts
Starting a Shopify dropshipping business requires minimal investment upfront and is straight-forward to set-up. You will, of course, need to experiment with a range of marketing methods to drive traffic to your store and ensure you generate revenue.
The important thing is to keep testing so that your Shopify dropshipping business becomes profitable as quickly as possible through your marketing efforts.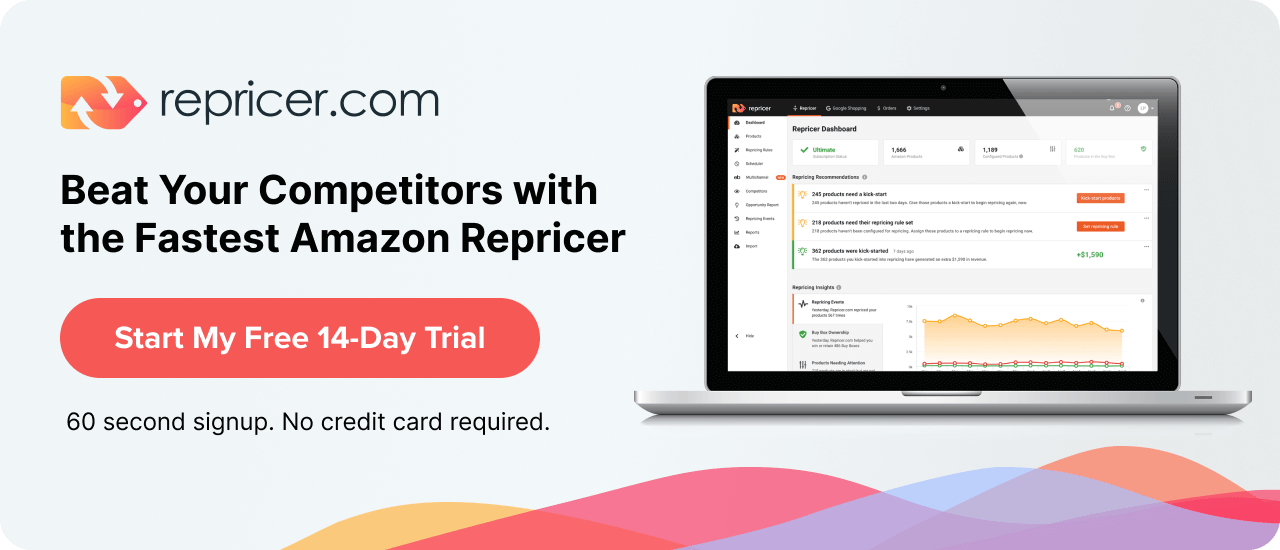 Related: Shopify Dropshipping: Meet The 15-Year-Old Doing £1.5 million a Year