In our previous post, we looked at pricing rules for Amazon sellers within RepricerExpress. Today's post will look at how you can use these pricing rules to create pricing strategies for every product and selling style.
Part One: Basic Pricing Strategies
1. If you want to beat the cheapest seller
This pricing strategy is very popular and it's easy to set it up within RepricerExpress. With this strategy you'll be the lowest seller until you reach your minimum price (the minimum amount you're prepared to sell your product for).
If you wish to do this, you need to set up a pricing strategy to beat all types of seller (Amazon, FBA and MFN). What you want to beat them by is up to you, but a common strategy is to beat your competition by 1p or 1%.

2. If you want to match the cheapest seller
This pricing strategy prevents you from getting heavily involved in a price war and hitting your minimum (floor) price quickly.
By matching the price (instead of beating it) you still have a good chance of winning a share of the Buy Box.

3. If you want to only compete with FBA sellers
If you're selling via FBA, you have a better chance of winning a share of the Buy Box as it increases your eligibility for the Buy Box.
Another benefit of selling through FBA is that you may be able to get the Buy Box at a higher price — this is why many FBA sellers decide to ignore MFN sellers and compete only against other FBA sellers.

4. If you want to exclude Amazon from your competition
Whenever Amazon is selling, it's more difficult to win a spot in the Buy Box but not impossible (learn more about how you can compete with Amazon).
For this reason, some sellers will decide to exclude Amazon from their competition, so they will only compete with other sellers.

5. If you want to only compete with Buy Box eligible sellers
This strategy is recommended for sellers using Amazon Seller Fulfilled Prime, which allows sellers to display the Prime badge on their listings and fulfil from their own facilities.
If you want to ignore sellers with poor metrics and compete only with Buy Box eligible sellers, then you can set up your pricing rule as shown below.

6. If you want to only compete against the seller who holds the Buy Box
This is a very aggressive pricing strategy and is not recommended for new RepricerExpress users.
This strategy means that you will ignore all other sellers and compete exclusively with the seller who currently holds the Buy Box. Many sellers are using it to "Match" the Buy Box price or "Beat it by 1p".
Please note: If there is no Buy Box or you have ignored the Buy Box seller through other competition settings, the scenario "If there is no competition" will apply.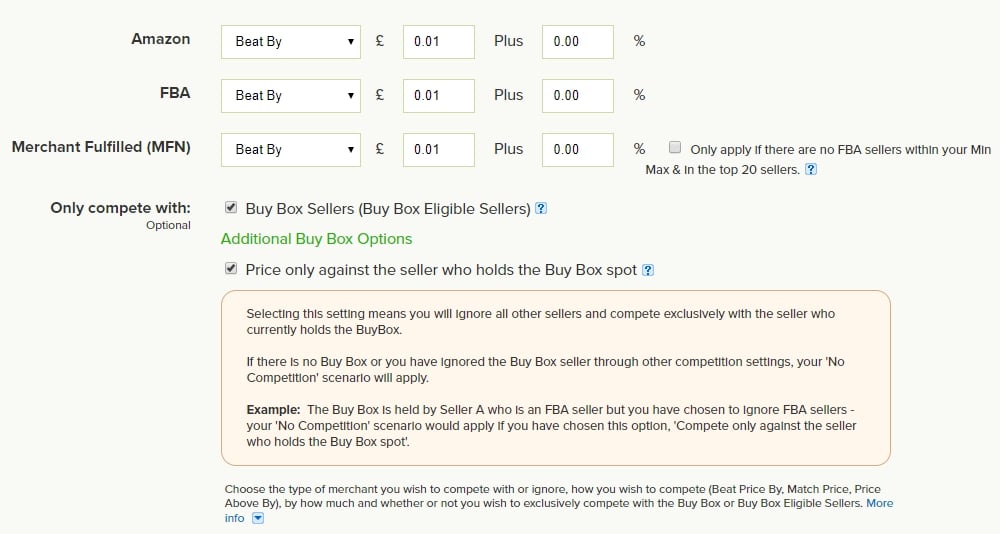 7. If you want to only compete with Top-rated sellers (eBay)

This strategy is only suitable for experienced eBay sellers with Top-rated Seller status and a high feedback rating.
If you would like to reprice against the best sellers on eBay, you can choose the option to "Only compete with Top-rated Sellers". This means that you'll ignore sellers who don't have eBay's Top-rated Seller status.

8. Use the Buy Box formula
This strategy is only suitable for Buy Box eligible sellers with good seller metrics.
There isn't a magic formula that guarantees you'll win the Buy Box. However, the pricing strategy shown below (Beat by £0.01 plus 2.68%) has resulted in increased sales and Buy Box ownership for many sellers.

Part Two: Advanced Pricing Strategies
9. You want to prioritise FBA sellers
This pricing strategy is highly recommended for FBA sellers.
As touched on earlier, FBA sellers have a better chance of winning a share of the Buy Box (as Amazon takes care of fulfilment) so you might decide you only want to compete against other FBA sellers.
But, what happens if there are no FBA sellers? Instead of following the "If there is no competition" scenario and going to your maximum (ceiling) price, you can price above the cheapest MFN seller, so you can still compete for the Buy Box and possibly win it at a higher price.

10. If you want to only compete with same or better item condition (Used items only)
Let's imagine you're selling a used book in "Used – Very Good" condition. There are a lot of other sellers of the book, but most seem to be "Used – Acceptable" condition. Your book has a much better condition so why compete with those books?
Select the option 'Match or Better' and in the scenario above, you will compete with "Used-Very Good" and also "Used – Like New".

11. If you want to compete against the cheapest "New" item (for Used items only)
Imagine you're selling a book in "Used-Very Good" but notice that someone is selling a "New" one for cheaper. When this occurs, RepricerExpress gives you the ability to compete with the lowest "New" seller: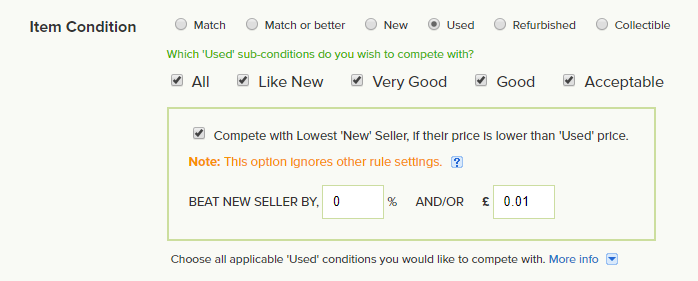 12. If you want to ignore new sellers or those with bad seller metrics
Often, you'll want to ignore new sellers or those with poor seller metrics. This can be done very easily within RepricerExpress using the settings below, so you'll only compete with experienced sellers and may be able to sell at a higher price.

13. Ignore sellers from specific countries
Imagine you ship from London and sell on Amazon UK and some other EU marketplaces. One strategy you might want to consider is too exclude sellers shipping from the US or Canada. Many of your potential buyers will prefer the faster shipping time that you'll be able to provide.
Setting this up in RepricerExpress is straightforward as per below.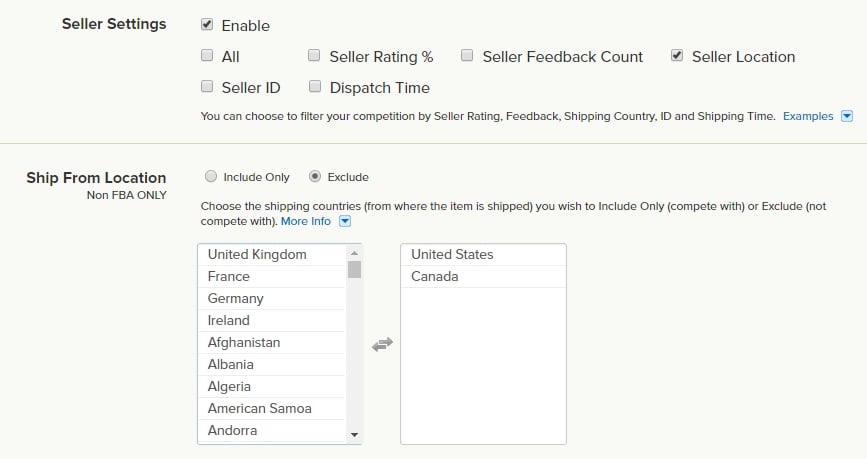 14. Ignore sellers that are backordered (recommended for FBA sellers)
If you are selling via FBA and you run out of stock, you will show as "Backordered" on Amazon. This means that buyers will still be able to place an order — but it won't be dispatched until your item is back in stock.
If FBA sellers are showing backordered, you might want to exclude them from your competition as again, buyers will prefer sellers that can ship quickly and so you'll have no need to try to compete with their price—you can then enjoy higher profits and dispatch your in-stock items right away.

15. Ignore sellers with low quantities (eBay only)
With RepricerExpress, you can exclude eBay sellers with low stock levels. In the example below, we have set "Seller Minimum Quantity" to five therefore we will ignore sellers with a stock quantity below that. This is a great way of avoiding competition with very small sellers who may be more willing to sacrifice profit to sell a single item.

16. Maximise profit when competitors sell out
When you have no competition (or can't compete with any of the competition) you can choose how your product will be priced. For example, if no other seller is offering your product and you want to make the highest possible profit you would select "Go to Max".

17. Maximise profit when Buy Box winner
Whenever you're the current Buy Box winner for a product, this is a good time to boost your profit by choosing the "Increase Price" option.
When this is selected, RepricerExpress will raise your price by the pre-set amount (in this case £0.10) when we get notified of a price change on the product from Amazon (whilst you're in the Buy Box).
When using this setting, choose reasonable increments, as it may cause you to lose the Buy Box.

Final Thoughts
To get started, I would recommend you choose one or two strategies from the above list that best suit your business. Let them run for at least a day or so whilst in Safe Mode to ensure you're happy with how your new prices look like before putting them live on your listings.
The more strategies you add, the more aggressive your rule is going to get and this could throw off your repricing; this is why I recommend not using more than 2 or 3 in the same rule. If you have any questions regarding how to implement any of the above strategies, get in touch with customer support via email or Live Chat.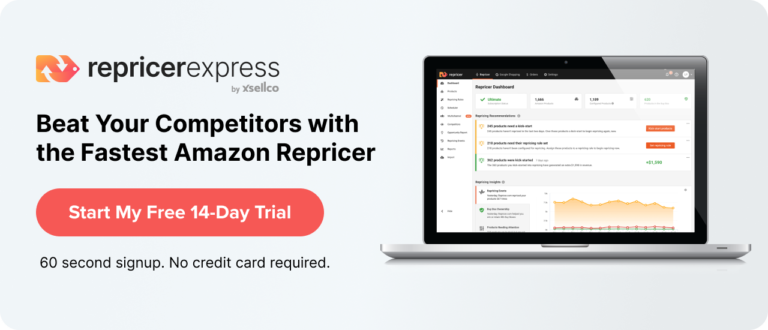 Related reading: Pricing Strategies for Amazon Sellers