You've worked incredibly hard to get a Buy Box and finally won one…but now it's gone from your listing. This is called Buy Box listing suppression, and RepricerExpress will show you how to avoid it and what to do if your Buy Box goes away.
What Happens When a Buy Box Listing is Suppressed?
Just about every seller on Amazon tries to win a Buy Box. Not only does it really simplify the purchasing process for shoppers, but it also usually means a big increase in sales for the merchant.
It can be tough to win the Amazon Buy Box, as Amazon takes into account your fulfillment method (Fulfillment by Amazon almost always makes it easier), seller history, account health, the positivity of reviews and competitive pricing.
If Amazon thinks you meet their criteria to a high enough standard, you may find a Buy Box on your listing page. By the same token, they may remove your Buy Box if they feel your work has slipped. This is because their priority is ensuring customers get the best shopping experience, like weighting listings so that "better" sellers are given higher visibility.
When Amazon removes the Buy Box from the product page, instead of seeing the "Add to Cart" button, you will see a box that states "See All Buying Options".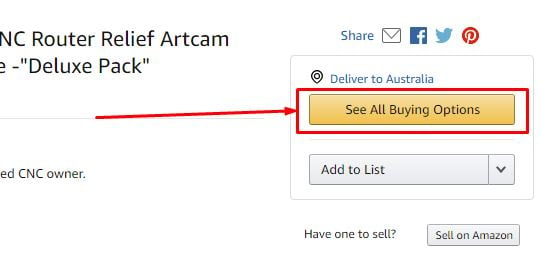 Why Would Amazon Suppress Your Buy Box Listing?
There are many reasons why your Buy Box would get taken away, along with what you can do to get it back.
1. You're Not Prime-Eligible
Remember how we mentioned at the beginning that using FBA makes your chances of winning a Buy Box so much higher than not? The fees buyers pay through their Prime memberships mean a lot to Amazon, so naturally, they'll direct shoppers towards Prime-eligible listings over non-Prime listings.
As well, being Prime-eligible means greater assurance to the buyer that their shopping experience will be an easy, satisfying and consistent one, which is in line with Amazon's priority of great customer service.
2. You're Too New at Selling
In keeping with the great customer service theme, being too new at selling means you won't get a Buy Box because you don't have enough history and credibility built up yet.
Usually, Amazon likes to see how you perform over a 30-day timeframe so they can gauge if you're able to handle their shipping requirements. During this "trial period", do everything you can to avoid late shipments, order cancellations and not confirming shipments.
3. Your Prices Aren't Competitive Enough
Amazon has a pricing algorithm in which the exact details aren't known, but the generalities are. And that means products with competitive pricing generally get — and keep — the Buy Box over products that aren't.
Although there are rare cases where a Buy Box listing can be suppressed if the price is too low, it's almost always when it's too high. Sometimes that "too high" mark can be by just a dollar or two, especially if an external competitor beats you by that little.
As a general rule, your products' prices should be around the MSRP, or a bit lower. You can easily maintain this by using a repricer to activate pricing rules when competitors change theirs.
4. You Don't Sell Enough
Maybe you're happy being a part-time seller on Amazon where you only move a handful of units each month. That might be as far as you want to take things or can handle, but don't expect to keep a Buy Box on your listing with a low sales volume.
Although it's unknown what the exact quantity for sales volume is over a given timeframe, something ridiculously low, like 6 fulfilled orders in the past year, is probably going to net you a Buy Box listing suppression.
5. You Don't Have a Complete Listing
Creating a listing from scratch can be time-consuming but dedicate the hours to getting it right. Make sure your listing has a main image with its supplementary images meeting Amazon's image standards. Check that you've got all necessary and relevant information to go along with the product, the title is at the right character count (200), and your product condition is accurate.
And always, always double-check that you've got the right category, that your product isn't a prohibited one or in violation of Amazon's selling policies, and that it's not a counterfeit, unsafe or expired item.
6. Your Seller Metrics Have Dropped Too Low
You absolutely need to maintain good account health if you expect to keep the Buy Box on your page. This means having a 30-day seller rating of at least 90%, with all the individual metrics that comprise the overall score.
The six main metrics you need to pay attention to and maintain are shipping time, order cancellations, chargebacks, customer inquiries, customer reviews and A-to-z guarantee claims. But even though these are the major ones, don't forget about order defect rate and pre-fulfillment cancel rate, too.
Final Thoughts
Although RepricerExpress is a powerful app and can get your competitive pricing to just where you need it, you're still going to need be on top of all other areas of selling, too. But your time is valuable, so let your repricing rules run in the background while you take care of the rest. All you need to do is figure out which pricing rules will help get you to the top, then sign up now to start your free trial.