You've done your due diligence in researching potentially profitable products. You've researched keywords and struck the right balance between hits and cost. And you've even got a solid plan for marketing and advertising. But you still have to buy your inventory, so the next step is finding profitable and reliable Amazon FBA wholesale suppliers. If you're not sure where to look, Repricer has done the work for you to help you out.
Go Shopping in China
China is one of the largest global markets, if not the largest, so you can find Amazon FBA wholesale suppliers there fairly easily. Finding quality ones, however, gets a bit trickier, as there are plenty of shady wholesalers running around.
Alibaba should be the first place to look. Not only is it the largest online retailer in the country, but you'd be most likely buying direct from the manufacturers, which tends to translate into the lowest prices. One thing to keep in mind is manufacturers on Alibaba tend to deal in large volume orders, so scout them out carefully and ask plenty of questions. If your order doesn't meet their minimum requirements, see if you can negotiate in other ways if everything else works for you.
Other online marketplaces in China to check out include:
Related: 3 Tips for Sourcing Amazon Products from China
Visit a Trade Show
With the coronavirus limiting how many people can gather in one place to do their shopping, you'll have to get creative with trade shows. While it might not be possible to visit a trade show in person — depending on where you live and sell from — you can still reap trade show benefits by going virtual.
Look at trade show websites for a list of regular exhibitors, then use the listed contact information to get in touch with wholesale suppliers. A lot of businesses are hurting from the pandemic, so reaching out to vendors right now is an excellent opportunity to build solid relationships for a long time.
Get to Know Wholesale Directories
Wouldn't it be wonderful if wholesalers were listed in one place, saving you the time and effort of looking each one up? Well, it turns out that's a reality with wholesale directories.
One of the biggest names out there is Worldwide Brands, which contains thousands of wholesalers and more than 16 million products. There is a one-time signup fee ($299 if paid at once, or $99 today/2 monthly payments of $110), but the cost is well worth it. Worldwide Brands scouts out wholesalers at trade shows, then they visit the shortlisted vendors' warehouses and do an inspection to verify their quality before adding them to the directory.
Two other good wholesale directories to check out are SaleHoo and Inventory Source. SaleHoo also vets suppliers before adding them to their directory, counting more than 8,000 suppliers on their ever-growing list. While there is a fee ($67/year or $127 for lifetime access), it's well worth it knowing you'll find reputable brands like Adidas, Oakley, Lego, Disney, 3M, Sony and more.
Inventory Source is on the smaller and more local side with a few hundred suppliers mainly located in China and the US, but don't let their smaller size fool you: there are dozens of categories and more than a million total products, making them a competitive and attractive option. It's free to browse the directory and check out suppliers and their products, but you'll need to pay for their inventory automation services ($99/month for basic inventory automation or $150/month for full inventory automation).
Final Thoughts
Once you've found the right wholesale supplier to meet all your Amazon FBA needs and you've created your inventory, your next step is to price your products competitively and profitably. And for that, there's no better tool than Repricer, which can greatly increase your chances of winning the Buy Box and boosting overall sales. Interested? When you sign up right now, we'll start you with a free 15-day trial.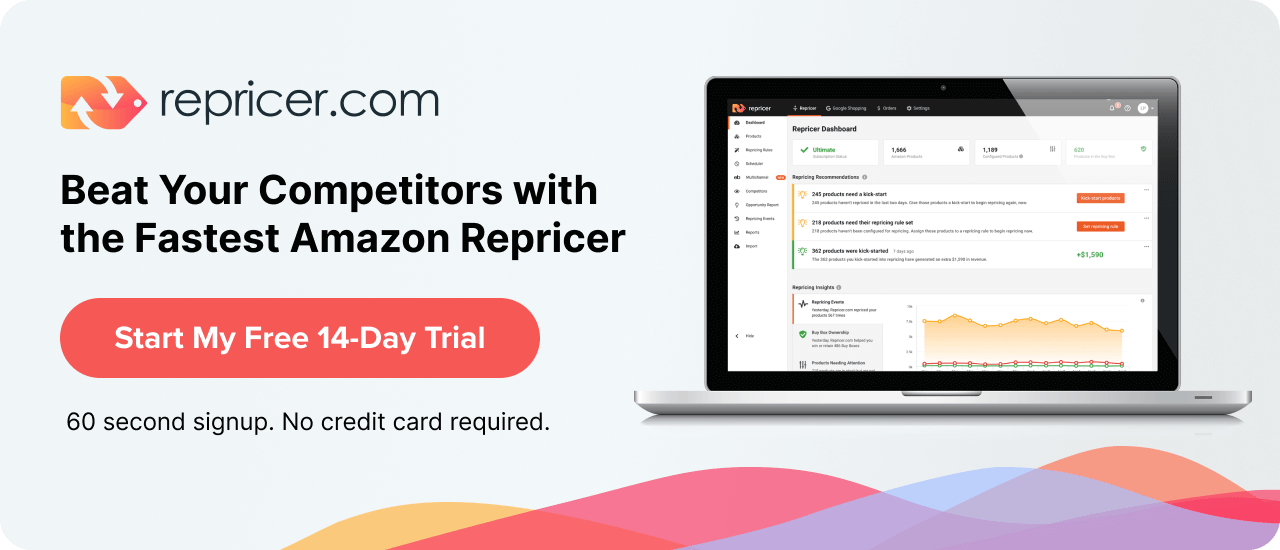 Related: Wholesale Sources for Amazon and Other Online Sellers