One of the toughest problems Amazon and other online sellers have is sourcing great products at reasonable prices. Finding a supplier that works for you on many levels is like getting a winning lottery ticket: it can take a long time, but the reward is so, so sweet.
Luckily, Repricer has gotten wind of some awesome Amazon wholesalers you can use for yourself so you can cut out the middleman that is research.
Check out this list of Amazon wholesalers in the US and UK.
Most Popular Wholesale Suppliers in the US
America's got a pretty big population, and with that comes ample choice and variety. While we still encourage you to scout them out to see if they'll be a good fit for you, these suppliers are among some of the most established.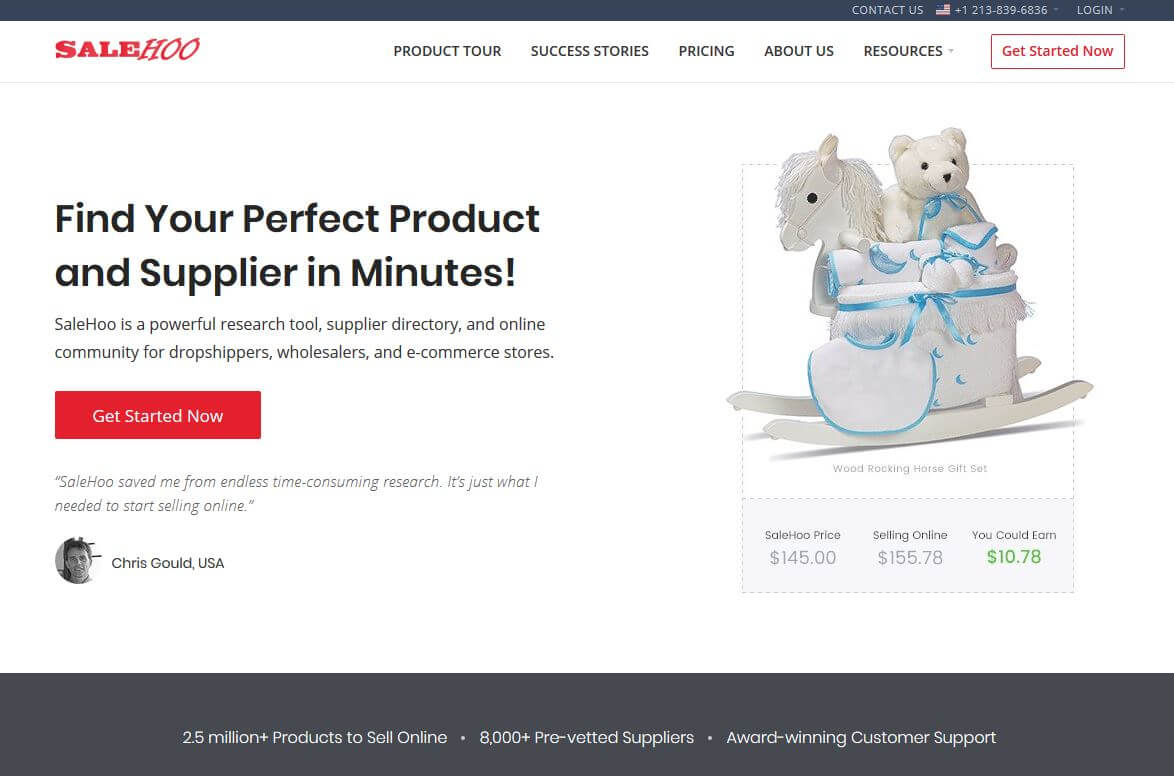 SaleHoo: This supplier is a paid directory service, but paying for it is like paying on a dating site — money usually separates the pretenders from the contenders. When you join the service, you get access to genuine suppliers and their awesome wholesale prices. Plus, some of the suppliers know that Amazon and eBay merchants shop there, and they've tailored their items specifically for them. Oh, and you can also become a premium member and get access to extra information, like market data on specific products or niches.
Liquidation.com: This supplier is one of the largest, with a gross merchandise volume of about $7 billion and over 500 categories to choose from. They offer items in all sorts of conditions, ranging from brand new to salvage. And they can do this because they deal with companies that are about to close down, are facing (or faced) bankruptcy, or even just companies with leftover pieces they don't want to deal with.
Tuesday Morning: While the previous supplier is a neat find based on breadth and volume, Tuesday Morning is cool because it's like an online yard sale. When you keep a keen eye out on a regular basis, you're bound to score an amazing deal probably not found elsewhere. And if you're in the business of selling electronics, toys, luggage or home and garden stuff, this can be a great site for you. One tip we strongly recommend is calling up the shops because they don't have the greatest product management system in place.
Big Lots: Tying onto the Amazon and eBay-specific theme of the above supplier, Big Lots is great because they offer a tonne of items that are authentically branded. This means that all you have to do is look at what Big Lots have in stock, and either get it online or pick it up in person. It's that easy.
Related: Selling Wholesale on Amazon
Most Popular Wholesale Suppliers in the UK
There are a few neat wholesale suppliers we really like that are found right here in the UK.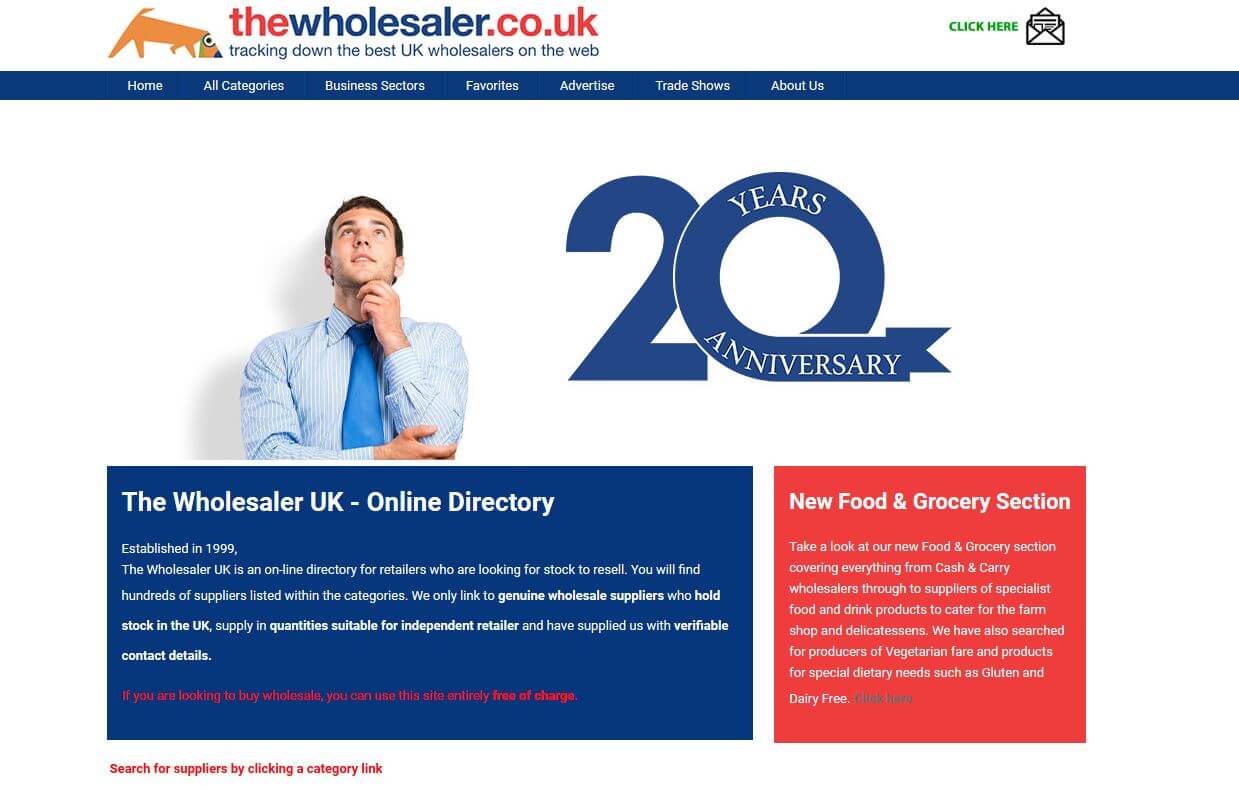 The Wholesaler UK: This one got started the same year as the first major webcast courtesy of Victoria's Secret fashion show, Blogger, Jeff Bezos was named Time's Person of the Year, and the release of Blackberry. Yup, 1999 was a good year. But getting back on topic. What we like about this wholesaler is they're free (they sustain themselves by charging suppliers to be listed) for buyers, and suppliers have to undergo a strict vetting process to weed out the scammers.
The Trader: The online version of the print magazine, The Trader is also totally free. If you feel overwhelmed browsing all the things suppliers have listed, you can always check out their auctions or bargains of the week.
Gem Wholesale: When customers return something, Gem Wholesale is one place where those products can end up at wholesale prices. And speaking of products, they belong in plenty of categories and you'd be hard-pressed to not find what you're looking for. If you do end up having more questions, there's helpful customer support to give you a hand.
eSources: There are two tiers of membership on eSources, free and paid, so every buyer has access to at least something. The upsides of the premium membership are access to heaps more suppliers and an unlimited number of contacts but test out the free version first to make sure it's something that works for you. With more than 1 million products added in their 10-year lifespan, it's pretty easy to come across something you need or want.
Wholesale Seller Advice
This is what happened when experienced Amazon seller Ryan Grant started selling wholesale.
One of the first wholesale orders I ever placed was for $2700 worth of Furby's. Now, you may be laughing, but I'll have you know that I made a very impressive profit on those Furby's.
An entire $100. To be clear, that was $100 on the whole order. Not per Furby.
This all happened in the lead up to Christmas, so you can imagine how I felt. At the time, $2700 was a huge amount for me to tie up in an order and it was a lot of work to get all of them out the door.
So only making $100 for all the time, effort, and risk didn't feel very good.
Fortunately, there is a happy ending. I stuck with wholesale, learned a ton over the next year, and was able to order another order of Furby's the next Christmas season…
But this time the knowledge I had acquired allowed me to be smarter about how I ordered and sold the Furby's, leading to a big increase in profits.
I tell you this story so you don't get discouraged if you try wholesale and things don't go perfect the first order. Keep at it.
Try it Free for 14 Days
You've taken care of the problem of stocking your inventory — what about moving it into people's homes? One of the best ways you can do that is with aggressive, competitive pricing, and Repricer is your top dog. But if you're not convinced about that, how about being able to hand over enough work to the repricer that you can save almost a full day's worth of hours every week? That's pretty impressive, almost as much as starting with the first 14 days free when you register now.