There are many ways to market your Amazon business to boost visibility for your products and generate more sales. But one of the best techniques that many Amazon sellers are turning to is influencer marketing.
So, what exactly is influencer marketing, and how do Amazon sellers take advantage of it?
In this guide, we'll take a deep dive into all aspects of influencer marketing, including what it is, how it works, the benefits, and how you can start taking advantage of it today.
TL;DR
Influencer marketing involves connecting with influencers so they can promote your products to their audiences.
Because their audiences are more engaged and trust the influencer's opinions, they may be more likely to try out your products.
Make sure you find the most suitable influencers for your products and that you spend time connecting with them and building a relationship for the best results.

Amazon Influencer Marketing Overview
Getting your products found by your target customers can be tough on Amazon.
There's a lot of competition on the platform, and even though millions of people use it to shop for products, there's no guarantee they will come across your product.
You may already be using Amazon SEO techniques to boost the visibility of your listings in the search results.
Perhaps you're running Amazon advertising campaigns to promote your products and ensure they get more visibility.
Even so, setting up an effective Amazon influencer marketing strategy can give your product visibility a huge boost and generate a dramatic increase in sales.
The basic idea behind influencer marketing is as follows:
You find people with large and engaged audiences online. This usually means having a large social media presence, but they may also use YouTube, their own blog, or other channels as their main platform.
You research their target audience and determine whether they're the sort of people who would be interested in your Amazon products.
If so, you reach out to the influencer and connect with them. You explain your products, and if it's a good fit, they agree to promote them to their audience.
They may make money via the Amazon Associates Program, or they might require another form of payment to collaborate with you.
The influencer will then promote your product, several of their followers will hopefully purchase your product, and you'll see a boost in sales.
This is the basic principle behind Amazon influencer marketing. Of course, it can be more complex than this.
For example, there are different types of promotions that influencers can run, and some will have different prices for things like a product mention and a full product review.
Benefits of Influencer Marketing for Your Amazon Business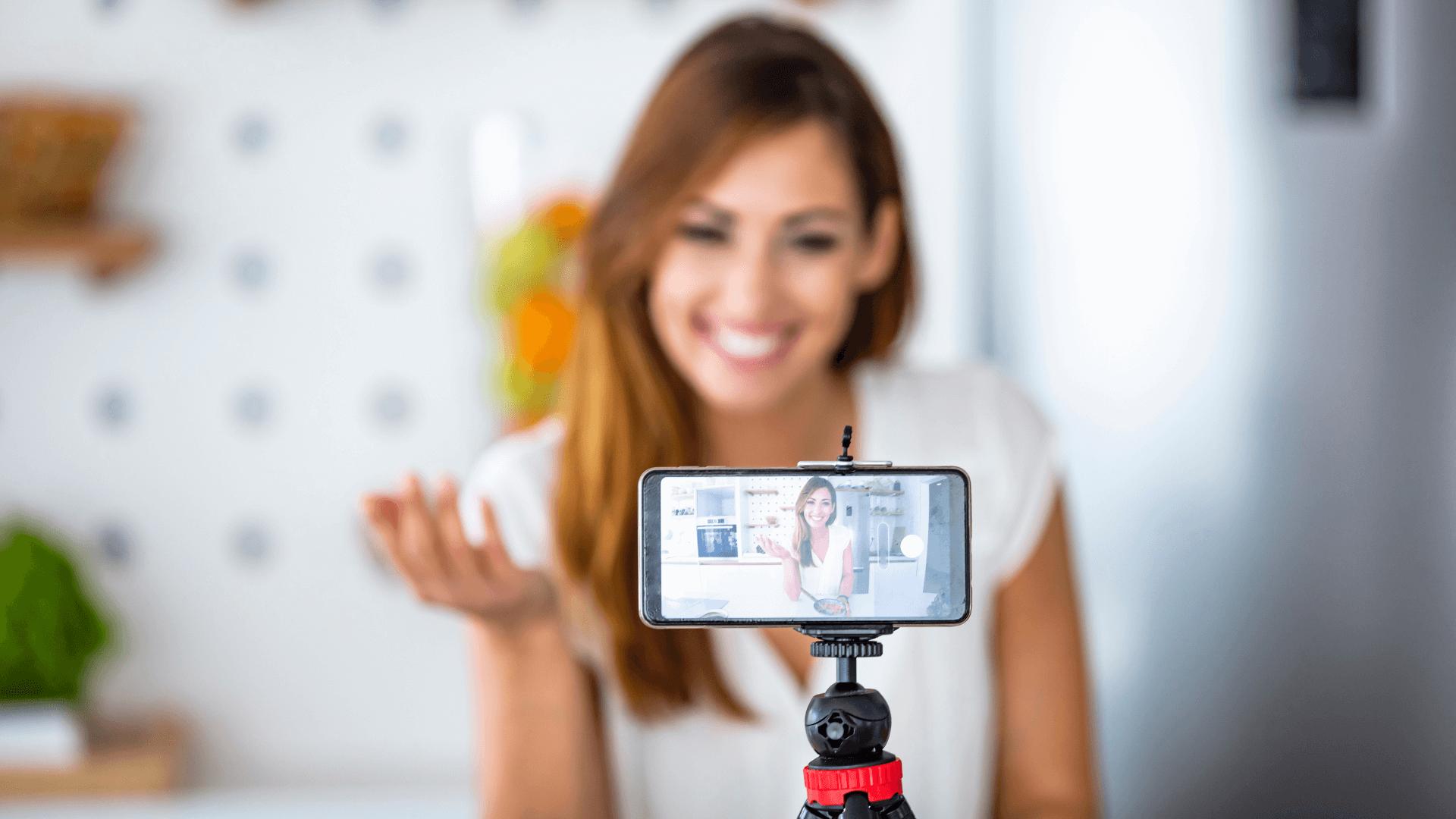 You can enjoy some serious benefits from influencer marketing if you get your strategy right. If you invest time and effort into making connections and maintaining good relationships with the right influencers, they can send a lot of sales your way.
Engaged Audiences
Influencers have large and engaged audiences who follow them for a reason. Their audiences trust and respect them, and they're far more likely to be persuaded to buy a product if a person they trust recommends it or even mentions it.
Compare this to an advertisement where you, the seller, are promoting your product. This is nowhere near as effective as having someone they like and trust promoting your product for you.
In addition, many of their followers may not use Amazon regularly. In this case, the influencer could direct people to your product listings who would otherwise simply not come across them.
Bypass the Competition
When an influencer sends people directly to your product listing, you won't have to worry about the competition.
In the Amazon search results, you're constantly battling against your competitors for more visibility.
But when someone visits your listing directly, especially when the product has been recommended by an influencer they trust, they may be more likely to order it without checking out the competition first.
Boost Brand Awareness
As well as hopefully getting more sales from your collaboration with Amazon influencers, you should be able to boost your brand awareness too.
Even if people who follow the influencer do not buy your product, they'll be aware of your brand. They may even connect with you on social media and start following you for product updates.
If so, this can help to drive future sales as well as simply generate a one-off sales boost.
Ongoing Collaborations
If your collaboration with a social influencer is a success, you may find that they're keen to keep it going.
This could mean they recommend or mention your product on a regular basis. Or they might be keen to hear from you whenever you launch a new product that their audience would be interested in.
Affordable Technique
If you're spending a small fortune running Amazon advertising campaigns, you may be keen to try something more affordable.
With influencer marketing, you'll need to spend time finding the right influencers and maintaining good relationships with them. But apart from that, your outright costs are quite low.
If an influencer promotes your product as an affiliate, they will earn a commission for each sale this way. But this will not impact you directly, making it an affordable marketing technique you should at least consider using.
Related: 6 Key Strategies To Drive External Traffic To Amazon Listings for 2023
Amazon's Own Influencer Tools
Amazon likes influencer marketing, so much so that it has created several tools to help influencers out.
It knows that it can take advantage of people promoting products in its marketplace to engaged audiences, and it wants to make this easy to do.
To do this, it has created several tools and programs that influencers can use to make the process of promoting Amazon's products as simple as possible.
These include:
Amazon Associates
The Amazon Influencer Program
Amazon Live
Let's take a closer look at these to find out how people make use of them.
Amazon Associates
Amazon Associates is Amazon's affiliate program. It was launched in 1996, and it's now one of the largest affiliate programs in the world.
People can sign up to Amazon Associates quickly and easily. They can then find products they want to promote.
When they choose a product, they get a unique affiliate link. They share this with their audience, and when people click and buy the product, the affiliate makes a commission.
One of the great things about this program is that the person who clicks the link does not have to buy that specific product. Whatever they buy within a 24-hour period will earn the affiliate marketer a commission.
People don't have to be big social influencers to use this program. Anyone with their own blog can become an affiliate marketer and promote products.
However, it's a particularly useful way for social influencers with large followings to make money by promoting Amazon products.
Related: How to Make Money With Amazon Affiliate Program
Amazon Influencer Program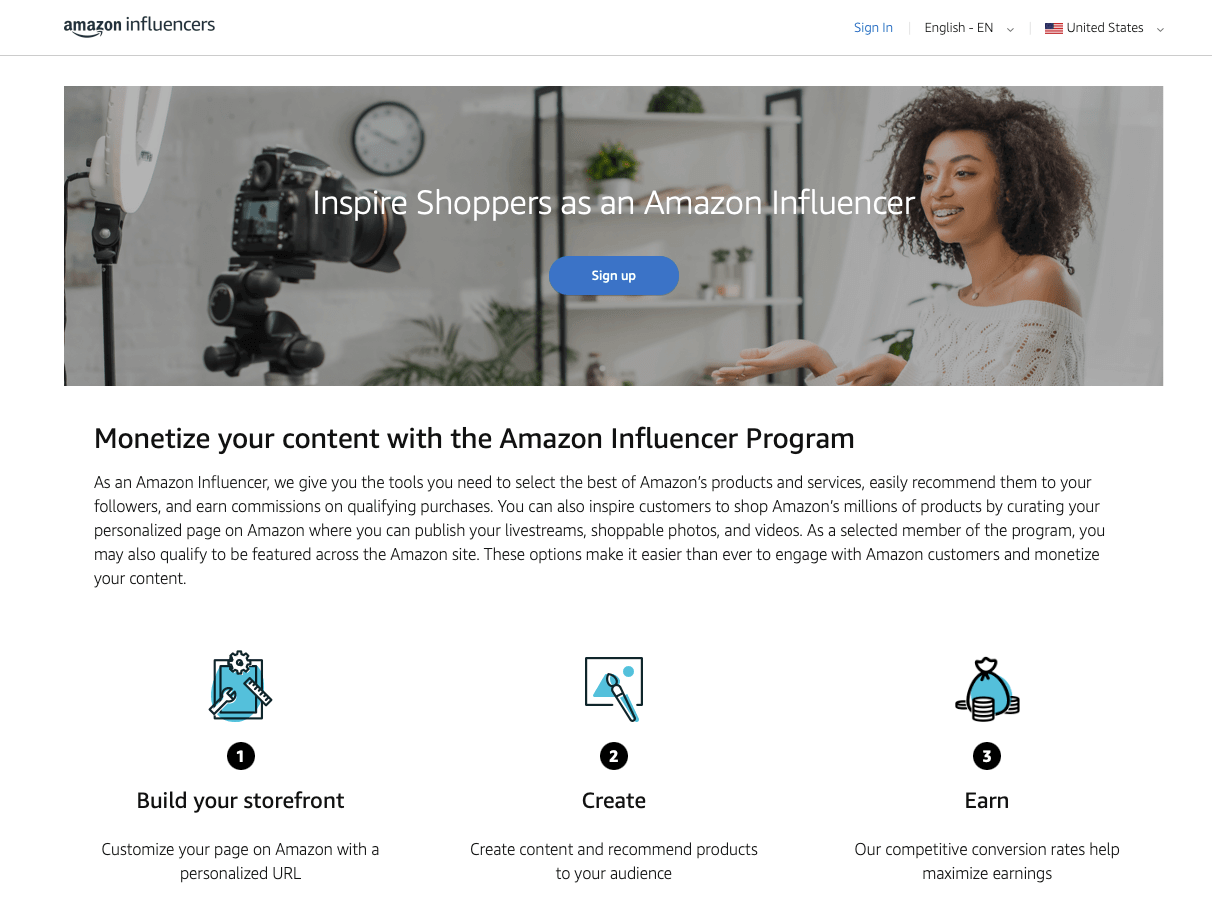 The Amazon Influencer Program was launched in 2017, and it's a program set up by Amazon specifically for influencers who want to promote Amazon products.
When influencers sign up, Amazon provides them with tools to select products, recommend them to their followers, and earn commissions on sales.
People in the program can also curate their own personalized pages to promote more products. Here, they can also publish videos, photos, and live streams.
Members are sometimes selected to be featured across Amazon, which can give them a visibility boost.
While most people can sign up as an affiliate, it's harder to become an influencer. People who want to join must have an account on one of the big social media platforms like Facebook, Instagram, YouTube, or TikTok in order to apply.
Amazon does not accept all applications. It takes follower numbers and other engagement metrics into account. That means even smaller influencers can still get accepted if they have good engagement metrics.
As an Amazon seller, you can find some potentially great influencers here to collaborate with, and we'll discuss this in more detail later on.
Related: What is the Amazon Influencer Program?
Amazon Live
Amazon Live is a tool that both sellers and influencers can use.
It provides a platform where you can host live product presentations to generate more buzz around your own products.
But Amazon Influencers can also use the Live platform to promote products and make commissions.
An influencer may announce on their social media platform that they will be going live in an hour, and people can then visit the link and see them discussing a product in real-time.
This can be a great way to drive more engagement, so you could connect with influencers using Amazon Live to hopefully drive more sales.
How to Find the Right Influencers
If you've decided that you want to try out influencer marketing to promote your Amazon products, the first thing you'll need to do is research influencers.
There's no point spending your time connecting with the wrong type of influencer because you'll only end up wasting your time. Even if they agree to promote your product, it may not generate the results you want.
Begin Your Search
The first thing you'll need to do when you get going with your influencer marketing strategy is to start searching for potential influencers, and this can be a time-consuming process.
You may need to spend many hours researching influencers, getting an idea about the types of influences out there, the audiences they have, and how they promote their products.
Search for Amazon Influencers
You could start by exploring Amazon Influencers. You know that they're all already promoting Amazon products, so they know how it works, which is a good start.
Search for their different niches, find out what types of products they promote and where they promote them, and pick out a few that look like good options to start with.
Search the Web
You don't have to stick with Amazon Influencers, and you can also look elsewhere. You may find that there's less competition to get your products promoted when you reach out directly to a blog owner, for example.
Search for blogs and websites in your niche, and check out YouTube too. If your product fits into a specific niche like pets, a sport, or a hobby, this shouldn't be too hard.
You may already have a good idea about the publications in your niche. If not, you can search for specific guides online.
If you sell a product for dog owners, go to Google and search for articles on tips for dog owners. If you sell a product that would make a perfect gift for a partner, search for guides on the best gift ideas for husbands, wives, etc.
If you find some good results, bookmark the website they were published on and then check out the social channels.
A great resource is influencers.club. They display the top influencers for any particular niche which makes your influencer hunt a lot easier.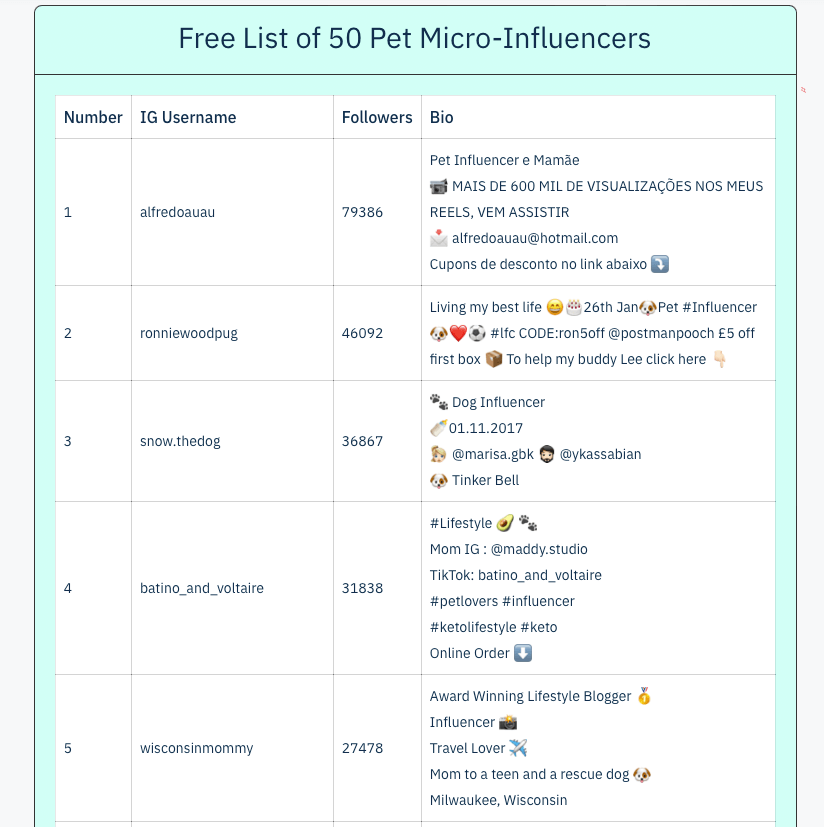 Search Social Media
Any serious influencer will have a strong social media presence, so you should head to the social networks and research here.
Head to Instagram, TikTok, and Facebook, and search for conversations and updates around topics in your niche.
It may take time, but you'll soon find out who are the biggest social media influencers. Search for micro influencers too, and keep a spreadsheet of all the influencers you find.
Even simply searching for the now-famous phrase 'TikTok made me buy it' will bring up a whole host of influencer accounts that you can target.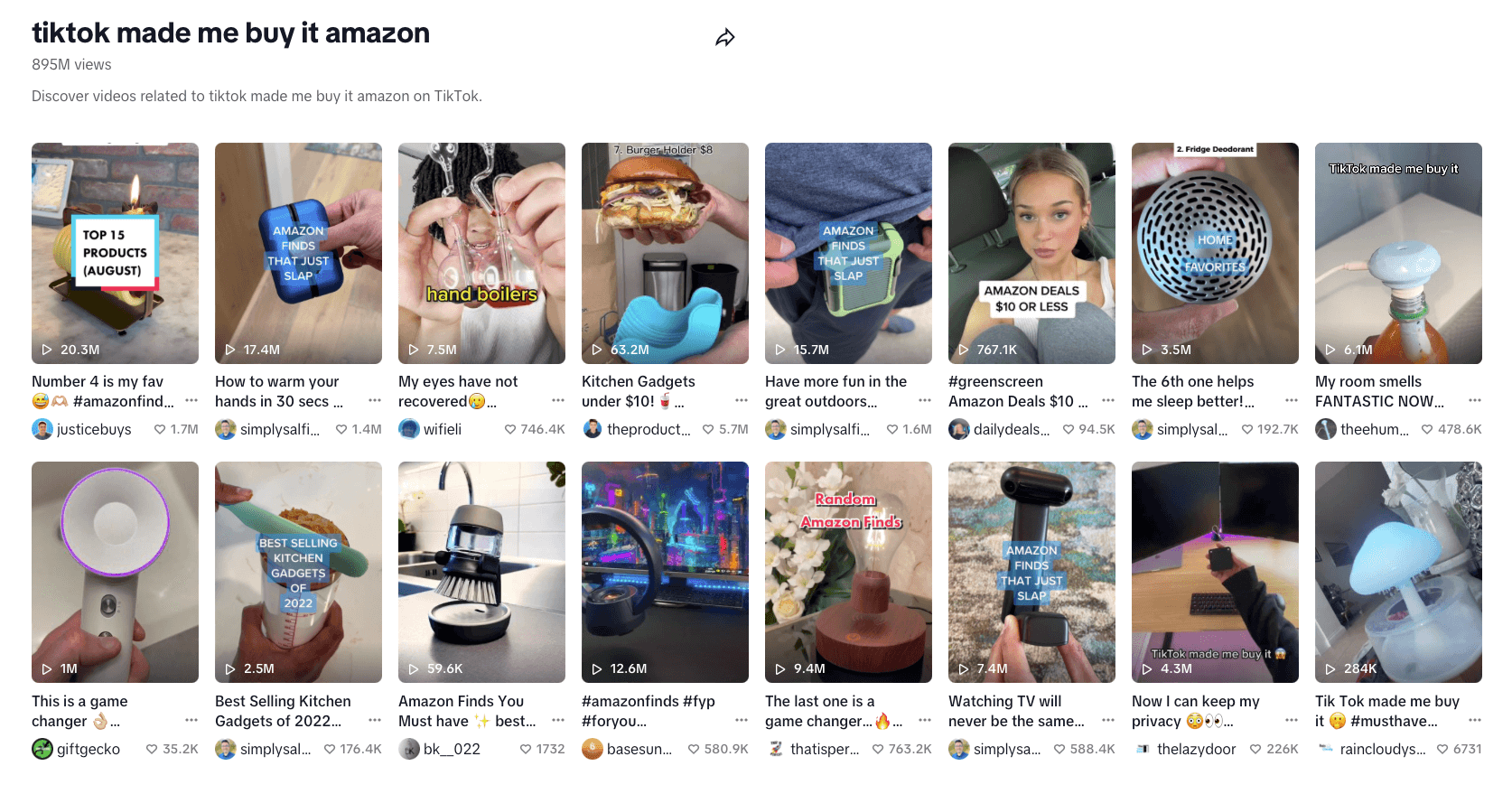 In short, you should have a good idea about the types of websites, blogs, and social accounts that your customers regularly visit.
You want to create a list of the best websites and social media accounts, and you can then start the next stage of your research.
Make Sure They Are a Good Fit
Once you have found a few influencers you think might be suitable, the next task is to spend some time getting to know them better.
Before you reach out to anyone, follow the influencer for a few days or weeks before you reach out to them.
By following them, you can get a much better idea of:
How often they post updates.
The type of information they post.
Whether they promote other products and whether these are similar to your own.
How they promote products.
Whether their posts get much engagement from followers.
How well they engage with comments.
As well as all of this, you should be able to get a general feel for the influencer's brand voice. Ideally, this should be a good fit for your own brand.
If they have an edgy sense of humor or swear a lot, this may or may not make them a good fit, depending on what you sell.
Reaching Out to Collaborate
When you have picked out an influencer who you think is a good fit, it's time to reach out.
There are many possible ways to do this, and it depends to a certain extent on your personal preferences.
Start Engaging
One option is to simply start commenting on their posts, asking them questions, and engaging with them.
Influencers may be more open to collaborating with you if they know you're a regular follower and you're interested in what they have to say.
If you appear out of nowhere and ask to collaborate, they may be less likely to respond. However, this depends on the influencer and their brand.
Follow Their Instructions
Some influencers may make it clear they're open to collaborating with brands, and they may have a specific contact method you can use to get in touch.
In this case, they may not be concerned about whether you're engaging with their content or not.
That being said, all influencer marketing is based on relationships. If you can show that you understand their brand, their audience, and their content, it certainly won't hurt and can help to form a stronger relationship from the outset.
Give Them Something Unique
The relationship you propose will depend on how the influencer operates. If you have been following them for a while, you'll probably have a good understanding of what they do.
For example, a large influencer may have several types of promotions they run. These could range from a brief product mention to a full video review. They may even have a price list that makes it clear what you can expect to pay for each service.
But many influencers may not have such a list, and this is another good reason to follow them for a while before reaching out.
You may see that they provide special discounts on some products they recommend that are exclusive to their audience.
Everyone likes something exclusive, so this could be an avenue to explore. You might be able to run a special discount code just for the influencer's followers, and this could make them more likely to agree to promote your product.
Sell Yourself
One thing you should be prepared to do is show the influencer why promoting your product will help them.
Sure, they will be able to make some money on sales commissions or by charging you. But they won't want to promote something that isn't useful for their followers.
You need to be able to show them why their audience will love your product. Influencers build their followings by providing what their followers want, after all.
Ideas for Amazon Influencer Marketing Campaigns
There are many different marketing campaigns that you can run with influencer marketers. Some influencers will already have specific ways that they promote products, but others may be open to suggestions.
Here are some ideas you might want to consider suggesting to influencers if they ask whether you have any ideas in mind.
Product Review
One of the simplest types of influencer marketing campaigns is the product review. Every influencer will have their own way of doing this.
However, in general, it involves sending the influencer a free product for them to review. They will then spend some time using it, and they may take photos of them using it.
Finally, they will publish a review on their website highlighting what they love about it, and they will include an affiliate link to the product.
Sponsored Blog Post
Another popular option is a sponsored blog post. This is where the influencer creates a blog post on your product, or on a topic that you agree on, and you pay them to publish it.
You may even be asked to provide the blog content yourself.
In this case, the influencer will normally have a rate they charge for sponsored posts. They may also include an affiliate link to the product within the blog.
Video Review
A video review is one of the best ways for influencers to promote your product.
With this option, they create a video showing them using your product or just talking about it. There's plenty of time to show your product on the video, highlight the features, and look at it in detail.
This can help to make it more appealing to the audience, who can get a better feel for the product by seeing it in action.
Video Mention
While a product review is great, a simple mention could be an option too. The influencer may do a live video, and during the video they drop in a mention of your product and include a link to it.
This can be a more natural way to imply that they liked using your product, and it can be a great way to drive traffic if the influencer has a large audience.
Sponsored Email Newsletter
If the influencer has an email list, they might agree to let you sponsor the email. In return, they could include a short review or mention of your product in the email.
This is another popular way to generate sales, and it can be especially effective if the influencer has a large email list with tens of thousands of subscribers.
Free Product Giveaway
Everyone loves getting something for free, so providing the influencer with several free products to give away to their followers can be a great option.
Influencers will love this because they get to provide more value to their followers. It can also help to generate social buzz and grow their following if more people find out about the giveaway.
This is also good for you because it can get your product and brand in front of more people, generating more interest for you and boosting your branding.
Exclusive Discounts
Even if you don't provide free products, you can give the influencer a promo code exclusively for their followers so they can get a discount.
This is another way that the influencer can provide more value to their audience, and we've already mentioned how influencers love unique promotions that their followers won't get anywhere else.
Just be sure that you can afford the discount and you'll still make a profit, because you could see a huge increase in sales once the offer goes live.
Manage Your Influencer Relationships
Once you have formed an agreement with an influencer, don't treat it as a one-off thing. One of the best things about influencer marketing is that you can continue to use your relationship for your mutual benefit over many months and years.
If your initial campaign is a success, stay in touch with the influencer and keep up a good relationship with them. Don't just contact them to run more promotions, and instead check in on them from time to time to say hello.
Respond to their posts, share them on social media, and stay engaged with what they're doing.
When the time is right, suggest running another promotion. Reach out to them with another exclusive coupon code or any ideas you've got. You've done all the hard work of making the connection, so take advantage of it.
Be Clear About Your Expectations
When done properly, influencer marketing is beneficial for both you and the influencer, so don't feel like the influencer is in charge.
This might be harder with a larger influencer, but at the end of the day, you need to ensure that you're clear on your expectations.
If they're publishing a blog post that mentions your product, you may want to check it before it's published. If so, make sure you're clear about this before agreeing to it.
You're investing time and effort into this relationship, and ideally you want it to continue. If you have any doubts about the process or you don't want the influencer to say something in particular, make sure you're both clear on this.
Measure Results
Always keep a close eye on your influencer marketing promotions and make sure they're generating the results you want.
Don't assume that just because a big influencer is promoting your product, you can enjoy a huge rush of sales. That may happen, but it might not.
You need to know which influencers are worth your while to work with. It may be that one influencer has an audience that's more engaged and more likely to buy your product than others.
Don't Forget About Other Marketing Strategies
While influencer marketing can be an excellent way to market your Amazon business, it's only one technique you should be focusing on.
Even if you find that it's the most effective way to generate sales, make sure you look into other strategies like Amazon advertising, email marketing, and growing your own blog and social networks to maximize your marketing efforts.
Also, don't forget about the basics of listing optimization and the need to compete on price. Even if you manage to send lots of targeted traffic to your listings, you want to make sure you're tempting those visitors to buy.
One way to do this is to develop a strong repricing strategy. By using an automated repricing tool like Repricer, you can ensure you're always competing with competitors who are trying to beat you on price.
Using repricing software can also help you win the Buy Box more frequently and boost your profit margins, so it's definitely something to consider alongside your influencer marketing.
Wrapping Up
Influencer marketing has been a popular strategy for Amazon sellers for many years, and its popularity is only growing.
If you have not explored this strategy yet, use the information in this guide and start investigating it further.
The benefits of influencer marketing are clear, and it could help to generate lots of sales for your business. So start searching for influencers, reach out to them, and see what you can achieve.