Whether you're shopping or selling on Amazon, keeping track of product prices is how you score the best deals. But instead of hitting refresh on a page every five seconds, use a price tracker app to do the work for you. Check out the 6 best Amazon price trackers in 2023 you should have on your list of Amazon seller tools.
How Do Amazon Price Trackers Work?
Amazon price trackers are excellent tools designed for anyone looking for the best possible prices on the eCommerce giant. They are particularly popular among Amazon sellers as it helps by monitoring price fluctuations of consumer goods so they can choose which profitable products to source and sell.
Amazon price trackers work by setting a desired price range, then, the Amazon price tracker immediately notifies the user when the product reaches the preferred price range. What's great is that the price trackers discussed in this post can not only monitor the availability of all products but also trending products that often become out of stock quickly.

So, let's take a look at the 6 best Amazon price checkers available:
1. CamelCamelCamel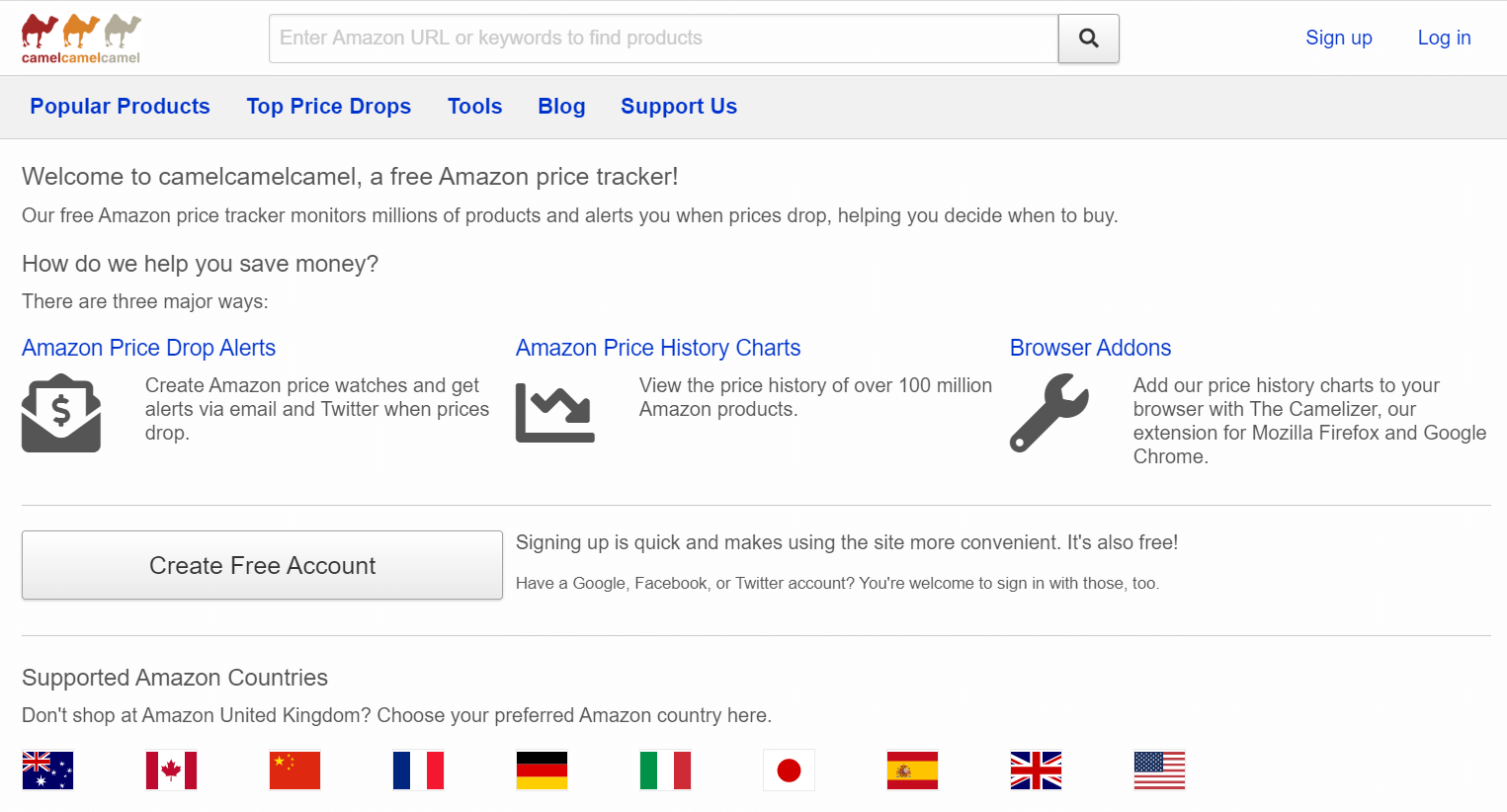 Probably one of the best-known price trackers, CamelCamelCamel rocks at notifying you about the best prices for the products you're interested in.
It'll show you Amazon price history charts for millions of Amazon products, but you can also create watches that'll alert you when a product you're watching has its price drop. But if you prefer to take more of a backseat approach, you can add it to your browser and monitor prices that way.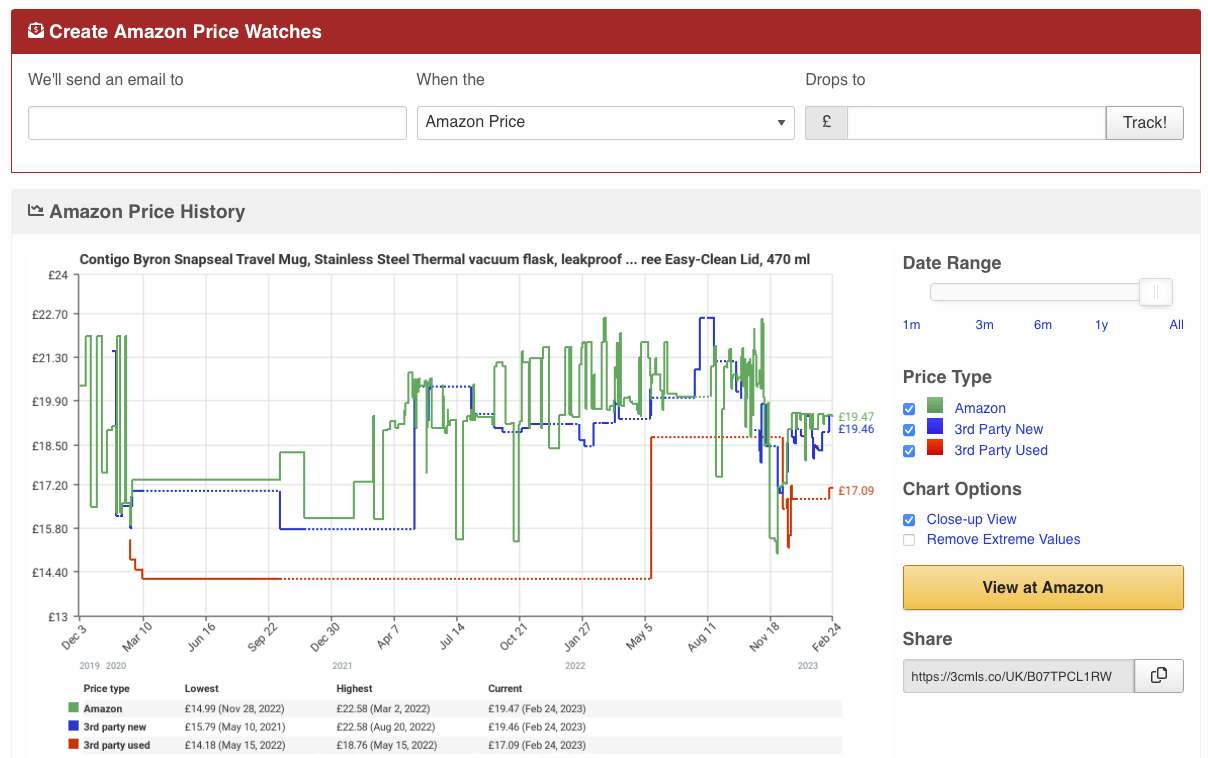 With support for multiple marketplaces in United States, Canada, United Kingdom, Germany, Spain, France, Italy, and Australia, you can find the lowest prices on Amazon all over the world. And one of the best parts about CamelCamelCamel is that it's free. You can register to get email alerts, or you can keep totally anonymous and watch for price alerts via an RRS feed on your newsreader.
It even has a handy chrome extension called 'The Camelizer' and an app that you can download directly to your iPhone. This is ideal for keeping track of product prices on the go!
Related: 10 Best Amazon Seller Chrome Extensions
2. Keepa

Keepa is the other big name when it comes to the best Amazon price trackers you can use. If you're not crazy about CamelCamelCamel's barebones format, Keepa has a nice interface with shades of Google stylings to it.
Another reason to pick Keepa over CamelCamelCamel is you can use it in other countries where the latter isn't available, like Brazil, India and Mexico (but not China).
You can sign up for Keepa for free with a nearly-full use of its features (interactive graphs, price increase alerts, and Keepa API are not available in the free version), or you can subscribe on a monthly basis to use all features with much higher caps on the number of products you want to price-track.
No matter which option you choose, you can add it to your browser — extensions are available for Firefox, Chrome, Opera and Microsoft Edge.
Learn how to use Keepa.
3. Earny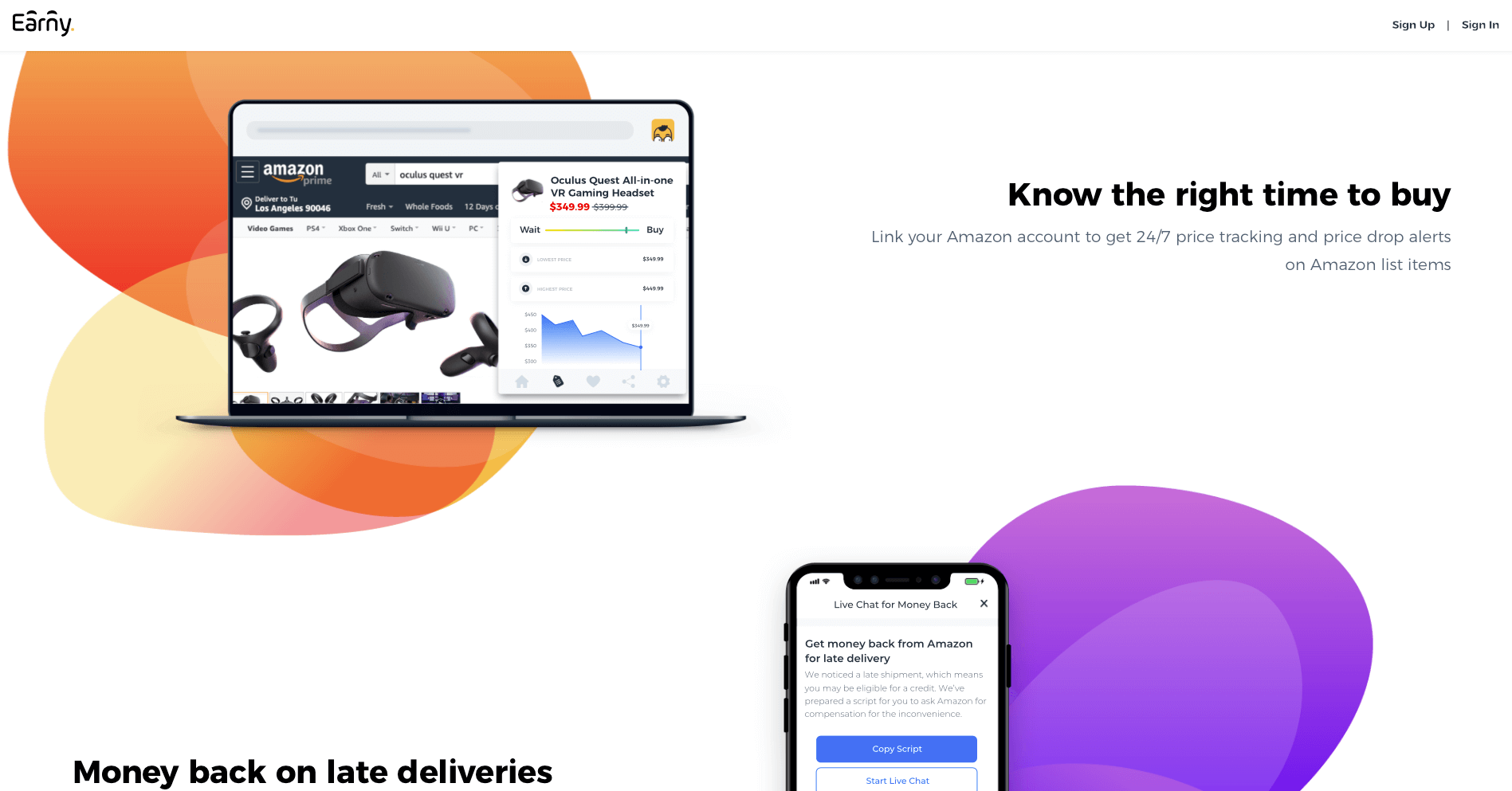 This price tracker is more of a Swiss Army knife than the previous two. Along with price tracking and price drop alerts, Earny lets you know if price drops are even possible for a particular item you're watching. It'll also scan your emails to look for previously-bought products so you can price-track items off of Amazon and on other online stores, like Walmart, Nike and more.
But one of the coolest things about Earny is you can get cashback on items you've already purchased if their price goes down. Yup, let's look at that again. You'll get a refund on the difference for something you've already bought if Earny sees its price has dropped. How cool is that? You can now say goodbye to all those frustrating times when you've seen something go on sale just the next day after you've purchased it at full price.
Of course, this service isn't entirely free, but the subscription costs are more than reasonable. It's only $4.99/month or $39.96 for the whole year. And if you get an alert for a price drop on something you've already bought, Earny takes a 25% fee and refunds you the rest.
You can download the app for both Android and iOS or add it to your Chrome browser, with the apps being free unless you need to access the premium features.
4. PriceBefore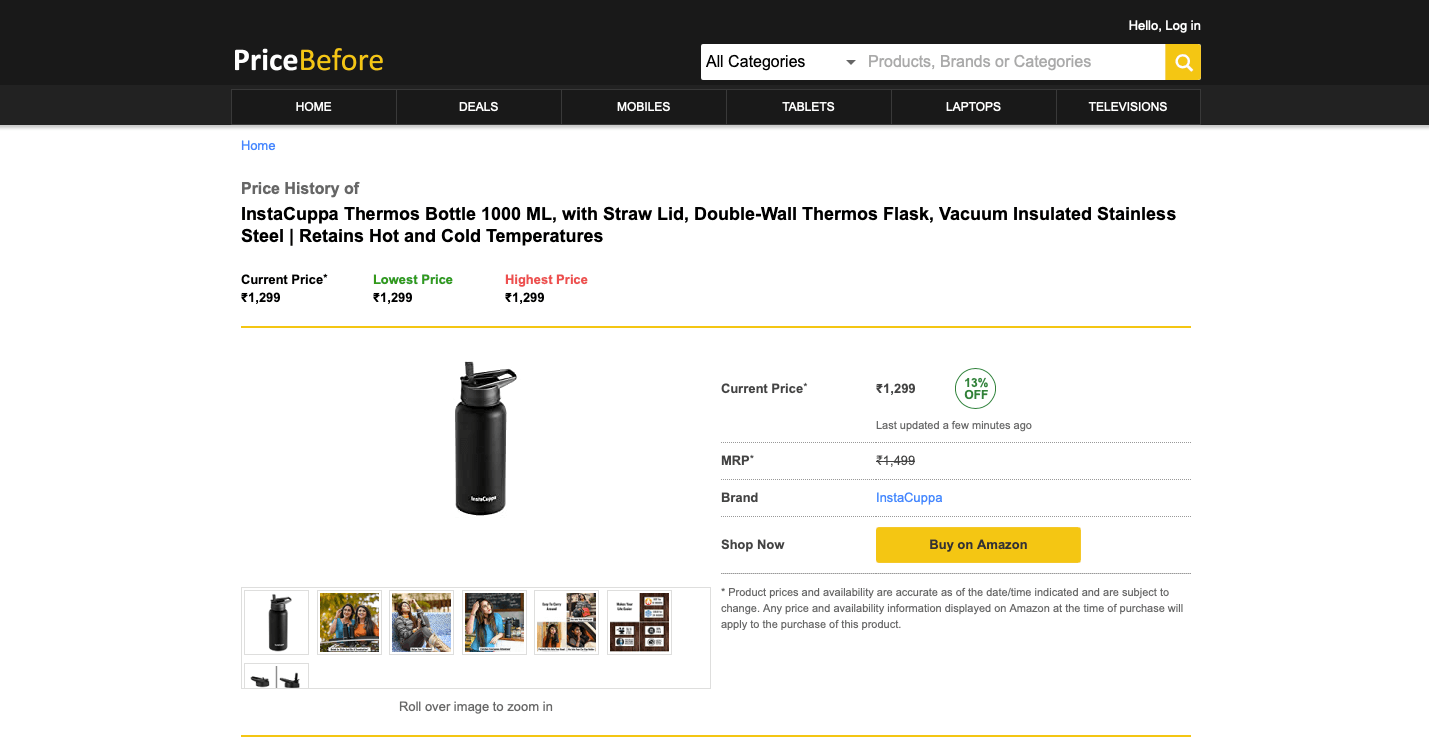 Price Before is a comprehensive Amazon price-tracking platform that offers a range of features to help users stay up-to-date with product pricing. With Price Before, users can track the prices of products and view their price history through easy-to-read graphs and charts. Additionally, users can receive alerts when there is a price drop.
This platform is versatile, allowing users to track prices for a variety of Amazon products from earphones, laptops, shoes, appliances, and even stainless steel flasks – all for free. By simply entering the product link on the website, users can check the complete price history of the product.
Price Before also allows users to set a target price range and receive alerts when the product reaches that price range. Users can search for a specific product category and apply filters such as brand, maximum and minimum price, availability, and price drop time to further customize their price tracking experience.
5. Glass It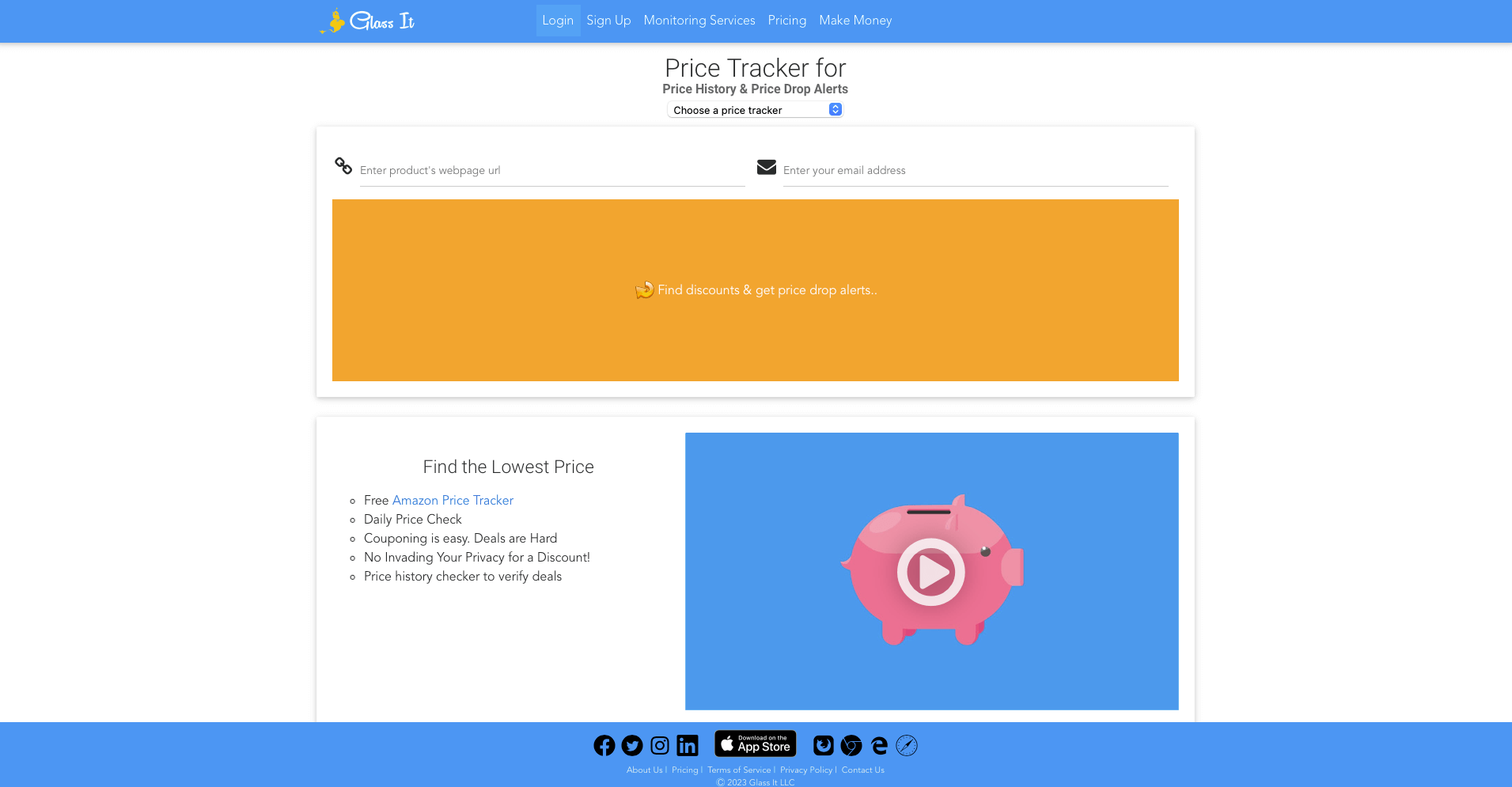 Glass It is a valuable tool for tracking price changes on Amazon products. You can easily keep track of product prices by entering its URL and your email address to receive alerts when the price drops. Additionally, you can use Glass It to check Amazon prices daily.
This platform is especially useful for tracking the price history of an Amazon product and identifying attractive discount offers. You can even import your Amazon Wishlist to track price changes.
This can be also installed on most browsers such as Safari, Firefox, Chrome and Edge or download the app on your iOS or Android device. This will provide instant notifications on any recent price drops on the products you're tracking.
6. Honey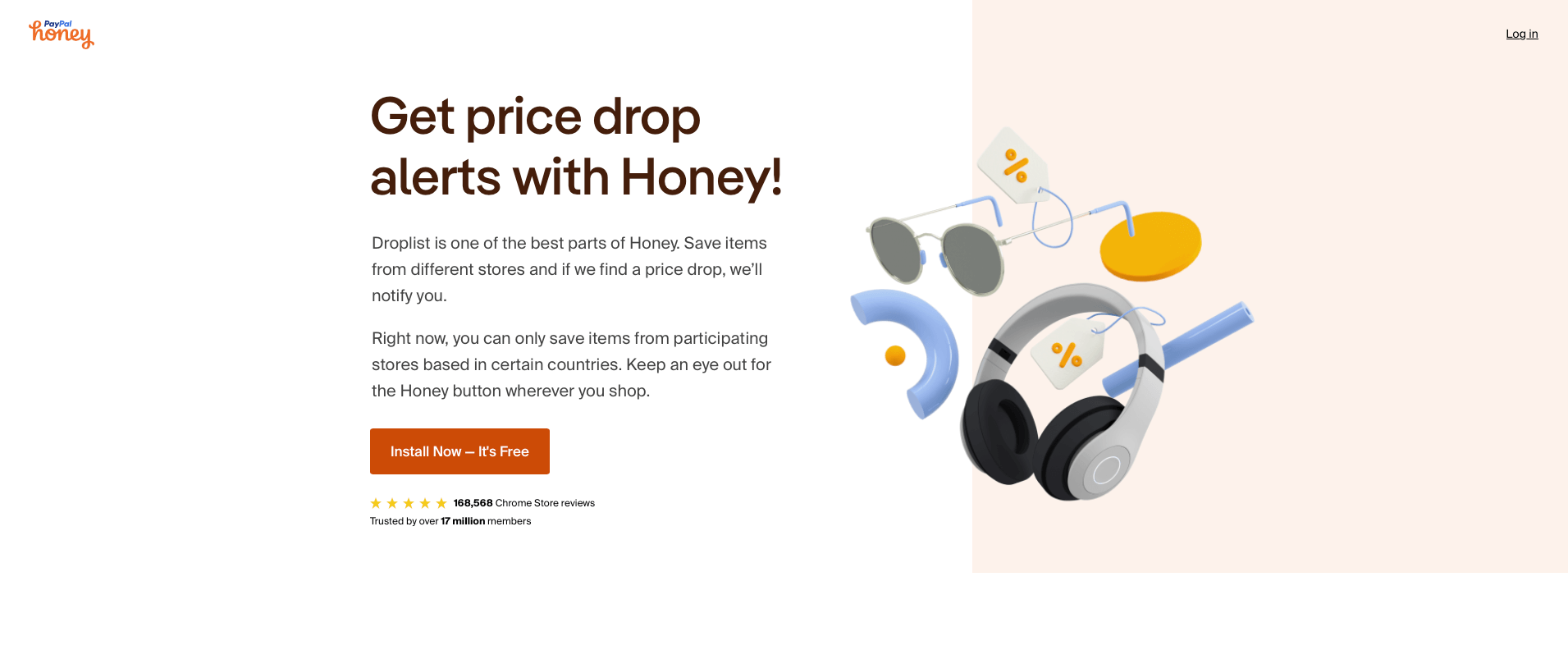 Honey is the perfect platform to track the price of your favourite Amazon products and receive price drop alerts. The most remarkable feature of this platform is its droplist, which enables you to save products from various stores. You will receive notifications whenever there is a price drop, making it an excellent way to stay updated on price changes.
You can either download Honey on your Android or iOS phone or install the chrome extension and get instant notifications whenever a price drop happens on your saved products.
How Sellers Can Use An Amazon Price Tracker
There are a few ways an Amazon seller can use a price tracker for their business.
One way is by identifying products with high demand but low competition whereby they can source from sites such as Alibaba to sell on Amazon.
Another way is by adjusting their prices in real-time based on market conditions. If a competitor lowers their prices, a seller can quickly respond by adjusting their prices to remain competitive. This can help sellers maintain their sales volume and revenue even during times of price volatility. However, this is very labour and time-intensive and can take your focus off other key areas of your business.
It's best to automate this process and let a repricer such as Repricer.com react to any competitor's changes instantaneously thereby keeping your products competitive with a healthy profit margin in place.
Final Thoughts
There are always deals and savings to be had, so why should you pay a penny more than you absolutely have to? You shouldn't, not with Repricer looking out for you. But we don't just have your back when it comes to price tracking, we'll also help optimize your prices so your products remain competitive and help you win more Buy Boxes.
Just customize your pricing rules and let us do the rest, then watch as your profits increase. The only catch is it won't work unless you sign up and start using it, with a 14-day free trial to get you going.

Related