Selling on Amazon is a popular way to start an online business but does require plentiful research which takes considerable time and effort. So, after hours of hard work researching viable products, imagine your disappointment if you were to discover that your in-demand, low competition and highly profitable product happens to fall into one of Amazon's restricted categories.
You may think it's a better plan, in that case, to leave Amazon restricted categories well alone and avoid the hassle, however, if you are an Amazon seller prepared to go the extra mile, the sales opportunities are enormous!
Remember that other sellers may be put off by the thought of the extra work involved in getting approval for an Amazon restricted category.
The reason for this is that you will need to jump through some pretty large hoops if you want to sell in an Amazon restricted category, and this will deter many would be sellers – but actually, this is the key. You can grab an opportunity for success here, where many others simply won't bother!
What are Amazon Restricted Categories?
Amazon restricted categories are exactly that. Entire categories that have Amazon 'gatekeepers'.
Often referred to as 'gated categories' restricted categories are decided upon by Amazon for reasons that differ between each category, and as you might guess, only Amazon itself is privy to those determining factors.
The good news is that Amazon no longer restricts entire categories which was its previous practice, and instead applies restrictions only in some sub-categories and sub-niches. This is why, if you look at the list of restrictions, you'll see what appears to be a relatively small list of restricted categories, yet a long list of restricted products.
It's important not to confuse the restricted categories with restricted products. You might potentially wish to source a product which appears to fall into a restricted category, but if the product itself is not actually restricted, you may be able to list your product in an alternative category with a little imagination and creativity!
If you think about it, often products can fit within more than one category. For example, a hula hoop could drop into toys and games which is a seasonally restricted category, but it could also be sold via the sports and outdoors category, which is not restricted! So, that's the first consideration you should make as you may not need to get approval for a category when an alternative will work just as well for your product.
The bad news is that if there are no potential alternative categories that will work for your product, and you need to sell within a restricted category, until you apply for and receive approval directly from the powers that be at Amazon you can't get in!
Which Categories Are Restricted on Amazon?
To give you a heads up and an idea of what you might be up against before you start your product research and sourcing, these are Amazon's currently gated categories, as listed by Amazon.com:
Collectible Coins
Personal Safety and Household ProductsEntertainment Collectibles
Fine Art
Toys and Games (Holiday Selling Requirements Apply)
Jewellery
Join Amazon Handmade
Join Amazon Subscription Boxes
Made in Italy
Music & DVD
Automotive & Powersports
Services
Sports Collectibles
Streaming Media Players
Video, DVD & Blu-ray
Watches
If you want to see which categories you have been approved to sell within, simply log in to your Seller Central account and do the following:
Click 'Inventory'
Select 'Add a Product'
Click 'Selling Application Status'
This will show you all the categories in which you are approved to sell.
Why Do Amazon Have Restricted or Gated Categories?
You'll notice that all the restricted categories listed above are all niches with high potential profitability. This is precisely why Amazon wants to ensure that sellers are pre-qualified before products are listed.
As the number of Amazon sellers increases, the danger of illegitimate sellers and shoddy products rises too. So, by placing category restrictions, Amazon can monitor standards and ensure that genuine products are being sold by trustworthy and reliable sellers.
This protects customers so that they can buy with confidence, and Amazon avoids risk to its reputation through the sale of counterfeit or inferior quality products.
How to Get Amazon Categories Approval
Amazon category approval requests aren't usually too complicated but can take a little time to process. In some instances, when you send an approval request, you may be automatically approved. This can happen if you have been selling on Amazon for a while and have a good reputation rather than being a complete newbie.
So, your first step is to go to your Amazon Seller Central account, check for product restrictions and then request approval:
Go to your Seller Central account and click on inventory
Select 'Add a Product'
Search for the product you want to sell
If it returns as restricted, click 'Listing Limitations Apply'
Click the 'Request Approval' button
If you receive an immediate response stating that your request has been approved then it's happy days for you, and yes this could actually happen!
If not, you will be asked to supply further information which can be a little more convoluted. You will likely be required to submit detailed wholesale invoices and information about your business and your products.
Amazon uses the invoices you supply along with additional criteria to make an informed decision as to whether they will allow you access to the restricted category.
Additional criteria can include:
An order defect rate of below 1%
Pro-seller plan
An account in good standing
At least 3 months of sales history
A return address in the country you are selling in OR provision for free delivery
Local language customer service support
If you are asked to provide invoices, this is purely to allow Amazon to see that you are a legitimate seller and so for this, you will need to acquire wholesale invoices for a product that fits the restricted category.
If you are currently selling a product that fits the restricted category elsewhere, you will already have this information to hand. But if you are going to be sourcing a new product and are concerned that you'll have to purchase stock before knowing if you have been allowed into the gated category or not, don't worry because there's a simple way around this.
Top Tip: Your invoice does not necessarily need to be for the product you eventually wish to sell, simply obtain a wholesale invoice for any product that falls into the restricted category.
Here's what to do in three easy steps:
Step 1: Create an Account with a Wholesaler
You'll need to ensure the address you register with your wholesaler matches the details in your Amazon account.
Step 2: Place a Wholesale Order and Get a Commercial Invoice
From the restricted Amazon category you wish to sell in, choose three different products that are already being sold within that category. Place an order for 10 of each with your wholesaler. When you purchase those products, you will receive an invoice. You may not even end up selling those products on Amazon at all, this is simply an exercise in being able to provide a qualifying invoice.
Top Tip: Your commercial invoice should contain the following information:
Supplier information including name, phone number, address and website.
Your business information to match your Amazon seller account information.
Step 3: Scan and Copy the Invoice
You now have proof of your wholesale purchase and product legitimacy and can supply the official original invoice details to Amazon. The easiest way to do this is to take a photograph and submit it through the form they will provide. Don't make any additions to the invoice. For additional credibility, take some pictures of the products when they arrive to show Amazon that you have the stock ready to sell.
Next, it's merely a waiting game for Amazon's response which can take a few hours to a few days.
It should be noted that it's not unusual for Amazon to refuse access to a restricted category with little or no explanation. If this happens to you, don't get down-hearted, but do keep trying. You may need to persevere and continue experimenting with different wholesalers or try and increase your seller metrics until you get approval.
Related: How to Sell Wholesale on Amazon
Getting Approval in Amazon Restricted Categories: FAQs
I source products from China, can I use those invoices?
You can certainly attempt this. However, Amazon will rarely accept invoices from Chinese suppliers so it's best to avoid this if possible.
Once I have approval, can I only sell products sourced from the wholesaler I supplied invoices for in the ungated category?
No, Amazon won't check your invoices after your initial approval. You can purchase products to resell from any genuine supplier.
I am a newbie seller. Will I be able to get approval in a restricted category?
You can only try! Unfortunately, with no reputation or history, it may be more difficult for you to secure approval, but the process will be exactly the same, so it's always worth the attempt.
Can I supply a retail receipt in place of an invoice?
No. You must supply an official commercial invoice.
How likely am I to get approval?
There is no guarantee, unfortunately. Some Amazon sellers need to submit requests multiple times before receiving approval, and it's often hard to understand why approval hasn't been granted, so it's worth it to keep trying.
What's the difference between restricted categories, brands and products?
Here's a basic breakdown:
Restricted categories are entire categories of products, and sellers need approval to sell any product within that category.
Restricted brands are brands (usually well-known such as Adidas for example) that third-party sellers are restricted from selling on Amazon.
Restricted products are specific product types such as some children's toys that Amazon sellers will need additional approval to sell.
Final Thoughts
You might be wondering if getting approval for Amazon restricted categories is really worth all the effort as it appears to be such a complex process. Granted, category restrictions can be frustrating, confusing and time-consuming to deal with. However, gaining approval will give you a clear advantage over other Amazon sellers who fail to get restrictions lifted, or don't even attempt to enter gated categories.
Selling within restricted categories can be a powerful strategy to really set yourself apart from other Amazon sellers and meet less competition in the process. Hence, the rewards are high if you are prepared to go beyond your comfort zone and set yourself a challenge.
Bigger audiences await you within categories that you manage to get access to, and by taking advantage of this wider reach, your visibility will increase. Ultimately more visibility means more sales and more profit, so the rewards are worth the effort when you finally get approval for Amazon restricted categories.
Once you get approved, your next step will be making sure your prices are competitive enough to battle with sellers who've been there longer. And when it comes to this, the answer is really easy and quick: sign up for your free 14-day free trial of Repricer.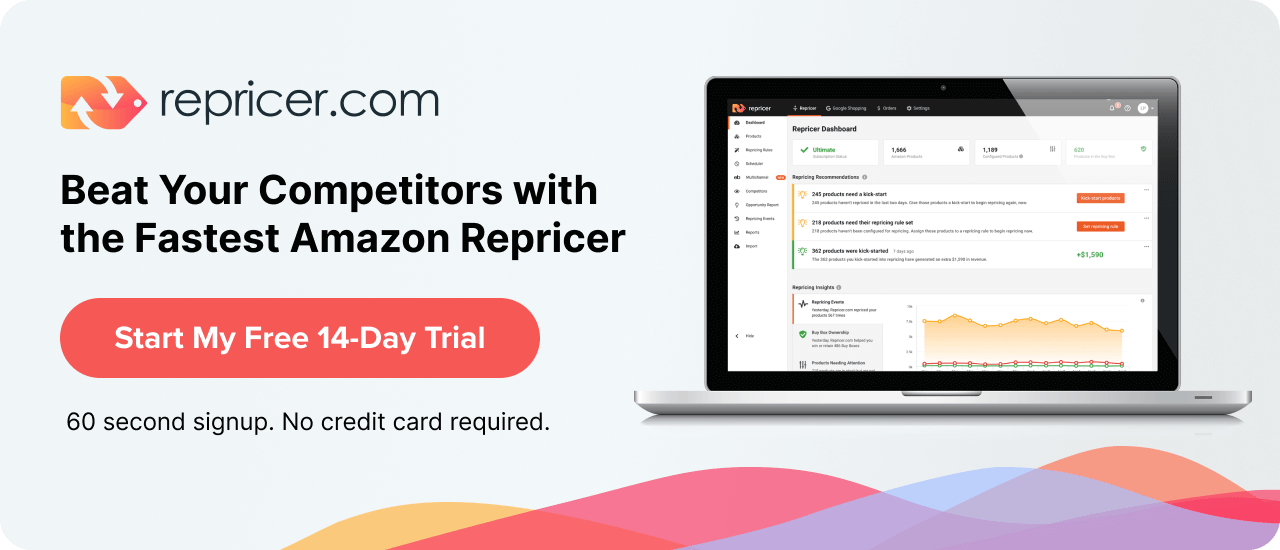 Related: What to Sell on Amazon FBA: The Definitive Guide (2023)