Every product that's sold on Amazon has a unique string of digits assigned to it called a Unique Product Code or Amazon UPC codes. These codes help categorize items on Amazon so they can be searched and sold easily. But with so many options, how do you know where to find your UPC codes? Luckily, RepricerExpress has done the research work for you and found where you can get them and how to use them.
A Little Primer on UPC Codes
Worldwide, there's a non-profit organization called GS1 that determines how UPCs should and do work. They have a database of all of these 12-digit codes in production, which Amazon dips into when checking if your UPC is a match.
GS1 is the only legitimate global producer of UPC codes, so use them to verify yours is correct. But just because GS1 is the world leader doesn't mean you can't buy UPCs elsewhere, as long as they're GS1 organizations.
Diving a Bit Further into UPCs
It might look like a jumble of numbers, but each UPC has meaningful sequences that tie it to a specific company and product.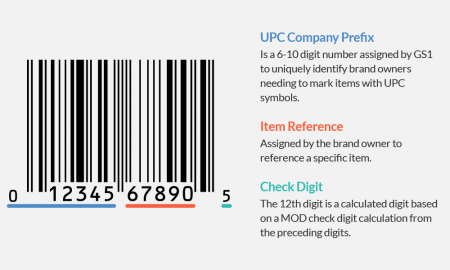 The first sequence is 6 to 10 digits long and identifies the Company Prefix. After that is a 1 to 5-digit sequence called the reference number, and it's followed by one digit that's known as the check digit (which means the barcode is correctly composed).
A Bit of Prep Before Buying UPCs for Amazon
Before you pull out your credit card to pay for a whole bunch of UPCs, there are a few things you'll need to do first.
Calculate the number of UPCs you'll need. Because you can usually get lower prices by buying in bulk, take a few minutes to figure out how many you'll need. Individual products will need their own UPCs, but so will bundles. Make sure you calculate how many separate and bundled items you'll be selling.
Choose a pricing plan. While you should be able to buy in bulk and get lower prices that way, pricing plans go a bit beyond that. If you are a small business with few products you can opt to purchase a single UPC or GS1 US GTIN. The cost is $30 each and does not require a renewal fee. Businesses that require more than nine UPCs should instead opt for the traditional GS1 Company Prefix model, which is designed to help businesses manage a larger product line and scale their business. There's an initial fee of $250 with an annual renewal fee of $50. But if you go up to the next tier to 1 to 100 UPCs, the prices only triple ($750 initial fee, $150 annual renewal fee). Crunch the numbers to see if it makes more sense to triple costs when you're only doubling the UPCs, or if it's worth it to invest in a higher bracket.
Get the right UPC. If you sell both online and off, your UPC needs might differ than if you only sell online. For example, if you've got a brick-and-mortar shop with the same items as your Amazon store, then you'll be using the same GTIN for both. But if those brick-and-mortar items are also being scanned at a warehouse or distribution centre, then you'll need different codes for the same products.
Best Places to Buy UPC Codes for Amazon
As we noted before, the best, easiest, and most hassle-free way of using a UPC for Amazon is to go through GS1. To do that, just visit the GS1 US store and purchase. Once that's done, they'll give you a unique GS1 prefix just for your company and that series of digits will start off every barcode you have.
Once you have that string of digits, you can begin attaching GS1 numbers and barcodes to the products you'll be selling on Amazon. GS1 also has a portal where you can manage your barcodes, as well as copy or print them, like if you wanted to make your own labels.
The good news is UPCs are fairly affordable.
Another reputable place to source UPCs is SnapUPC. They promise authentic GS1 codes and will beat any price, with immediate receipt of the UPCs once the payment goes through. The price for one UPC is $5, but when you buy in bulk SnapUPC offers discounts.
Other notable places to source UPCs are:
What to Do with the UPC Codes
Once you've purchased the UPCs, your next step is to attach them to your products, either physically, digitally or both.
For digital use, download the UPC as a JPEG, as well as its number (it's handy to store the numeric codes in a spreadsheet). On your Amazon product listing, enter that number into the "Product ID" field and select, from the dropdown menu, what type of code it is (e.g. ASIN, EAN, GCID, GTIN, UPC).
Related: Amazon ASIN, EAN, ISBN and UPC Explained
If you're using Fulfillment by Amazon (FBA), then you'll need to physically put the UPCs onto the products. Order adhesive barcode labels and place the downloaded UPC images onto them, then attach to the product. Make sure that it's in a place where it can be easily viewed and scanned — on the front or back is good, while the sides are not.
What to Do if You Have 'Bad' UPCs
Maybe you read this post after you already bought UPCs, or maybe you found a better price than with GS1. Whatever the case, if Amazon's notified you that your UPC isn't good, here are some reasons why and what you can do about it.
Reselling: Sometimes there's already a listing with the correct information, and yours has the incorrect UPC. If that's the case, shut your listing down and list against the correct one. Even if there isn't a correct listing, you should still delete your incorrect one, then you can create a new listing with the correct information.
Private Labels: If you've got a private label, it makes things a little easier in that you don't have to worry about getting a UPC from another brand owner. You can also decide which items to sell individually and which ones to bundle, and then get UPCs accordingly. However, you still have to follow the rules about getting UPCs from GS1 and making sure all your listings are valid. But if you have Brand Registry, then you can list without a UPC. To do this, you'll have to contact Seller Support so they can change the key attribute to something other than a UPC.
Video: Where to Buy UPC Codes for Amazon
Final Thoughts
There's a ton to think about when selling on Amazon, and getting UPC codes the right way is just one of the many. But when you have RepricerExpress in your back pocket, you can cut a lot of that time down and do things right from the get-go. When it comes to aggressively repricing your products so you always have the most attractive listings, all you have to do is sign up now and start your free trial.