Unless you've been living in a time machine, you're no doubt well aware that Amazon and Walmart are duking it out on the biggest stage to become the ecommerce champion of the world. But which one will win the most buyers' hearts? RepricerExpress takes a look at the two juggernauts to see what exactly is going on and what the future will look like.
The History of the Amazon-Walmart Feud
Amazon's been steadily growing and turning a profit for about the last 15 years, while Walmart's been at things a lot longer, although they only launched their .com site in 2000. But things have really heated up in the last 10 years, with Walmart viewing Amazon as a serious rival — and taking action.
The fight got started when Amazon established itself as a book reseller, then inched into selling other goods at great prices and delivering it all to people's doorsteps in quick timeline. As Amazon grew, it started acquiring smaller businesses and branching out. Not one to sit back on its heels, Walmart was doing the same to further solidify its online standing.
Since then, each company has eaten other smaller ones to get huge themselves, like Ring, Zappos, PillPack, Twitch Interactive, Audible and Whole Foods (Amazon), as well as Bonobos, Sam's Club, ASDA, Jet.com, Vudu and MooseJaw (Walmart).
It was between 2005 and 2007 that the battle got even more interesting. Amazon started Amazon Prime in 2005, guaranteeing two-day shipping on select items for members who purchased the service (although it took a couple years for this to really take off). And in 2007, Walmart introduced its site to store service, allowing consumers to purchase online and pick up orders in-store. Since then, Walmart's expanded that service to enable buyers to pick up their purchases at other locations, before undercutting Amazon directly with free three-day shipping for a $50 annual subscription fee (about half of a Prime membership at the time, and since down to two days — and now expanded to orders over $35).
What's Been Happening in the Last Couple Years
Since things in tech become outdated very quickly, let's zoom up the timeline to the last couple years. The biggest changes by both were made before then, so the differences they've made to their own businesses now are smaller and more subtle.
However, it's the fallout to other companies that has left the biggest pond ripples. Smaller companies are finding it increasingly harder to compete with Walmart and Amazon, as it's very challenging to offer discounted items, retain a profit, and grow at the same time. The two behemoths got to such a size that when they went online, they had plenty of muscle behind them to crowd out competitors.
One of the most interesting ways each company has done this is by establishing their own brands. Walmart has about a half dozen clothing brands, about another half dozen other clothing-related brands,  several major brands (Sam's Choice, Great Value, Equate, Special Kitty, Parent's Choice, PlayDay, Pen+Gear), and dozens more brands under its belt. On the Amazon side, they've attached their name to AmazonFresh, AmazonBasics, Prime Pantry, Prime Now, Amazon Go and Whole Foods Market, as well as other brands in food and beverages, clothing, baby and parenting, snack foods and more.
And since pricing data is widely available to even users with the most basic of needs (i.e. Keepa, CamelCamelCamel, etc.) and Amazon and Walmart have plenty of analytics money at their disposal, it's quite easy for them to source viable products, purchase them, and turn around to sell them at a profit.
Because each company has so much capital, it's no issue whatsoever for them to sell items at a bit of a loss if the expected outcome is profits elsewhere and a bigger customer base. This makes it incredibly difficult for sellers to gain traction and grow really big — as soon as they do, each company will take notice and do something immediate about it, much the same way you can squish ants with your shoe with relatively little effort.
What Sellers Can Do
While the situation might seem bleak, the reality is far from it. To make a profitable living, you absolutely must be on top of product research. Take time to really source products that have potentially high sales velocity, existing low awareness, and good potential for consistent sustainability — don't take any shortcuts or you'll be doing yourself harm in the long run.
Another practice to keep in mind is avoiding races to the bottom. If you have slow-moving stock or you're new and trying to build awareness, go ahead and hold a couple of crazy sales. But don't make it a regular habit, or else you'll just lose overall.
While the odds are stacked against you that you'll reach Amazon or Walmart-like heights, there's still plenty of room for you to carve out a living. There are so many users shopping online, you have a huge potential pool waiting for you on both platforms. Remember that each marketplace has its own unique selling strategy, so don't copypaste what you've mastered on one to the other. Learn the nuances of each and separate your strategies, but apply high-level ecommerce tips and tricks to both so you can capitalise as much as possible.
Amazon vs Walmart
According to eMarketer, Amazon is resp
Amazon Prime vs Walmart Plus
Walmart is launching a new membership program in August 2020 (delayed from Spring due to the pandemic) called Walmart Plus.
According to reports, Walmart Plus will offer similar perks to Amazon Prime and be cheaper. No formal announcement has been made with the page at Walmart.com still saying "Coming soon". The image below shows beauty, tech and sports products alongside grocery products.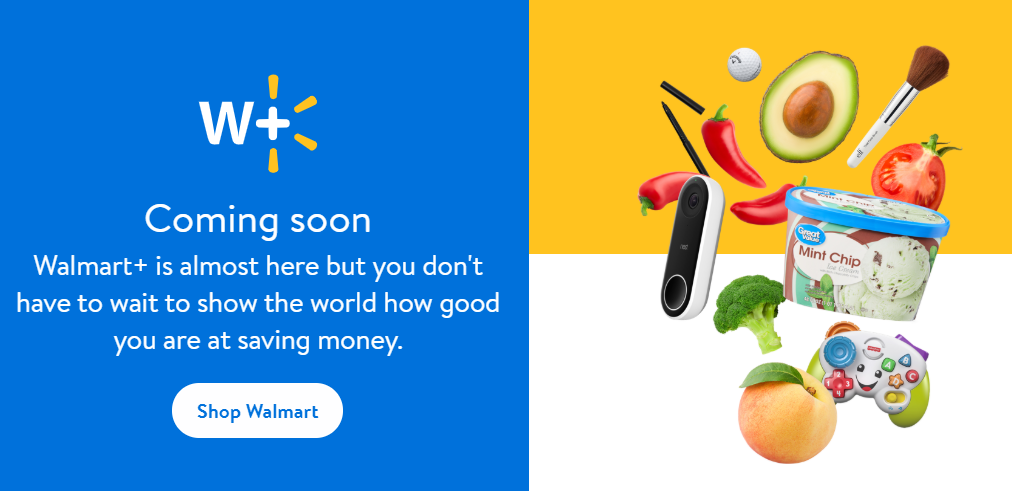 Image credit: Walmart
How much does Walmart Plus cost?
Walmart Plus will cost $98 a year and include same-day delivery, fuel discounts and other perks. If correct this would make Walmart Plus cheaper than Amazon Prime which costs $119 annually.
What Amazon Sellers Need to Know About Walmart Plus
Check out the video below to discover what we know about Walmart Plus so far.
Final Thoughts
One strategy you need to be applying right away is competitive repricing. For that, there's no better solution than RepricerExpress, which is fully Amazon-compliant on multiple marketplaces. We'll implement your pricing rules right away so you can sleep easily at night, knowing your listings are the most competitive they can possibly be. But the only way you can look forward to better days and nights is by signing up, so get started on your free trial now.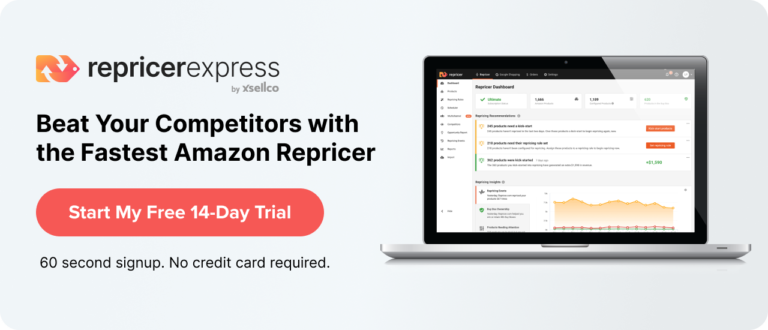 Related: Amazon FBA vs Shopify: Which Should You Sell on in 2020?