Your sales are only as strong as their searches, and most of it starts with having the right keywords. But instead of throwing spaghetti at the wall to see what sticks, take a data-driven approach that fits with Amazon's A9 search algorithm. Check out this list of the ten best Amazon keyword tools for third-party sellers.
1. Google Keyword Planner
It's tough to beat Google's depth and simplicity, especially when it comes to their Keyword Planner. All you have to do is type in a keyword and Google will respond with its rough average monthly searches, level of competition, top of page bid (both low and high range).
You can broaden your search with the related keywords it suggests, expand related keywords in the right sidebar, get historical metrics and forecasts, and use Google's tips for more ideas. It's a free tool, but watch that you're matching keywords to Amazon's A9 algorithm and not Google's.
2. Amazon Keyword Tool
If you prefer a native tool for your keyword research, give Amazon Keyword Tool ago. Like Google, all you have to do is type in a keyword and press enter and you'll get results for search volume, trend, cost per click (CPC) and competition, as well as the same results for related keywords.
However, there's a catch: it costs money to view the full results. Plans are $89/month for Pro Basic, $99/month for Pro Plus and $199/month for Pro Business with a 30-day money-back guarantee for all, but you can save up to 20% with annual billing.
3. Ahrefs
For roughly the same price as the previous keyword research tool, Ahrefs offers just as many features, if not more. They boast a database of 7 billion+ keywords that are refreshed monthly, with data for 171 countries. And if you want to dive in deeper, you can get into their advanced metrics or SERP metrics.
The Lite plan is $99/month, with plans going up to $999/month for agency use. But if you sign up for annual billing, you get two months free. Give it a try free for 7 days and make sure to take advantage of their 24/7 customer support and private Facebook community for all the resources and help you'll need.
4. SellerApp
If you're looking for some accurate and updated keyword results, SellerApp is your go-to keyword tool. Using its free keyword research tool, you can find relevant and high-converting keywords that are within the scope of Amazon SEO. Besides, you will get insights into keyword metrics such as search volume, CPC, estimated orders, etc.
If you want to use their data-backed tools with accurate results, you can sign up for their free trial. You will get an extra 25% off on the yearly subscriptions and will get to choose from a Pro-Lite plan ($89/month) and a Professional plan ($149/month) or a custom plan.
5. Keyword Inspector
With more than 600 million keywords and the ability to perform reverse ASIN searches, Keyword Inspector can assist you in cutting through all the fluff and getting only the profitable keywords that work for you. They've also got databases and reports that are country-specific so you can use what works best in each country you sell in.
Pricing is quite affordable, with their usual $59.95 fee on a limited time offer for just $39.95 with a free 3-day trial. But once you're in, you can access a plethora of great research tools. If you only want to dip your toes in before committing, check out their free suggestions tool or free search terms tool.
6. AMZ One
While you can use AMZ One for just about all of your Amazon needs, one of its crown jewels is everything involved in keyword research, from simple ranks to sophisticated rank tracking. You can track, analyze and optimize keywords and then update your product listings, knowing you're on your way to outmuscling your competitors.
The Basic Plan is only $20/month and goes up to $180/month for the Professional Plan, with savings if you subscribe annually. They also have a free trial, but it's not time-based. Instead, you can test out one keyword, one sales tracking, one negative review tracking and one product for free.
7. Jungle Scout
There are so many reasons why we love Jungle Scout, with their Keyword Scout tool being one of the main ones. You can collect high-ranking keywords based on crucial data points showing both precise and broad search volumes. Plus, they have a reverse ASIN search so you can see exactly what buyers are searching for.
Plans are really affordable (Basic: $39/month, Suite: $69/month, Professional: $129/month, with up to 55% savings on a yearly subscription) with a 14-day money-back guarantee.
8. Helium 10
You might have noticed Helium 10 is frequently mentioned, and for good reason: it's a turbo-powered Amazon tool that knocks keyword research out of the park. Start by entering in a keyword, then click around on the many features to get a really deep and involved look at the best keywords (e.g. Amazon recommended, top products, word frequency, etc.).
For those tight on money, stick to the free plan with limited features. Or, you can splurge on the Platinum ($97/month), Diamond ($197/month) or Elite ($397/month), with 2 months free when subscribing annually.
9. Merchant Words
For a well-rounded and highly affordable tool, Merchant Words should be near the top of your list. They've been building their database for the 7 years they've been around, and have expanded to include keywords for almost every Amazon marketplace. Even better, they'll give you suggestions for longtail keywords, which is something too many Amazon sellers ignore.
If you're keeping things small and local, their Silver Plan ($29/month) should do you just fine, with Amazon data for one country. But if you need more, their Gold Plan ($79/month) or Platinum Plan ($149/month) gets you more features and reach, with a 14-day money-back guarantee.
10. Sonar
If you're an Amazon seller who's just getting started and don't have a ton of money to invest on tools, then bookmark Sonar. It's completely free to use and will give you a great starting point for what keywords to use. The main search returns your keyword and thousands of related keywords, with 0-3 bars indicating the search volume. There's also a pool of Frequent Words on the right side you can use to expand your search.
11. WordTree
Another free Amazon keyword research tool, WordTree lets you see what keywords your product does and doesn't index for. Just enter in the ASIN, site and keyword and you'll get the results (you can also do this for your competitors' listings).
If you want to upgrade a bit, they offer reports at $20 each, which we recommend using about once a month or so.
Final Thoughts
Although most of these Amazon keyword research tools have priced plans, remember that you sometimes have to spend money to make money. Luckily, there's another option out there that's really affordable and powerful in its breadth and scope: Repricer.
It'll help you set custom pricing rules so you never have to worry about a buyer skipping over to a competitor's more attractive listing, staying on yours instead. And when you sign up now, your 14-day free trial gives you plenty of time to get the edge on other sellers.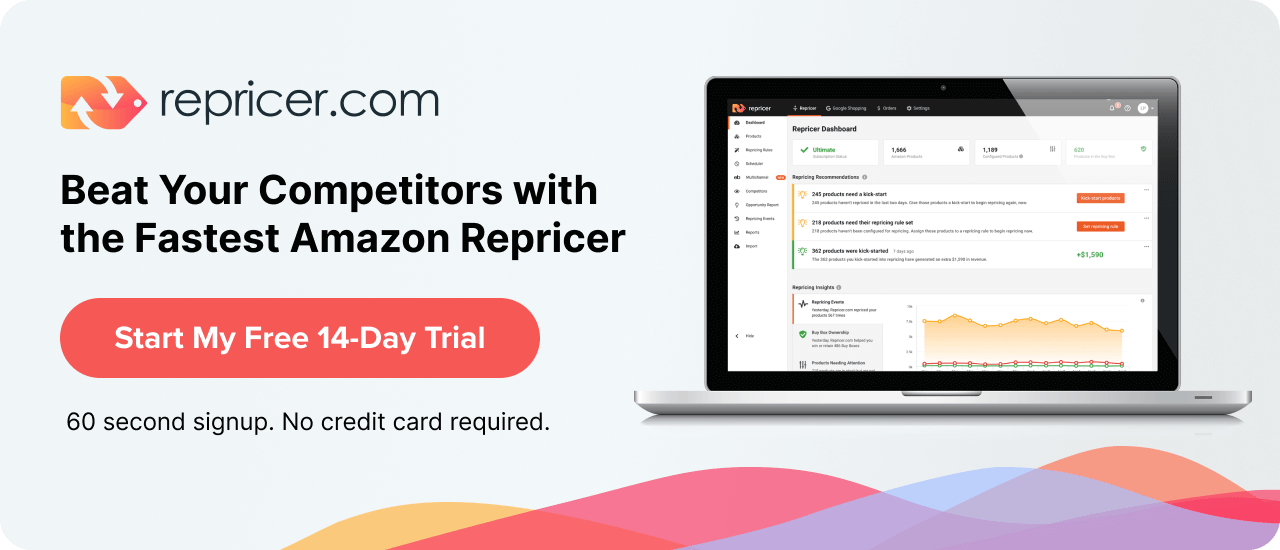 Related: Amazon Keyword Research: Definitive Guide for FBA Sellers