Podcasts have been around for a decade or so and have dramatically increased in popularity in recent years. If you're completely new to the podcast scene, they are a series of audio files that you can download or stream to your smartphone, tablet or laptop through multiple platforms including Google Play Music, iTunes, Spotify and SoundCloud.
In life, it's important to always be learning and podcasts can be a great source of information that's easy to consume — you can listen to them on your daily commute, at work (if your boss lets you), whilst cooking dinner or when you're out for an evening stroll.
Here are some of the best ecommerce podcasts for 2020, that will help you grow your online business and achieve success.
1. The Ecommerce Fuel Podcast
The Ecommerce Fuel Podcast focuses on tip, strategies and stories to help six and seven-figure store owners take their business to the next level. It's hosted by Andrew Youderian.
2. Shopify Masters: The Ecommerce Business and Marketing Podcast for Ambitious Entrepreneurs
Shopify Masters is a podcast brought to you by Shopify where successful ecommerce entrepreneurs and experts share their business experience and inspirational stories. Each week, the host Felix Thea invites successful entrepreneurs to share their experience and practical advice for growing an online business on Shopify. Guests on the show come from a wide range of backgrounds and share insight into topics such as creating viral Facebook ads, outsourcing parts of your business, creating licensed products, optimising social media marketing, content marketing for SEO and more.
3. My Wife Quit Her Job Podcast
Hosted by Steve Chou, the My Wife Quit Her Job Podcast is an interview-based show where Steve brings in small business entrepreneurs who are killing it online. All of the entrepreneurs featured on the podcast bootstrapped their businesses and started their own ventures to improve their lifestyle in some way. Steve discusses the different strategies that contributed to each entrepreneur's success online including takeaways that you can apply to your business.
4. Smart Passive Income Podcast with Pat Flynn
Hosted by Pat Flynn, the Smart Passive Income Podcast features weekly interviews, strategy, and advice for building your online business the smart way. The podcasts take you inside the minds and behind the scenes of successful entrepreneurs including Tim Ferriss, Gary Vaynerchuk and Michael Hyatt.
5. Ecommerce Conversations from Practical Ecommerce
"Ecommerce Conversations" is Practical Ecommerce's audio podcast hosted by Kerry Murdock and Armando Roggio. Every month we interview innovative entrepreneurs and industry practitioners for their insights and experiences good and bad. Past topics include marketplace selling, hiring and firing, custom manufacturing, finance and accounting issues, search engine optimisation and much more.
6. Mixergy Podcast
Ecommerce entrepreneur, Andrew Warner, hosts the Mixergy podcast, where he asks tough questions to guest experts to help enlighten listeners about the good, the bad, and the ugly related to running an ecommerce business. The podcast boasts over 1,000 interviews with successful entrepreneurs – some of the biggest in the ecommerce world. Chances are good that if you have a question or concern about ecommerce, you will find the answer in this podcast.
7. EcommercePulse Podcast
The EcommercePulse podcast hosted by Leighten Taylor provides practical advice and interviews with experts from the world of ecommerce. Past topics include sourcing products, finding a niche and sales conversion optimisation. Leighten and his team help clients build six- and seven-figure ecommerce businesses on Shopify.
8. The Fizzle Show Podcast
The Fizzle Show is a podcast for creative entrepreneurs and honest business builders who want to earn a living doing something they care about. It's been around since 2013.
The Fizzle Show podcast provides weekly insights for online retailers and small business owners. It focuses on current business essentials, motivation, self-employment, audience and customer growth, content marketing, work-life balance, and other important aspects of owning a business. The show is hosted by friends, Corbett Barr, Chase Reeves, and Steph Crowder, and it's sure to keep you entertained while giving you great advice, inspiration, and humour.
9. Ecommerce Minute
The Ecommerce Minute hosted by John Suder, Bart Mroz and Brittany Blackman brings you a daily dose of ecommerce, tech, and retail news.
10. eCommerce Paradise High-Ticket Drop Shipping Podcast
A podcast about high-ticket drop shipping by Trevor Fenner with tips for starting, growing, outsourcing, and scaling your high-ticket drop shipping business so you can live the life of your dreams.
11. Cha-Ching
Cha-Ching is a weekly podcast where host Kevin Wild interviews ecommerce entrepreneurs, merchants and thought leaders on how they run their businesses and online stores.
12. Nerd Marketing Ecommerce Podcast
The Nerd Marketing Ecommerce Podcast is a no fluff, no BS podcast filled with valuable ecommerce information you can implement today. It features clear, actionable, data-driven strategies to grow your ecommerce business.
13. QA Selling Online Podcast – Selling On Amazon FBA
The Q&A Selling Online podcast is all about getting real answers to your real ecommerce questions. Listeners can ask anything from selling on Shopify, Amazon FBA, WooCommerce and any other platform. The podcast also covers selling online and sales funnels.
Final Thoughts
Ecommerce podcasts are a great resource for sellers looking to improve their online business. They're easy to consume and you can choose to listen to an episode or two when you have some downtime or are engaged in another activity. We hope tuning into some of these podcasts on a regular basis will help you get more done with less effort.
Let us know what inspiring podcasts you're listening to.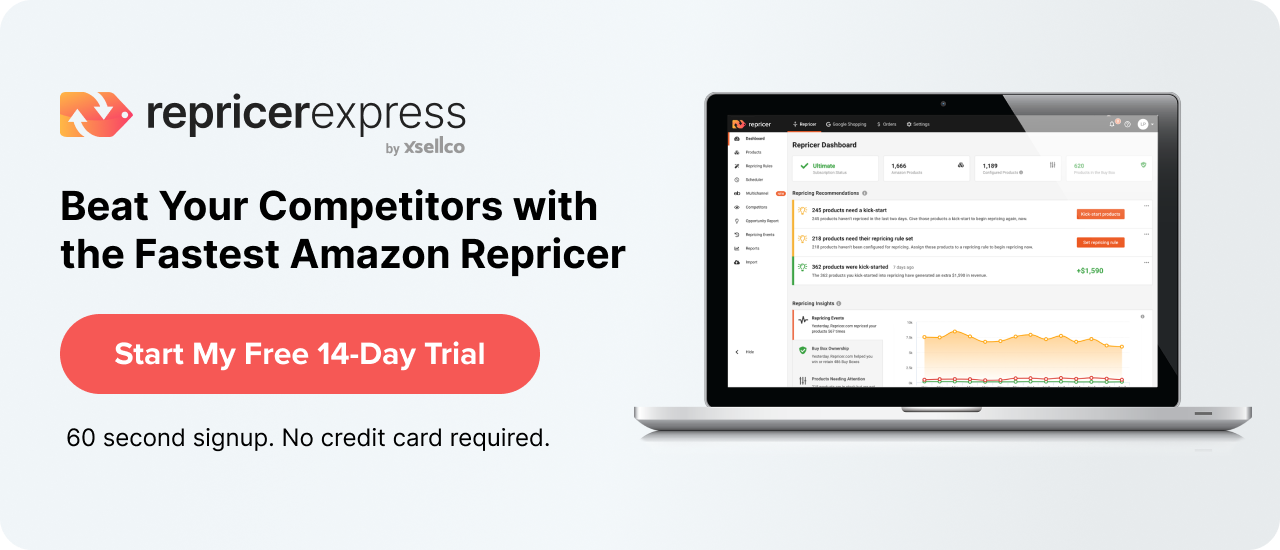 Related: 11 Excellent Amazon FBA Podcasts to Help Your Business