You're busy and don't have time to comb through countless articles on how to rock Fulfilment by Amazon (FBA). And while we do our best to condense all that information into potent packages, we also recommend listening to these amazing Amazon seller podcasts so you can do two things at once and continue to rock on.
1. The Full-Time FBA Show Podcast (Stephen Smotherman)
This is an "easy to listen to" podcast that explains how the Smotherman family operates their FBA business and various tricks of the trade that help improve your own. Each episode is packed with solid information, but not overwhelming.
Stephen and Rebecca are no strangers to sharing their information, which they've done on their blog, YouTube and Facebook for some time now. Great voices, warm personalities, inspiring and enthusiastic. Whether you are a seasoned seller, a newbie, or just curious about selling on Amazon, I recommend this podcast highly.
2. QA Selling Online (Quin Amorim)
In this podcast, some of the biggest eCommerce experts discuss the most important aspects to be successful in selling on Amazon and Walmart, and what it takes to create a successful business online.
Amazon and Walmart are two of the most popular and successful e-commerce platforms. To sell on these platforms, it is important to know the algorithms, policies, and regulations that they have in place. With several hundred episodes, Quin Amorim and his guests share the knowledge they accumulated over decades of experience.
3. Private Label Podcast (Kevin Rizer)
When you want an expert opinion, you turn to someone who's spent serious time in the trenches. Enter Kevin Rizer, a self-made man who conducts interviews that are conversational and easy to follow. He's not afraid to ask 'silly' questions because he knows his listeners are wondering the same thing. As a bonus, check out his Private Labelling for Dummies bit, which breaks down all the concepts on private labelling you need to get started right away.
4. My Wife Quit Her Job (Steve Chou)
Hasn't everyone who started seriously selling on Amazon done so with the intention of it being so successful, they can make it a full-time gig? Well, Steve Chou can help you out with that by imparting pearls of wisdom from his and his wife's store, Bumblebee Linens. Want more proof they really made it work? His wife is still a big-time breadwinner by them returning her to her six-figure salary.
5. The Amazing Seller Podcast (Scott Voelker)
You know how the top Amazon sellers generally get featured at the top of the list because they have such good reputations? That's Scott Voelker in the podcast version. He covers topics for beginners and experts and everyone in between, going really in-depth about issues so you get a comprehensive idea of how to move forward.
6. Selling on Azon (James J. Jones)
We all know how much — and how quickly — the landscape changes in online selling, which is why it's such a valuable resource to have some podcasting who's been there since before Day 1. James got his start in online marketing in 1983, which may be before some of you were even born! While some listeners may bemoan his not-so-conversational style, it's actually a boon because he wastes no time in getting into the nitty-gritty and cuts out all the fat.
7. The Ask Jordan Podcast (Jordan Malik)
Want to get insider info from someone the likes of CNBC, Time and The Wall Street Journal all deemed valuable enough to talk to? That's Jordan Malik for you, and he's translated his experience into podcasts where he answers listeners' questions. It's a great way to learn about real-world issues and questions, instead of necessarily hearing from someone with a totally different vantage point from yours.
8. FBA Journey Podcast (R.C. Rice)
You're an Amazon seller looking for success, and what better place to look than someone who's scrambled her way to the top? She started off as a young'un and sharpened herself up quickly, using her mistakes and those of others to become a well-rounded pro seller. One of the biggest lessons you can take away from R.C. is to fearlessly and energetically go after your goals, no matter what you have to overcome.
9. Shopify Masters
Shopify Masters is a business podcast powered by Shopify that has been around for years. The podcast features real stories of entrepreneurship, actionable marketing tips and tools for eCommerce growth.
10. eCommerceFuel (Andrew Youderian)
The eCommerce Fuel podcast, hosted by Andrew Youderian focuses on tips, strategies and stories to help six and seven-figure store owners take their business to the next level.
11. Cha-Ching! An Ecommerce Podcast (Kevin Wild)
Cha-Ching! is a new eCommerce podcast where the host Kevin Wild interviews real, successful store owners and gets them to reveal their best stories, strategies and advice for other store owners.
12. Ecommerce Conversations (Practical Ecommerce)
Ecommerce Conversations is Practical Ecommerce's podcast. Every month they interview innovative entrepreneurs and industry practitioners for their insights and experiences good and bad. Past topics include marketplace selling, hiring and firing, custom manufacturing, finance and accounting issues and SEO.
13. DataHawk Ecommerce Podcast
The DataHawk podcast helps listeners stay up to date with Amazon. They discuss the strategies and tactics needed to navigate the hyper-competitive landscape of the marketplace.
14. My Amazon Guy Podcast
The My Amazon Guy podcast hosted by Steven Pope discusses how to increase sales through techniques that increase traffic and improve conversion rates. Steven interviews Amazon sellers and discusses their journeys about what went right and wrong along the way to growing their companies.
Win More Buy Box
Once you immerse yourself in the wonderful world of podcasting, you'll have to use your newfound knowledge in practical ways. That's where RepricerExpress comes in. We're like what happens when you rub a lamp and a wish-granting genie comes out, except it's real life. And with a 15-day free trial to get you started. So wish your way to reality right now!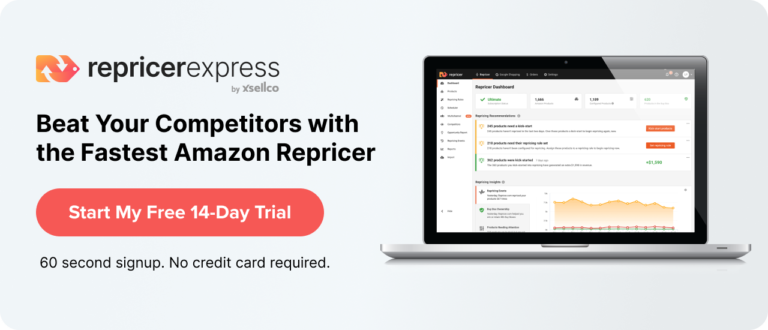 Related: Best Ecommerce Podcasts for 2020