eBay is a fantastic platform for business, and since its inception, great importance has always been placed on the acquisition of good feedback. In fact, to a degree, almost every eBay seller has a dependence on a positive feedback reputation to ensure their business thrives.
As every eBay seller has no doubt discovered, building a reputation on the platform can be painfully slow. This is frustrating when you need all the positive feedback comments you can muster and as fast as you can gather them, to ensure buyers have confidence in you as a seller. This is particularly important if you are new to eBay.
Once you are established and your feedback has grown into the thousands, it becomes less vital, but as a newbie seller, it's critical you achieve an essential feedback boost early on, to prove your trustworthiness, instil confidence and fundamentally, to enable growth.
Unfortunately, for sellers, the lack of feedback left by buyers can be disappointing at times and it's not always easy to remember to send an eBay feedback reminder to your customers. It's important to understand though, that some buyers will never leave feedback, and that's because it's their choice – after all, eBay feedback is voluntary. Alongside this, some buyers just don't understand how to leave feedback and there is a percentage who are just super slow or forget altogether!
Of course, there are also those eBay buyers who leave feedback always. Usually, veteran members who have used eBay for many years.
As an eBay seller, you will be aware that you require a continual stream of positive feedback comments gathering within your account to satisfy buyers who view your feedback before a purchase. It's one of the main parameters when a potential customer is deciding whether to buy from you or move on to the next seller!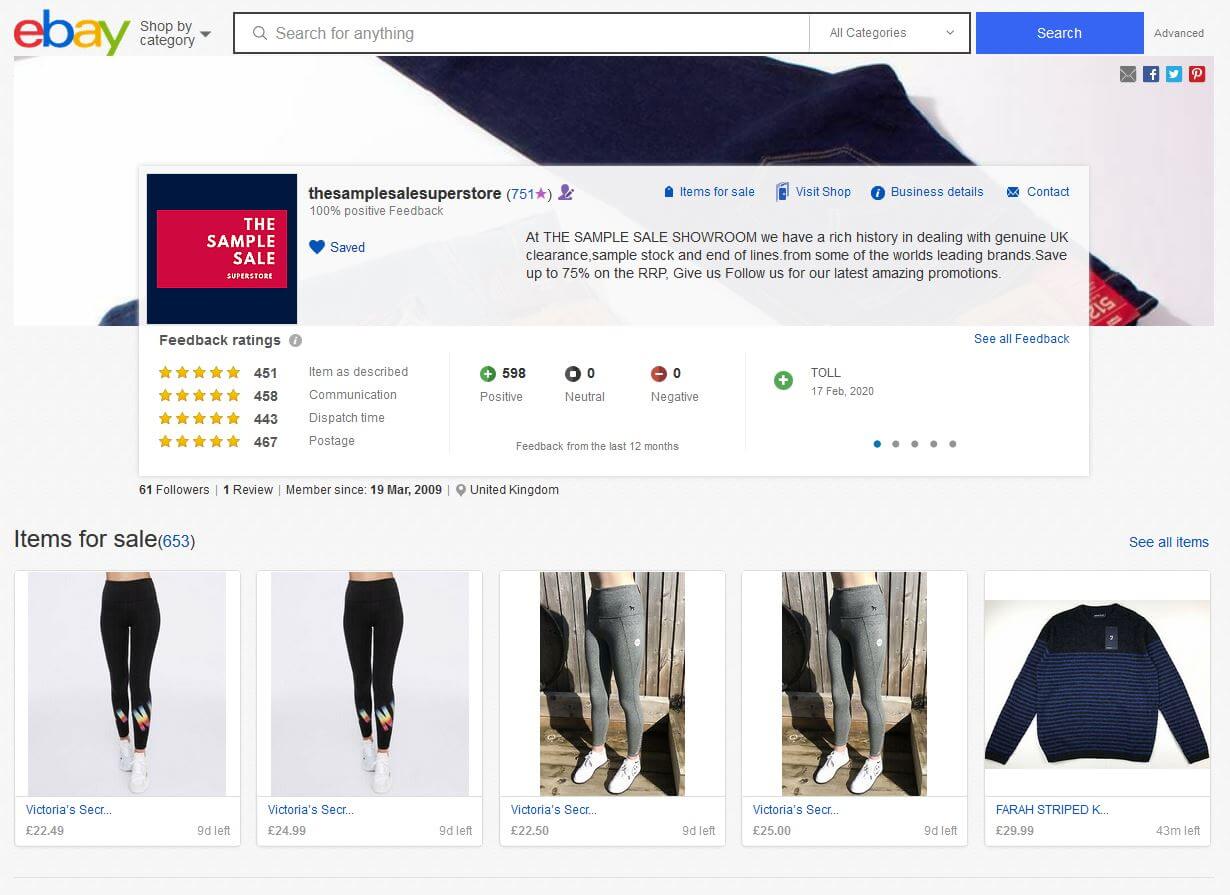 But how can you ensure your eBay feedback score consistently grows so that people feel confident dealing with you?
1. Purchase Items on eBay
If you're new to eBay and need to get your feedback score off the ground fast, a simple way to gain some traction is to make some purchases from other sellers on the site. Become a buyer, just for a few transactions.
If you decide to use this method to build eBay feedback score, you should choose to purchase items from sellers who have feedback between 100 and 500. These are sellers just like you who will be looking to boost their own feedback and so are more likely to reciprocate.
You should also stick to a budget and choose to purchase inexpensive items so that you are not spending money unnecessarily. Alternatively, purchase items that you require for your own business needs, for example, packaging supplies.
When purchasing on eBay, make sure you pay for your order immediately. Sellers like quick payment and are more likely to leave positive feedback for prompt payers.
Once your order arrives, check it over immediately and leave feedback. A quick response is likely to result in the seller also being prompt in leaving feedback for you. In fact, the longer you delay in leaving feedback, the more likely it is that you won't receive any in return, so be as organised as possible.
When you leave your eBay feedback, make it personal as this appeals to the seller directly. If your feedback is extra nice, they will feel obliged to do the same. For example, instead of stating "A+++++", a standard comment and used by many who automate comments with an eBay feedback tool, take the time to write:
"Arrived quickly, beautifully packaged and exactly as described, thank you."
This makes it personal and is more likely to bag you a feedback comment in return. Once you have some feedback and are selling quantities of products, an eBay feedback tool will be invaluable to you. But initially, it's all about the personal touch.
2. Make Volume Sales by Selling Inexpensive Items
This is an alternative way to increase your eBay feedback and can potentially bring you between 50 and 100 feedbacks in just a couple of weeks. It's important you pick the right product when implementing this strategy, so you'll need to focus on items which are lightweight, easy to pack and post and trouble-free to the customer. In other words, avoid anything electronic or difficult to use. You want multiple, easy, trouble-free transactions, resulting in quick positive feedback.
To set this strategy in motion, you'll need to source between 50 and 100 units of an inexpensive (but good quality) product from a wholesaler. The product should cost you between £1 and £5 per unit. Try and source as economically as possible as the likelihood is that you will make a loss, not a profit! Don't worry, there's a reason for this. Just follow these simple steps:
Create a well written, multiple quantity, "Buy It Now" eBay listing offering your items at a crazy low price. £1, £2, they must be low enough prices for customers to impulse buy, even if this means a loss for you. The key is to sell in volume.
Ensure you give perfect customer service from order to delivery. This means responding to questions super-fast, dispatching orders quickly, using a swift postage method and leaving prompt feedback.
Email your buyer and ask for feedback once you know their order has arrived. Having had a great experience, it's likely your buyer will leave feedback immediately following your request.
Repeat this method until you have the desired number of feedback comments. Of course, you may make a loss, but your reputation will build, benefiting you in the future.
3. Provide Accurate Product Descriptions
Let's move on to ensuring you consistently receive feedback from your buyers once you've gained those initial comments. Once you have secured around 20 positive feedback comments, you're well and truly off the mark and buyers will be beginning to trust in you more.
But of course, there's a difference between having 20 feedback comments and 2000 comments!
As a responsible eBay seller, you want to make sure that your customer has a positive experience from start to finish, and this begins with your product listing.
There's nothing guaranteed to tempt a buyer to leave less than glowing feedback than an inaccurate product description. Remember, your description is your shop window and should be an honest, informative and above all truthful description of your goods. You must deliver what you promise, so it's important you take your time creating your listings rather than throwing a couple of lines together whilst you're waiting for the kettle to boil.
An accurate product description, coupled with the product arriving with your customer exactly as described, is a fantastic eBay feedback tool and will help ensure positive feedback is continually forthcoming from your buyers.
4. Care About the Quality of Your Items
Next, let's look at your actual products. Your buyers do not under any circumstances want to receive a poor quality item which is not fit for purpose. When you are researching and sourcing your products you should always ask for samples before placing your wholesale order. This gives you the opportunity to check the product quality thoroughly before going ahead with a larger order and you are safe in the knowledge that you are offering a quality item to your consumer.
Your buyers do not want to receive junk, and if they do, will not be afraid to say so in their feedback, so it is crucial you fulfil your promises by making sure your items are top-notch.
5. Take Your Time When Packing up Orders
Once you have sold an item you may think that's the end of the process, but in fact, this is where you can gain some easy positive feedback. Take care when packing your orders. This attention to detail has two benefits. Firstly, it's the aesthetics. A nice looking parcel arriving with a buyer looks good and secondly, decent packing avoids the potential for breakages.
Both of these things work in your favour as the seller. An item wrapped in newspaper and stuffed in a carrier bag, held together with parcel tape and with an address scrawled on the front with a sharpie does not create a good impression. On the other hand, an item beautifully wrapped in tissue paper and bubble wrap, placed lovingly in a mailing bag and with a printed label attached shows that you care about your buyer and their purchase and you also care about how your service comes across.
So, invest in mailing bags, bubble wrap and a label printer to make a good first impression. You can purchase all of these things from eBay and gain some extra feedback as a buyer along the way.
Remember, buyers like to feel valued as a customer and when they do, they will reward you with positive feedback.
6. Dispatch Every Order Fast
At this stage, your beautifully wrapped product is ready for dispatch. This is where you can pretty much guarantee some great feedback. Most buyers are impatient. A next day delivery service is standard with online retailers and buyers expect a quick service, so that's what you must offer.
Once you offer a fast service you must fulfil! Don't think you can offer a next day delivery option and then send parcels by standard second class. All this will do is lose any trust you have built and will not bring you the feedback you want.
The best option is to list several shipping options. Propose a standard service and a next day delivery service so that your customers can choose. Next day delivery is likely to be a popular option for buyers, so offer same day dispatch for orders placed before a certain time, for example, 3.00pm, therefore guaranteeing your customers will receive their orders in the fastest possible time.
Quick delivery usually emotes an immediate positive feedback from a buyer because they are so impressed with your service and you can utilize this to build your feedback.
7. Include a Personal Note With Every Order
Here's a simple idea which every serious eBay seller should be using to increase their feedback. Adding a note to every order you dispatch is a subtle, polite, yet very direct method of squeezing feedback out of your buyers.
Each time you dispatch a parcel, simply include a little note or postcard displaying your eBay ID, the name of your eBay shop, your contact details and a message thanking your buyer for their purchase. It only needs to be generic. Here's an example of what your note might say:
"Thank you so much for your purchase. We hope you are delighted with your item. Please leave us feedback so that we know you are happy!"
It's not pushy, it's not demanding. It's just a lovely little note politely checking satisfaction levels and requesting feedback.
You don't need to hand write these either. Print them in advance and pop one in each parcel you send, and you'll soon see more buyers leaving you feedback.
This is such a simple but effective strategy, but so often overlooked. You'll be surprised at how many sellers don't do this.
So, the upshot here is that once the parcel arrives with your buyer, a feedback prompt (your note) is an immediate eBay feedback reminder for them.
8. Exceed Expectations – Include a Free Gift!
Finally, if you really want to achieve glowing feedback, you can push the boat out and add an unannounced and unexpected gift to every order.
Nothing expensive, it's just a token to show you are appreciative of your customer and to nudge them into thinking how lovely you are, thus making them more inclined to leave feedback for you.
There are several ways you can go about this. Either choose a free gift relating to your main product, so for example if you sell pet products, include a free novelty pet collar tag. If you sell baby products, include a free bib. If you sell books, include a free bookmark. Alternatively, include an unrelated item such as a lollipop, mini chocolate bar or bag of sweets.
People love getting something for free, so it doesn't really matter what the item is, it's the fact that it hasn't cost them anything and is unexpected, and this prompts the feedback.
You can source inexpensive products in bulk suitable for use as free gifts from any of the China Wholesale sites or from UK pound stores.
If you prefer not to send a gift, instead include a voucher or discount code which your buyer can use for their next purchase. This has two benefits. First, the buyer feels you care about them and their custom, resulting in them leaving you feedback, and secondly, it provides an opportunity for the buyer to return to your eBay store or listings meaning you have their loyalty as a repeat customer.
Final Thoughts
Boosting your chances of receiving eBay feedback should be a priority each and every time you list your products on eBay simply because eBay feedback is a tool that has the potential to set your business apart from the others.
If you want to automate your product prices on eBay, then RepricerExpress, eBay repricing software, is the solution you have been looking for. You can beat top-rated sellers and reprice using barcode, EAN and UPC. Plus, there's a free 15-day trial for you to try it out – no credit card needed.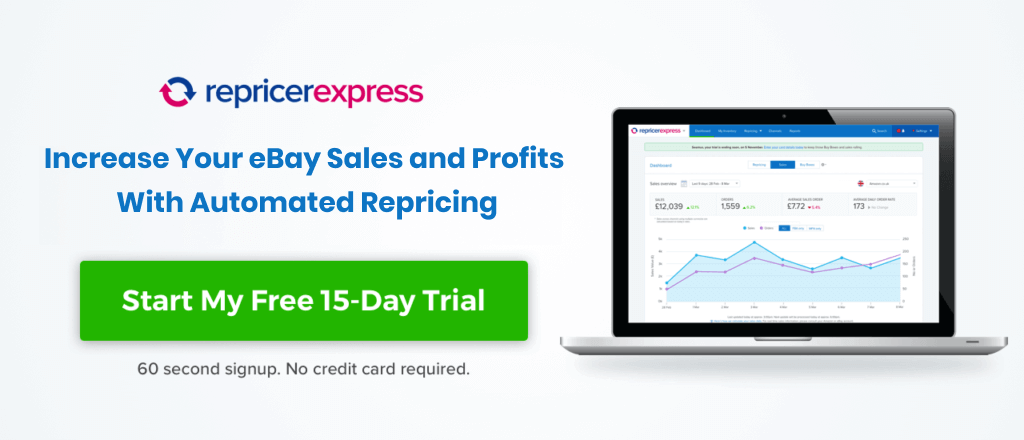 Related: A Sellers' Guide to eBay Arbitrage