My first job was working in a local corner shop. Amongst my duties l was tasked with using a pricing gun (a name that makes it sound a lot more exciting than it is) to label tins of food with a price sticker. The process of manual pricing was very time-consuming and if the shop owner decided he wanted to reduce the price of peas to 25p that week, it meant manually repricing everything again!
Thankfully, technology is more advanced these days and no one will ever have to spend hours pricing tinned peas. Ecommerce has made price comparison easier and automated eBay repricing software makes this possible for sellers of all sizes.
 eBay Repricing Software: Overview
1. The Benefits of eBay Dynamic Pricing
2. Getting Started with eBay Repricing Software
3. Factors to Consider Before Choosing an eBay Repricer Tool
4. eBay Repricing Myths
5. How Our eBay Repricing Software Works
6. Repricing FAQ
1. The Benefits of eBay Dynamic Pricing
Online sellers are saving hours of manually repricing by using automated pricing solutions such as RepricerExpress with repricing software becoming more popular by the day.
Sellers can set up rules and then relax and let the software take care of their pricing on Amazon and eBay. It works 24/7 so even when you're asleep or down the pub, the software is working away monitoring your competition and applying your pricing rules.
Repricing can increase prices as well as lower them.
One scenario where repricing software works really well is when your competition is out of stock. The software is smart enough to know, this is a good time to increase your profit margin. It will adjust your prices within the price boundaries you set when you decide the min and max price you wish to sell the chosen product.
So what are the main benefits of using Amazon and eBay repricing software?
Saves times.
Increases sales.
Increases your Buy Box ownership/percentage.
Increases efficiency.
Decreases chances of manual errors.
Related reading: 5 Reasons You Should Use Repricing Software for Amazon and eBay
2. Getting Started with eBay Repricing Software
So you've decided to join the repricing revolution—if you've not used a repricer previously, you're very likely to experience an increase in eBay sales and Amazon Buy Box ownership especially if your competitors don't have repricing software.
In order to reprice effectively, you'll need to have a clear understanding of ALL costs. This will be vital in helping you choose the right min and max prices for your products whilst remaining competitive and profitable.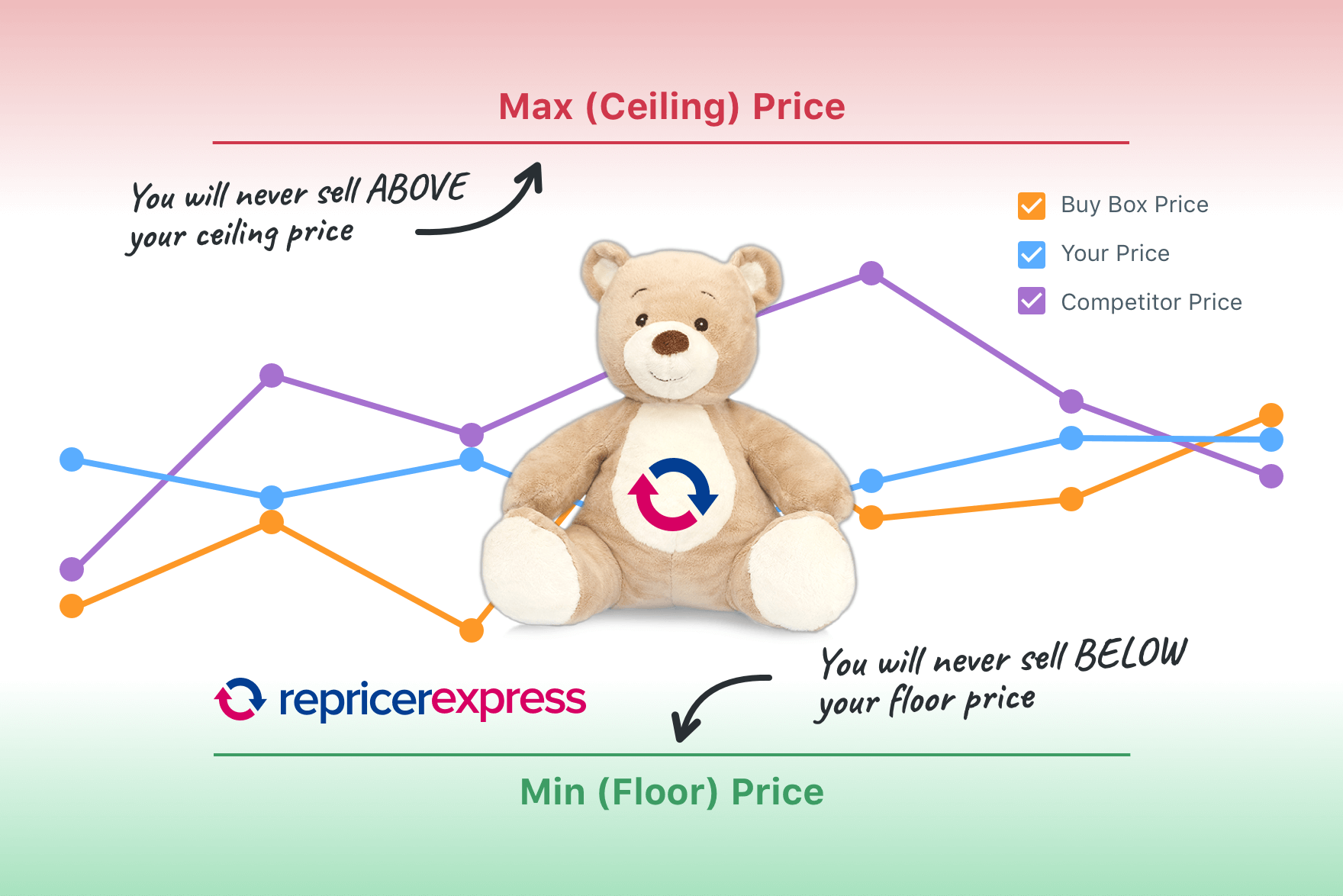 Your Min (floor) price is the least amount of money you're prepared to sell your product for—it helps sellers protect their margins and prevent losses.
Your Max (ceiling) price is a realistic or preferred selling price for your product that you can enjoy when market conditions suit—it helps sellers get the optimal price when there is little or no competition.
Next, you'll want to take a look at your repricing rules.
Pricing rules within RepricerExpress are a lot more sophisticated than beat the lowest price by a penny. Some examples of popular pricing rules include only competing with sellers with a feedback rating greater than X, only reprice against items of a specific condition (new, used) and excluding specific sellers including Amazon. Our customer support team is happy to discuss pricing rules with you in more depth.
But it's not all about price! Both Amazon and eBay have sophisticated algorithms which decide how sellers rank and in Amazon's case, winning the Buy Box is your quickest route to higher sales.
For Amazon, as well as price, you'll want to focus on shipping on-time and providing a great customer experience. If you're an eBay seller, you might want to include a detailed description and professional photos in your listings and offer a generous returns policy.
"As a relative newcomer to Amazon I was spending hours checking my inventory page to see if I was competing on price. Since signing up to RepricerExpress I only need to spend about 10 minutes a day on the very intuitive dashboard. Most importantly, I have seen a 40% increase in sales which has covered the cost of the monthly subscription many, many times over…"

Chris Richards, Plumbing Bits & Bobs
3. Factors to Consider Before Choosing an eBay Repricer Tool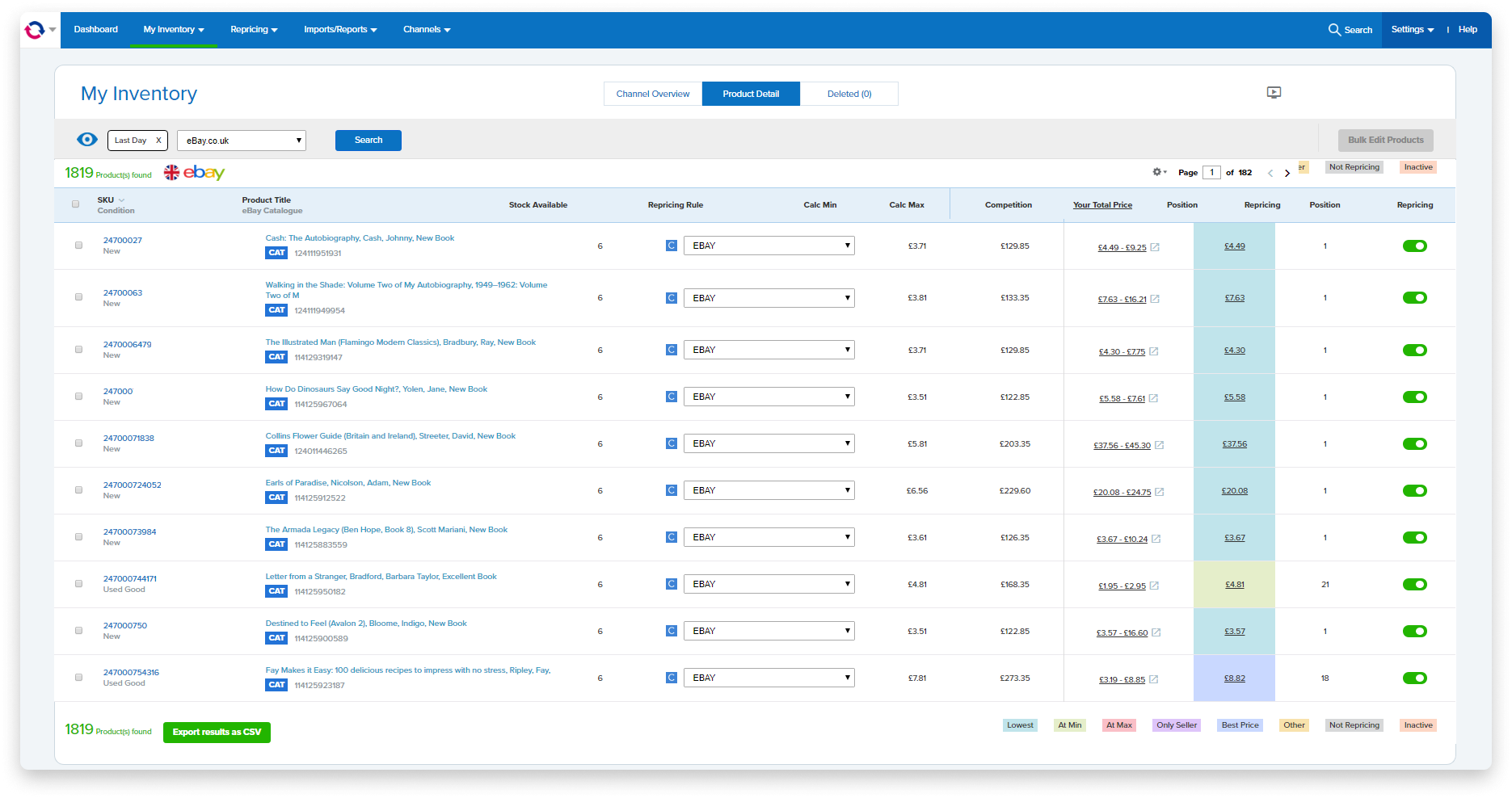 Here are some things you may wish to consider when deciding on a repricing solution.
How much can you afford to spend on an eBay repricer?
What features do you need from your repricing solution?
Which marketplaces does it reprice on (most only offer Amazon)?
What customer support is on offer?
Related reading: How to Choose a Repricer
4. eBay Repricing Myths
There are lots of myths surrounding using repricer software on Amazon and eBay. Let's take a look at some of the top ones.
Repricing tools are only about a race to the bottom. This is quite a common misconception. If you use repricing software intelligently, you can actually drive your prices up. You could be missing out on extra profits whilst maintaining Buy Box ownership.
Repricers are only for big sellers. With price plans starting at £39/$55, repricing is now being used by small sellers. They can justify the cost alone by the time saved. And with a free-14 day trial, they can try it out for free. By using an automated repricing solution, you know that each sale made will be at a profit and you'll have a much better understanding of your costs.
5. How Our eBay Repricing Tool Works
Unlike other repricing solutions, RepricerExpress allows eBay sellers to reprice both catalogue and non-catalogue products on both eBay.com and eBay.co.uk.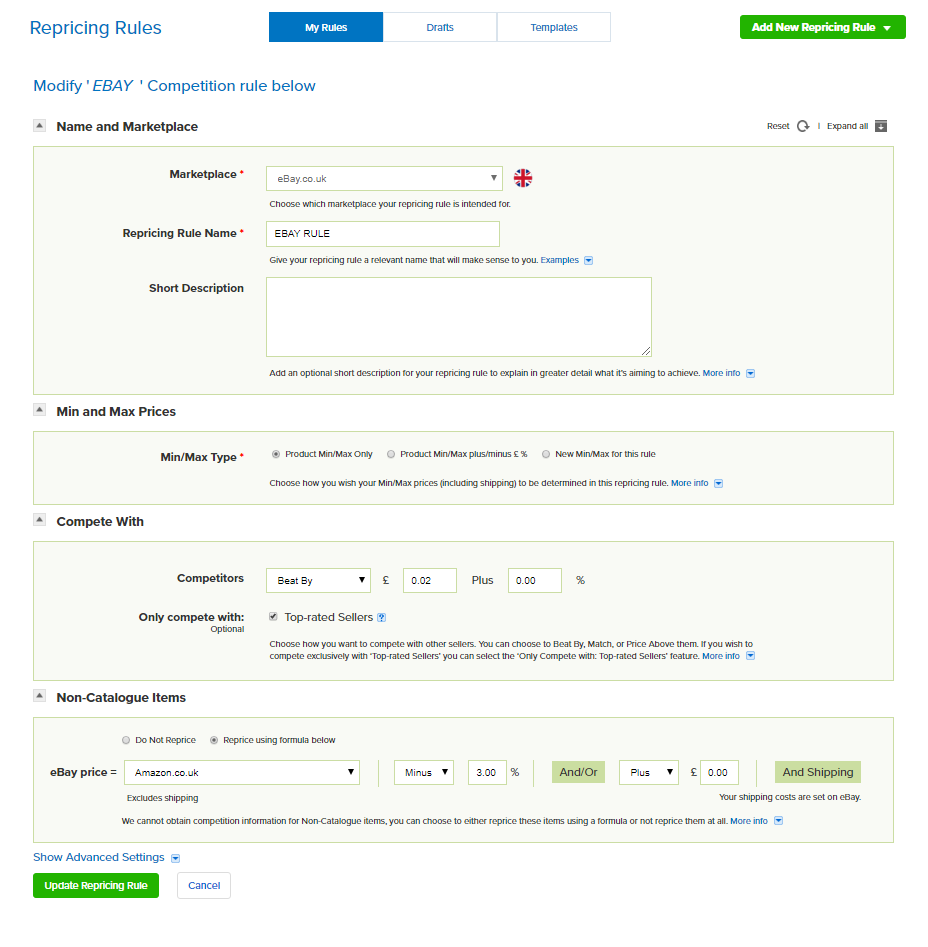 Sellers can use sophisticated pricing rules, including the option to sync your Amazon prices to eBay (plus or minus values and percentages if required).
There are two types of rules, formula-based and competition-based.
Competition-based rules will alter your eBay price (for Buy It Now listings only) by analysing competitors selling the same catalogue items on eBay (using Barcode, EAN or UPC to match products). Competitors listed above or below your minimum/maximum prices would be ignored. You can also choose to filter out competitors using inventory quantity, feedback rating, country, Top-rated Seller status etc. You can have different competition rules for different types of products—and can choose to beat, match or price above your competitors as required.
Typical examples:
Beat Lowest Top-rated Seller Competitor by 5c – who is within my Min/Max – from the UK
Match Lowest Competitor – who is within my Min/Max – from the US with Qty > 10
Formula-based rules will alter your eBay price (for Buy It Now listings only) using a price calculation which you can base on your Min Price (could be cost price or cost plus fees etc.), your Max Price or Amazon prices (using any Amazon channel you are subscribed to). You can have different formulae for different types of products. If the price you have based your rule on (e.g. Min Price, Amazon UK price etc.) changes—then the formula rule re-adjusts to calculate a new price and keep your eBay listings super competitive 24/7.
Typical examples:
eBay Price = Amazon US Price + 10% + $1.99
eBay Price = Minimum Price + 10% + $1.99
N.B. All products can be repriced using formula-based rules.
Related reading: eBay Repricing Strategies
6. Repricing FAQ
What features does RepricerExpress offer?
With RepricerExpress you get a super-fast repricing solution for eBay and Amazon sellers that:
comes with a 15-day free trial,
works across 13 Amazon marketplaces as well as eBay UK and US,
is really easy to set up,
offers instant repricing,
offers multiple ways to increase sales,
allows you to compete with different sellers in different ways,
can include or exclude specific sellers,
offers infinite customisation of your repricing strategies,
can filter competition based on seller rating, feedback, shipping country and dispatch times,
auto-enables price increases under common scenarios,
can run in Safe Mode (whereby you can try repricing without affecting your live marketplace listings).
How long does it take to set up?
You can be up and running and repricing in Safe Mode within 30 minutes of sign up. Our customer support team is available to lend a helping hand and their ecommerce expertise.
How much does it cost?
Our repricing plans start at £39/$55 per month for 2,500 listings across Amazon and eBay. Unlike, some of our competitors, we don't charge commission or tie you into long-term contracts.
Further questions?
If you have any further repricing queries and can't find the answer on our website, please get in touch via email or Live Chat and one of our great customer support team will get back to you ASAP.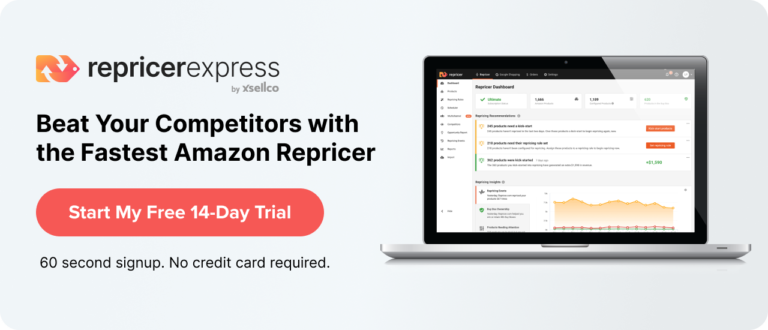 Related: eBay Repricing Strategies