It's that time of year again where retailers prepare themselves for the busiest shopping period of the year. "Fail to prepare, prepare to fail", is a good motto to follow at this time of year, and now is the time to get prepared. To lend a helping hand we've put together some key dates for your calendar.
Key Dates for your Calendar
November 7 – Deadline to ship inventory to Amazon FBA for Black Friday
Ensure you have your goods in Amazon's warehouse in good time for the holiday season. November 7 is the final day but we'd advise you to get them in before then.
November 11 – Singles' Day (China)
Singles' Day started out as a shopping day in China for single people and has grown into a huge online shopping event for ecommerce giants such as Jack Ma's Alibaba.
November 23 – Thanksgiving (US)
Thanksgiving in Canada took place in October, but Americans like to kick off the holiday shopping season on Thanksgiving weekend. There are just 29 days between Thanksgiving and Christmas Day this year.
November 24 – Black Friday
Online retailers, as well as bricks and mortar stores, offer huge discounts on Black Friday to early shoppers and bargain hunters. Last year, UK shoppers experienced Black Friday fever with a number of altercations breaking out between bargain hunters.
November 27 – Cyber Monday
More US shoppers are excited to shop on Cyber Monday in 2017 than any other holiday sales day, according to a new report from Euclid.

December 24 – Christmas Eve
For the last minute Christmas shopper.
December 25 – Christmas Day
In 2016, UK ecommerce sites experienced 147 million visits resulting in £636 million spent, a 25% increase in transactions compared to 2015.
December 26 – Boxing Day
For the first time in seven years, Boxing Day was the not the busiest online retail day, beaten by Black Friday.
December 31 – New Year's Eve
New Year's Eve is your last chance to grab a sale in 2017. This may be a good time to reprice your seasonal or old inventory.

Holiday Season in the US
The graph below shows the increase in retail ecommerce sales in the US during the holiday shopping season from 2005 to 2016. In 2016, retail ecommerce sales during November and December amounted to $63.1 billion during the holiday season, up from $56.43 billion in 2015.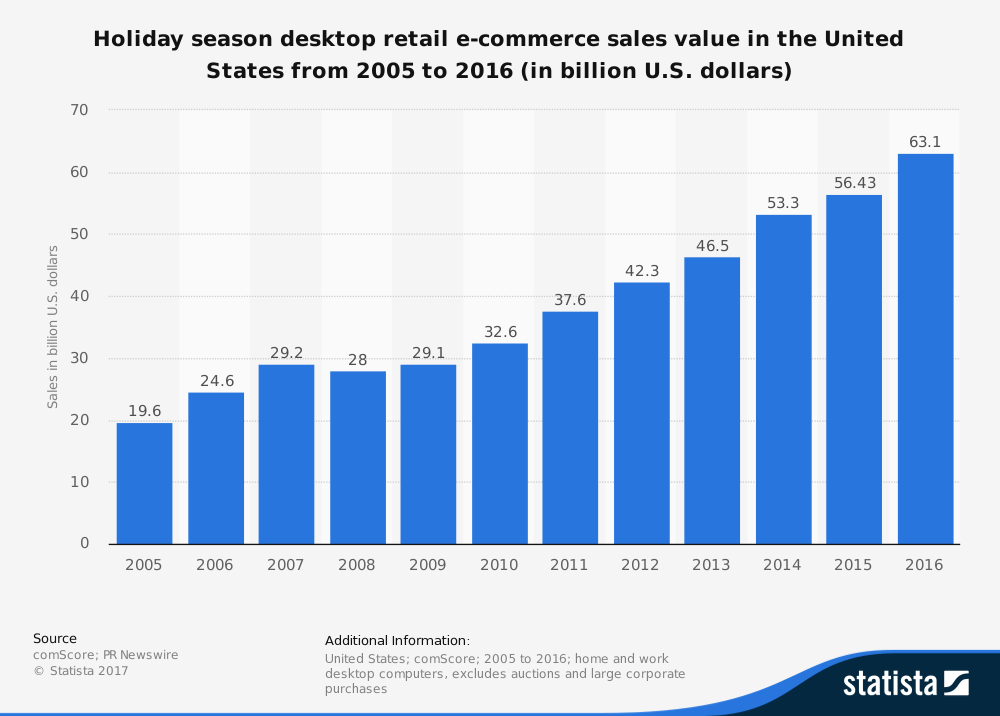 Find more statistics at Statista
UK Shipping Dates
It's important for you to know the last dates for guaranteed Christmas deliveries. You may want to consider free shipping for orders over a certain value, in order to help you stay ahead of your competition this holiday season.
Here's the Royal Mail list of last posting dates for 2017.
Wednesday 20 December – 2nd Class and Royal Mail Signed For
Thursday 21 December – 1st Class and Royal Mail Signed For
Thursday 21 December – Royal Mail Special Delivery Guaranteed
Friday 22 December – Royal Mail Special Delivery Saturday Guaranteed
6 Tips for Marketplace Success This Holiday Season
Reprice dynamically with RepricerExpress.
Consider Fulfilment by Amazon.
Stock up your best sellers.
Ship free and ship fast.
Send automated feedback request with FeedbackExpress.
Don't forget Black Friday – November 24!
Get Ready!
With Christmas just 77 days away, it's time to get ready for the rush. While you fine-tune your plan for this holiday season on Amazon, let RepricerExpress take care of keeping your prices competitive and your Buy Box percentage high.
Sign up for your 15-day free trial and give yourself one less thing to worry about. As an early present from us, use promo code "REX10" and receive 10% off your first month's bill.
Here's hoping this holiday season, is your best one yet!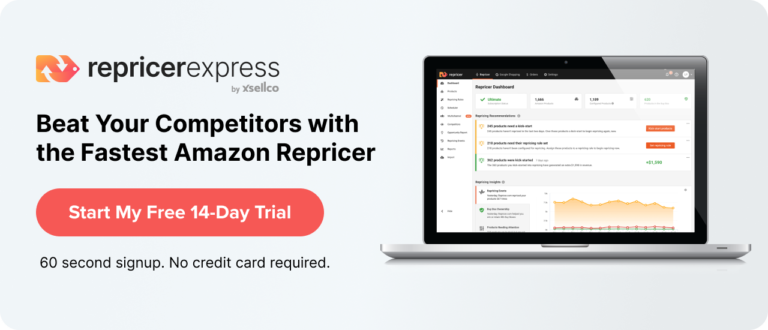 Want Pro Tips for Selling on Amazon?