Guest post by Jessica Heston from MerchReadyDesigns
The Amazon marketplace grows, expands, and evolves year after year. And as with almost all technology, it seems like as soon as you have the system figured out, there's a new version that you have to master, if you want to stay on top of your game.
As more and more entrepreneurs seek out Amazon as their preferred marketplace, Amazon has gifted us with Merch By Amazon, one of the easiest, most effective ways to get your designs produced and sold by the ecommerce giant. But, like all great things, Merch By Amazon has its pros and cons. So which one is right for you? We've broken it down to help you make the ultimate decision: should I sell on Amazon Seller Central or Merch By Amazon?
The Major Differences between Seller Central and Merch by Amazon Business Models
Every successful retailer will tell you the same thing: too much inventory can be the kiss of death. When your inventory supply is greater than the demand for your product, you run the risk of having to sell items at deep discounts, sometimes even below cost. Merch By Amazon completely eliminates that risk and the potential for being bogged down with stagnant inventory because products are only produced after a sale has been made.
With Merch By Amazon, all you have to do is upload a design. Once a sale is made, Amazon prints, produces, and ships the item to the customer. You don't purchase inventory. You don't stock blank tee shirts. You don't have to go through a third party fulfillment specialist. Amazon does it all for you. The only potential costs are designs and copy, and the costs are fixed by Amazon. Just decide how much you want to make per product, sit back, and collect your royalties sale by sale.
By comparison, most sellers on Amazon Seller Central have already purchased inventory from manufacturers and wholesalers. Some sellers do use t-shirt fulfillment companies in order to reduce the need for physical inventory, but you still have to manage the process. With Merch By Amazon, the only thing you need to do is upload a great design.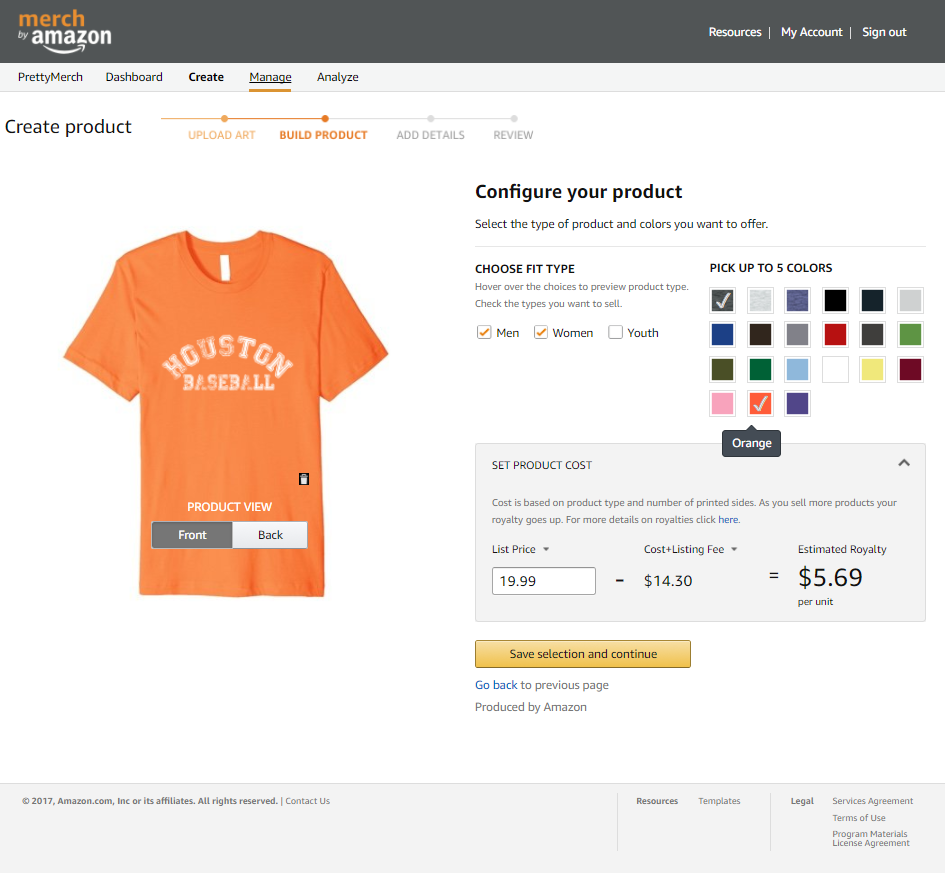 Merch by Amazon Account Approvals Take a Long Time
It's no surprise that Merch By Amazon is becoming more and more popular as time goes by. Since its inception two years ago, there has been such an interest in selling on the new platform that new accounts need to be invited to join. You'll have to fill out your account application and wait for Amazon to send you an invitation (which can sometimes take up to six months). In the meantime, you can create some great designs, do keyword research, and do your homework so that you know the best way to reach customers once you finally do get approved to sell your designs online.
If you're looking to get started today, then Amazon Seller Central may be the better option for you. There is no invitation or waiting period, so you can get started right away, and there are ways to run a print-on-demand business through Seller Central. You'll need to learn about the various print-on-demand services and third party t-shirt fulfillment options that exist, and your products won't get the benefit of Prime shipping eligibility. Think of it this way: nothing good comes without a little bit of patience and hard work.
Less Control over Product Listings on Merch by Amazon
Merch By Amazon has strict limitations on the copy that can be added to each product listing. The only fields that you can edit are the brand name, title, two bullet points, and product description. Amazon Seller Central, on the other hand, allows you to create a title, add keywords, create five bullet points, include a product description, list sale prices, and offer promotions. Sellers have more options for how they want their listings to appear, how they want to target their customers, and how they want to offer discounts and deals, while Merch By Amazon accounts have limited control over those elements.
Merch by Amazon Requires No Customer Service
When deciding on which platform to use, ask yourself how much time and energy you want to put into customer service. With Amazon Seller Central, you have direct contact with the customer. Even when using FBA (and their included customer service), customers can still send you messages, leave feedback, and submit A-to-Z guarantee claims. If you want to keep your account healthy, you typically need to reply within 24 hours. Even sellers using a third party t-shirt fulfillment service are responsible for customer service, which can include everything from answering email questions to replying to customers after they've made a purchase.
With Merch By Amazon, there is none of that. Customers aren't even given an option to contact you, because technically, they're Amazon's customers, not your own. Customers cannot give feedback, write reviews, send you emails, or contact you in any way. It's an ideal arrangement if you love the thought of focusing on design and hate the idea of having to deal directly with customers.
Marketing Makes a Difference
When it comes to marketing, Merch By Amazon will force you to get creative and employ the invaluable service of social media. There are no marketing options built into Merch By Amazon, so you have to think of creative ways to reach your customers and drive traffic to the site. On the Amazon marketplace, this can make it difficult to differentiate yourself from copycats with similar designs, so you'll need to do as much aggressive marketing as you can outside of Amazon. With Amazon Seller Central, many items are becoming commodities, so it is also becoming a bit more difficult to differentiate between sellers, but there is still more potential for organic success.
Amazon Seller Central and Merch By Amazon both come with their own pros and cons. It's up to you, as the seller or designer, to decide how involved you want to be, how much control you want to have, and to what level you want to interact with customers. No matter which option you go with, get started now. Do your homework, figure out the best way to reach your goals, and get ready for success.
Related: How Does Merch by Amazon Work?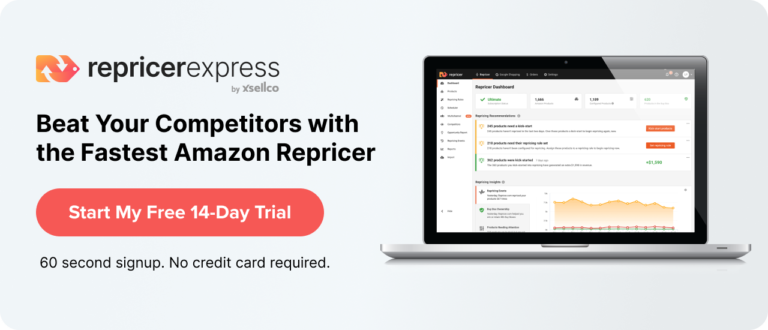 Want Pro Tips for Selling on Amazon?