Why bother doing mental maths in your head when there are tools that will do it for you? Sure, there's the novelty of being able to mentally workaround figures, but there can be a lot and the whole process is prone to (expensive) human error. Instead of risking your livelihood, check out one of these ten free ecommerce cost calculators that RepricerExpress unearthed for you.
1. Amazon: Fulfillment by Amazon Revenue Calculator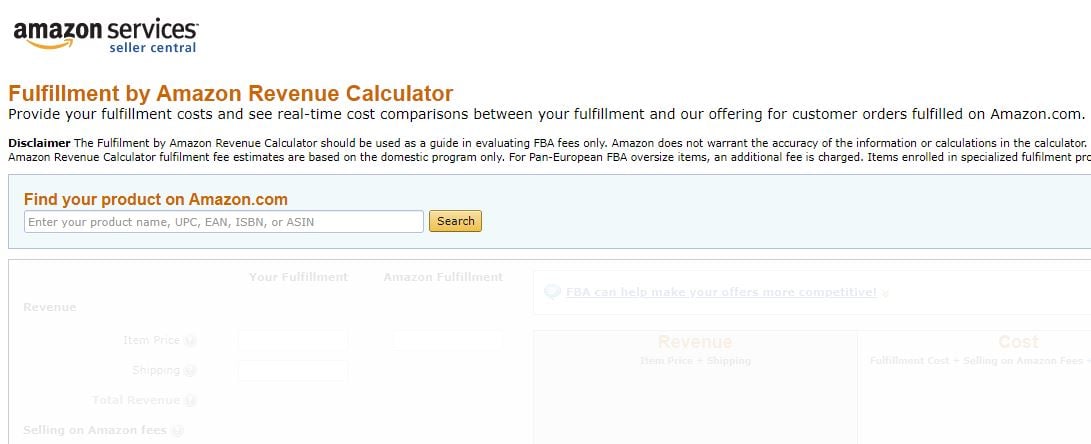 Amazon provides a lot of services to their sellers, and their FBA revenue calculator is just one of many. Start by selecting your country in the top right corner, then type in the product name in the search bar for the rest. It'll give you a pretty good idea of the FBA fees that accompany that product so you'll know how to price the item for the best profit gains.
You can access the FBA revenue calculator via Seller Central.
2. Algopix: Conversion Rate Calculator
If you want to get firsthand knowledge of how user engagement translates to a conversion (whether that's an email signup, sale or something else), Algopix has you covered. Their calculator is right there on the homepage, allowing you to quickly and easily plug in your numbers to find out your conversion rates.
And if that's not enough for you, scroll down to the bottom where they also have tools to help you convert ASINs to UPCs, ASINs to EANs, EANs to UPCs, and calculate eBay fees.
3. TaxJar: Sales Tax Calculator
Nobody likes paying sales tax, but TaxJar makes the whole thing as painless as possible if you're selling in the United States. All you have to do is enter in a zip code (at the minimum, with street address for better accuracy for certain states), and they'll return you the sales tax rate.
Plus, if you sign up for their sales tax API demo, you can calculate sales tax with extra information like product exemptions, sourcing logic and shipping taxability.
4. F. Curtis Barry & Company: Cost Per Order Calculator
If things like annual net sales, total order lines and annual boxes shipped are foreign terms to you, then F. Curtis Barry & Company have your back. They break down their calculator in a detailed post with everything you need to figure out the cost per order (CPO), helping you understand what your fulfillment costs are — and which areas of them you can save money in.
5. Red Stag Fulfillment: Dimensional Weight Calculator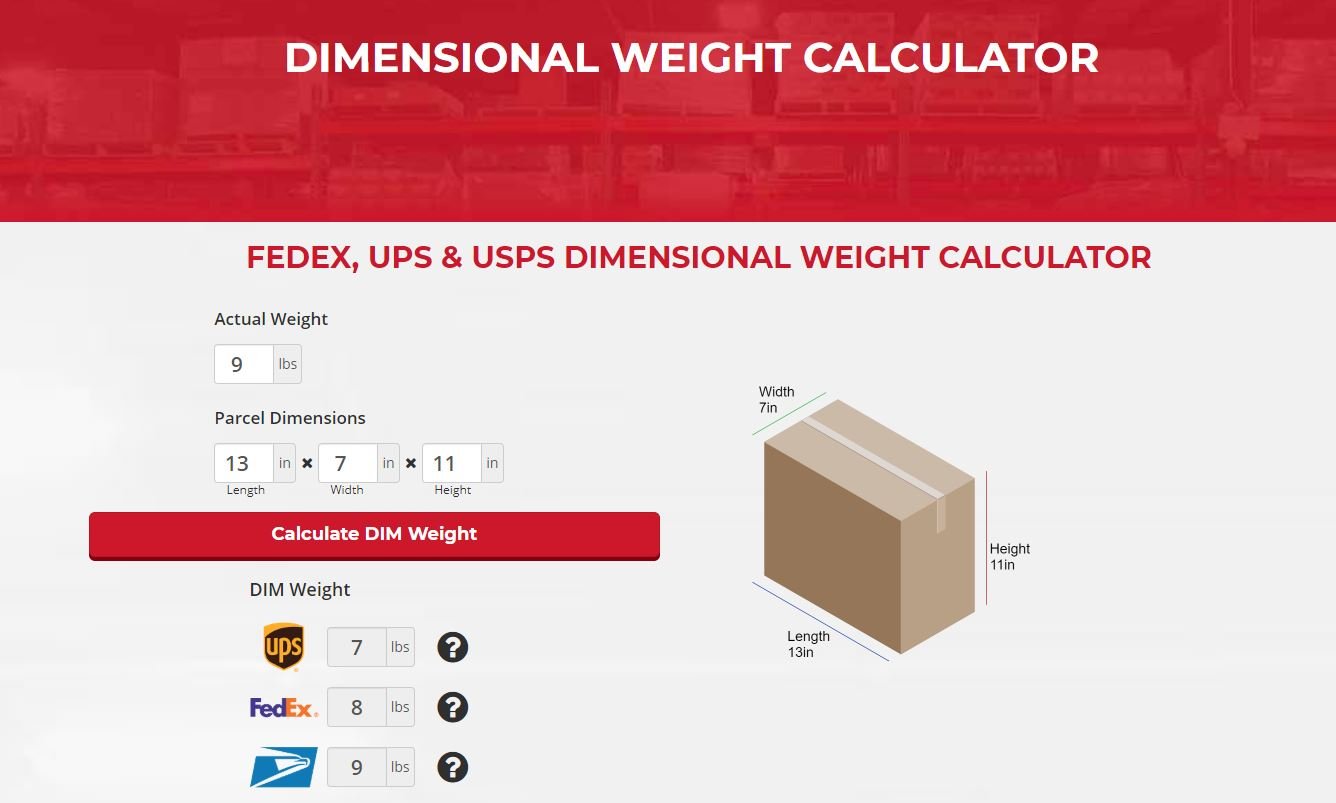 Amazon calculates its storage and fulfilment fees based on product's weight and dimensions, so Red Stag Fulfillment's calculator can give you a quick and easy way to check if it's cheaper to go with Amazon or another company. Type in the item's weight in pounds, followed by its length, width and height in inches, and they'll tell you how much UPS, FedEx and USPS will charge for each of their zones.
6. Return Cost Calculator: Return Cost Calculator
If you're going to be a successful seller on Amazon, then there are no escaping returns. But with help from Return Cost Calculator, you can get a rough idea of what those costs will be so you can work it into your overall budget and avoid surprises.
7. Impact Masters: Cost of Lost Customers Calculator
Another area of loss you probably won't escape on Amazon is that of customers. It's just about impossible to retain 100% of your customer base, but Impact Masters can help you figure out what that potential cost will be.
They'll factor in things like average sale amount, number of sales per year, number of annual negative reviews, number of lost customers per review and more, then give you back a number of figures you could reasonably expect when selling online.
8. EasyCalculation: Email Marketing ROI Calculator
Email marketing is just about a necessity these days, but do you know what the ROI on your campaign is? If not, start using EasyCalculation to find out. They account for currency type, audience size, campaign cost, response rate, conversion rate and average purchase so you can see which areas need bolstering or trimming.
9. TradeGecko: Reorder Point Formula Calculator
Keeping a well-stocked inventory is both an art and a science, and TradeGecko is there to make sure you both areas sharpened to a fine point. They'll assist in you calculating when to reorder stock at the right time so you have enough on your shelves to satisfy buyers, but not so much you'll be paying long-term storage fees.
10. Pardot: Marketing Automation Calculator
It's no secret that automating parts of the selling process can save you a ridiculous amount of time and that time is money. And with Pardot helping you know how much money each parcel of time costs, you can figure out which areas' costs are being spent effectively and which ones need improvement.
Final Thoughts
One area of selling online that you don't need a calculator to realise its effectiveness is repricing. All you need to know is how many listings you have, pick your plan, and let RepricerExpress save you money by running in the background. And no matter if you're a methodical seller who really takes their time or a seller who makes decisions instantly, the free trial when you sign up will help you get started right away.