RepricerExpress is a powerful Amazon repricing tool that will help you keep your prices competitive 24/7, win more Buy Box and increase your sales. To achieve the best possible results with RepricerExpress, here's a list of the top 10 mistakes to avoid when using our software.
1. Don't Start with Complicated Rules
When you first set up your RepricerExpress account, you will get instant access to a wide range of settings, features and scenarios. We understand that it can be very tempting to use them all right away.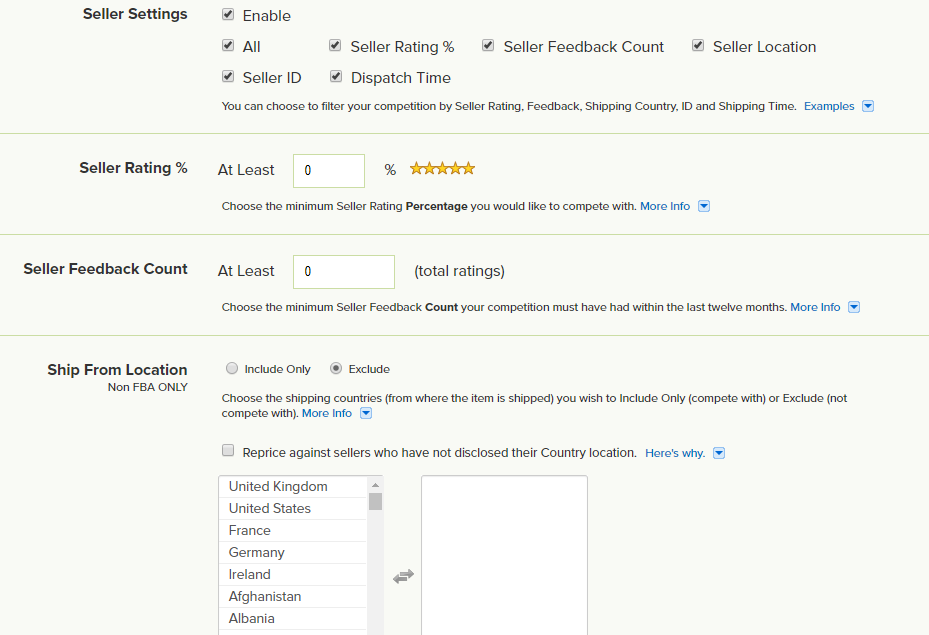 However, our advice is always to start with a basic rule such as "Beat by 1p/1c – compete with everyone".
Take time to observe and understand how the system works first and then fine tune when you're a bit more accustomed to it.

If you start with a rule that is too complicated, you won't understand why the software repriced your listings the way it did, and you may get frustrated.
2. Don't Set Random Min and Max Prices
We've said this before, but we'll say it again, the most important factor of accurate repricing is the Min and Max prices you set. It's even more crucial than the repricing rule you choose.

Don't set your Min and Max prices randomly or set a general bracket low Min/high Max for all your products or even set a Min and Max bracket of 1p… Because you will not reprice accurately or even worse, you will reprice too low/too high.
Ideally, your Min and Max prices should be set individually for each product and set as the Minimum and Maximum price you're willing to sell at. Take all the time you need to set your Min and Max prices accurately — it is the key to successful repricing — and more importantly, to maintaining profits on your sales.
3. Don't Hesitate Before Contacting the Support Team
Whether you're unsure why a product repriced the way it did, or if you need advice about a specific strategy you want to achieve, or you just have a small query about how the system works, our helpful support team is always happy to help.

Our agents are available via Live Chat and email including evenings and weekends. Get in touch with them and they'll be more than happy to help with any queries you may have.
4. Don't Jump Straight to "Live Mode"
Repricing is a very powerful tool and if you set up something completely wrong it will alter your live prices on Amazon and impact your sales. Therefore, whenever you set up your account with RepricerExpress you will always start repricing in "Safe Mode" first.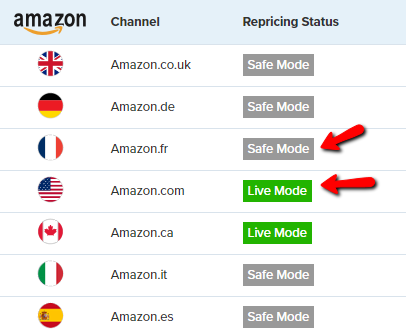 Safe Mode means that your prices are being adjusted internally on your RepricerExpress account (based on price changes we get from Amazon) but none of the adjusted prices you see there actually get uploaded live to Amazon. That way you can safely monitor what your prices would look like, adjust your rules if necessary, and only put into "Live Mode" when you're happy with your settings and happy to commit the new competitive prices to your Amazon account.
In general, we recommend staying in "Safe Mode" for at least a few hours before going live.
5. Don't Manually Change Prices
When using Amazon repricing software like RepricerExpress, you should never change your prices outside of the system, whether manually or by using another system as it can create pricing errors.
RepricerExpress will be in sole charge of changing your prices. For example, if you wanted to increase your price, what you need to do is increase your Min and Max prices, so you'll reprice higher. If you really need to set a price manually, then you could potentially change the price directly in RepricerExpress, which will then set a fixed price and send it to Amazon for upload.
6. Don't Ignore Your Dashboards
When using RepricerExpress we would advise to always keep a close eye on your dashboards. You will have access to three different ones (Repricing, Sales and Buy Boxes) as shown in the image below.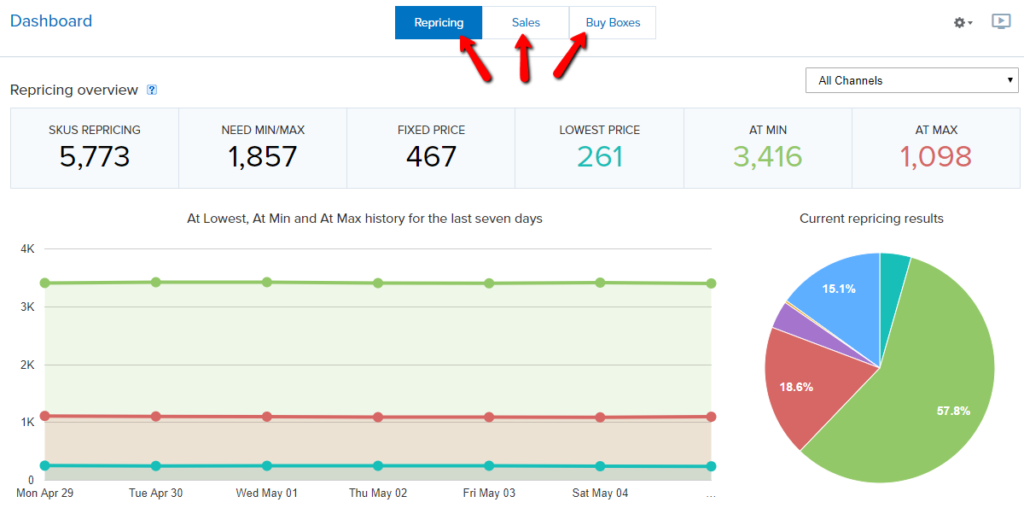 Each dashboard will provide you with key information, show trends and any alerts/problems will be highlighted in red and orange if something is not running correctly—so you can act right away.
The Repricing dashboard will also allow you to see the price changes in the past hour/24 hours/7 days on your account, which is great for monitoring how things are performing over time.
7. Don't Forget to Check the Detailed History of Price Changes
RepricerExpress gives you access to tonnes of data regarding your repricing. What's great to know is that for each SKU that's repriced, you will have access to the "Detailed history of price changes" screen that will indicate why you repriced that way.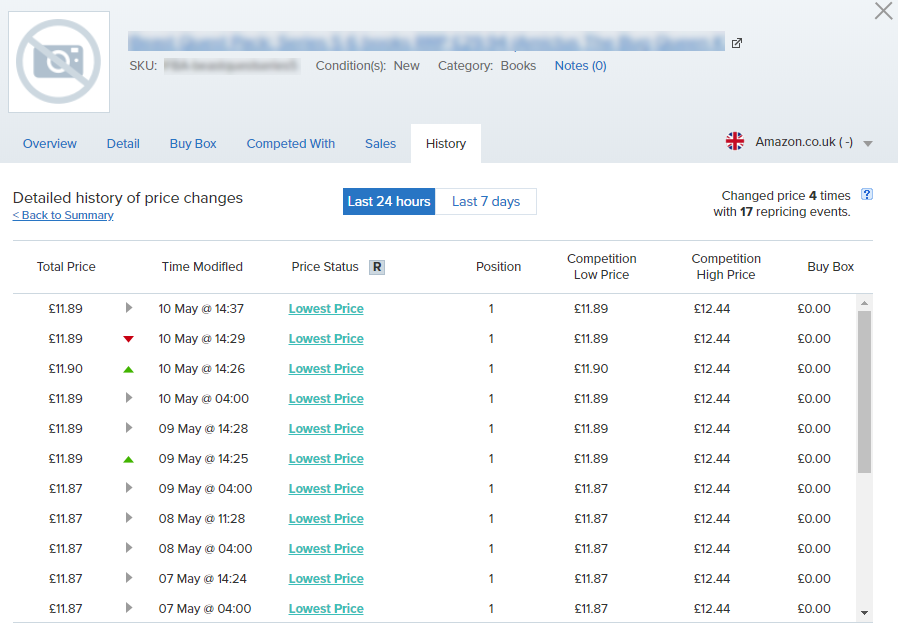 Through the other tabs "Buy Box" and "Competed With", you will also have access to information about your competitors, Buy Boxes and the prices/positions you were at in the past few days.
8. Don't Forget to Check the Promotions Section
Within your RepricerExpress account, you will have access to a "Promotions" screen where you'll be able to see the latest offers such as Refer a friend.

You can also earn on-going commission for successful referrals by joining our Referral Program. and get discounts on our sister product, FeedbackExpress, which helps you get more product reviews and seller feedback
9. Don't Forget About Automations!
Our very powerful Automations give you the possibility to create dynamic processes with a wide array of conditions to automatically move a product from one repricing rule to another—including sales performance, price war information, stock info etc.
Check out this article for ideas on how you can use Automations within your RepricerExpress account.
10. Don't Foret to be Creative with your Pricing Strategies
With RepricerExpress, you'll be able to set up different pricing strategies (repricing rules) for different products. We recommend you create different rules and assign them to different products. Here are a few of the most popular pricing strategies sellers are choosing.
1. FBA rules for FBA products and MFN rules for MFN products – Enable your FBA products to match other FBA and ignore MFN whilst your MFN products can beat other MFN by 1p for example.

2. Aggressive rules for products not selling well – Set up rules with more aggressive settings for products that aren't doing well for example.

3. Sleep mode to avoid price wars: Set up "Sleep Mode" within your rule to reset your prices to Max overnight and prevent a race to the bottom.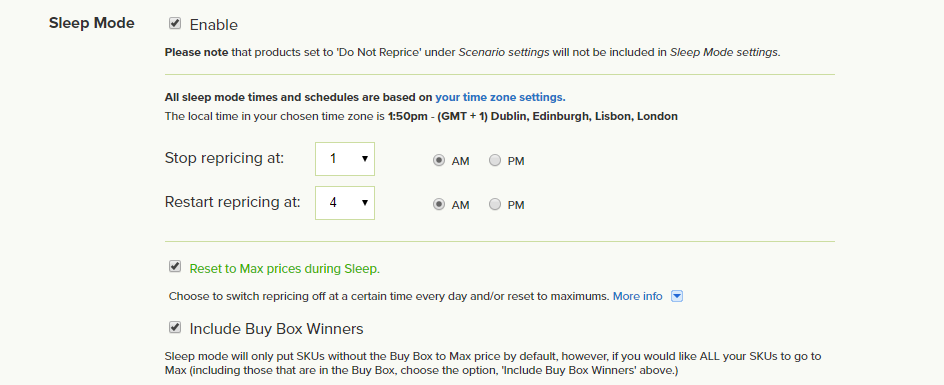 Final Thoughts
So, now you know what mistakes to avoid as a new customer, it's time to get started with your free 15-day trial of RepricerExpress, one of the fastest Amazon repricers online. As an extra incentive, sign up using promo code REX10 and get 10% off your first month's bill.