Product reviews on Amazon can increase your sales, which, in turn, increases your need to sell more competitively and efficiently. Let's take a lot at some of the reasons why they are important.
The Importance of Amazon Product Reviews
Here are five reasons why product reviews matter so much:
They can help boost sales: Customers don't have the luxury of inspecting a product in person and asking the merchant questions about it in real-time. So, they rely on the experiences of others by reading their reviews. If you have a cadre of (good) reviews, then it helps increase your chances of 'convincing' a consumer to buy a product.
They can help build trust in your reputation and brand: When it comes to selling online, reputation is almost everything. And if you have a good one by virtue of almost all buyers saying excellent things about you, then it stands to reason future buyers will feel more positively about taking a chance on you, too.
They can help to build customer loyalty: It's been shown time and time again that shoppers will pay higher prices for the same or similar product if the service they receive is exemplary. And they'll keep shopping there if they feel valued as a person and not just as a dollar sign.
They can lead to more money being spent: When you have pages of excellent reviews, you have more justification in charging more for your products, thereby increasing your revenue and profit margins. People so badly want to feel important that they're happy to fork over money for a more humanising and personal experience.
They can be the difference-maker for an on-the-fence consumer: Let's say you've got a shopper, Bob. Bob is down to two final merchants who are selling the thingamabob he's interested in. Merchant A has mixed reviews, with half the people saying they were pleased and the other half warning others to stay away. Meanwhile, Merchant B has one glowing review after another. Which seller do you think Bob is going to go with? There are a lot more Bobs out in the world than you may think.
Differentiating Between Product Reviews and Seller Reviews
Seller reviews have to do with how you handled the transaction, whether it was answering questions promptly or being open and honest about things every step of the way.
Product reviews, on the other hand, are concerned only with the product itself.
Was it as accurate as advertised? Did it arrive in good condition?
Or was it damaged because of improper/not enough packaging?
Was it durable, or did it fall apart shortly after receipt?
These are all questions you should be asking yourself when putting up product descriptions to ensure you can boost your chances of getting good product reviews.
Put Yourself in the Customer's Shoes
Let's go back to Bob for a second.
He's looking to get his daughter a gift and has decided on a hooded jumper. Bob is an old-school guy and has usually shopped in person, but his daughter has convinced him online is the way to go. He's understandably a little nervous, partly because he's not used to buying women's clothing and can't ask a salesperson for help, and partly because he's unsure if the products he's looking at will be liked by his daughter.
So, Bob settles on your page and is looking through a line of hooded jumpers you feature. He knows red is his daughter's favourite colour, so he focuses on those.
Now, will you be ready to help Bob by writing that the jumpers are 'just' red, or that they're scarlet?
Will you post a sizing chart so Bob can translate his daughter's size into the appropriate jumper?
Will you feature plenty of photos of the jumpers on real people so Bob can see if his daughter's body type/size will look good in the jumper?
Is the jumper okay to wash with hot water, or does it need a cold water wash?
And have you done this for previous shoppers so Bob can see proof in the reviews that you take care to advertise your inventory as accurately as possible?
It turns out you have and Bob buys the jumper for his daughter. Now what?
Now, you have to message Bob and prompt him to leave a product review so he can add his experience to that of others', and so you can use that in the future to convince other Bobs to buy from you. Because Bob isn't used to shopping online, he might not be aware that the process isn't quite finished just yet and sending a short, friendly email is the best way to get Bob to rate your product and say a few words about it. And just in case Bob was unhappy about the product, emailing him gives you a chance to fix the problem before he leaves a negative review.
Get More Product Reviews
No matter if you've got plenty of Bobs or just plenty of buyers period, you'll need a system in place to ensure product reviews are handled in an organised, efficient way. Check out FeedbackExpress' Amazon feedback tool. Free for 30 days. No credit card required.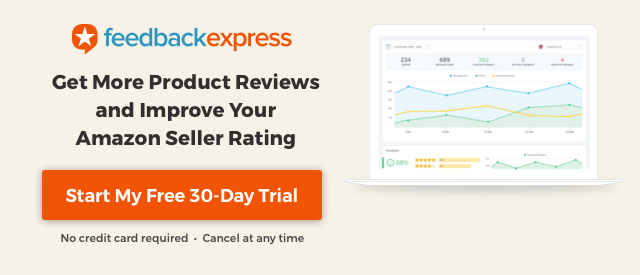 Related: How to Get Amazon Reviews Legally