Guest post by Mike Begg from AMZ Advisers
Amazon has continued to level the playing field for all sellers by creating more uniformed policies and restriction across all categories. They are also attempting to increase competition by making more features available in the Seller Central platform. Features that were previously available only to vendors are now open to brand registered sellers.
More recently, 2018 Vendor Agreements have come out and many vendors are finding that Amazon has almost increased their fees by 100%. We believe that this shows Amazon wants to continue to push everyone to the third-party Seller Central platform.
The challenge for third-party sellers is how do you get your product to rank in an increasingly competitive and level playing field.
Vendors moving to Seller Central may be able to offer lower pricing particularly if they manufacturer their product. This will make your pricing more important than ever and a reason why using repricing tools for Amazon like RepricerExpress will be extremely valuable moving forward. The only way to successfully rank your product is through building sales history. Testing new price points can significantly tilt the Amazon product ranking algorithm in your favour.
The Amazon A9 Algorithm and its Most Important Factors
Amazon, like any other search engine, utilises an algorithm to rank products when customers make a search on the platform. The A9 algorithm is designed to provide the most relevant search results and best deals for shoppers. There are a few main rules that A9 uses to reach this goal. Amazon only uses data from the Amazon platform to establish product relevancy.
It does not consider data points such as off-page SEO that other search engines like Google does. The goal of the A9 algorithm is to maximise that amount of money each customer spends on Amazon. To achieve this, Amazon records all customer data from searches, to clicks, to purchases to establish product relevancy.
We have been able to analyse data from almost every category on Amazon through working with our clients. What we have found is that there are three main data points that determine product relevancy on Amazon. The three are all closely related and there are strong correlations between them and improving product ranking with the A9 algorithm.
Sales history or velocity is the most important factor affecting the A9 algorithm. Your products are largely indexed based on the number of sales you get on each search term in your listing. Amazon indexes by keywords in the frontend of your Amazon listing and backend keyword fields. Every sale you get on the keywords in the front and backends signals that your product is relevant for that term.
This is why it is so important to ensure that your listing is optimised with relevant search terms for your product. Amazon currently does not index the backend keyword fields beyond 250 characters including spaces. Take advantage of every character they give you.
The next most important factor is your product's conversion rates. Your product's conversion rate can be found in the Business Reports section in Detail Page Sales & Traffic by ASIN reports. The Unit Session Percentage metric is your product's conversion rate. It is calculated by the number of units sold divided by the total sessions. Having a strong conversion rate is a huge product relevancy signal for the Amazon A9 algorithm.
This is why we believe it is so important to have the most relevant search terms within your product listings. Including extraneous keywords can actually have a negative impact in the long run if you do not convert on searches where your product shows up. You would, therefore, be reducing your conversion rates which will have a negative impact on the A9 algorithm.
Pricing is the final factor and the one you have the greatest control over. The algorithm is optimised to show the most relevant and best-priced products. Selecting price points that make your product competitive can give you a huge sales boost. We've generally found that pricing below the average for your main search terms can lead to a large increase in sales. This is why utilising a pricing automation tool like RepricerExpress is so valuable.
Hopefully, you can see how these three factors are related. Optimising your pricing can lead to more sales which can improve your conversion rates which can improve your ranking. It's all one large feedback circle that can make your product more visible on the Amazon platform. Understanding these three factors and how to influence them will help you dominate your competition in the future.
Test Results on Impacting the Amazon A9 Algorithm
Managing our clients' accounts has given us a unique opportunity to study how the algorithm works. We've been able to compile a large dataset that has helped us determine the best ways to increase the product rank on search engine results pages. One client came to us after his product sales had completely dropped off from being on page 1 for his main keyword. This is what we found.
They initially launched the product at a price point above the market average. After not receiving many sales for a few weeks they dropped the price down. Shortly after the price dropped, the number of sales and conversion rates increased. The decreased price point led to much more visibility on Amazon and started the feedback loop in the right direction.
Our client maintained the price and sales and conversion rates continued to improve. Then they started running out of inventory. They tried increasing the price to make the inventory last, but this only led to sales and conversion rates dropping. The increased price reversed the feedback loop and made the product less visible on Amazon. Some basic statically analysis will show you that there is a strong negative correlation between price points, and sales and conversion rates.
At this point, the product couldn't be found on the first 20 pages. We started working with them and picked up on this trend quickly. We reversed by optimizing the listing for keyword conversions and re-optimised the price point to maximize their sales. Product sales and conversions began to increase at the new price point, and the product became more visible.
The feedback loop continued to deliver the desired results and led to large increases in the metrics. Conversion rates reached greater than 50% and total page views (a great measure of visibility) grew by over 700%. Maintaining the optimized priced point led to the client getting the product back to page one.
In this instance, the difference between page 1 and 2 was about 2,000 more units a month in sales. Optimising the listing product price point led to the results the client wanted and created the visibility needed for page 1. This is why we believe optimizing the product price is one of the most powerful ways to influence the A9 ranking algorithm.
Optimised Pricing = Greater Sales
Determining an optimised pricing strategy requires tracking your competitor's product. The data clearly suggests that the ranking algorithm can be influenced by finding the right price point for your product. Automating the process can allow you to focus on other aspects of your business and let the pricing strategy work for you.
Your competitor's prices should be one of the main factors you consider when developing your pricing strategy. Analysing their prices and testing new price points will help you find the optimal price that will turn a shopper into a customer. You should focus on the price points of the highest rated products, as pricing on inferior products could lead to unnecessarily decreasing your margins.
Whether you are launching your product for the first time or are an established seller trying to get to page 1, effective pricing will get your product moving in both sales and up the rankings. Maintaining a lower price point at launch and even being willing to initially break-even can be a great way to move your product to page 1. Always ensure that you are selling a quality product. As the saying goes, the "cream will rise to the top," and being successful in the long-term means ensuring quality manufacturing from day 1 to stay on page 1.
Related: 21 Ways to Rank Your Products Higher on Amazon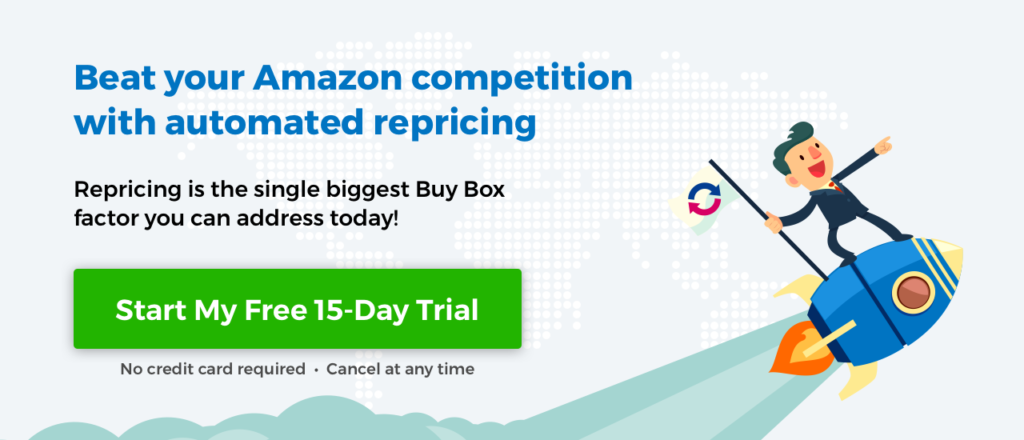 Want Pro Tips for Selling on Amazon?