Guest post by FBA seller Jeff Roth
In this month's blog—and something I should have done from the outset, I'll be taking you on a tour of what to expect and what you'll encounter when you set up a RepricerExpress account. Hopefully, I can alleviate any doubts you may have about using an Amazon repricer and show you how easy and powerful the software is.
Dashboard
So you finally decided to give it a go and start a free 15-day trial of RepricerExpress Amazon repricing software. It will be the best decision you've made doing FBA either part-time or full time, whatever you're currently undertaking.
The first thing you will see once logged in is the Dashboard screens: Repricing, Sales and Buy Boxes. You can see my current data below.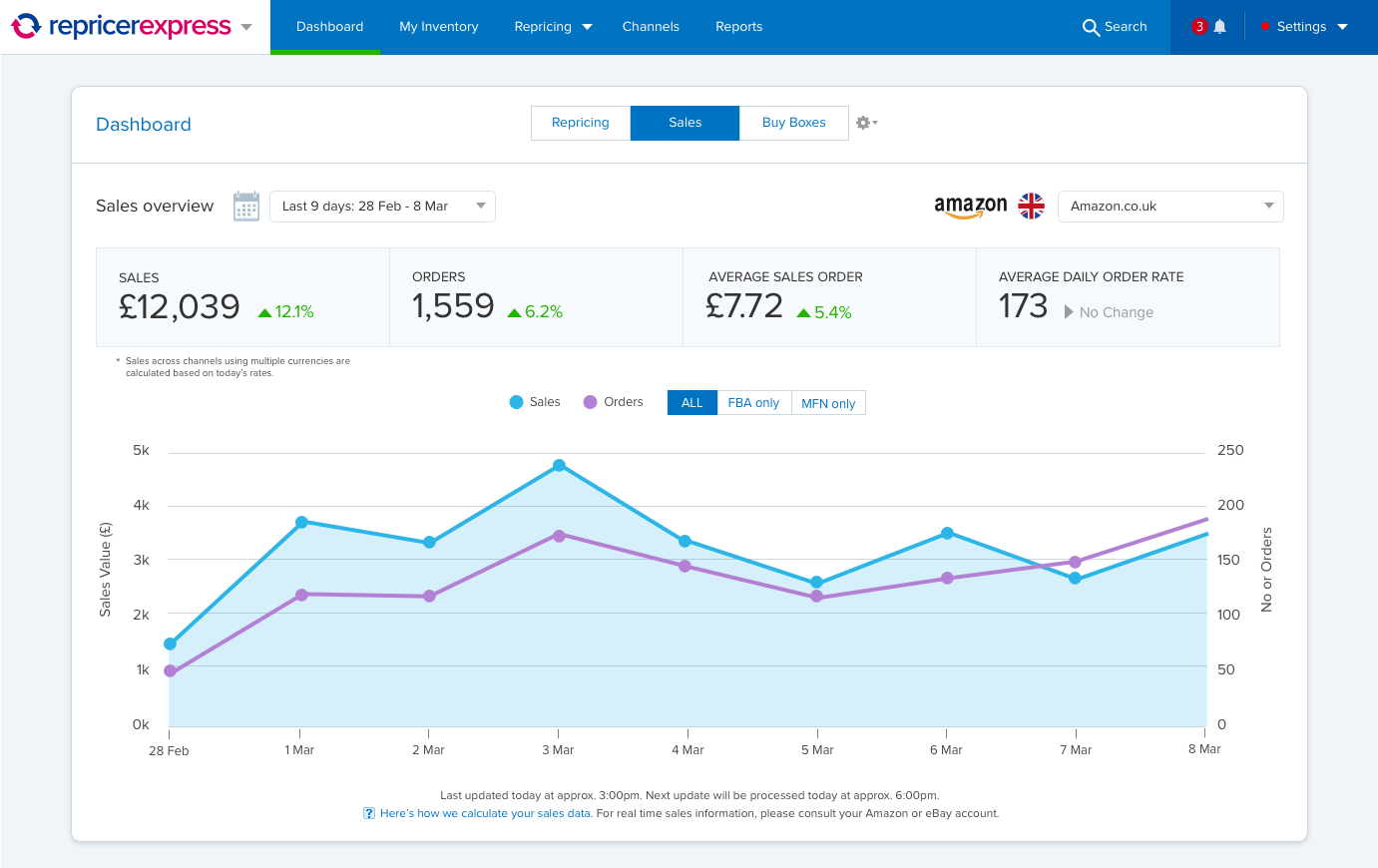 Repricing Min/Max Settings
One of the most important things you will need to do once in the RepricerExpress software application is to set a Base Min and Base Max price.
As you can see below, you not only have to put in a Current Price plus or minus a percentage but also a Shipping Cost.  Being FBA sellers our shipping price will always be zero.
These settings are purely based on your business's comfort level and need to be set very carefully.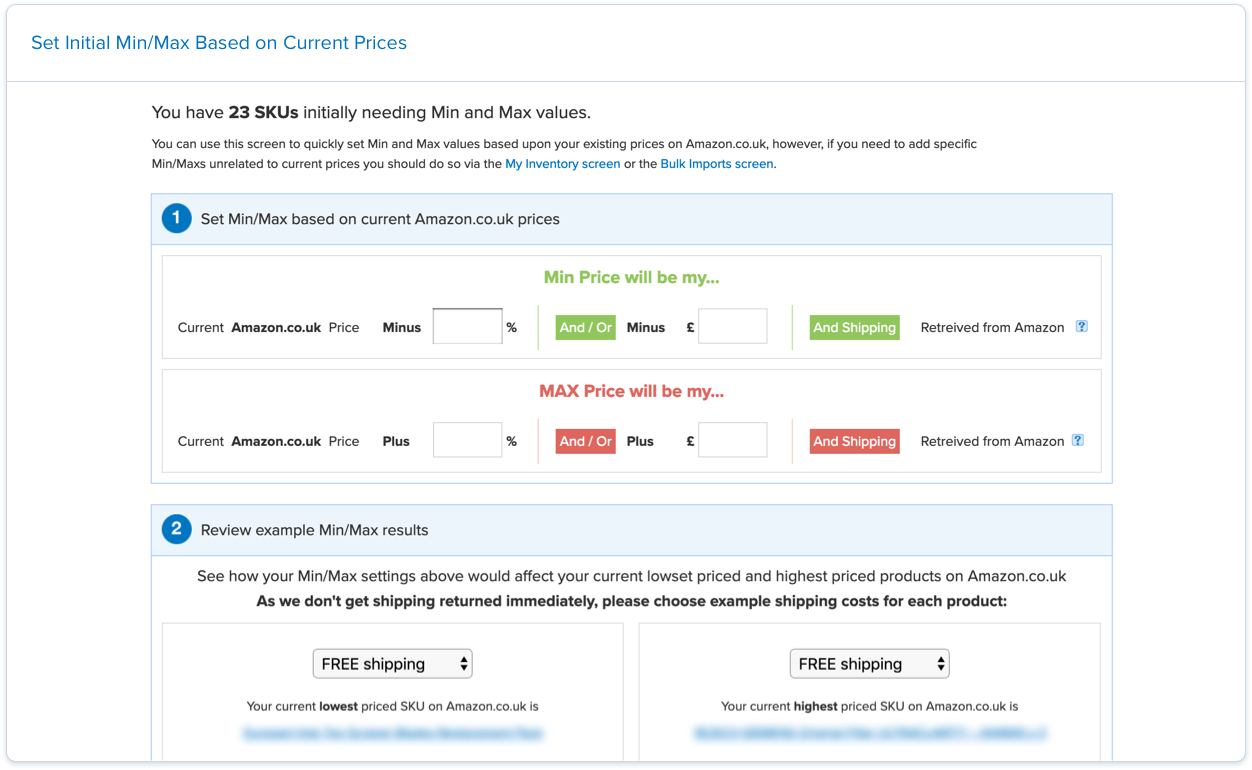 Repricing Rules
Next up is your Repricing Rules screen.  In next month's blog, I will take you through the Pricing Rules area in more detail, where your real decisions are made.  Repricing rules really require a full blog post to do it justice.
You can see that l have three repricing rules across Amazon and eBay that l apply to items specifically.
On Amazon, our items are all under one single rule. On eBay, I created two rules, one being more aggressive for items I want to sell off fast for example.

My Inventory — Channel Overview
When you want to go in and see your inventory and each item's current status you will see the following (items and SKUs have been removed for data protection purposes).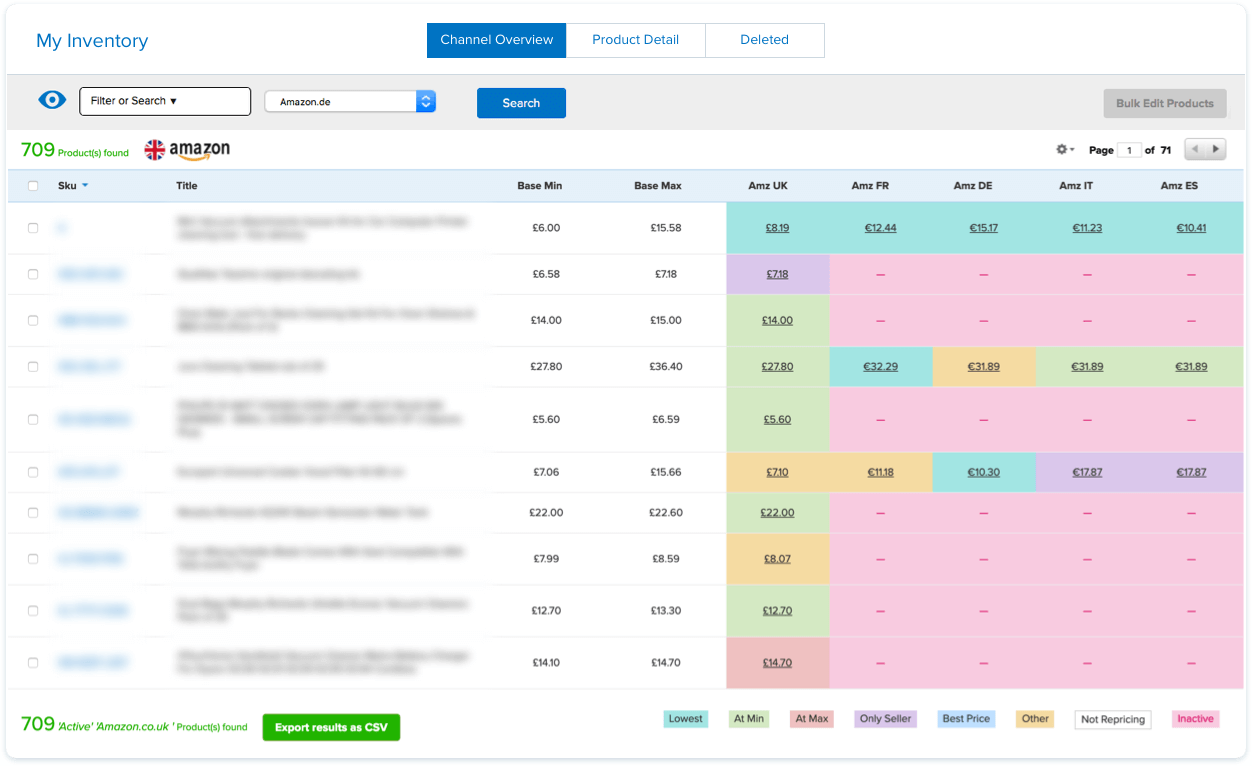 You can search each item in many ways including SKU, New/Used, Item Name etc. but mostly l just use the Item Name.  You will see your item's Base Min and Max price based upon your settings from that section along with YOUR current price on Amazon.
The great thing about how RepricerExpress displays your inventory is that you can see its current status in terms of Best Price/Buy Box and its status similar to the main dashboard, only now you're seeing it for each individual item.
You can sort things based on the colour (status, not item) and get a better picture of items you may want to edit in terms of repricing rule and those you get a feeling will probably sell soon.  Very very useful info here.
My Inventory — Product Detail
The next tab within the My Inventory screen is Product Detail. Here, you can see a full list of your products a list of information including SKU, Title, Condition, Repricing Rule applied, Min and Max prices, Competition price range, Total Price, Position in Top 20 and your Buy Box Price.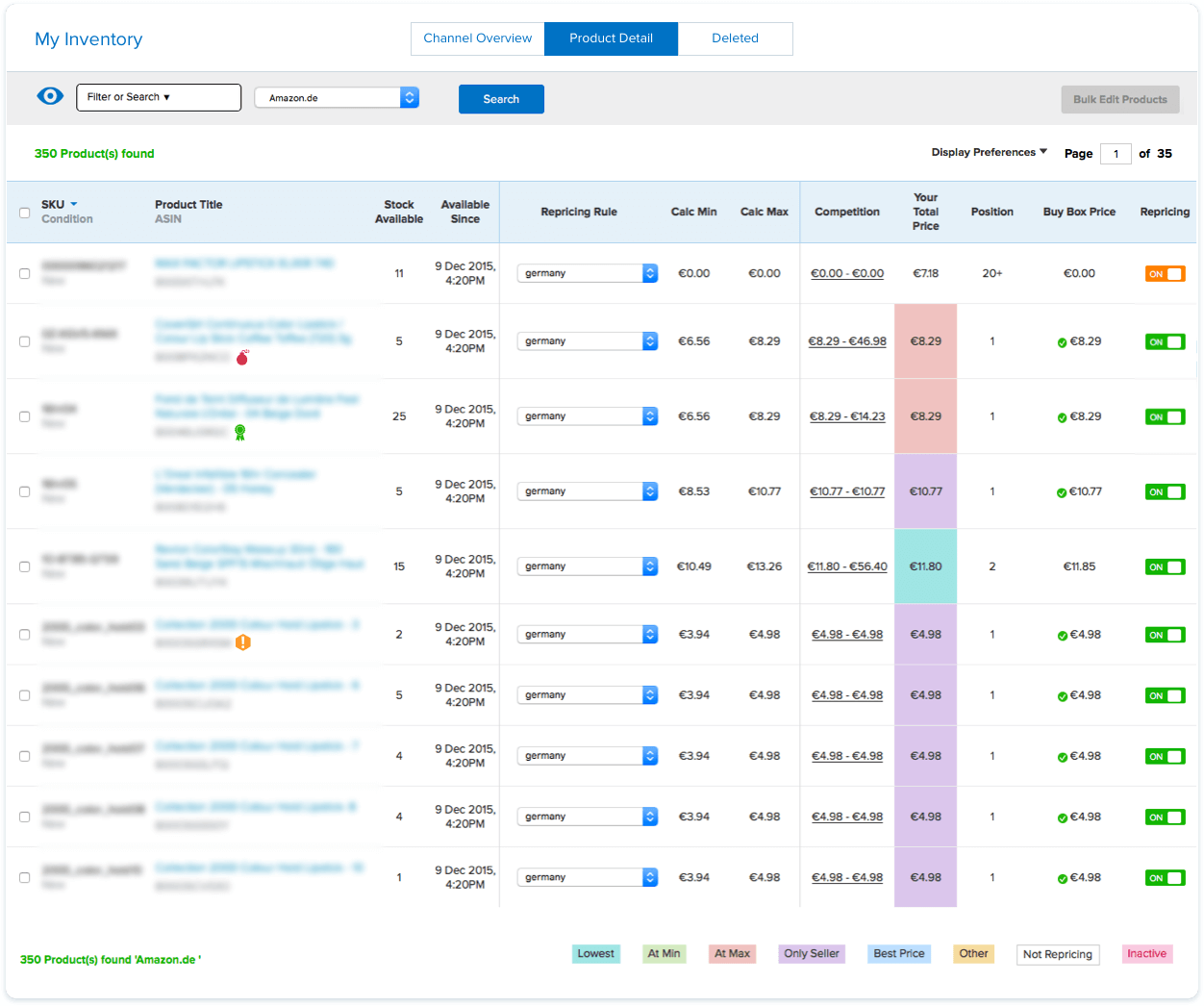 Item Detail
You can view an illustrated version of how your item is priced simply by clicking on the item. Here's an example of what you might see,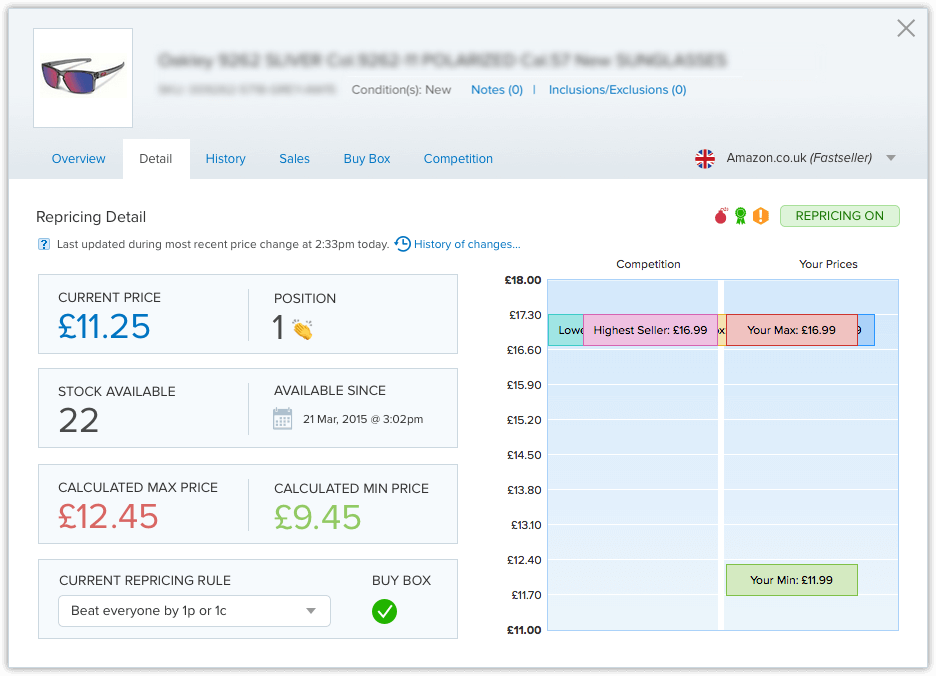 Get Started
Are you convinced that a repricer is the right thing for you? As I said in my previous blog post, in my opinion, 90% of part-time FBA Sellers and 100% of full-time sellers should be using a repricer if they want to succeed.  The number of FBA sellers is growing rapidly and you simply can't seriously compete without one.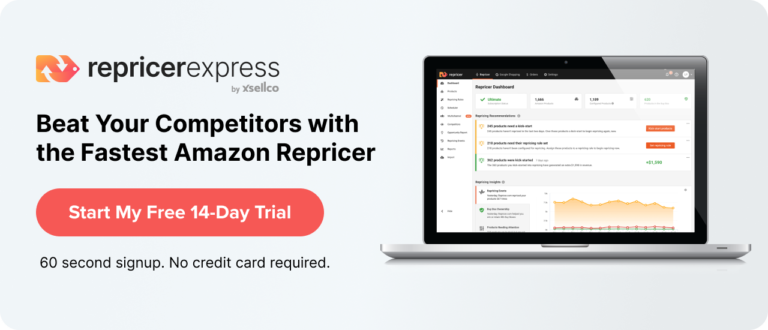 Want to read more from Jeff Roth, Amazon FBA Seller?