Guest blog post by Kev from LifeSuccessEngineer
Freedom. That's what I wanted when I began selling on Amazon in May 2015. At the time, I was an Electrical Engineer supporting my family full time when I became aware of the opportunity to sell on Amazon. As I began to sell products I quickly learned if you want to be successful, you need to keep your products in the Buy Box. One problem, the price changes on Amazon are so frequent, it is impossible to manually update your prices every hour.
After careful consideration, RepricerExpress, was the software I chose to monitor all my product prices and 20 months later, our business relationship continues to go strong. We now have over 750 different products, over 4,000 units in stock and we have just reached £60,000 sales in the last 30 days.
In the video below, I peel back the curtains and introduce you to my business.
How We Use RepricerExpress in Our Business?
Quitting my job in six months and then moving into a warehouse from our living room was a huge move for us. Everything became very real, very quickly. We knew we would have to work incredibly hard in our business and the last thing we wanted is to spend all our time changing our prices manually. We needed a very user-friendly automated repricing program that we could rely on to look after our products for us.
RepricerExpress Dashboard Overview
The dashboard is very visual and easy to understand. It clearly displays everything you need to know and see about your business.
RepricerExpress has three dashboards:
1. Repricing Overview
2. Sales Overview
3. Buy Box Overview

Repricing Overview
This page shows you everything you need about your products' statuses and how all your products are currently doing. It's a fantastic screen that allows you to navigate directly to any product or selection of products you need to investigate immediately.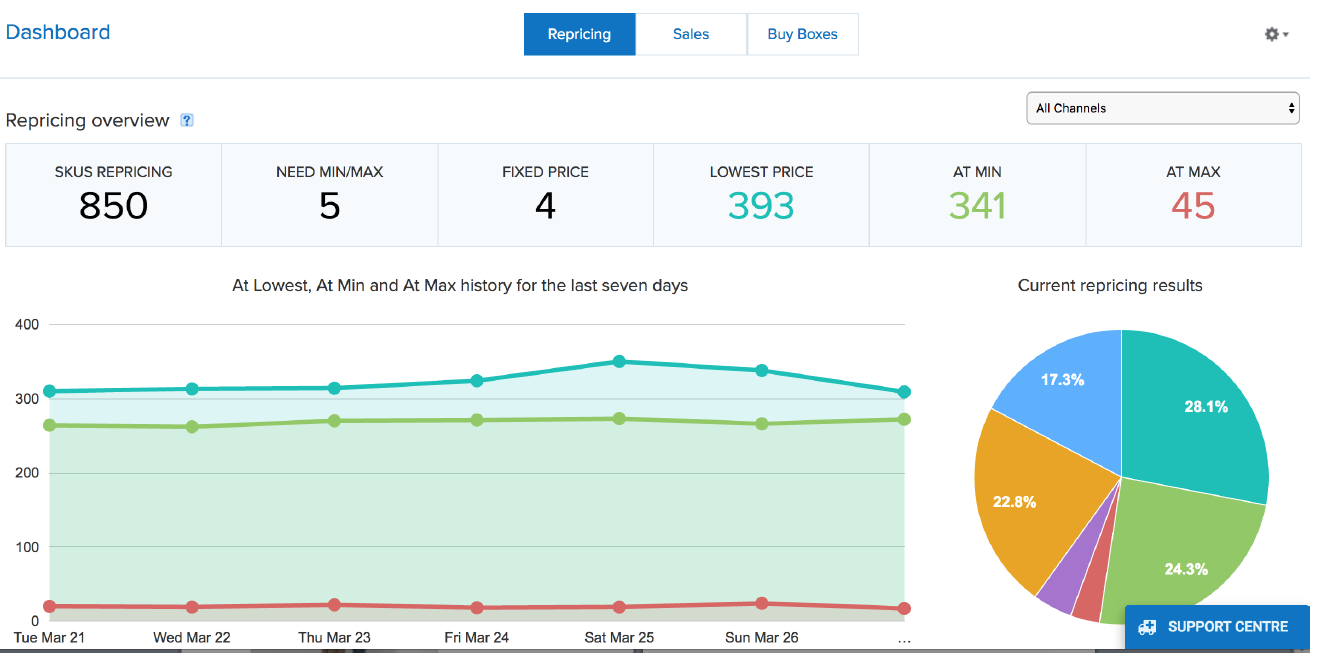 Sales Overview
This page shows you everything you need to know about your sales and your performance. It's another incredible tool to gather the data you need to make strategic decisions on your business.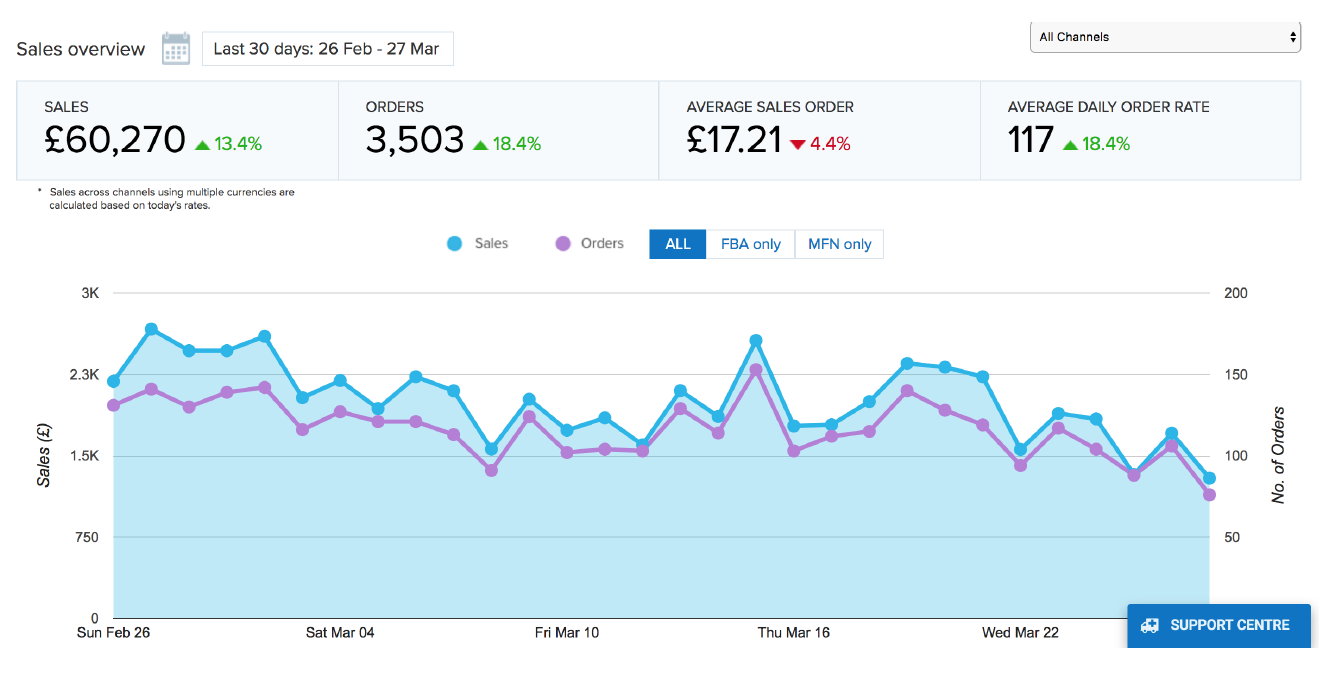 Buy Box Overview
This page shows you everything you need about your products in the Buy Box. With this being a new feature in the ever improving RepricerExpress service, I currently have my team investigating what improvements can be made just from looking at this new feature.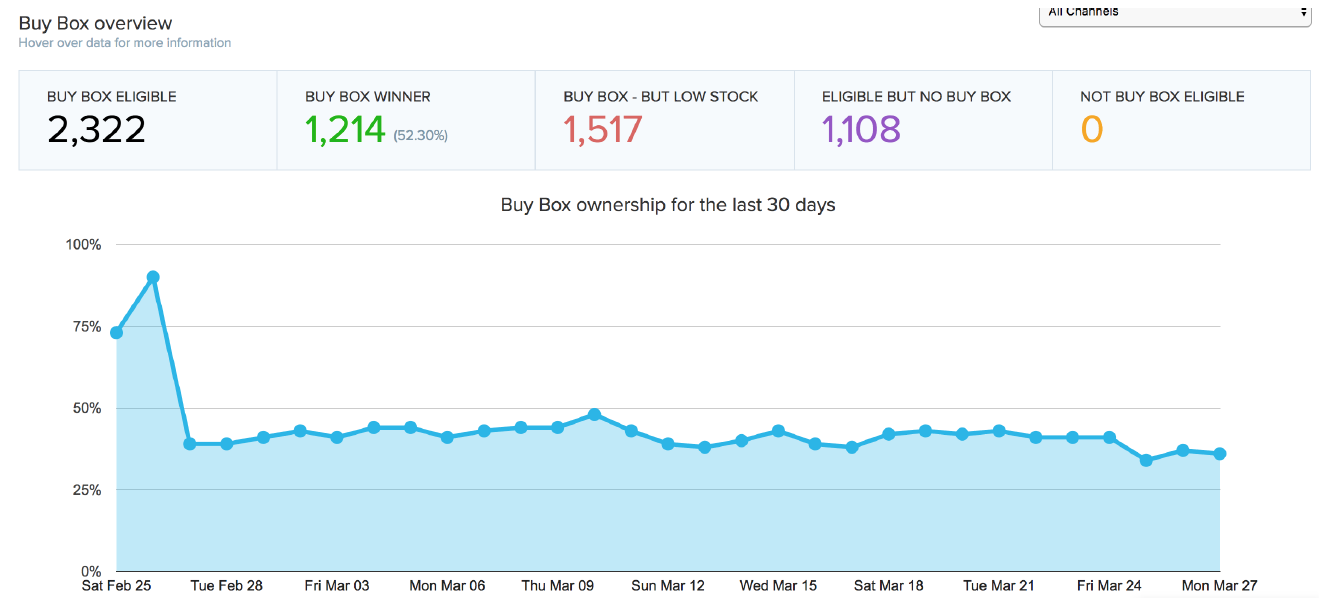 Setting Rules
The repricing rules are what sets this service apart from others. As I show in the video you have options to customise how you want the service to control your products. A great advantage is the profit protection section, which resets your prices to MAX every night at 3.00am until 4.00am (my personal setting—you can choose your own times).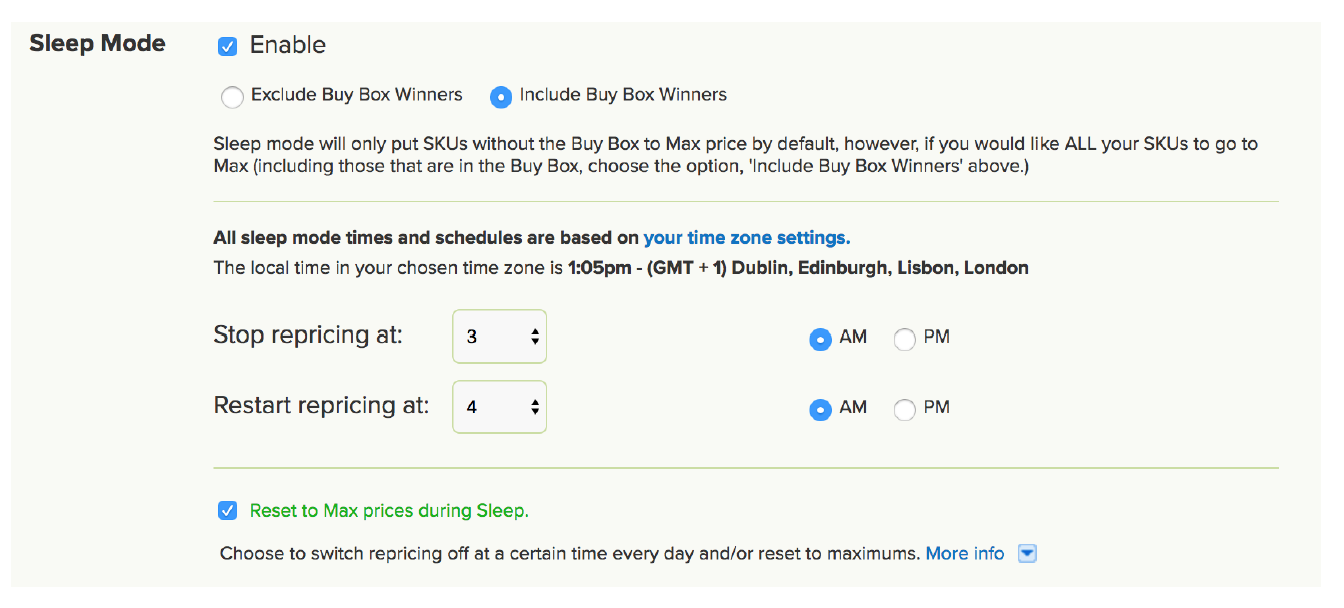 Setting MINs and MAXs
Repricer Express is linked to your Amazon Seller Central Account, which allows you to simply set your Min and Max for each product.

Automating Your Business for Freedom
Freedom. That's what we all want. Time to do what we want when we want. To enjoy our time with whoever we want for however long we want. It takes hard work and commitment, but using RepricerExpress takes you a step closer to that ultimate goal.
Could you be the next RepricerExpress success story? Sign-up for your FREE 15-day trial today. Use promo code REX10 and get 10% off your first month's bill.
Interested in writing a guest post for the RepricerExpress blog? Email chris@repricerexpress.com
About the Author:
My name is Kev. In 2015, I took massive action and started a business on Amazon. Within 6 months, I quit my job and we finished our first year at over £400,000 in sales. We created a team of 11 virtual assistants and 3 physical employees which gave my family the freedom to build the lives we wanted. On my Life Success Engineer blog, I share my journey and everything I have learned along the way. Read my story or check out my YouTube channel.