I've just read a really interesting repricing experiment by a merchant who sells books on Amazon. He's a self-confessed "data nerd" and wanted to see how his book sales performed using an automated Amazon repricer.
On Amazon, prices are constantly changing and it can be pretty cutthroat at times. Here's a common scenario for a bookseller. You list a book on Amazon when the lowest FBA price is £14.99. A month later, you check the listing and some sellers have decided to undercut your price.
You now must decide whether to lower your price to be more competitive (and hopefully get the sale more quickly) or leave your price the same and wait for the lowball offers to sell out.
Pricing Books on Amazon Using a Repricer
The bookseller started with 100 books (no textbooks) which he split into matched pairs based on sales rank and his proposed FBA price.
He listed the books using his normal pricing strategies coding the SKUs as Batch 1 or Batch 2 for tracking purposes.
Batch 2 was randomly selected to be repriced.
His hunch was that he would sell more Batch 2 books but sacrificing price. His hypothesis was, will the extra sales make up for the loss in price?
As the graph below shows, the conclusion was, yes… By the end of week four, Batch 2 had nearly double the sales of Batch 1.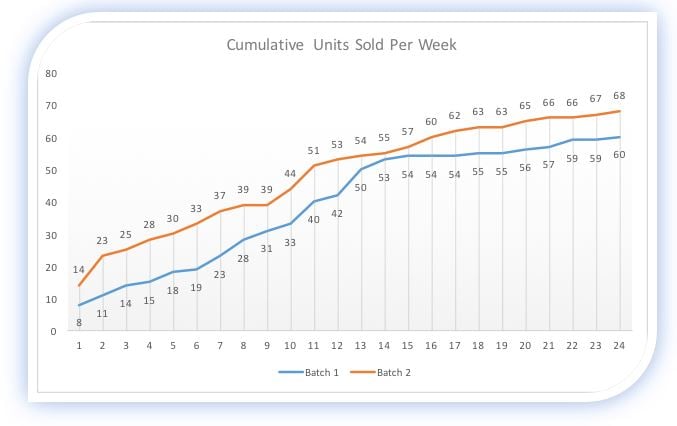 Out of the 32 items that were repriced:
11 items were sold at higher prices, for a total gain of $52.95 ($4.81 per book increase).
21 items were sold at lower prices, for a total loss of $43.82 ($2.09 per book decrease).
Overall, this resulted in a net price increase of $9.13.
So, not only did he sell more books on Amazon using a repricer, he sold them at a higher price.
Now, let's have a look at his total sales over time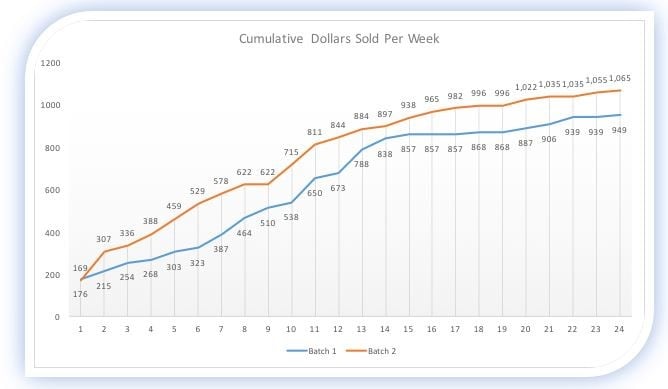 Batch 2 had $120 in extra sales compared to Batch 1 after the first four weeks. After six weeks, Batch 2 had an astonishing $206 in additional sales. Those increased sales mean you can turn a profit faster and pull more money out to buy more books. It's a small sample size, with only 100 items in each batch, but it's hard to argue with the results from the experiment that a repricer does work for booksellers on Amazon
Source: The Book Flipper
This Bookseller Using RepricerExpress to Reprice His Books
So what happened when James, an Amazon FBA bookseller, used RepricerExpress to reprice his books recently?
Find out what he had to say below:
"I moved onto a paid plan because your software did exactly what you said it would do. My book sales jumped up 79% over the last month and RepricerExpress paid for itself many many times over. I'm sure you're aware that Amazon is temporarily not accepting shipments of books into their warehouses. It's now more important than ever to be priced competitively on the stock that's already in, particularly if you're exclusively an FBA seller like I am. You've come along at exactly the right time for the business."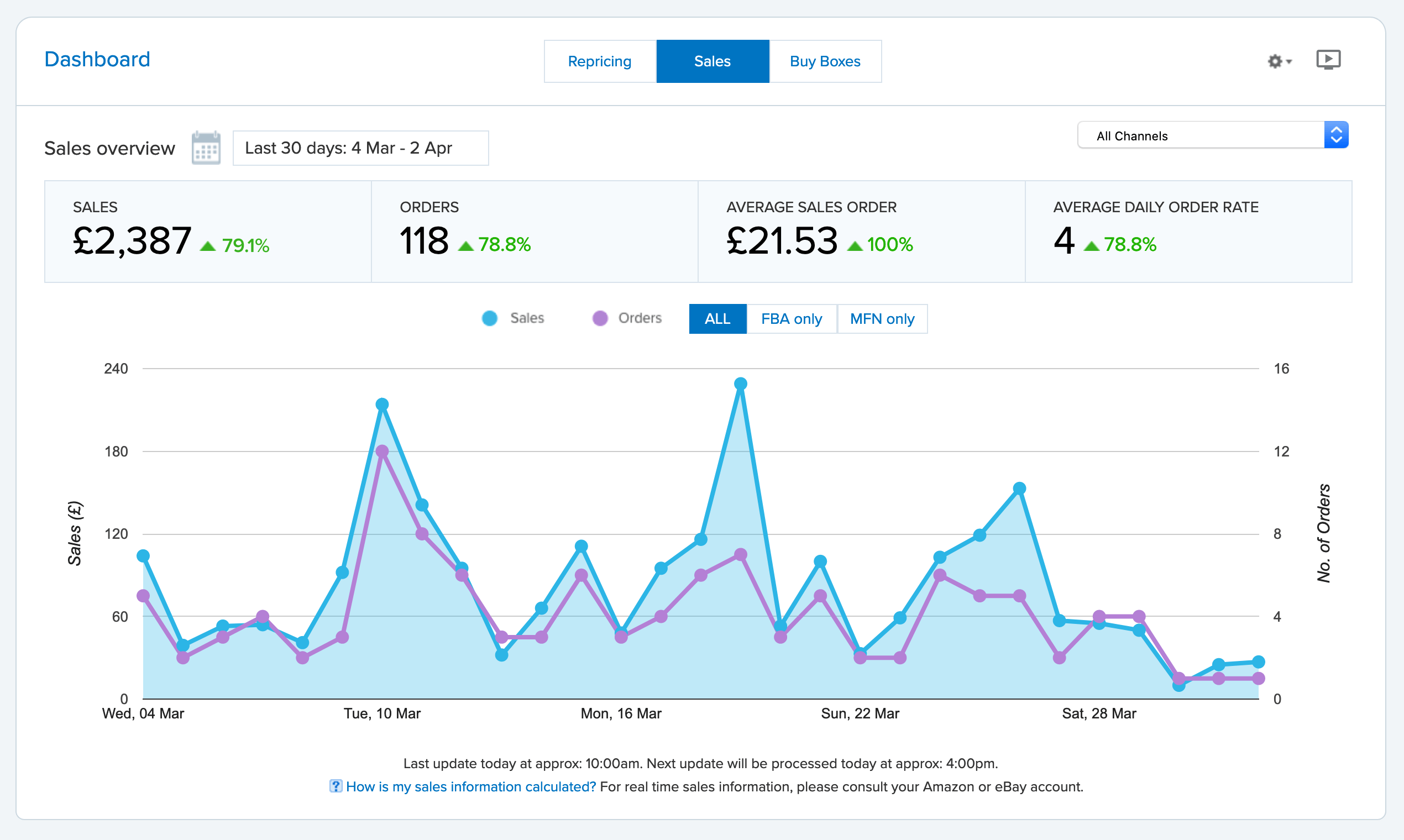 Check out the full interview.
Final Thoughts
If you sell books on Amazon, you'll be aware that it can be pretty cutthroat.
One of the issues of using Amazon's free repricer is that it will lower your price too quickly and encourage a race to the bottom.
If you have a large inventory of books, repricing them manually becomes an impossible job.
With thousands of booksellers already using an automated repricing tool to get more sales, it has become a must-have for many booksellers.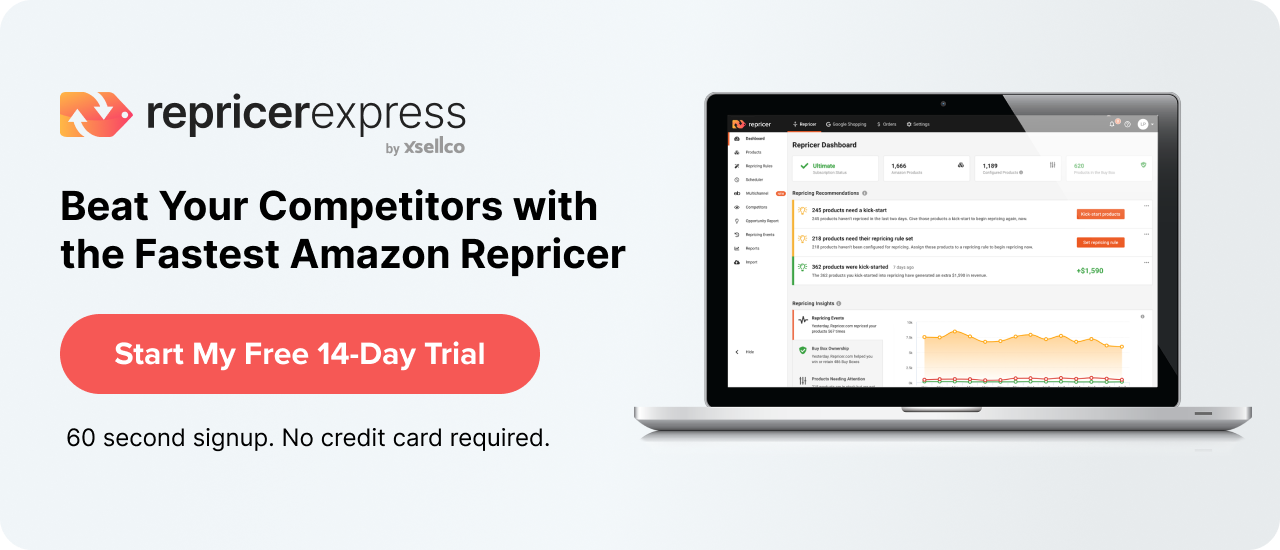 Related: How to Sell Textbooks on Amazon