This week we decided to discuss all things Amazon with FBA bookseller and RepricerExpress user, Jon Case. Check out the interview below and you can follow Jon's ecommerce journey on his Instagram.
If you're a third-party seller looking for an Amazon repricer for books, then check out the special offer at the end.
Introduction
RepricerExpress: When did you start selling on Amazon and why?
Jon: I started selling on Amazon in May 2016 and the sole motivation was sibling rivalry!! No, but seriously, my sister introduced me to it, we went on a course together and initially we thought it would be fun to have friendly competition.
RepricerExpress: Why did you choose to start selling books?
Jon: In the beginning, I was actually doing mainly retail and online arbitrage on toys. However, I was coming into cash flow issues as I was spending money on stock faster than I was getting it back in my bank account. One of the course instructors recommended looking at used books and to check out a guy in America on YouTube called Reezy Resells who sold six figures in used books in 2015 on Amazon US.
RepricerExpress: Do you sell any other products or plan to in the future?
Jon: I do sell products in other categories, mainly around Q4 but my inventory is over 90% books. In the future, I'd like to diversify and have my own branded products alongside my book business.
Selling on Amazon
RepricerExpress: Do you use FBA? If so, why?
Jon: Yes, I'm 100% FBA at the moment, I always joke around saying it's because I'm lazy but what I mean is that I don't like creating an inventory system, picking, packing and shipping stock individually as well as dealing with all customer issues myself. I'd rather focus more on sourcing stock and let Amazon deal with the rest for now.
RepricerExpress: Do you sell on other marketplaces and/or your own website?
Jon: No. I always say that I'll have a proper try at eBay but when I think about taking pictures, creating listings, packaging items and posting I just go back to Amazon. That being said, I'll have a proper go at it at some point in the future.
RepricerExpress: What's the most important aspect of selling on Amazon?
Jon: For me, it's the FBA aspect. Amazon has already organised an infrastructure for storage, logistics and customer service at massive scale so I may as well leverage it.
RepricerExpress: How many hours do you spend every week running your business?
Jon: I don't really clock how many hours I spend on it as my days can vary through the week but I'm pretty much full on for most of the year but then tend to take it easy for the last part of the year.
RepricerExpress: When sourcing, do you use any special tools?
Jon: I think the main one is my suitcase (I don't drive). In the beginning, I used to take loads of carrier bags and my backpack. Although it saved me going to the gym, I couldn't carry many books! I then looked at those granny trolleys but decided on a suitcase as it doubles up as luggage when I travel. From that decision I went and broke 2 suitcases because of the amount of books I put in them (1 from Primark on the first day of use (lesson learned) and then one of my Dad's lasted 3 months before breaking). I ended up buying a new one and it's lasted me from then until now.
The other special tool I use is a Bluetooth scanner to help speed up inputting barcodes to my phone.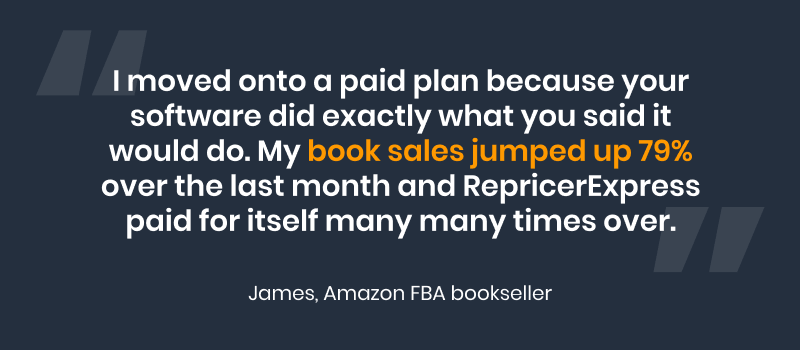 Getting started with RepricerExpress
RepricerExpress: Was it easy to get set up?
Jon: It was pretty simple going through the YouTube videos and any other questions the support team answered them.
RepricerExpress: Did you find the support team helpful?
Jon: Yes very helpful. I remember when I first signed up last year and was trying to sort out my repricing rule for matching the Buy Box on some non-book items and for some reason my rule was making them go to their max limit. I emailed support and received a reply with screenshots and a step-by-step of what I needed to change.
RepricerExpress: How much do you pay each month? Is it worth it?
Jon: I'm paying £49 +VAT and it's definitely worth it for the time saved and staying competitive in the online space. I think I also appreciate it more because I had been manually repricing thousands of books for nearly 2 years prior.
RepricerExpress: Do you have different pricing strategies for different types of stock, and time periods in which you must sell the stock?
Jon: Yes, I have different strategies for new items (non-books) and used books. From time-to-time I tweak pricing strategies, which is important as Amazon is always changing (i.e. the new monthly long term storage fee after 12 months and the newly implemented Inventory Performance Index) so my strategies needs to adapt with the market.
Results from using RepricerExpress
RepricerExpress: Why did you choose RepricerExpress?
Jon: I had a look round at other repricers but felt RepricerExpress was best suited to me in terms of price, UI, features and customer support.
RepricerExpress: What features do you use within RepricerExpress?
Jon: I use the advanced features when creating my own repricing rules. Also the bulk imports feature saved me a lot of time with uploading different min/max values in bulk.
RepricerExpress: Would you recommend RepricerExpress? Why?
Jon: Yes, because it's a no brainer! Up until last October I used to re-price my whole inventory manually (about 3,000-4,000 items at the time). It would take me about 3 months for me to go through all my inventory just once.
This was around doing everything else for my business and you can imagine the stuff that I repriced may have needed repricing again shortly after or could have actually sold for more when my competitors sold out. Now with RepricerExpress, I just set my min/max values, apply whichever repricing rule I want and leave it to it which then frees up more time for me to focus on sourcing more books or more "higher level" tasks.
RepricerExpress: Apart from RepricerExpress, is there any other software you would recommend for other Amazon sellers?
Jon: It depends what other Amazon sellers are selling but the ones I'm currently using are; Scanlister for bulk listing books, Neatopricer app on my phone (to work with the Bluetooth scanner) for scanning books and Helium10 for Amazon product research and Amazon reimbursements, and Keepa to research price/demand history.
Want more great advice? Then check out Kev Blackburn's interview with Jon in the video below.
Not Just For Booksellers
Join thousands of happy sellers like Jon using RepricerExpress to automatically price their SKUs on Amazon. Free for 15 days. No credit card required plus use promo code JON10 and get 10% off your first month's bill. No commissions or long-term contracts.