More and more Amazon sellers are choosing to ditch manual, ineffective repricing in favour of Amazon repricing software which allows them to be competitive 24/7 and win more Buy Box. In this post, we'll discuss how to become an ace seller using Amazon repricing software in five easy steps.
Step 1: Identify Your Competition
Contrary to popular belief, you're not in competition with every single seller on Amazon. Rather, you want to pick out the sellers who are:
Selling and/or shipping to the same areas as you so you can aggressively and accurately configure your prices. Why compete with sellers selling out of their own backyard if you're not and have to work in border tariffs?
Selling similar or identical items as you. It's no good to find every Amazon seller listing, say, t-shirts, as there can be a huge variance in quality, brand name, and therefore price.
The idea is you want to pick out sellers who most closely resemble you as possible so you can create repricing rules that will compete effectively.
Related: Pricing Strategies for Amazon Sellers
Step 2: Set Your Min and Max Values
One of the worst things you can do is create a race to the bottom, so avoid setting your min prices too low—the only beneficiary will be the buyer, as you'll lose profits. And for min prices, remember to factor in the product's landed price, which is the price that includes shipping.
Conversely, when setting max prices, don't make them so steep they'll scare off buyers. Look at what the highest price for the kind of product you're selling is, and go a teensy bit below that.
Amazon won't like your listing if your price is set too high either, and may delist your SKU if it's not within an acceptable price range.
Related: How to Avoid a Price War on Amazon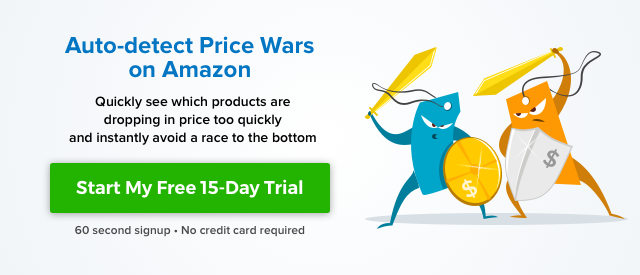 Step 3: Sell as Though the Buy Box is Always the Reward
What we mean by this is a few things, and it's more of a mindset than following concrete steps. Yes, price is one of the biggest factors when it comes to winning a Buy Box, but so many other things also depend on it, like:
Stellar seller metrics and positive seller feedback.
Having a fast shipping time — essentially, the faster, the better.
Aiming to get a perfect score on orders every single time, which includes things like great customer support and fast responsiveness.
Shipping things in good condition, or at least accurate to how they're listed.
Trying to have as few cancelled orders as possible.
Having the item in stock.
Using FBA instead of shipping it yourself.
Amazon's algorithm to winning a Buy Box is a closely guarded secret, but if you can sell with the above points in mind, then you can use repricing software to help vault you there.
Step 4: Set Your Pricing Rules
This is when research and analytics really come in handy.
For example, if you've studied the shipping history of your items and notice they tend to move more slowly on certain days, you can set a pricing rule where you're more aggressive on those days. Or if you sell on more channels than just Amazon, you can make a pricing rule that ensures parity replication across the board. The more you can identify patterns, the more you can customise the rules for maximum benefit.
Related: Pricing Rules for Amazon Sellers
Step 5: Get Your Inventory Synced
If you haven't already linked your inventory to your repricer, you'll want to do that pronto. Why? Because if things like running out of inventory happen, you can stay on top of it without getting penalised and decreasing your chances of landing a Buy Box.
Say you do run out of a particular item. If you've synced your inventory, then they can be automatically repriced to what their current market value is once they are back in stock. This means you don't lose any precious time having that item selling at a non-competitive price.
Try for Free
Enough talking and reading — the next step is to reprice and sell. And if you're reading this post, it's because you have a hunch RepricerExpress is the best way to go…and you'd be right for thinking that! But in case you need a bit of proof, here's some: when you sign up now, you get the first 15 days of use totally free. What are you waiting for?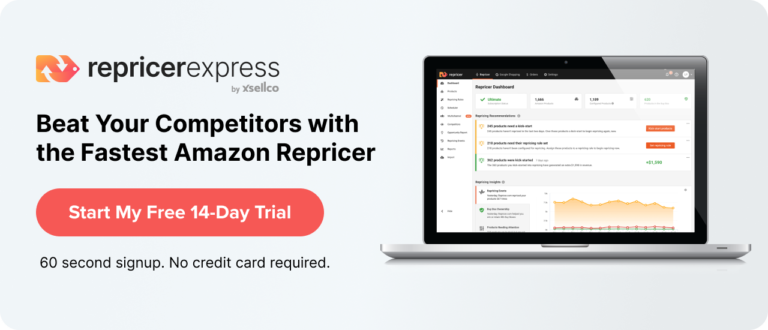 Related: Amazon Repricing Strategies