It's easy to think that just because you're selling online and can't see your consumer's face, there's no psychology to the sale. But words and sentences and pictures still play a huge role in affecting human behaviour, so much so that RepricerExpress is willing to bet a metaphorical coffee that we can teach you a trick or two, thanks to VoucherCloud.
Don't Let Buyers Leave
If you encounter shoppers who have left items in their shopping carts, it would be quite erroneous to think that most, if not all, will come back at a later time and purchase those items.
About four out of five won't.
Once they leave, they'll still be wanting what they were shopping for, only now they'll look elsewhere for it because you haven't shown you can provide it. One of the best ways to guard against this is to have your site load quickly and fully, giving consumers the portal they need to start shopping immediately.
Keep them there.
So you've got them on your site — great. Now you have to pull out the stops so their online shopping experience is easy and straightforward and they come one step closer to clicking 'buy'.
According to VoucherCloud, almost 100% of shoppers report that how a site looks is the decision maker in whether or not they'll purchase a product. Think about that astounding number for a second: site design is the top factor for nearly every single shopper. If that isn't incentive to have a clean layout with excellent copy and high quality imagery, we don't know what is.
Use the Words of Others
Now that you've written amazing product descriptions Hemingway himself would be proud of, it's time to balance it with what actual buyers think. You're naturally going to present a biased viewpoint because hey, your job is to sell the products. Shoppers know that, but they also want to know how the item really checks out.
Or, in other words, post product reviews and feedback.
You'll find that for 85% of your shoppers, this is hugely influencing while just more than three-quarters say it's as gospel as their friend's opinion.
Pricing and Shipping
However fancy your site looks or whatever fantastic things people are saying, there are still two factors that tend to trump almost everything else: how much it costs, and how long it'll take to get there.
The first one is relatively easy.
Don't charge an arm and a leg for your goods, reprice regularly, offer up things like coupons and discount codes, and make bundling, upselling and cross-selling habitual practices. For the latter, use free shipping whenever possible because for about half of buyers, shipping prices and times are dealbreakers.
Offer security in the buying process.
Closely tied in with this point is assuring your buyers their information will be safe when they click 'buy'. As good as technology has become about keeping credit card information secure, it's still not 100% there. But what you can do to tell your buyers you've got their best interests at heart is offer them multiple payment options (i.e. credit cards, debit, PayPal, etc.), post logos of the payment methods you accept and have multiple options in place so everyone has a way to pay.
Miscellaneous Tips and Tricks
It's always good to have a mixed bag of treats you can use, pulling one out to spontaneously sweeten the deal.
Avoid making your buyers create an account to purchase a product (guest checkout cuts abandonment in half)
Make it clear they don't have to sign up for a newsletter — offer the newsletter option some place other than the checkout area
Let buyers go to the previous page — have a 'back' button — so they're not locked in or have to start from scratch again
Tell shoppers exactly what you want from them with a call-to-action
Streamline the buying process as much as possible and identify how many steps are needed to complete it (no more than 5)
Offer incentives against abandoning the shopping cart
Make absolutely no hidden charges or costs at the checkout area, like suddenly tacking on shipping
Show how the product looks and acts by posting a video of it
If videos aren't possible, post images of the product from different angles.
But above all else, what we find is superb for completing the sale is using RepricerExpress so buyers know they're always getting the best price out there. It's beautiful because it's so darn simple: all you do is sign up for a 15-day free trial, and you lift off from there. That's it! If you're not sure how the whole Amazon repricing 'thing' works, just check out our handy infographic.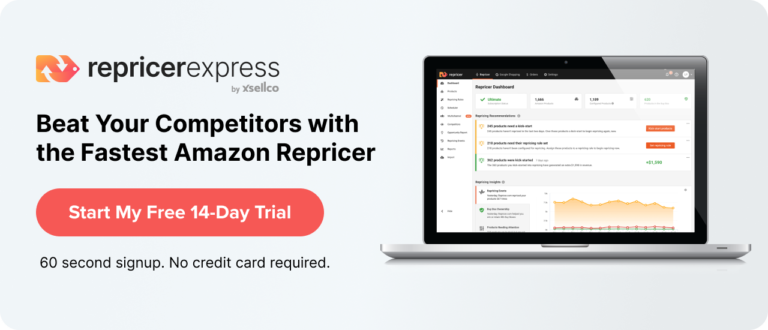 Want Pro Tips for Selling on Amazon?