If you are a Shopify seller are you wondering whether a TikTok Shop should be an app that is part of your seller's arsenal?
It's only a couple of years since Shopify added TikTok to its portfolio of social media channels and now that everything's settled in, sellers can strengthen their relationship with their customers by placing Shopify shopping tabs onto their TikTok for Business TikTok accounts.
It's called TikTok Shopping, but many people refer to it as TikTok Shops.
Let's consider the market, take a look at some of the benefits of adding TikTok Shopping to your sales strategy and go through the set-up process.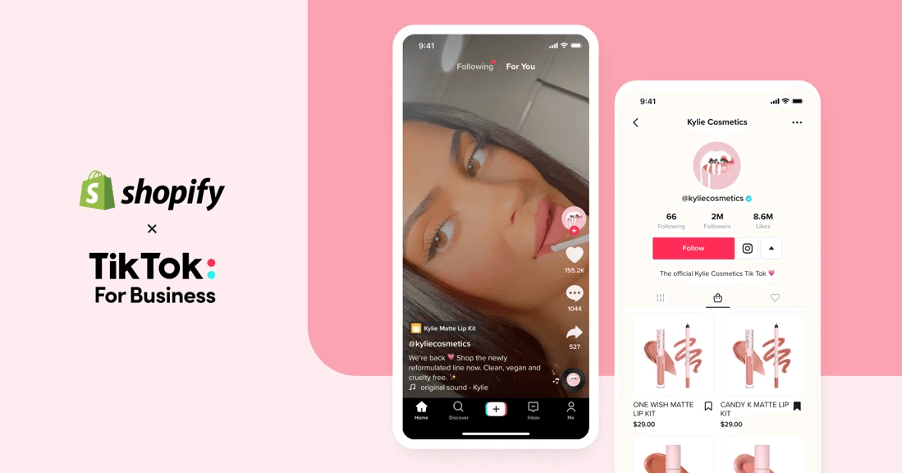 Why Bother With TikTok Shops?
It's an incredible opportunity for your online retail business Shopify Store. The TikTok market is huge and is growing fast.
At first, the TikTok audience was generally young, (around the Gen Z age of 25, and younger), but this has been changing recently to an older audience. As a Shopify seller, the chances are that this will appeal to you as 'older' generations tend to have deeper pockets!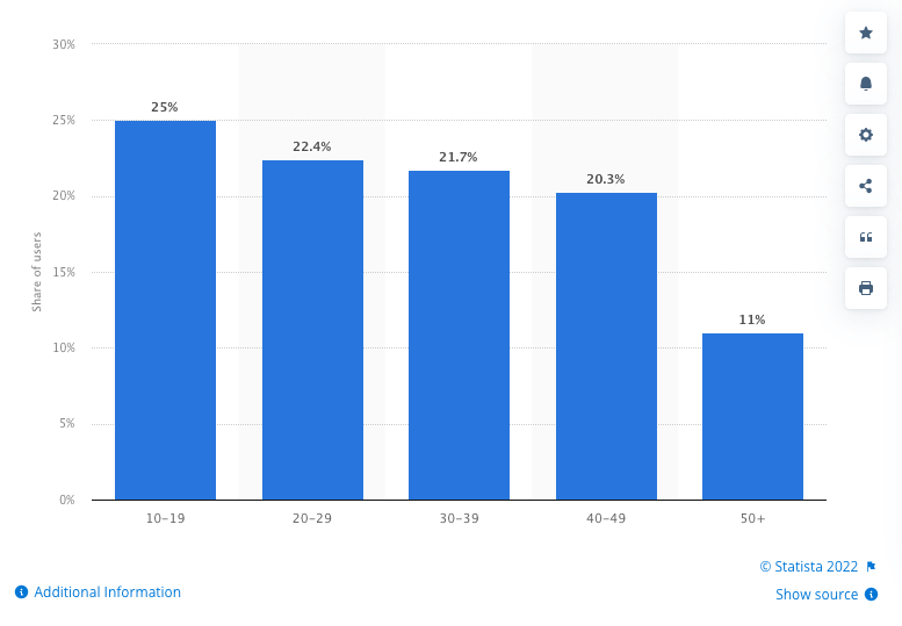 Source: Statista
In 2021, TikTok had 78.7 million users in the United States, of which 47.4% were under 29 years old. But that doesn't mean one should ignore the more than 50% who are 30 and above!
What Is TikTok & Why Is It Different?
TikTok is an obsessively video-centric social media platform. Quality isn't as important as on other sites like Instagram. Posts are more about the content or story, and it can be much more attention-grabbing.
From a retailing point of view, not having to worry so much about top-notch photography can be a good thing and it's also less of a burden on your budget.
Add to this the fact that telling more of a story using video can arguably give you more opportunity to portray some of the real-life benefits of your product, and the whole selling environment becomes more appealing.
The icing on the cake is that on TikTok you don't need to have loads of followers to showcase your content. You could have zero followers, post a video and end up with a million views. Yes, that's a compelling proposition isn't it? Especially when you consider that TikTok globally has hundreds of millions of users and this figure is climbing fast.
Here are some stunning stats according to Backlinko in January 2022.
TikTok has one billion monthly active users.

TikTok has been downloaded 3 billion times.

Monthly U.S. TikTok users have now passed 100 million, equalling 37.36% of America's 267.6 million mobile internet users, an 800% increase in 20 months.

In the US, on average, TikTok users spend 33 minutes per day using the app. (Globally it's an extraordinary and eye-popping 53 minutes a day.)
And here are some interesting TikTok facts from Shopify:
One in four viewers on TikTok have researched or purchased a product after watching a TikTok video.

81% of TikTok viewers intend to spend the same amount of time or more on TikTok over the next six months.

43% of 'heavy' TikTok users feel that "advertising" on TikTok blends in well with the content.

50% of TikTok viewers say they've discovered new products via ads posted by brands.
And what have TikTok said about the performance of their mega channel?
According to TikTok, 71% of TikTok users agree that compared to the other sites and apps they use, TikTok videos have a bigger impact on their lives.
Here's another gem for you retailers out there: 79% of TikTok users agree that the platform inspires them to try new things in real life.
So, let's get back to your Shopify Store selling on TikTok.
TikTok Shops for Shopify Sellers
If you have a TikTok For Business account, you can add a Shopify tab to your TikTok profile. This tab is a shopping basket icon.
Add this tab, and you connect your product catalogues to your TikTok profile and have a little shopping window of your products. You also have a link so viewers showing interest can go directly through to your Shopify Store to buy your products.
You can also tag products in TikTok organic posts.
So, the TikTok audience can choose to shop directly from your storefront or click a tagged product in your TikTok video post to go to your Shopify Store.
Just think about that posting potential with your products. You can show how-to guides, demonstrate – live – how your products work, or show someone actually using your wonderful product.
"By enabling new in-app shopping experiences and product discovery on TikTok for the first time, Shopify is powering the creator economy on one of the fastest-growing social and entertainment platforms in the world. We are excited to help this next generation of entrepreneurs connect with their audiences in more ways—and with TikTok as a visionary partner," said Harley Finkelstein, President of Shopify.
Let's look at how to set up your TikTok shop.
TikTok Shops for Shopify Sellers: A Seller's Guide
In this guide, we are assuming you have a Shopify Store and a TikTok for Business account (also often called an 'ad account').
If you don't have a Shopify Store, you'll need to set one up and then create a TikTok for Business account. You can then use the TikTok App on Shopify. (Note that you can only use the TikTok for Shopify App in certain markets, including the US and UK.)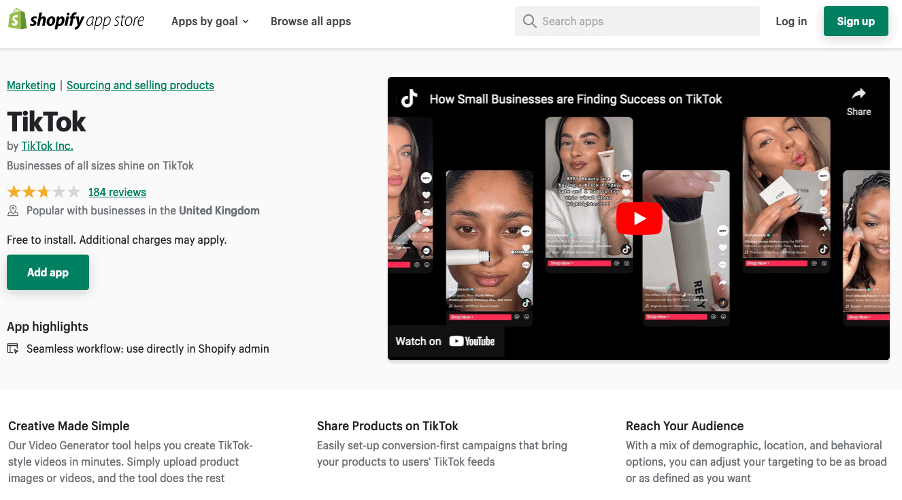 There are three ways you can create a TikTok For Business account so you can use the TikTok App on Shopify:
Click on the Create Account button under the Settings tab in TikTok App on Shopify. 

Click on the Connect Account button under the Settings tab in TikTok App on Shopify and then click on Sign Up to register.

Create a TikTok Ads Manager Account
If you already have a TikTok for Business account, follow these steps to connect it with your Shopify Store:
Click Connect Account under the Settings tab in Shopify and enter your login information.

All the ad accounts that you have Admin permissions on will be displayed after connecting.

Choose the specific account you wish to connect to Shopify and click Connect.
If your ad account doesn't appear after connecting, check you have the right Admin permissions. Also, note that you can only connect your Shopify Store with one TikTok for Business or ad account.
What's Next?
Next, you'll have to be approved. Because of its global reach, TikTok has fairly strict policies in place to align with all sorts of laws and cultures around the world. Find out more about TikTok Advertising Policies.
You can see the approval status of your ad account in Shopify at any time. It will show as one of these three.
Not Ready

– this usually means your application is still being reviewed or that there's some info missing. You can check if it's the latter by clicking Update in TikTok Ads Manager. If there are bits missing, fill them in.

Approved

– congratulations, you're ready to start selling.

Unavailable

– you'll see this if you've cancelled your account, or it's been removed for some other reason. If this is the case, you'll need to create a new ad account.
For the purpose of this guide, let's assume you're approved.
Once you have the TikTok App on Shopify, you can:
Select a payment method to get set up and start running ads.

With one click automatically install a pixel code for tracking purposes.

Set up conversion campaigns from A-to-Z within Shopify with guidance on campaign creation.

Target your audience with a mix of demographic, location, and behavioural variables.

Create TikTok-style videos by simply uploading your product videos and images and choosing a TikTok creative.

Get quick snapshots of all your important campaign performance data on your reporting dashboard for you to better understand your conversion funnel and optimize your ads.
 Once you've installed the TikTok App on Shopify and created or connected a TikTok Ads Manager account to your Shopify Store, you'll be ready to set up your marketing settings.
Tip…TikTok Ads Manager is essentially the functioning part of the TikTok for Business homepage. You use TikTok Ads Manager tools to launch campaigns, manage ad resources, monitor your data and optimize your advertising.
What Is TikTok Ads Manager?
There are four main elements:
Dashboard

– This is a console where you can get an overview of your data and track the performance of your campaigns and budgets.

Campaign

– This is your campaign detail area where you can create campaigns and manage your ads and ad groups.

Assets

– This is where you create, manage and keep all your ad resources like third-party trackers, site pixels, creatives and selected audiences.

Reporting – This is where you can customise reports or use a pre-defined reporting template. You can also schedule reports for certain times, like every Friday.
Shopify Set Up Guide: Marketing Settings
How To Set Up Paid Marketing:
Log in to your Shopify Store admin.

Select TikTok under Sales Channel and then Set Up Now.

Create a new or connect an existing TikTok for Business account.

Choose whether you want standard, enhanced or maximum data sharing.

Click to install the Shopify pixel for tracking purposes.
How To Set Up A Marketing Catalogue:
This step comes after you've set up paid marketing above.
Under Marketing Catalog, click Set Up Now.

Choose a TikTok Business or add an account to connect your product catalogue.

Select the marketing catalogue location.

To select the products you'd like to show in your TikTok ads, click on Manage Products.

Wait for approval.
How To Create A Video Shopping Ads Campaign
Go to TikTok Ads Manager to start a new campaign, then select Shop Purchases as the Advertising Objective and fill in the rest of the settings.

In Shop Settings, select the shop you want to promote and then choose Video Shopping as the Promotion Type. Once you've done this, choose a TikTok account to represent your ad in Identity.

Create your ads by selecting the products you want to promote under Products. An ad landing page will be automatically generated in the preview. If all is okay, click Submit.
Manage Your Store Using TikTok Manager
You can access TikTok Store Manager from your TikTok for Business account or the TikTok Business Center. In it, you can:
Use the product tab to add and remove products from your store.

Use the insight tab to view the performance of your store and product links.

Use the ads tab to create ad accounts and campaigns.
Remember To Promote Your TikTok Feed On Your Website
Use an app like Vop to enable customers to shop on TikTok from your Shopify Store. You can embed video feeds on your shop homepage and product pages.
Finally, Here Are Some Creative Tips For You
Have a look around

TikTok Creative Center

to see what everyone else is doing.

Don't just think visuals, think sound. For help with music try the

TikTok Commercial Music Library

or TikTok Ads Manager's creative tools.

Watch out for trends and get on the bandwagon if you have a good creative idea.

Always look out for opportunities to be emotionally appealing or funny.

Remember that the most popular video length tends to be between 15 and 30 seconds.