Guest post by Matt Diggity from Diggity Marketing
Your products may get your customers to your ecommerce store, but the ecommerce copy moves them to trust you enough to purchase your products. eCommerce copy is any text created for any element of your site, from headlines, blog posts, product, opt-in, promotional, and landing pages.
Your eCommerce copy must communicate effectively enough since your customers can't touch, smell, or see the actual product. However, you must also understand and create a fine balance between what speaks to your audience, your organizational values, and search engine ranking factors.
This can be quite challenging to achieve if you don't possess refined copywriting skills or a team of competent ecommerce copywriters.
Are you looking to grow your skills in ecommerce copywriting? Read on for eight key tips to writing copy that will boost your ecommerce sales.
1. Study Your Audience
This should be your first step since you can't understand what to write if you don't know who you're writing for. But, once you understand your audience, you can easily settle on the right message and the ecommerce tools to best communicate with your audience.
There are various ways you can study your audience. One of them is analyzing your current brand's market research and traffic data on tools like Google Analytics. This will give you crucial details like your target audience's pain points, main interests, gender, location, etc.
You can also perform customer surveys and polls to collect your ideal customers' data. Use incentives like gifts, discounts, and free shipping to encourage participation from your target audience.
Besides that, analyze customer feedback by going through reviews and following online discussions on social spaces like Quora, Reddit, and Facebook groups. By doing this, you will find the pain points you need to address.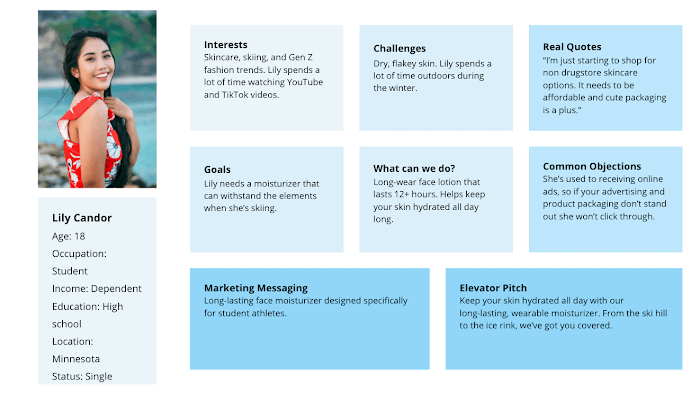 Once you've collected enough audience data, create a customer persona for each audience group based on their interests, opinions, and demographics, as shown above. Then, use these profiles to create personalized copy that will resonate with your ideal customers and boost online sales. We'll talk more about this later.
2. Focus on Benefits
People are less interested in your product's qualities and want to know how your product(s) improve their lives or solve their pain points. This is why you must focus on the primary benefits in your copy.
Identify the primary benefits to advertise to your customers on your copy from the research you conducted in the first step. Look at the customers' pain points again.
One of the easiest ways to ensure your copy remains benefits-centered is by tying the benefits to your product's features, as shown in this Infiniti example.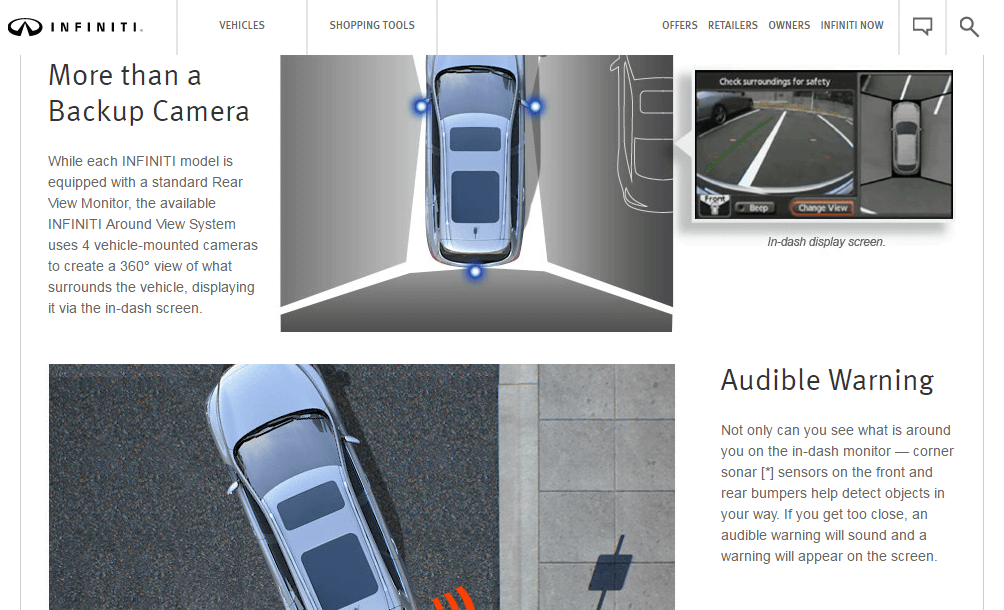 You can either integrate the benefits in your unique selling point copy, as in the example above, or list them in bullet points depending on your site's layout and space availability. But when using bullet points, use the hierarchical format with the most key benefits at the top of the list to capture your audience's attention easily. We'll talk more about this later.
Finally, include customer testimonials and positive reviews to back up your benefits. This social proof will go a long way in boosting customer conversions and growing your sales funnel.
3. Tell Your Story
A great story will make customers out of leads and web visitors because people easily connect emotionally with stories. This is why your eCommerce copywriting should tell a story from the headline and the other elements on your ecommerce website.
Here's an example of a great short story by Hiut Denim on the inspiration behind the brand.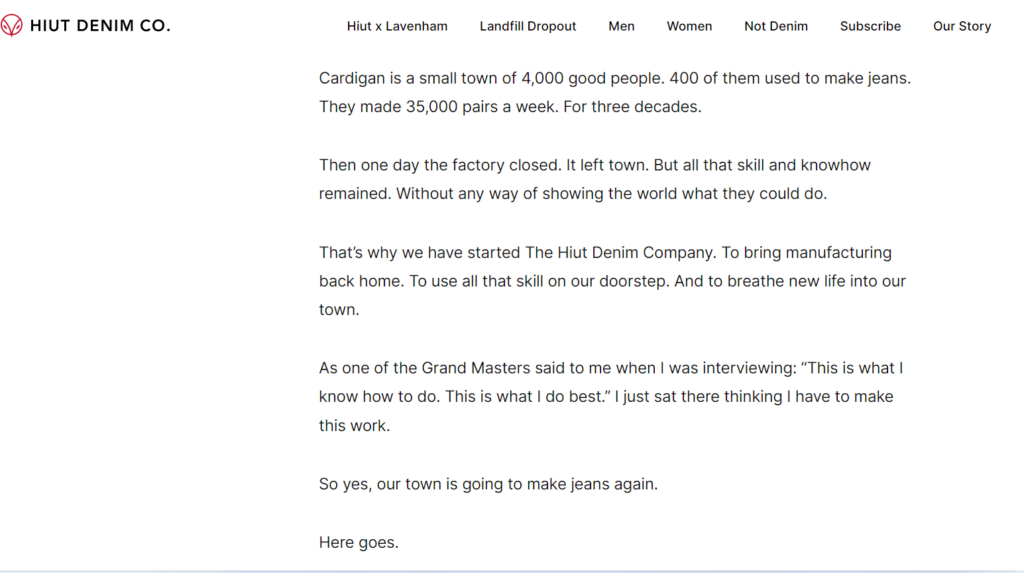 Though the 'About' and 'Our story' are the usual pages that can tell your brand's story, you can use storytelling in the product pages, too. 
For instance, you can tell a story of a customer looking for the perfect skincare products for their skin type and how they kept using the wrong products. That is, until they found your products and finally got their healthy skin that made them feel confident enough to walk out without make-up.
You can use customer testimonials and product features as motivation to tell your stories in your copy. This will add a human touch. Plus, it's easy to execute since you're not making up a random story. 
Here's another short example of well-executed storytelling by Chubbies that appeals to people's imagination.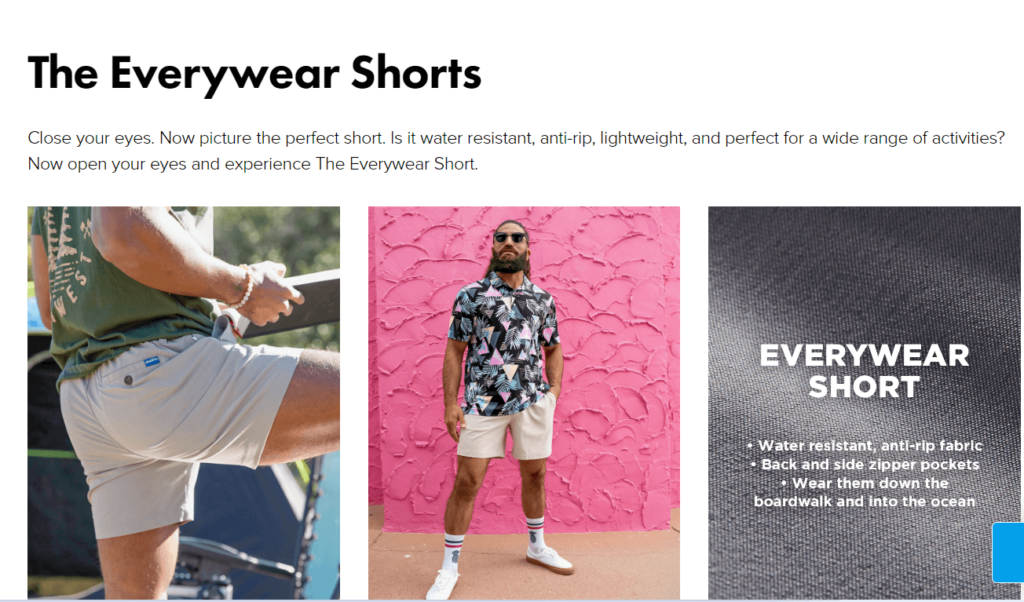 Ensure your stories remain simple and brief. Think outside the box to get your audience's attention. For instance, if you have unique stories about how you source your raw materials or ingredients, that would also make for a great story on the product pages to fascinate your audience.
However, while thinking outside the box is good, avoid outright lies about your products which will eventually catch up with you and tarnish your products. For instance, avoid branding your product as "cruelty-free" unless you're certain.
4. Add Keywords to the Copy
While the main focus of your ecommerce copywriting is your target customers, you can't ignore the search engine's ability to boost organic traffic to your site and increase sales. To get your ecommerce site's pages on the top pages of search results, you must add relevant keywords to the copy.
You can use tools like Ahrefs, Keyword Planner, and Keyword Surfer for your keyword research. Also, use the People Also Search For and relevant search features on Google Search to find better keyword choices you can create copy around. This can help you fulfill your audience's user intent. 
Use the primary keywords at least twice in your product and category page copy. Also, include them in your images' alt text and your ecommerce pages' URLs to make it easy for search engines' crawlers to understand. 
However, it's key to note that while keywords are important, you should not sacrifice readability by stuffing keywords or placing them inorganically. This will only lead to your eCommerce copy reading as unnatural or wrong. Google will penalize you for this with low ranking. The solution is to develop a content strategy. Create multiple pieces of content to boost your SEO efforts and attract or retain traffic. 
Also, make sure you use the best WooCommerce hosting platform. It doesn't matter if you have the best story to tell if your page doesn't load quickly. Your visitors will just leave your site and might even go to your competitor instead.
5. Focus on Scannable Content
With people's attention spans growing shorter as technology advances, you only have a few seconds to get your message across. This is why scannable content is a crucial ecommerce copywriting element.
One of the easiest ways to ensure your ecommerce copy is easily scannable is by using bullet points instead of continuous sets of paragraphs. The latter can be daunting for online shoppers who just want to find out if your product is the right fit. 
Bullet points are especially useful if you have a long list of details you want to showcase. Bullets help you summarize your text and avoid redundancy.
For instance, if the Wayfair product description below was all text, it could have been too tedious for users to read through. However, with the bulleted key features, it's easier for shoppers to scan through and decide if this specific fireplace is a good choice for them.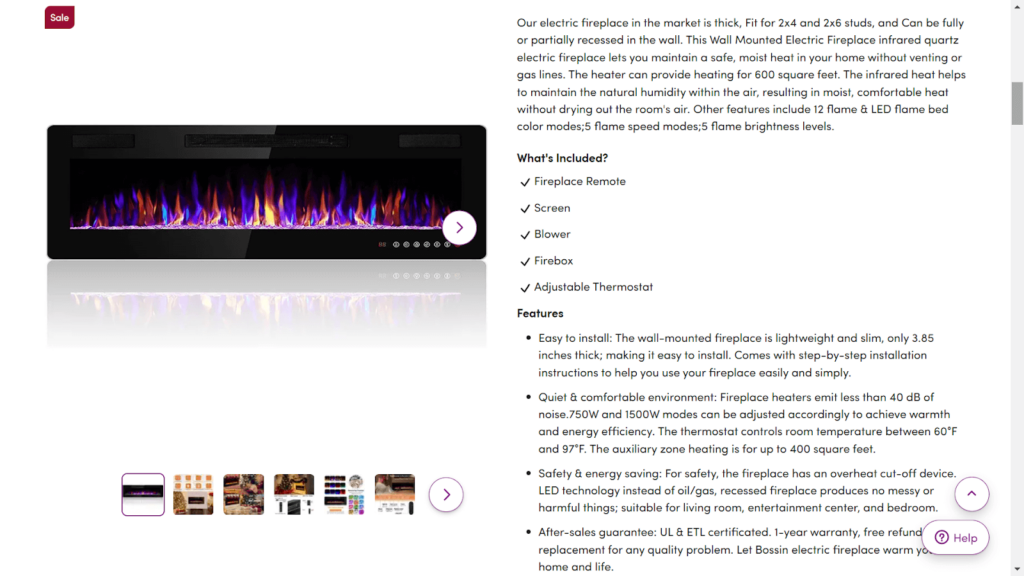 Bullet points also add more white spaces to your ecommerce pages, making them visually appealing. They also take up less space than blocks of text, providing a better user experience for online shoppers using mobile devices.
Besides bullet points, experiment with different font sizes for different sections of your ecommerce pages. Use appropriate headings and subheadings to highlight the content discussed in each section.
Stick to short paragraphs—at least three lines and below. This makes it easy for shoppers to go through the content and focus on the points that interest them.
Finally, highlight or bold the key points, phrases, and sentences you want users to pay attention to.
6. Add Visuals for Impact
Visuals are a big part of ecommerce copywriting. Besides breaking the blocks of text to make it easy for shoppers to scan through your copy, they capture users' attention more easily than text.
Visuals also amplify your copy, which enhances your storytelling, and, therefore, increases your copy's effectiveness. 
For instance, online shoppers are more likely to interact with your product page copy if you illustrate it or use video instead of text. Make your videos soar by including compelling, interesting, and relevant videos on your product pages, This is because visual content is interactive, easily understandable, and provides extra proof of authenticity for online shoppers. Check out this Peloton example: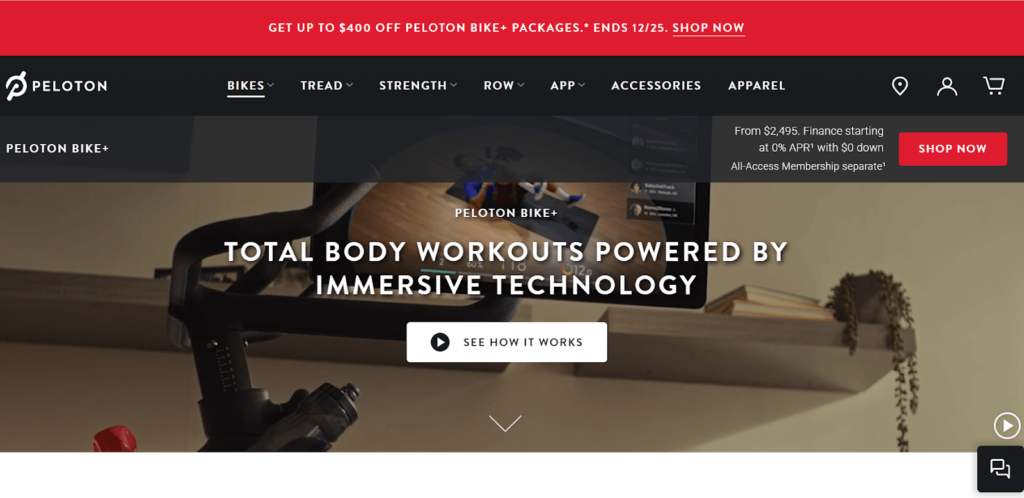 The other advantage of adding visuals is that, unlike text copy, visuals offer various options to represent your ecommerce copy. Apart from video, you can have illustrations, infographics, animated GIFs, graphs, and others.
Bottom line: Invest in graphic design tools. They can help you create relevant and interactive visual media assets to incorporate into your ecommerce copy and boost your sales.
7. Find the Right Tone to Connect
Using the right tone in ecommerce copywriting is enough to draw in online shoppers. The right tone reflects your brand's personality and values. If your personality and values resonate with your audience, they'll listen.
Besides that, the right tone can improve your copy's readability. This leads to better user experiences.
But how do you settle on the right tone that connects with your target audience when ecommerce copywriting?
First, refer to your research conducted in the first step and consider your audience demographics. Then from the findings, determine the tone your audience would connect most to–it could be casual, fun, formal, etc. Ensure you remain consistent to avoid confusing your customers and to nurture customer loyalty.
Beard Brand is a great example of a business that has mastered the right tone for its copy.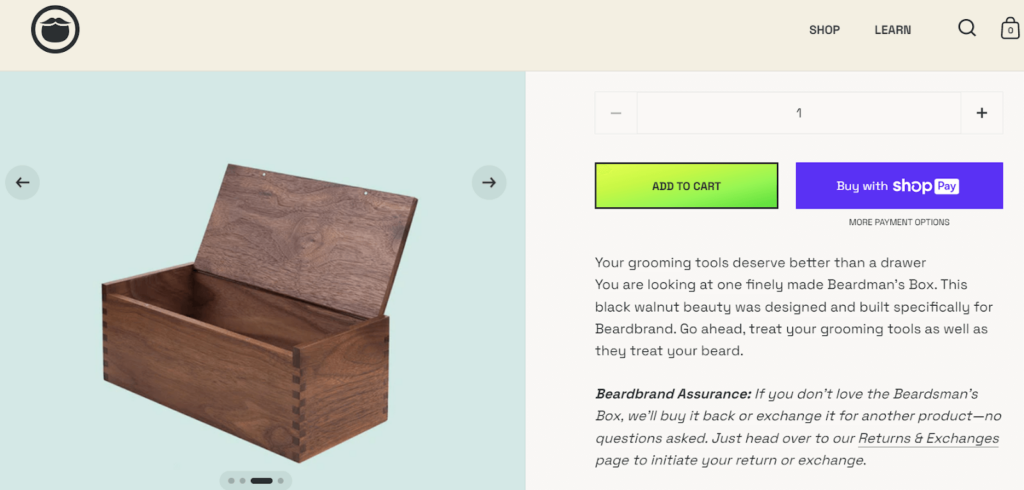 The brand uses a witty tone that they keep consistent throughout their site, as seen in the images above and below.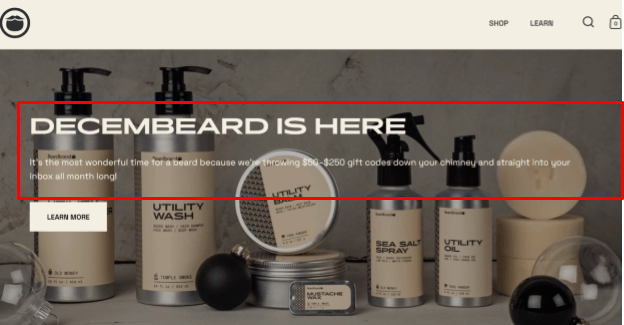 Also, try incorporating vocabulary and phrases that your actual customers have used in surveys, reviews, and online discussions about your brand. This will show them that you listen to them, and will encourage them to keep trusting your brand. 
Finally, if you have diverse audience groups, settle for a suitable and inclusive tone.
8. Create Urgency
Creating urgency is another good tip for creating effective eCommerce copy. You can convince your audience to take immediate action instead of later. This reduces cart abandonment and boosts sales.
The easiest way to convey urgency in your copy is by using call-to-actions (CTA) text like "Buy Now", "Add to Cart", "Learn More", and "Don't Miss Out". 
By including these words in your headlines, CTA buttons, blog posts, and ecommerce landing pages, you generate fear of missing out (FOMO) amongst your customers. This then encourages more customer conversion action. Research shows that around 60% of consumers make reactive purchases after experiencing FOMO.
This Nike landing page image is a great example of copy that creates urgency through words–you find the "last call for free holiday shipping", the "shop" CTA and the discount in the copy.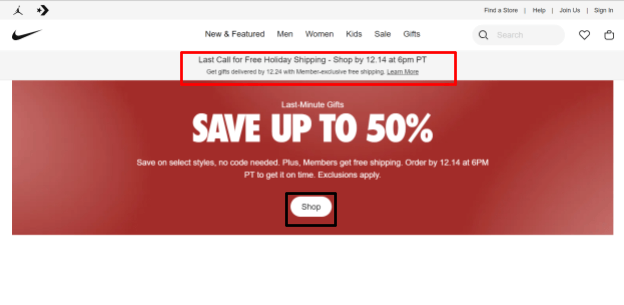 To convey urgency in your copy, have a specific deadline for offers and discounts. You can have time-limited offers, for instance, free shipping or 50% discounts while stocks last. Finally, you can also specify a time frame in which you want customers to act, maybe within the next 30 days. 
For instance, in the Nike example above, the copy states that customers should order by the 14th to get their delivery by the 24th of December.
Key Takeaways
Ecommerce copywriting requires effort and skill, which could take time to master. However, the eight steps discussed above are a great starting point for any ecommerce copywriter.
Start by studying your audience, then focus on benefits to customers, tell a great brand story, and include keywords to boost your ecommerce pages' ranking. Also, create scannable copy, include visuals, find the right tone, and create urgency to encourage more customers to make purchases.
Follow these key steps, and you can create copy that can boost your ecommerce sales. 
All the best!
About the author: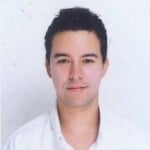 Matt Diggity is a search engine optimization expert and the founder and CEO of Diggity Marketing, The Search Initiative, Authority Builders, and LeadSpring LLC. He is also the host of the Chiang Mai SEO Conference.