To gain new buyers — and keep the existing ones interested — you have to come up with innovative ideas to compete with other Amazon sellers. Luckily, there's one widespread idea you can tweak for your own purpose: Amazon coupons. RepricerExpress shows you how to make it work just for you.
What to Know About Amazon Coupons
If you go to your Seller Central account and hover on the 'Advertising' tab, you'll find Amazon coupons. Note, coupons are only available to sellers with a feedback rating higher than 3.5.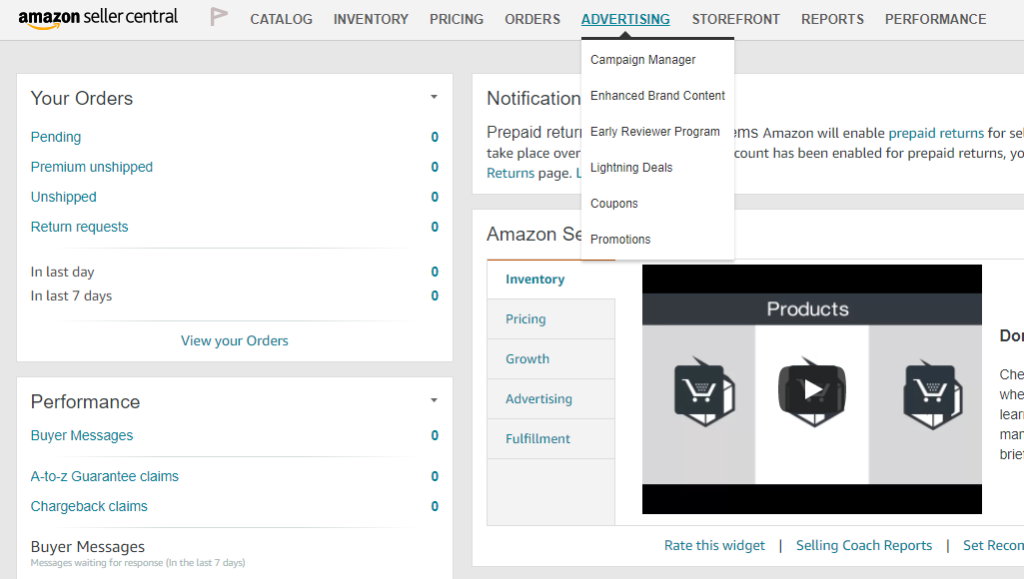 They're the digital equivalent of paper coupons and they work pretty much the same way. You can make them for individual items or on a batch and choose a discount amount between 5-80% off (or the monetary equivalent). The savings amount you choose is based on the product's lowest selling price in the past 30 days, and you pay $0.60 each time the coupon is redeemed.
What buyers will see (if they're eligible) is an orange badge with the discount amount, and it'll appear beside the product's price. However, the discount isn't applied automatically, as buyers will have to 'clip' the coupon so the discount can take effect when they check out.
We mentioned that buyers have to be eligible for coupons. Eligible buyers fall into one of six types, and you can choose to select only one, more than one, or all six types.
Amazon Prime members
Amazon Student members
Amazon Mom members
Members who have searched particular ASINs
Members who have bought certain ASINs
Every single Amazon shopper
Lastly, to keep your coupons from getting too popular, you can set a budget for them. Once the budget is reached, the coupons are turned off and buyers won't see the orange badge anymore. When setting the budget, keep these two criteria in mind:
Part of your budget must include redemption fees.
The rest of your budget is comprised of the USD equivalent to the discount amount.
How to Add Amazon Coupons to Products
There are only a few steps in setting things up, and it's really straightforward.
First, decide if you want to add one coupon to one item, or one coupon to a bunch of items. If you go with the latter, choosing items within the same category or group makes things easier for both you and the shopper.

Next, decide how much your budget will be. It has to be part redemption fees, part discount amount. If you're mathy, pick a percentage. And if you're not, a straight dollar amount will be easier.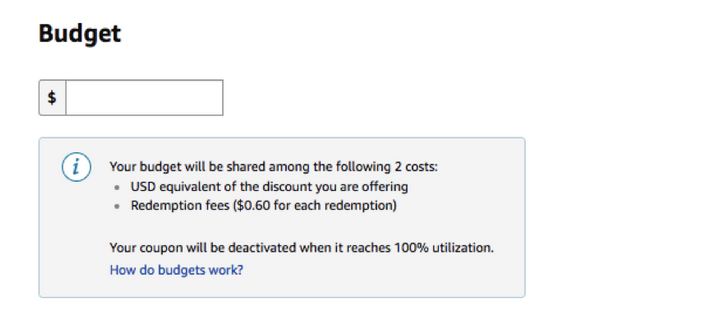 Remember, Amazon requires you to look at the product's lowest price in the last 30 days when you decide your discount amount, and it has to be somewhere between 5-80% off. The amount you pick will depend on the product (is it a slow or fast mover? Are you trying to get rid of extra stock?) and the time of year (is it a 'regular' time or are you gearing up for a shopping event?). Any discount is better than no discount, but look at what competitors are doing so you don't out-price or turn off buyers.
Once you've got your budget set, select a timeframe in which your coupon will exist.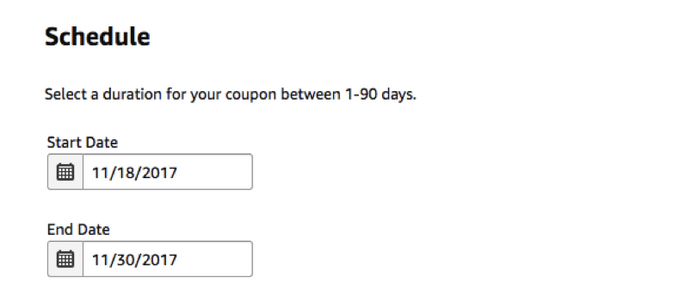 Coupons will automatically end once the budget's been reached, but you also have the option of running the coupon for up to 90 days. When picking your start date, the earliest it can be is three days from the time you're making the coupon.
In this step, you'll also be selecting which group of Amazon shoppers to target (one type, multiple types, or all shoppers).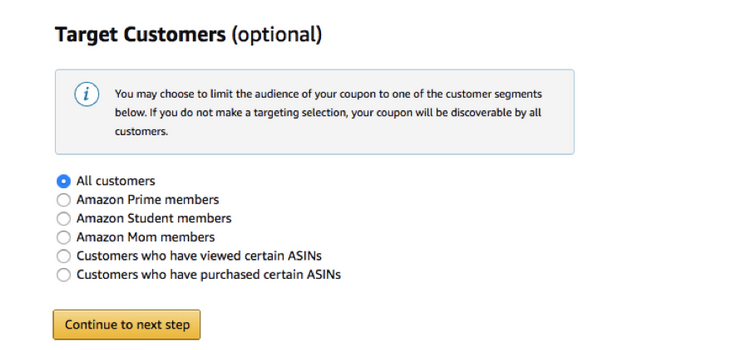 Take a final look to make sure everything is how you want it and then submit it to Amazon to take effect.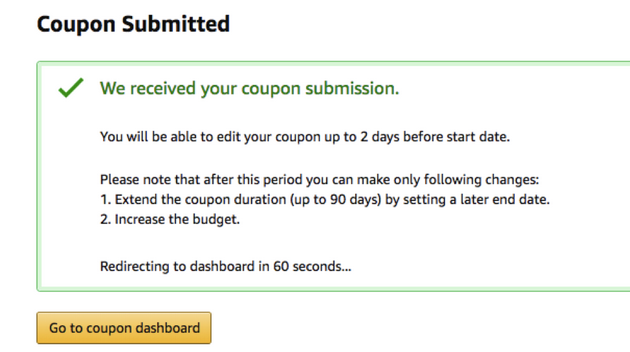 You'll want to monitor your coupon's activity under the 'Running' tab in your Seller Central account, especially if you're just starting out with coupons. If your budget is used up really fast, then you probably set your coupon too high. And if there are no biters, then you probably want to offer a bigger discount next time.
Final Thoughts
Tracking your coupon metrics and perfecting the art of making them is something that will develop over time. It'll be a matter of tweaking things until you find just the right balance, much the same way setting pricing strategies is with RepricerExpress. And just like Amazon coupons, we're incredibly straightforward and quick to set up. See for yourself right now by signing up and using the first 15 days totally free.