In December 2017, Amazon launched its newest marketplace in Australia. Australian residents can now buy goods from Amazon Australia ranging from electronics to books without having to pay international shipping fees. Amazon Australia repricing is available now within RepricerExpress.

Amazon Globalisation
Amazon was founded in 1994 by Jeff Bezos and started as a bookstore. Amazon Australia is another move in the organisation initiative to globalise.
Amazon is the world's fourth most valuable publicly-traded company behind Apple, Alphabet and Microsoft with a race on to see who becomes the world's first trillion-dollar company.
Amazon has opened a 24,00 square metre flagship fulfilment centre in Melbourne and has purchased a second location in south-west Sydney.
How to Sell Products on Amazon Australia
Amazon's mission is to enable local business "to make their products available to a wide audience, not only in Australia, but also worldwide".
Sellers in Australia can use Amazon to sell their own products and set their own pricing. It currently costs $49.95 (plus GST) for retailers to sell on Amazon Australia. Fees of 6-15% are also paid for items sold on Amazon's marketplace.
For that, Amazon allows you access to more than 300 million customers around the world so it's a great opportunity to grow your business. Half of all sales on Amazon are from third-party sellers.

Find more statistics at Statista
In terms of fulfilment, there are two options, ship the items to the customer yourself or ship them to Amazon's warehouse through the Fulfilment by Amazon programme and let them take care of the rest including shipping and customer service. If you're a new seller, Fulfilment by Amazon probably makes the most sense.
If you're interested in getting started with Amazon Australia, just complete the short form on Amazon's website.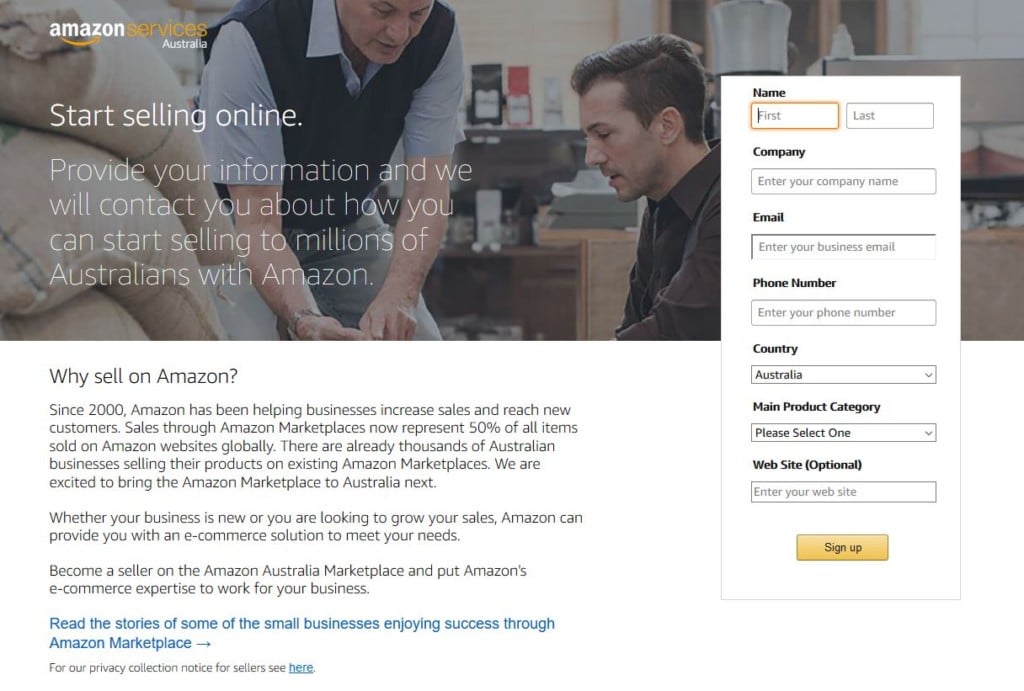 The Story So Far
Robert Bruce, Amazon's Director of Operations, said: "This is just the start, over time, we will bring thousands of new jobs to Australia and millions of dollars of investment as well as opening up the opportunity for thousands of Australian businesses to sell at home and abroad through Amazon Marketplace."
Amazon Australia isn't yet offering its popular Prime program, however, free shipping is available on purchases over $49. In the US, 63% of all Amazon members are Prime and they spend around twice as much as non-Prime members.
On launch, Amazon received a lukewarm response from retails and customers due to the low quantity of current sellers (a few hundred). Less competition meant prices are higher.

As Amazon grows, and more third-party sellers register, product offerings will expand and pricing will get more competitive (increasing the need for repricing software to stay ahead of the competition).
Australia's $300 billion Retail Market
The retail market in Australia is an estimated $20 billion with less 10% of that coming from ecommerce. This pales in comparison to the US which has a retail market value of $300 billion. Amazon was responsible for an estimated 44% of all US ecommerce sales in 2017 and fully 4% of the country's total retail sales.
In 2016, e-retail sales amounted to 9.58 billion U.S. dollars and sales are projected to grow to 15.49 billion U.S. dollars in 2021.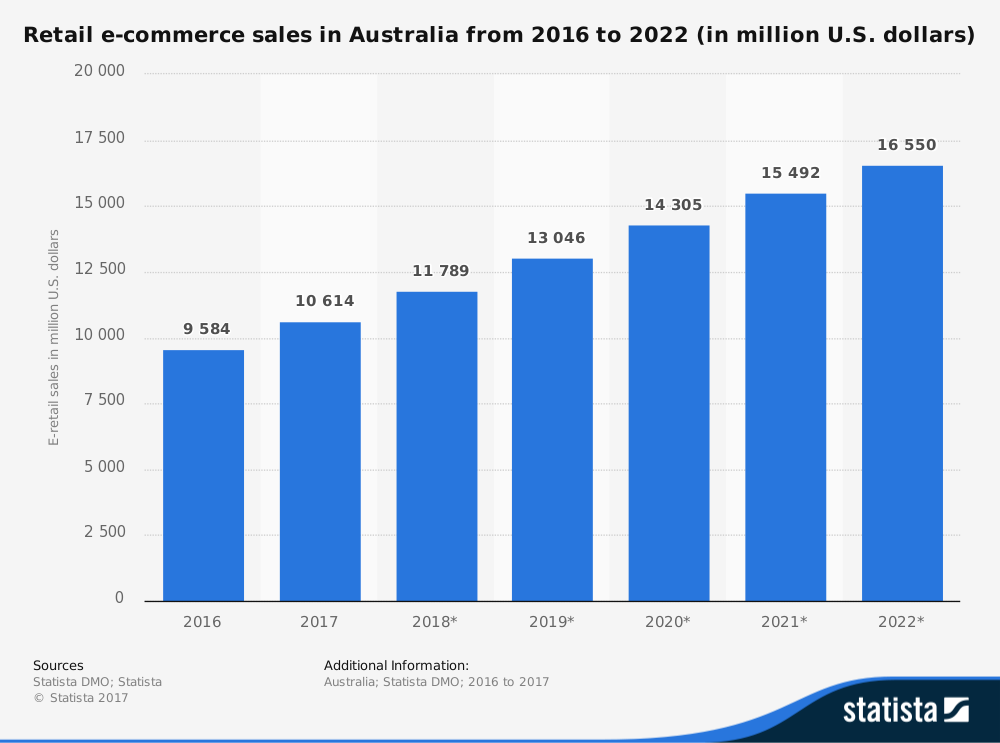 Top-Selling Products
The top 10 selling items on Amazon Australia in the run-up to Christmas.
FIFA 18 PS4
CALL OF DUTY: WW2 PS4
STAR WARS BATTLEFRONT II PS4
Nintendo Switch – Neon Blue and Red Joy-Con
Strong 3M HDMI Cable
Strong Wireless Bluetooth Speaker
The Barefoot Investor: The Only Money Guide You'll Ever Need
5 Ingredients – Quick & Easy Food
STAR WARS BATTLEFRONT II XBOX ONE
Nintendo Switch – Gray Joy-Con