Guest post by Manish from E2M Solutions
By the end of 2019, the total value of e-commerce retail sales is expected to top $3.4 trillion! In the highly competitive e-commerce sector, relevancy needs to be a top priority. One day you're in, and one day you're out.  Online businesses must constantly be aware of ways to keep their brand and products in front of the eyes of their customers.
One of the best ways to do this is by simply staying alert and up-to-speed with e-commerce trends. However, there is always a risk that comes with trying out the latest fads.
Ultimately, when it comes to experimenting with trends, it is important to make sure that any changes you make are always making things better for your customers.
That being said, there are currently some significant e-commerce trends that every online entrepreneur should be aware of (and consider taking advantage of).
Let's talk about six of the big ones.
 1. Google is Becoming an Online Marketplace
Unless your brand is super well-known, the majority of your customers are likely arriving at your website via organic or paid searches for items that your store offers. So, in order to get your products in front of more customers, you should be optimizing for Google Shopping. This is an extremely powerful sales channel – and can be an incredible SEO hack for online stores.
Integrating your e-commerce platform with Google Shopping will create a PLA (product listing ad) that will automatically top the SERPs on the Shopping tab when a customer searches for a product that matches up with your store. This is exciting news for e-commerce stores that sell niche products.
In fact, a recent case study found that Google Shopping helps to boost conversions by over 17%.
The setup process is pretty simple, too. You just need to head to the Google Merchant Center to sign up and if your online store meets the ad requirements, you can start advertising through this lucrative channel.
2. Customers are Shopping Through Social Media
Social media is a lot more than just likes, shares, and cute dog photos these days. Many social channels are turning into mini search engines of their own – and 55% of online shoppers have bought a product directly through a brand's social post.
Lots of platforms are making it super easy for e-commerce stores to sell directly through their social pages these days with built-in embedded links. This means that customers can click on specific products within a post and be led directly to a product page, making it far easier to boost impulse buys through online advertising.
3. AR and VR are Becoming More Commonplace
One of the greatest challenges that online stores have always faced is the fact that their customers cannot see the product before buying it. This makes it difficult to sell things like clothing, furniture, and other accessories that people want to preview before purchasing.
AR and VR are helping to solve this problem by allowing customers to virtually try on products without physically touching them. Companies like Warby Parker have launched an app that uses AR so customers can try on different glasses before ordering.
Amazon and Ikea also use similar technology so shoppers can test out how pieces of furniture will look in their own homes.
E-commerce stores should take note of the ways that technology is revolutionizing the customer experience and consider investing in these digital systems.
4. Customizable Products are a Big Hit
Personalization is going to go to the next level with products that are entirely customized for the individual. Many online stores are taking advantage of interactive content – like quizzes and surveys – to build entirely customized products that cater to each individual's needs or preferences.
One area where this trend is specifically prevalent is in health and wellness. Stores like Curology and Gainful create totally customized product lines based on the individual's health needs and goals, while brands like Native use an interactive quiz to create a custom scent profile that people can buy as a deodorant or body wash.
5. Flexible Payment Options for Big Purchases
If your store's products tend to range on the most expensive side, it can be hard to convert new customers simply because they view that purchase as more of a risky investment. One e-commerce trend that can help to combat this is offering flexible payment options through systems like Afterpay, Final, and Affirm.
These services automatically break down large purchases into smaller equal payments over the course of several months – making large purchases a little easier to swallow. In fact, retailers that offer Afterpay specifically have seen conversion rates increase anywhere between 20% to 30%.
6. Companies and Consumers are Becoming More Environmentally Mindful
Caring about the earth isn't just for tree huggers or Millennials anymore. Most consumers these days are far more conscious about their environmental impact, and they want to support businesses that are doing their best to reduce carbon footprints.
87% of consumers agreed that they would be more likely to buy a product from a brand that offered a social or environmental benefit – giving companies yet another reason to go green.
Many e-commerce brands are doing their best to reduce shipping waste by using recycled or biodegradable materials – such as packing peanuts that dissolve in water. Some businesses are getting super creative here – such as Banish Skin Care which sends products wrapped in branded socks (rather than bubble wrap) to reduce waste.
Conclusion
Although trends inherently come and go, it is important that e-commerce businesses pay attention to ones that are having significant impacts on the customer experience and conversions. While these trends may change and evolve in time, many online stores are seeing incredible returns by capitalizing on them.
So, which of these latest trends do you intend to test out?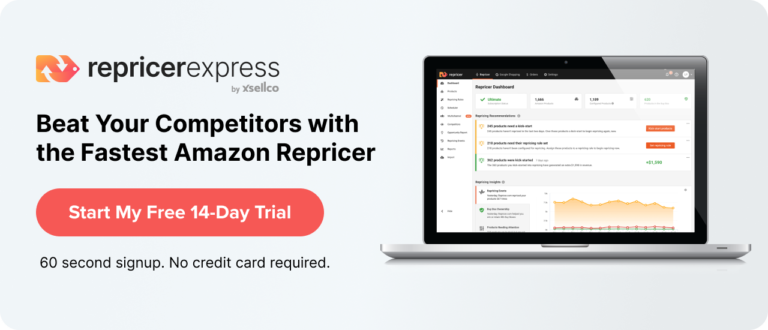 Related: eBay Repricing Software 101